Magento SEO Audit: What it covers and why should you do it?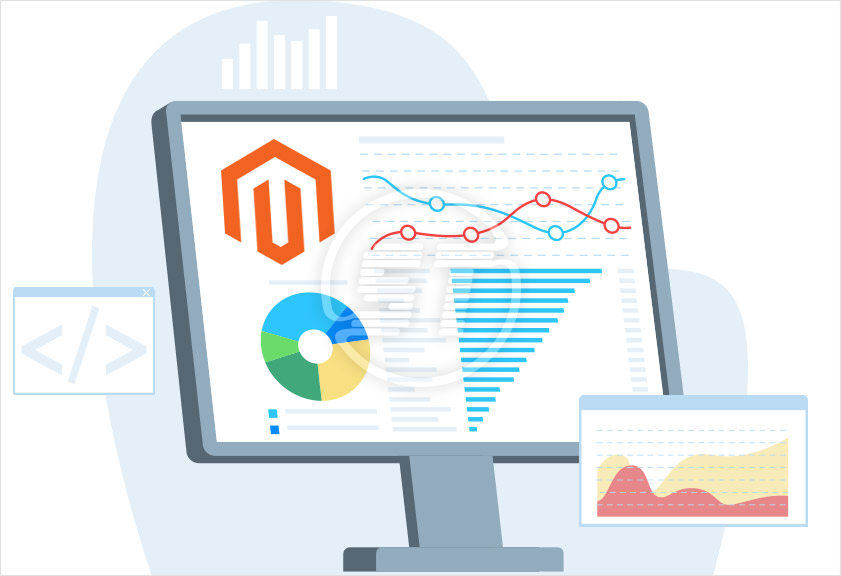 Magento is a leading ecommerce platform name, which is helping many businesses acquire their goals and increase ROI. This efficient platform has given enough reasons for website creation and running online businesses successfully.
Despite Magento being a flawless platform, you need to review its all facets every now and then to ensure its competency, adequacy, and performance. Every Magento website must go through a code audit, performance audit, and SEO audit regularly.
In this article, we will discuss Magento SEO audit.
Do you know, what is Magento SEO audit?
Well, in a nutshell, scouring SEO issues, fixing them, and ensuring the top-notch performance of your Magento website is the Magento SEO audit. It covers all the facets of SEO and because search engine optimization decides your website performance on search engines and eventually traffic and sales; thus, it is crucial to perform in a loop.
Magento SEO audit and time taken to execute it!
SEO practices keep on changing with time thereby, it is little difficult to conduct regular audits even if your website is technically stable. However, if you have certified SEO team, they can help you with accurate fixes in analytics, SEO, and UX.
Competitor benchmarking, keyword research, organic traffic, sales, and each facet of SEO are being taken care of under SEO audit. A comprehensive Magento audit will help you know the weaknesses of your Magento store's SEO strategies, and you will get concrete recommendations on how to make your Magento website more SEO-friendly.
When your Magento website's SEO gets reviewed, you get insights into core technical and structural issues that help you to improve every aspect of website SEO.
Generally, a Magento SEO audit takes two to three weeks to complete if it has been done manually. The automated audit takes lesser time than a manual audit.
Areas covered by Magento SEO audit
Magento SEO audit mainly covers the website's content, search engine visibility, organic traffic, technical SEO, and link profile.
Content
Website overall content, meta description, site architecture, Robots.txt, XML sitemaps, URLs, Rich snippets markups, 404 error handling, and all other on-page optimization factors.
Search engine visibility & Organic traffic analysis
Keyword analysis, search volume, ranking of the Magento website, previous historic performance, mobile SEO, website search analysis, and landing page and segment analysis.
Technical SEO
Duplicate content issues, crawl issues, JavaScript usage, and any other performance issue.
Link profile
Anchor text, link-building tactics, link distribution across all the domains, etc.
These are some of the key areas of any Magento website that ought to be audited at regular intervals to run a flawless website.
Performing Magento SEO audit
Search engine robots (Robots.txt files)
When you do SEO configuration for Magento, it is crucial to manage and generate information for crawlers and bots to index your Magento site. Robots.txt requests are dynamically routed to the bot controller and such instructions are comprehensive for almost every search engine.
Robots.txt files contain precise information, which helps web crawlers to index your site. The instructions can be customized as per your requirements or specifically for search engines.
In Magento 2, to configure robots.txt file Goto admin sider bar --> Content --> Design --> Configuration.
Now find global Configuration and scroll down to find search engine robots and edit according to your requirement.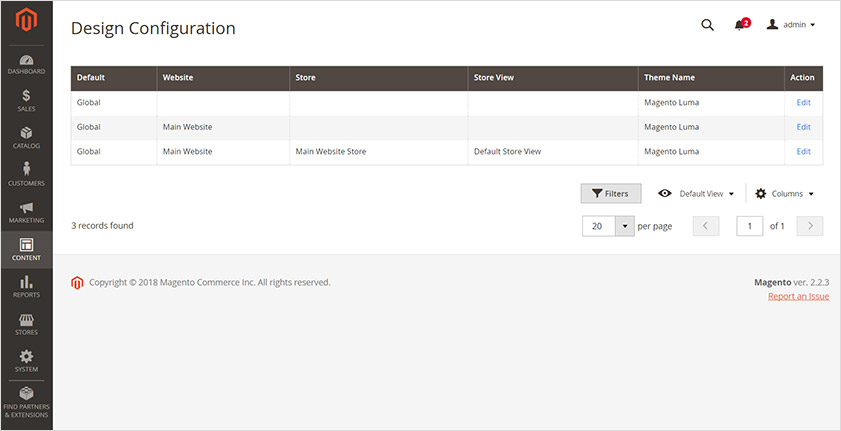 GA integration audit
While Magento SEO audit, make sure your GA 4 implementation is meeting all the best practices and eventually gathering accurate data. Basically, an SEO audit helps you to implement GA correctly across the site and fix the issues if there are any. So that you will receive correct data and improve your Magento website's overall performance.
Taxonomies should be SEO-focused (categories and tags)
Taxonomies are groups of URLs with common attributes that share relevance with each other. These URLs need to be optimized for search engines so that they will find them easily.
There are myriad Magento sites that have unmanaged categories and tags that harm a website's SEO. Categories and tags are important taxonomies for a website; therefore, they require to be optimized properly.
Category and tags archives assist you to structure content. To bring hierarchy to your pages, you use categories and to group content on the same topic, tags are used. The use of categories and tags must be in a proper way to impress search engines.
To manage category archives and create an organized setup, breadcrumbs play a vital role. It shows a well-curated structure to Google and makes your pages easily crawlable. Additionally, take care of duplicate tags to evade confusion between pages.
Catalogue search testing
People search for your catalogues to purchase their desired products; therefore, you must configure catalogue search and test the configuration every now and then to ensure its smooth execution for all users.
The quick search (search box in the header of the page) option makes your catalogue easily accessible. Search text can be full or partial product names or a phrase that describes the products.
The advanced search option provides specific search results to the users. It needs more than one field, and the result is a list of all the products in a catalogue that match the criteria.
These search options need to test thoroughly and timely to avoid any unwanted glitches and people can find their desired products on your Magento store easily.
Catalogue navigation and its SEO impact
When your shoppers try to move from one page to another on your Magento website, it is referred as navigation. The top navigation or main menu displays a list of category links that gives easy access to the products of your catalogue. Breadcrumb trail also shows categories and helps people navigate pages.
If you want a product's visibility, it must get assigned at least one category and each category can have a dedicated landing page, static block, description, and list of products in that category.
This navigation helps people shop through your Magento store and ultimately it reduces bounce rates. If catalogue navigation is cluttered or broken, shoppers may get irritated and leave your store without purchasing. If it will happen frequently, then you know your search engine rankings will be in trouble.
Meta tags for products and catalogue pages
Meta tags are important to look attractive in SERPs and get a higher ranking. Magento 2 search engine optimization has a new feature, which is known as Field Auto-Generation. It helps to set templates for product metadata. This tool is a huge help in setting metadata, especially if you have an extensive list of products.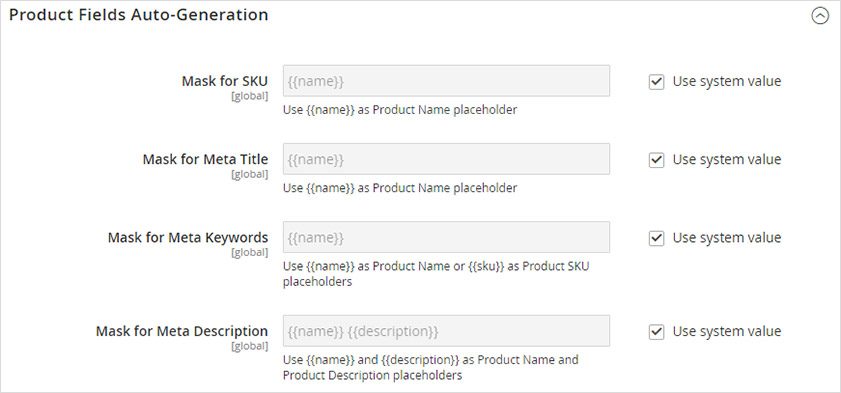 While SEO audit, make sure to check these meta tags for products and category pages to improve your Magento website search engine performance.
Checkout page efficiency
A significant number of shoppers leave their carts abandoned daily due to the complex checkout process. To simplify the checkout, Magento 2 has extensions and tools that make checkout simple and quick.
Magento 2 SEO audit should focus on checkout page efficiency as well. Because checkout page issues may harm not only your brand image but also your search engine ranking. A simple checkout process saves customers time and effort and stimulates repeat purchases as well.
What is the requirement of Magento SEO audit?
Better performance
It is the most important reason to audit your website. If the website is not delivering desired performance, it will directly harm your organization's bottom line.
Website performance is influenced by numerous factors. For instance, if JavaScript is complex, it will lead to a slow website. Thus, ensure JavaScript must be written rightly and optimized enough so that it will not hamper site speed.
If there are crawl issues, then also the website will not get indexed, and eventually, its visibility will get hampered. Additionally, if there is poor link building or links are not returning desired results, website performance will get influenced. Also, if keyword usage is not relevant or if the content is not optimized for mobile users your Magento website performance will not be at par.
Mitigate all vulnerabilities
Ecommerce websites are hackers' preferred targets to run malicious scripts and puncture your system to steal your crucial data. If there is any security loophole in your website, they exploit those vulnerabilities to hack customer data. Such situations can be catastrophic for any ecommerce website, which has crucial data on customers.
A timely SEO audit notifies you of all the issues that can be the reasons for security compromise. If you know the issues, you can proactively fix them and prevent potential catastrophes.
Improve website UI/UX
Continuous SEO audit helps maintain your Magento website UX/UI in top-notch condition. User experience gets hampered when the website has some or other sort of issues that keep on troubling users. For example, speed issues, navigation problems, lengthy checkout, irrelevant content, etc. are the bottlenecks that you must fix on time to provide a high-quality experience to your users.
Basically, to improve a website's ranking on search engines you should focus on
Website performance
Content quality
Website's accessibility and usability
Google also takes these factors as measuring metrics for website rankings, which are known as Google's Core Web Vitals. Magento SEO audit helps you to improve the performance and security of the website and meet Google's requirements, which fine-tune your Magento website ranking in search engines.
Improvement in search rankings improves traffic and sales of your website. Therefore, the Magento SEO audit cannot be overlooked.
Wrapping up
Just like SEO, its regular audit is also important for your Magento website. To satisfy your target audience's expectations, you must work on providing them with a seamless and accessible experience. Adhering to best SEO practices and auditing the Magento website regularly helps you achieve your business goals and Skynet Technologies can help you to achieve these goals.
Skynet Technologies is SEMrush agency partner who provides SEO service and Content marketing services. Skynet Technologies follows search engine quality guideline while doing a SEO to avoid search engine penalty, so your Magento site become capable to increase in number of organic traffic and sales.
Skynet Technologies is an official Adobe Bronze Solution Partner.
We specialize in full-service Magento ecommerce development including Adobe Commerce solution architecture, UI/UX design, platform migration & upgrades, API / integrations, multi-vendor multi-channel marketplace, multi-tenant solution, performance optimization, Google core web vitals implementation, digital marketing, omnichannel strategy, Adobe Commerce store ADA compliance & security, product information management solution, and more. Get in touch with us at [email protected] or submit the following request free quote form to know more about Adobe Commerce development services.