Adobe Experience Manager vs WordPress: Which one is the right CMS for your website?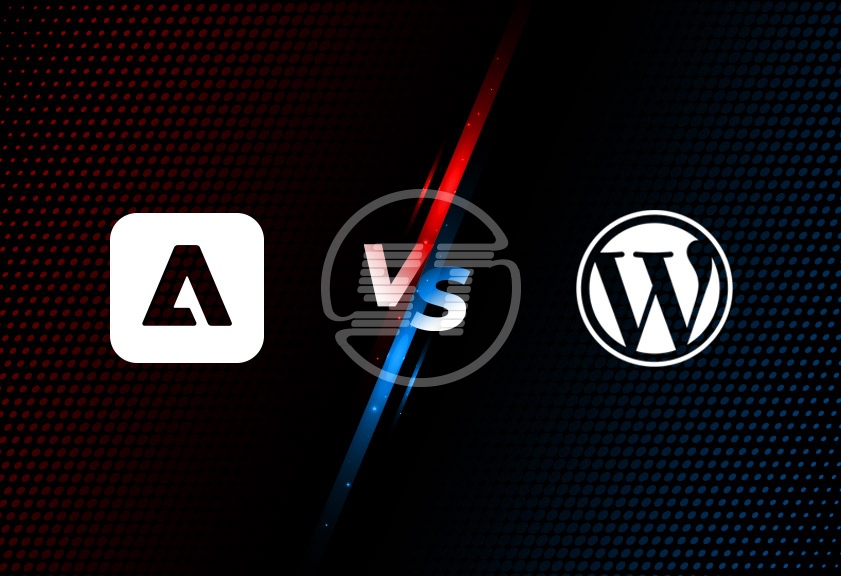 Organizations need a platform to present their content in a clear, concise, and compelling manner. It is content that holds your audience to your website and provides you with more conversions. However, before consuming the content, audiences experience a few other facets of your website such as site speed.
In order to have all the requisites in your website and impress your potential users, you must be seeking for a popular and gen-next platform. The right platform will acquire correct brand image for your website and will help you to reach your target segment.
Adobe Experience Manager and WordPress are two preferred platforms that are catering a significant number of websites across the globe. Both are immensely result-driven; if in doubt check the statistics.
But the question here is, which one to choose for your business? Thus, we tried describing both platforms so that you will be able to choose either Adobe Experience Manager or WordPress; the one that will bring your online business to new heights.
AEM Vs WordPress - Comparison between two unrivalled platforms
WordPress and Adobe Experience Manager both have impeccable features that make your website not only user-friendly but also provide ease of working to developers and editors. WP has a Gutenberg block editor that levels up authoring experience for editors. Similarly, Adobe Experience Manager has block-based editing, which has made content creation an easier task.
Although, AEM has a steep learning curve as compared to WordPress. For developers, AEM is a bit complex system whereas, WP is somewhat simple to learn and work with. However, AEM is an established and gen-next platform.
Let's learn more about them.
 
Adobe Experience Manager
WordPress
Ease-of-use
User friendly
User friendly
Cost-effectiveness
A bit expensive
Pocket friendly
Customer support
It has a dedicated customer support helpdesk.
You need to take community support because it is open source and hence it doesn't have dedicated support team.
Pros

Migrating from one platform to AEM is easy due to its cross-channel content customization option.
It has ability to rapidly create and maintain pages.

It helps in creating decent websites with amazing features and integrations.
Anyone can build their websites using templates.

Cons

It is difficult for novices and expensive for small organizations.

Security is a big concern because of the involvement of third-party programmers in plugins and themes.

Useful for
Medium and enterprise level organization. Though small organization can use it as well.
Best for small and medium sized organizations.
Deployment
Cloud, SaaS, and Web based.
Cloud, SaaS, Web based.
Desktop – Max, Windows, Linux.
Mobile – Android, iPhone.
AEM Vs WordPress – Concise yet useful points!
WordPress powers a significant number of websites across the world but when it comes to managing websites with powerful functionalities and comprehension, AEM overpowers WP.
Let's dive deep down and find out more about Adobe Experience Manager and WordPress.
YOU MAY ALSO LIKE: AEM Magento Integration
WordPress
As mentioned above, WordPress is a go-to place for maximum small and medium-sized organizations because of its easy access and simple operations. It is not only free to operate but it has myriad free themes and plugins as well. You only need to choose the best suitable for your business and you are good to go. If you have a little technical knowledge, then you can create your website without even hiring an external WordPress developer.
Content creation is easy with WordPress. Though it has strong community support, they keep adding some or other security fixes. But WordPress still has security vulnerabilities.
Since WordPress is open-source and developers keep adding their contributions; it has an array of plugins that enhance its features and functionalities every now and then. However, the biggest disadvantage of WordPress is that it is not cloud-based; due to which, the more plugins you add to your website, the slower it becomes, and eventually, you start losing conversions.
One more advantage of WordPress is that now you can use it as a headless system as well. Headless WordPress make your system more flexible; however, in that case, you need to hire a professional to go headless.
Adobe Experience Manager
To get complete personalized solutions and make a powerful and future-proof system, choose Adobe Experience Manager without a doubt. AEM knows how to manage digital content and make it ready for modern market needs.
YOU MAY ALSO LIKE: Adobe Commerce VS Adobe Experience Manager
It can be integrated well with analytics to get real-time data. Since it has been made enduring for upcoming market needs, it contains digital asset management with the power of a content management system. AEM has Adobe Cloud integration that automatically makes your system lightweight and faster.
YOU MAY ALSO LIKE: DAM VS CMS and Its Integration
To extend your business reach, AEM gives you tailored multilingual features. Thus, with its help, you will be able to translate your website into multiple languages and expand the business overseas.
Adobe Experience Manager gives a huge scope to editors to play around with content and present it the way they want. AEM has a feature called component and each component represents a piece of content, which can be controlled by the editor.
For instance, you can have a quote component (one among many types of components) in which you can add quotes. Or you may have a layout component with some other components in it (texts, images, etc.), which get displayed below each other in a mobile screen and when it comes to a large screen, the same components are spread across three or more columns. These components are specific to different needs and authors or editors have control to use them as per their requirements. Using these components content creation in AEM has become more flexible.
It has content fragments and experience fragments that can create neutral content and can be used across the web, mobile, and all the desired channels. AEM also follows the concept of permissions and workflow. So that bigger teams can easily work without any confusion and increase their productivity.
Adobe Experience Manager has integration with Adobe Target, which helps in A/B testing and personalization. Using Targeting mode, you can impressively reach your audience based on their location, age, browsing history, etc.
Adobe Experience Manager also makes amazing SPAs that manage thousands of pages efficiently with decoupling technology.
Which platform are you choosing?
You might have understood that small and medium-sized organizations with less complex workflow and data management can use WordPress and reap amazing results. However, enterprise-level data and content management needs Adobe Experience Manager.
If you leave complexity and money aside, AEM is better than WordPress for a website. Rest depends on your business requirements.
You can reach out to Skynet Technologies - a web development agency to know which platform is better for your business. Skynet Technologies is a bronze level solution partner of Adobe, providing Adobe Experience Manager services with quality implementation, award-winning UI, scalable growth, security and maintenance of your website or application.
We drive your business with custom WordPress development and design which includes rich functionality, robust and scalable capabilities. Get in touch with us at hello@skynettechnologies.com or fill out the below form to get a quick quote and know more!