DAM vs CMS – How Are They Different?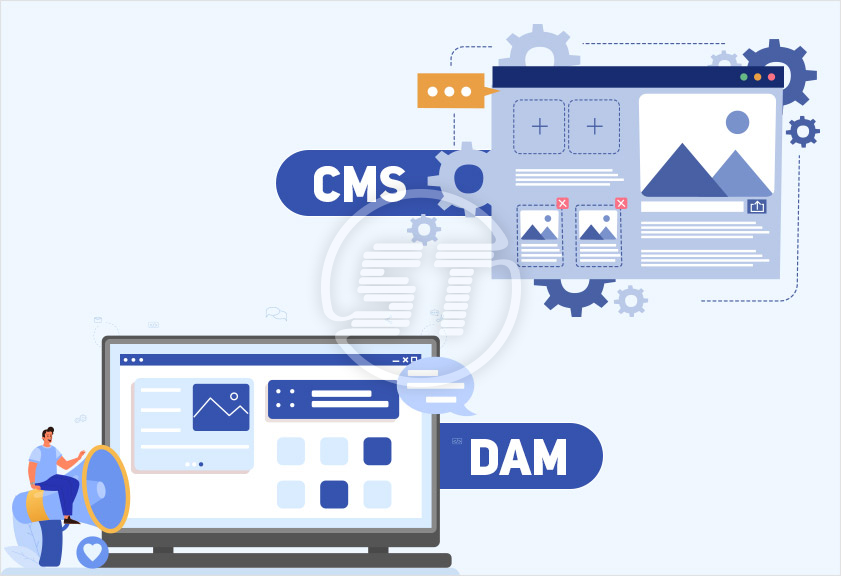 "Without strategy and system, content is just stuff, and the world has enough stuff."
In this modern digital era, content has become unmanageable for organizations due to the increasing number of users and databases. Thus, to manage colossal data/ content every organization requires to have an efficient system.
A system that has capabilities to streamline business data and use it in a productive way. Thanks to technology, we have two such systems that not only manage content effectively but also use and reuse it in favour of businesses.
Content management systems (CMS) and digital asset management (DAM) are those two systems; however, their way of handling content is different. If you know which system is fruitful for your business, you can use it properly to achieve your business goals.
Let's discuss more about these two in our DAM vs CMS article, so that you can use these systems correctly.
What are CMS and DAM and what do they do?
The content management system is a platform that enables you to create and manage content systematically without applying HTML codes, like blog posts and landing pages. It helps you publish media files in an impressive way.
Whereas digital asset management (DAM) is an information management technology that allows organizations to organize and access their media assets such as documents, images, videos, logos, animations, PDFs, presentations, etc. It helps you to manage thousands of media files.
They both are not reliant on one another and if your business needs, it is possible to integrate them together. Though integrating them is easier, you should know how they both work and provide value to your organization.
In Short, a CMS publishes pages for blogs or websites, edits webpage texts and media, and manages website data and structure.
And a DAM secures media in a central location, increases project efficiency and boosts sharing and storing of media files.
YOU MAY ALSO LIKE: Digital Asset Management VS Marketing Asset Management
Difference between CMS and DAM
The major difference between a DAM and CMS is their ability to publish content on a business website. And another difference is the wide array of functionalities that DAM provides as compared to a CMS.
A CMS is beneficial for organizations but to a limited extent; whereas, a DAM adds value to an organization's processes and improves their productivity, efficiency, and collaboration. DAM is beyond website management.
Digital asset management can be used for functions like proposal management in order to respond to RFPs. It makes project management easier to handle by offering seamless team collaboration and communication.
Key features of CMS (Content Management System)
The content management system has some features that are similar to digital asset management, however, their utilization to provide value to users is different. The primary features of a CMS are –
Storing, publishing, and editing website content
Managing blogs
Building website pages by utilizing page templates or web page builders
Creating a searchable content library
The content management system also has features and tools to boost website SEO. It also provides robust security, speed, and ease of working for users. Any website can use a CMS, which wants to streamline its content and offer a flawless user experience. But CMS without DAM is like building a house without using tools.
YOU MAY ALSO LIKE: Ecommerce on Page Off Page SEO
Key features of DAM (Digital Asset Management)
The digital asset management system is an integral part of the content creation process because it allows organization, storage, and distribution of businesses' visual media within one central library.
For every digital asset, an organization uses for its operations, the library acts as a single source of truth. Marketing, branding, proposal management, and all other facets can reach out to DAM for data access. Main features of DAM are -
Content organization in a single system
Secured access to data
Distribution and publishing of updated assets
Helps to transform and reuse content
Provides tools to monitor content effectiveness
Automation of manual processes
Integration of CMS and DAM
Content management systems and digital asset management both are absolutely different systems. When they both get integrated, all CMS media files are instantly available in the DAM that can be edited easily. Integration of CMS & DAM also helps with a quick way to file sharing, which is not possible in CMS.
YOU MAY ALSO LIKE: WordPress Headless CMS
Their integration enables projects to get completed efficiently and quickly. Making new changes to webpages become seamless with minimal or zero downtime. Despite overlapping features, DAM and CMS offers unique benefits and their combination is even more powerful.
When you combine these systems, all your digital assets become consistent in one location, which improves content management and organization, streamlines ecommerce operations, and enhances collaboration between global teams.
This is not it, there are more advantages to combining DAM and CMS –
1. Version Control
If an asset's new version is being added to the DAM system, it can be shared or embedded anywhere in the CMS.
2. Single-user interface
You can work from a single-user interface and keep CMS users in that one system by being able to access DAM system assets.
3. System syncing
Since the integration of both systems automatically sync assets; it keeps them updated across the system from DAM's centralized location.
4. Scaling of the system
This combination scales your content operations at every facet of the business.
So, which system are you going to choose now?
Now you know, CMS and DAM systems are not alike and are designed differently. A DAM is mainly created to manage content and a CMS generates content. Both have myriad advantages that help organizations to start and grow their operations.
Though DAM has some more functionalities that CMS solutions don't have, but CMS itself is sufficient for a website and its simple management. An organization needs a DAM system if they must manage complex content and database.
In short, both are beneficial; however, to get the most out of these two impeccable solutions, consider integrating a content management system and digital asset management. If you didn't know how to integrate both without breaking anything, then you should contact our team. We are a team of web developers who provides custom CMS development services for Drupal, WordPress, Joomla, Umbraco, and many more. As a Pimcore silver partner, we also focus on digital asset management services. To know more about our service contact us at hello@skynettechnologies.com or fill out the form below to request a free quote.