What is the importance of competitor SEO analysis to indulge best SEO practices?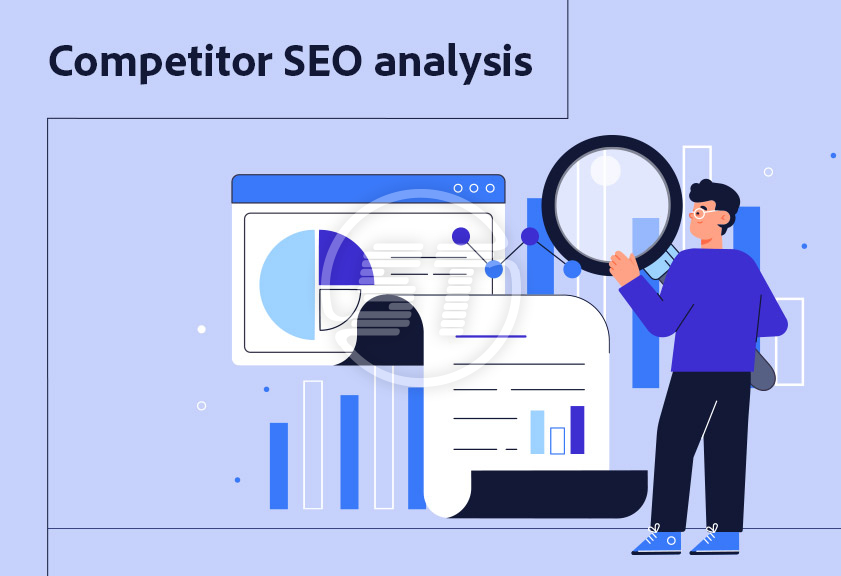 "Google only loves you when everyone else loves you first" – Wendy Piersall
This quote describes SEO in a simple yet effective way. Unless your website is popular among your users, search engines will not rank them and vice-versa (that is search engines will rank a website if users love it). Hence SEO and UX directly and profoundly interconnected.
Successful SEO doesn't mean tricking search engines, instead, it is about adhering to best SEO practices to provide reliable results to users and let search engines fall in love with your website. You know everything about search engine optimization and apply all the best techniques to rank higher in search engines, but the results are not permanent.
Do you know, how search engines and Google measure your website performance? What are the criteria that affect your website ranking every now and then?
Not only UX is the factor that impacts search engine results, but there are also many other factors including the competitor's SEO strategies and content. You work on your website's performance, but have you ever tried to work on your competitors' analysis? It is a crucial thing to pay attention to because they are the ones who can replace your rank on search engines. Right efforts with adequate analysis results in better search engine performance, increased traffic, and enhanced conversion.
There is always a chance to improve, and competitors' analysis helps you to know well about the areas of improvement. The factors like keyword analysis, backlink analysis, and there are many other, help you to refine your SEO strategies and secure your website rankings on search engines.
If willing to improve your search engine optimization strategies, peruse the article till the end and know what areas you can analyse and refine.
Competitor analysis – An exigency!
For a flourishing business, there must be healthy competition. It encourages you to give your best every day and keep your online business updated. Despite you haven't left any stone unturned to ensure your website's performance and position on a search engine, your competition has outranked you, which implies you've missed something important. But what is that?
Have you missed competitors' analysis? You have never analysed your competition. Competitors analysis is essential to keep track of your competitors' websites and run the improvement work in a loop.
When you analyse your competitor's website, you might come across that there are many facets of your website which are better than the competition.
But if you unearth the superior things of your competitors and flaws in your SEO strategies, you can work on them for improvement using their best ideas. There are chances that your competitors are keeping themselves up to date with ongoing SEO enhancements and Google ranking algorithm updates, if they are relevant, you can also apply them to your business.
The bottom line is competitor analysis is critical for every website's growth. It plays a significant role in refining your search engine optimization strategies.
Find your competitors and execute the competitor's analysis
To perform analysis, you must know who your competitors are. If you have a clear idea about your target audience and market, if you know what your buyer's persona is, and if you are aware of your product niche, then obviously you don't want to waste time in analyzing businesses that might be selling the same stuff as yours, but they are not targeting the same audience. Their products' niche is distinct from yours. Thus, carefully locate your competitors and then conduct the analysis.
SEO competitor analysis
Keyword gap analysis

It is also known as competitive keyword analysis. Keyword gap analysis helps you to identify the valuable keywords that you've missed using in your content, but your competitors are employing them very well. Your competitors are focusing on 'long tail keywords' and 'local keywords' are performing well on search engines.

When analyzing competitors' websites, discover how they are using these keywords to attract the correct audience. You have a genuine chance to apply the new way to find the right keywords to grab your target segment's attention on your website. Note down all the valuable keywords and compose fresh content around them to move ahead and win the race.

Top content pages

Every website has content pages, which are performing remarkable on search engines. When you analyse your competitors' websites, try to find out what sort of content they are publishing. Are they posting content frequently or is there any fixed interval? Use of keywords in the content, quality of content, etc. Discover every small detail about their content and compose quality content keeping in mind their posts to give them a tough fight. If there is any weakness in the competitors' content, use that as your strength to improve your search engine optimization strategies.

Website design & user experience

Website design and UX are crucial parts of any website that decides its position on search engines. You must analyse your competitors' websites and find out if their website's design and look are better than your website. Is the website user-friendly, how does it navigate, does it load faster than your website, etc.?

Moreover, what type of user experience the website is providing? Is it engaging and useful or not? If there is any loophole, you can take advantage of that, and even if there is no issue with their website, you can gauge your search engine strategies and improve your methods.

Strong Backlinks

When talking about SEO strategies, backlinking is one of the important steps that play a critical role in your website's performance on search engines.

Look for backlinks your competition is getting from, which is helping them to outrank your website. It is difficult to scan backlinking manually, SEO tools can help you out. Use the data you generated from various SEO tools like SEMrush, ahrefs, Moz, etc. and try to build a quality backlinks network to boost organic traffic.

Google My Business Listing

If your target segment includes a local audience, then you must focus on the competitors who are into Google My Business Listing. Check how well they are performing as compared to you. Make a list of strategies, they are applying to allure, local visitors. That can help you with improving your search engine optimization strategies.
Competitor's analysis done right? Start fine-tuning your SEO strategies!
Competitors' analysis works as a success roadmap for your website. You can unearth some critical points, to which you never paid attention in the past. It is good if you are on the top of every relevant result, but do you think you always will be? Because there will be some competitors who might be vying with you and improving on their strategies. So, you must keep on researching and improving to safeguard your position on search engines.
Well, it's time to perform and rock on your SEO strategy! Happy analyzing and Happy ranking!
SEO changes fast; it comes with new challenges from algorithm changes to voice impacts as well! We are offering various SEO services that improve your SERPs and are quick to adopt any latest changes in Google search algorithms. We could foster new perspectives about optimizing your website and act as a catalyst in helping you achieve your business goals. Get in touch with us at hello@skynettechnologies.com or submit the following request free quote form to know more.