Capture more conversions with the blend of Web Accessibility, SEO, and User Experience (UX)!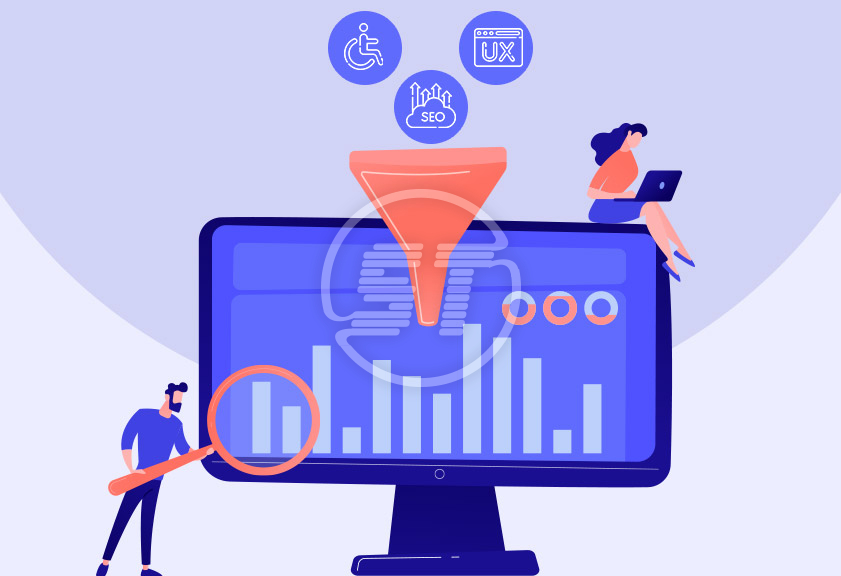 Every business wishes to own a website that delivers unmatched performance. There is a VIE for owning a website with the highest ranking in SERPs. A page experience highly depends on the user experience of the specific page. Google has determined user experience as one of the key ingredients in website performance and rankings.
User experience can be achieved using simple yet extremely effective practices of search engine optimization and accessibility. These three factors (SEO, accessibility, and UX) decide how your website will perform on search engines. Let's think of two different websites; one with extraordinary elements and amazing UI but not complying with defined guidelines and another one that fulfils all the best practices of accessibility and SEO. Which website will end up engaging users and delivering unbeatable performance?
A website that is built under all the best practices of SEO and WCAG considering UX, will manage to deliver the best performance among other websites without smooth UX.
Accessibility and SEO guidelines both intend to bring a solution with an ingenious user experience and such websites perform exceptionally well for every user.
Accessible web designs offer improved SEO and UX – How?
We know accessibility implies ensuring a design that is available for everyone with or without any physical or cognitive problems. Accessibility focuses to provide a smooth customer experience by complying with a few defined guidelines. When a website adheres to all the accessibility standards, it somehow complies with SEO guidelines as well.
Accessible designs

The completely accessible websites put users on priority, hence delivering an extraordinary user experience. Legible text, straightforward navigation, quick load time, etc. are the basic standards of web accessibility that improve user experience and Google has already mentioned that websites with good page experience will rank higher in SERPs. The best UX design accessibility practices aid in achieving good web accessibility. The overall performance of the website eventually impacts on good ranking in search engine, and you see more traffic and conversion on your website.

An accessible design must fulfill the following attributes to deliver fantastic UX.

Select the right text and background color keeping in mind that users with color blindness and other visual issues might face problems while surfing through your page.
Always put essential elements on the top of the page to grab the users' attention from the very minute they land on your web page. It improves the conversion rate of your website.
A web page must be keyboard friendly to offer ease of navigation using tab key. Users should be able to access content, CTAs, and other links using a key from keyboard.
Provide skip navigation; so that users who explore your website through assistive technology can skip to the desired content and perform the action for which they visit your website.
Forms on your website should be accessible. All the form fields must give correct information to all the users to avoid any confusion.

Title tags

Title tags show your content link on the SERP and on the tab at the top of your web browser. So, it is equally important for your website performance as the design and other elements are.

Tags assist screen readers in easily comprehending the difference between two or more pages. So that users with cognitive issues or some other problems can also differentiate among pages and access the required content without any trouble. Title tags are critical for not only UX but SEOs as well. It helps your website to appear in relevant keyword search results and improves website performance and page experience.

Header structure

A well-planned header structure establishes a content hierarchy. It follows a logical sequence and adequately describes the content below it. Users with a cognitive disorder can skip the sections which are not worth reading to them. Moreover, people who use screen readers can also understand which section has useful content for them. Thus, properly structured headings improve the UX of the web page. You should mark the heading and sub-headings adequately (like H1, H2, H3 etc.) for better understanding.

Headers are a critical element in SEO as well because they break the content into logical small chunks of information pieces, which is a Google guideline to present the content. Also, a good header structure can aid you to grab featured snippets for relevant searches. A person can see your content without clicking on the website link if you have correctly composed a header structure with pertinent content.

Alt text

Alt text gives information about non-textual content to the screen readers. It is essential for web accessibility, as mentioned in WCAG standards. The alt text aids screen readers to understand the image context for visually disabled people. To improve the overall UX of the website, alt text is necessary to have with images. So that people with vision impairment or with some cognitive issue can understand the content.

Search engines also crawl alt text on an image to combine it with machine algorithm and content of the page to understand the need and motive of the image. When a search engine comprehends the content on your page then it helps you to rank your website according to the quality of the content. Furthermore, images with alt text show-up higher in google search.

Anchor texts

Likewise, anchor text also brings accuracy and relevance to the content on the web page and enhances the UX as well. For users who navigate through keyboard or screen readers, it is easier for them to understand where the link is pointing because sometimes, they don't read the entire content, rather jump on links, and click on useful ones. So, the users with some sort of disabilities, use this blue colored (mostly) text links to navigate from one page to another.

Google also looks for anchor text links and if the links are useful and relevant then there is a high probability for your website to secure good ranks in web crawlers. And as we know, an advantageous position implies a better performance of the website.

Video transcripts

It is a text-based description of a video file, which is crucial for both accessibility and SEO. On a page where video content is playing the main lead, putting transcripts below the video is the standard to give a clear understanding of the content to the users with hearing issues. Without well-composed and well-aligned transcripts, a few users may find difficulty understanding the video. Thus, for better UX it is one of the crucial points to take care of.

Search engines don't listen to your video, instead, they look for the content below the video. If the content is engaging, informative, and interesting, then search engines assume it is relevant and useful for everyone. Hence improves your rankings and website performance.

Schema markup

Schema is a programming vocabulary, which assists in well-defining the elements and content on a web page. It is a globally accepted concept for search engines to understand the site's content better. Structured data for SEO adds rich snippets to your page results in search engines and provides improved ranking and page performance.

From an accessibility point of view, screen readers rely on properly defined elements, and as mentioned above, schema aids in defining the elements on your page in more adequate ways. Websites with dynamic content and ecommerce functionalities need schema markup to define each dynamic and complex element to become more comprehensive for everyone.

Sitemaps

A website with numerous pages maintains a sitemap to make it easier for users to navigate different pages of the website. It is generally positioned in the footer of the website as a link form. Users with disabilities often prefer to navigate through an HTML version of sitemap. It is easy to navigate and gives them an overview of the content on the page, which ultimately improves the UX of your website.

HTML sitemap is crucial for SEO as well. Occasionally, some pages of a website can get missed by search engines, but a sitemap displays a complete list of pages on a website. Thus, search engines notice all the pages and rank your website accordingly.
The above factors are a few critical yet essential pointers for each website from search engine and accessibility point of view. If a website clings to all the standards of SEO and WCAG, it ultimately witnesses exceptional user experience. And with at par UI/UX web design, your website shows beyond-the-box performance.
Wrapping it up
Accessibility and SEO both go in conjunction with your website. Provide a better user experience to your users by applying accessibility and best possible UX to improve your website performance on search engines. Optimizing your website for accessibility and SEO is a win-win situation for you.
Accessibility and SEO, both intend to achieve better UX and invincible website performance.
Is your website, web application, documents, and mobile app SEO-friendly and accessible to people with disabilities? With a team of experts, we provide audit, strategy, design, and development services that comply with accessibility regulations such as ADA, WCAG 2.0, 2.1, 2.2 and Section 508 within your budget. Not limited to this, make your website search engine friendly as well with our comprehensive SEO friendly services. Get in touch with us at [email protected] or submit the following request free quote form to know more about our ADA web accessibility services.