How to implement Google Analytics 4 ecommerce tracking?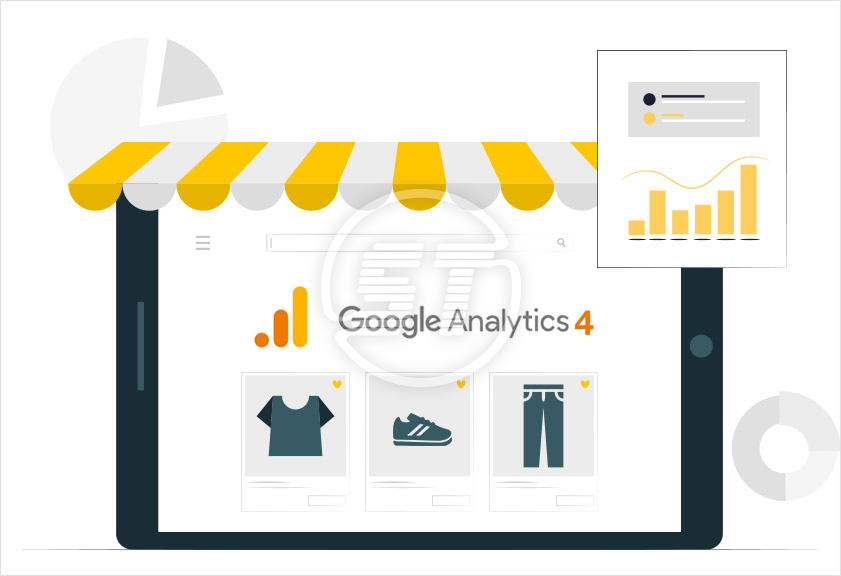 Ecommerce is deep like a sea and your efforts to elevate the level of this sea are merely a few drops. But yes, many drops together can surely raise its level in terms of the quality of ecommerce.
You know that an ecommerce business needs accurately analyzed data for continuous improvement as per customers' needs and new market trends, but do you know the right use of analytics can be a boon for your ecommerce business?
There are ample sources (like shopping cart analysis) to get the analyzed data about conversion, profits, loss, etc. But Google Analytics gives you the exact and wide range of data about sales, bounce rate, conversion rate, traffic sources, landing page data, and much more. These pieces of information help ecommerce business to unearth their strengths and weaknesses and help to tweak the processes or refine the issues for the betterment of the ecommerce development.
Any ecommerce website can use Google Analytics irrespective of its size and complexity. It helps to track the performance of every page and accordingly, decisions can be taken related to marketing campaigns and other strategies to uplift the overall performance of the ecommerce website. Thus, to make sure that your ecommerce site does not lack any single piece of essential information, Google Analytics has evolved and now it is Google Analytics 4.
If you want to know, how to implement Google Analytics 4 for your ecommerce store website or application, we are there to help you.
YOU MAY ALSO LIKE: Drupal Google Analytics 4 Setup
Google Analytics 4 (GA4) – Future-proof approach!
It is a powerful marketing tool that helps you to measure the traffic and interaction of users across web domains, mobile apps, and offline APIs. Google launched Google Analytics 4 in October 2020, which is a renovated version of Universal Analytics (UA). There are umpteen innovative approaches and effective concepts that make Google Analytics 4 more concise.
Universal Analytics will no longer be in existence after October 2023. The shift to GA4 can be stressful. A professional can help you to implement Google Analytics 4 and to get ahead of Google UA sunset.
Google Analytics 4 is a gen-next version of Google Analytics. Previously, we have seen Universal Analysis help businesses with analytics configuration, metrics, and many other advanced ecommerce features. Whereas Google Analytics 4 is made to meet all the necessary modern ecommerce needs. It will help ecommerce businesses to make better-informed decisions and manage the collection, retention, and usage of data.
Predictive Analysis, reports & automated tables customization, anomaly detection, segment creation, events & conversion tracking, etc. are the key features of Google Analytics 4.
Additionally, Google Analytics 4 has new schemas that are different from Universal analytics. The schemas like product details, currency, promotions, etc. (Example: In UA, if you were passing a product name, you used to pass it by the 'name' schema, but in GA4, it is 'item_name'. Similarly, other schemas have changed as well. Moreover, for each schema, you need to change the data layer configuration.
Benefits of using Google Analytics 4
GA4 helps you to measure important KPIs (key performance indicators) such as ecommerce conversion rate, average order value, average time on page, shopping cart abandonment, revenue on advertising spend, website speed, customer retention rate, and many more. Other benefits are:
Enhanced ROI: Google Analytics 4 gives automatic alerts if there is any shift of trend in the data. Therefore, organizations can increase the sales of that specific product, which assists to boost the ROI of the business. Google's advanced machine learning model helps in providing these alerts.

Futuristic Vision: As the cookie tracking has been increased now for users and their online movement and to fulfill organizations' privacy policy as well, Google Analytics 4 operates not only on cookies but also on users and events. This approach of cookie tracking, and Google's machine learning algorithm together offer you more trusted data for efficient and future-proof ecommerce marketing campaigns.

Improved marketing experience: Google Analytics 4 helps you to integrate data from both ecommerce websites and apps. It also evaluates the customer behavior in the purchase funnel. This information assists you to enhance the marketing strategies of your ecommerce store and hence the experience. The data also helps you to modernize the ecommerce store.
Implementing Google Analytics 4 for ecommerce tracking using Google tag manager
When you implement Google Analytics 4 for your ecommerce store, you need to modify or define the data layer on the page. Your developers will help you to update the data layer. (Please note that ecommerce events can also be implemented using the global site tag- gtag.js.)
Below are the steps to update the data layer
Login to Google Tag Manager and click on 'Variables' in the menu on the left side.
Then click on 'New'.
Give a name to the variable and hit the 'Variable Configuration' button.
You will find an overlay, choose the 'Data Layer Variable'.
Then type 'ecommerce.items' as the Data Layer variable name.
Click on 'Save'.
After data layer configuration has been done, you can start implementing ecommerce events and measuring them.
Google Analytics 4 ecommerce tracking
Products/ items list views

This tag will be fired on the pages where the product lists can be seen (like home page, category pages, etc.) to measure the product impressions.

In data layer configuration, push a list of products & their attributes to the data layer and pass a 'view_item_list' event to measure the product impression. After this, perform the Google Tag Manager configuration by login into the GTM console with the event name 'view_item_list'. Once the GTM configuration has been done, Trigger Configuration is the next, the event name will be the same for trigger configuration as well.

This way, you will create a Google Analytics 4 property for an ecommerce event (Product impression). Similarly, create other properties for remaining ecommerce events.

Product/ item list click

Push the product and its attributes to the data layer and pass the 'select_item' event for data layer configuration. Then perform Google Tag Manager configuration and Trigger configuration using the 'select_item' event.

Add to cart

Here, the event will be 'view_item' for data layer configuration, for GTM configuration event will be 'add_to_cart' and for the Trigger condition will also be 'add_to_cart'.

Remove from cart

To measure remove from cart, the event is 'remove_from_cart' and you must do data layer configuration, GTM configuration and trigger configuration for the same.

Promotion views/ impressions

You can measure impressions for promotions/ offers on the website. Push the product and its attributes to the data layer and pass the event 'view_promotion' in the data layer configuration and then apply the same event for Google tag manager configuration and trigger configuration.

Promotion clicks

The event name is 'select_promotion' for the data layer, Google tag manager, and trigger configuration.

Checkout

For checkout measurement, 'begin_checkout' is the event for all three configurations.

Purchases

Push the transactions, products, and their attributes to the data layer and pass the event 'purchase' along with the data on thank you page and perform the configurations.

Refunds

Push the transaction details to the data layer and pass the event 'refund' along with data on thank you page to perform data layer configuration and then GTM and trigger configuration.
So, this is how you set up Google Analytics 4 and execute ecommerce tracking.
GA4 ecommerce tracking reports
After setting up the Google Analytics 4, you need to wait for some time for data generation, and then you can move further with reports.
To view the reports, click on Monetization > Monetization Overview. It will give you detailed reports for 'Total Revenue', 'Total Buyers', and 'Average purchase revenue per user'. For more elaborated reports, click on 'Ecommerce Purchases' in the reporting menu. You will get a detailed report.
Rely on Google Analytics 4 for ecommerce growth!
Use Google Analytics 4 for data and reports to analyze customer behavior and market trends. So that you can improve the ecommerce SEO strategies accordingly, and match the business pace. Google Analytics 4 is smart enough to track all the hit types such as transactions and page views. It helps in eliminating the obsoleted fields under Label, Category, and Action. And it uses models such as automatically collected events, custom events, and recommended events.
Google Analytics 4 collects every data automatically if it notices any user activity. It has an audience insight feature, which helps you to drive the customers via the purchase funnel. Google Signals notifies which users have not logged in to their accounts and Google Site Tags make changes in coding without touching the tags.
These all and many other features make Google Analytics 4 an intelligent and data-driven tool for every ecommerce website tracking. Therefore, implement GA4 for your ecommerce store and upscale the marketing strategies.
For the consistent progress of any business, it requires a profound and systematic analysis of the performance of the business. And it becomes possible only when accurate data related to business performance are available. Particularly for Ecommerce businesses, Google Analytics 4 is doing a remarkable job. A wide range of data it provides for the performance of a business helps in forming marketing strategies.
Skynet Technologies provide you with every solution to improve the performance of your ecommerce business. Our experienced team can give you every insight into the analytical part of your business by implementing the latest tools like Google Analytics 4. Establishing a baseline of your website's performance is essential for understanding the effectiveness of your ongoing SEO and digital marketing efforts.
We report regularly, usually monthly on what we have achieved. To maintain transparency while working with you, we are proactive in sending you a monthly report of all the important data and results. We offer tailor-made SEO services to give you the competitive thrust and out-hustle your business rivals in getting more qualified traffic, leads, and conversions. Get in touch with us at hello@skynettechnologies.com or submit the following request free quote form to know more.