Google November 2023 Core Update – Another Important Upgrade!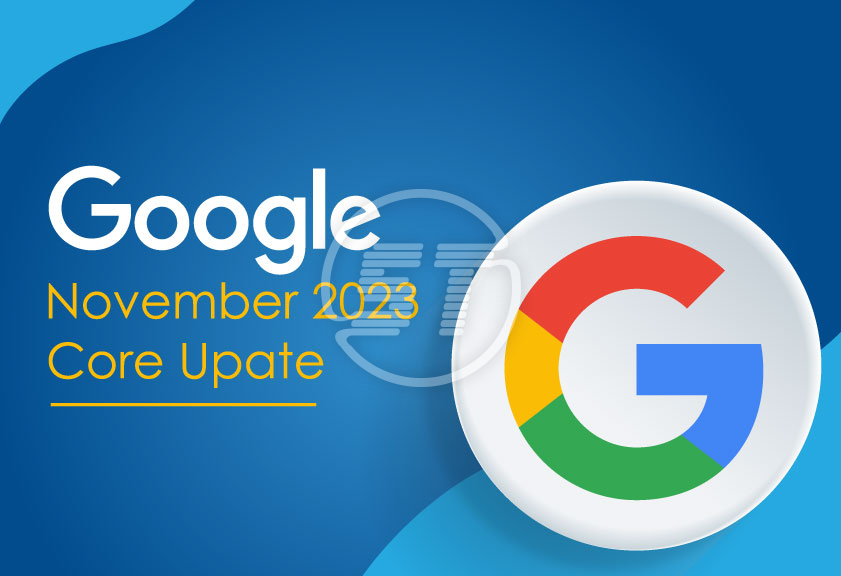 Google's November 2023 Core Update was released on 2nd November 2023. Likewise, in other previous updates, the rollout will take some days to complete and myriad websites are expected to encounter performance changes (either downfall or sudden rise). Google releases core updates periodically to upgrade or adjust its algorithms to include relevance and quality in search engine results.
The core update series first happened this year with March 2023 core updates followed by August 2023 core updates, October 2023 core updates, and now November 2023 core updates. The idea behind each update is to uplift the overall search experience for both websites and their end-users.
Changes that are expected in November 2023 core updates!
The latest core updates encapsulate changes like,
Comprehensive understanding of user queries

The new updates will be a leap in understanding user queries more contextually. With this development, natural language processing (NLP) technique integration becomes possible. NLP assists in perceiving the intent behind each query more precisely.

Focus on E-E-A-T (Experience, Expertise, Authoritativeness, and Trust)

Websites that emphasize including E-E-A-T in their content are poised to perform well in Google's search results.

Improved evaluation of content quality

This is one inevitable change in every update!

Content quality will accord a higher ranking to the website, which is the basic concept of these core updates. If a website has original, well-researched, and engaging content, is more likely to achieve better visibility in search engines.
New updates are next in line of October 2023 core updates!
The November 2023 core updates are an extended version of the previous core update (October 2023 core update) that was released last month. It is a rare phenomenon to witness two major updates released in consecutive months. According to Google, if websites are updated with all the latest algorithms and performing well, then such websites don't need to perform major changes in response to the latest core updates.
The official announcement says, "Chances are, there is nothing to do for most creators who have already been working to create helpful, reliable, people-first content".
However, reviewing content and updating its quality is always suggested. If the website begins to underperform, it is time to fulfil the latest core update requirements.
Q & A related to core updates released by Google!
Google understands that you might ask questions in Google Search Central community forums if your website's performance gets affected due to core updates release. Thereby they have created a Q & A section wherein they've addressed most of the potential issues, such as:
Is Google doing more updates than in the past?

Several updates keep on coming regularly but only major updates are announced publicly because several of those changes are relatively small and make incremental changes. As per the official announcement, they shared 10 updates in 2021, 10 more in 2022, and the same number of changes are expected for 2023.

What is the difference between a ranking system and an update?

Core updates are not similar to Google's ranking system. These updates adjust those algorithms so that the ranking system can generate top-notch quality results. Google has multiple ranking systems that work differently to rank websites. However, updates are making improvements in those ranking systems.

If a website's traffic drops after an update, does that mean it is spamming?

If a website is affected after the non-spam update, it is not always a spam issue. However, consider websites containing other non-spam content. There are chances that Google's systems have found that your website is either spamming or maybe discounting spam links that benefit your website.

What are the reasons for the overlap between a few notable updates?

Mostly, notable updates are separate, so that the changes made by them can be identified by site owners. Nevertheless, some changes might overlap due to the frequent and profound number of continuous changes. Anyways, the changes are beneficial to search better, thereby they will keep coming periodically.

Aren't there supposed to be no updates during the holiday shopping season?

The major updates were never released during the most trafficked holiday shopping seasons. But it is not possible always. If changes are ready and crucial to release for search results, then it is difficult to hold them.

How does Google know that an update works to make things better?

Changes are made after a rigorous evaluation process to analyze metrics. All possibilities are considered before implementing proposed changes.
Wrapping up
In a nutshell, creators ought to focus on content quality to stay unaffected by the latest core updates. Moreover, keep a tab on each metric that affects the website's performance (other than content quality) such as page loading speed, cross-device functionality, etc.
Read all the required details before updating the website!
If you are affected by Google's November 2023 core Update, we will help you identify and limit its negative effects. As search engine optimization experts, we provide comprehensive SEO services, such as SEO audits, on-page SEO, off-page SEO, technical SEO, local SEO, international SEO, and custom analytics. For more information, please contact us at [email protected] or request a free quote.