How to Achieve ADA Compliant Website for your Business in the Era of COVID-19?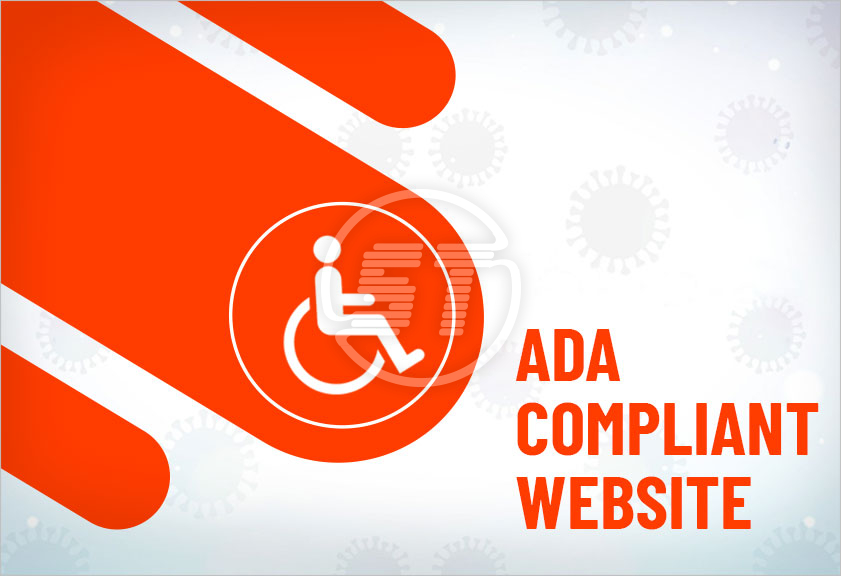 What is ADA and Why is it Important?
ADA is civil right law, which is known as the American Disabilities Act. This law was mandated in 1990 with the aim, the all American citizens should enjoy the rights and facilities equally. It ensures that American residents with disabilities enjoy equal rights as any other non-disabled American. The American Disabilities act makes it illegal to discriminate against people with disabilities in all aspects of 'public life', such as work, public transport, educational institutions, places of recreation, places of worship and common public spaces. Though the Act specifically does not mention about the internet as a public platform, to make the internet a come conclusive space, the U.S Department of justice also ensures ADA is complied with all the websites. A set of guidelines known as Web Content Accessibility Guidelines, followed to make ADA compliant websites. These set of guidelines were formulated by the web accessibility initiative, which was a subgroup of the World Wide Web association.  
In the current state of pandemic and rising COVID-19, it becomes extremely important to make your website remotely accessible and equally accessible to everyone out there. Social distancing can have negatives impacts on the economy and businesses too. Complying to these guidelines and making an ADA compliant web design is a way to safeguard yourself from future losses.
You must be wondering; why should your site adhere to these guidelines for web accessibility? Well, here are the reasons you should make your website ADA compliant,
Increase consumer market: making your product and website accessible for people with disabilities makes it available to them. This increases the reach of your website which in turn increases your consumer market.
Penalties: If you don't comply with the ADA guidelines, there are humongous penalties involved. Besides that if anyone, files a lawsuit that cost incurred could be huge.
Public image: complying with the ADA guidelines, showcases your image as an inclusive and egalitarian website, this helps in increasing the credibility and trust with the public.
Ethically right: Making your website an equally accessible resource is the right thing to do.
How to Make your Website ADA Compliant?
The focus is gaining around the topic equally accessible resources and making all forms of good and services equitable. Conversation amongst the general population about this is on the rise and people and the government and realizing the importance of this. The department of justice in light of these recent developments in public sentiment for equality is promoting self-regulation to adhere and comply with the ADA guidelines. The department of justice agrees that no website can be perfectly accessible to everyone in the same way and does not promote 100% adherence to the guidelines. There are certain steps you can use to make your website compliant with the ADA guidelines:
Step 1: Check your current status: the checklist method.
The most recent edition of the guidelines is the Web Content Accessibility Guidelines- (WCAG) 2.1. It gives you three levels of ADA compliance. They are:
A – rules you must comply with
AA – rules you should comply with
AAA – rules you may comply with.
Conduct a self-assessment of the website, after going through the guidelines.
Prepare a checklist of the basic compliance and go through your website and try to identify what all criteria's you currently adhere to and what are the other set of guidelines you can apply and follow on your website.
Step 2: A guide to things you can include to make your website ADA compliant.
What are the broader things to keep in mind to make your website ADA compliant?
Structure of the website: it is important to make a simple and easy to navigate structure. Do not include many layers in your website, and the basic outline should be easy to understand.
Be descriptive: your website will have a lot of elements, remember to be descriptive about all these elements, be it links, media etc.
Formatting: make sure the themes and the tone in subtle and not very fancy. The colours should be minimal. The font and the mark up should be in line with the guidelines.
These are the specific things to include to follow ADA website compliance:
Use colour enhancement only where it is necessary. The basic difference between the compliance levels is varying use of colour on your website.
Include a "skip navigation" button on the top of your website, which makes the main content of the website appear immediately.
If your website has a heavy use of text, try to link and associate images and videos with the text.
If you have any link mentioned to your website, provide a link description along with it.
Every media on your website, video, image, maps or any form of graphic, should has a tag text or description text.
Make sure all the videos and images have the 'audio description' feature attached to them, for visually impaired people.
All audio and video on your website, should also have descriptive texts about them and extensive subtitles for visually impaired people.
Every drop-down menu, should describe the text or content displayed in the menu rather than a prompt response. This should also be applied to all the fields in any form included in your website.
All the documents that are included in your website should be available in 'rich text' format and HTML format.
All the text, inline messages, tags, subtitles and description should be readable by a screen reader.
Promote, keyboard navigation. Ensure that your entire website and all its content can be accessed just by the 'tab key' on the keyboard.
Any part of the website that uses an image to display text should be converted into text. This is because a screen reader cannot read text in an image, which is essential in the guidelines.
A customizable quick reference to Web Content Accessibility Guidelines (WCAG) requirements (success criteria) and techniques.
Ensure Your Website Meets Accessibility Standards!
Conclusion
The above given guide can be used, to make your website comply with basic ADA criteria and requirements. It has become a popular concern amongst the people and the government. To sum it up, adhering to the Web Content Accessibility Guidelines- (WCAG) 2.1 and the American Disabilities act is important and not only protects you from losses but also reaps you benefits. It should be kept in mind that making web accessibility is extremely important, not just for your own advantage but also for the welfare of the people.
Skynet Technologies USA LLC is a full-service provider of ADA Compliant Website Design, Accessibility Web Development, ADA Compliance Audit, ADA Compliance Mobile App and other ADA Compliance Services. We can make you Drupal, WordPress, Magento Website or Mobile app an ADA Compliant. We have a specialized and dedicated team of the developer will conduct a detailed evaluation and analysis to an existing website and develop a unique strategy to make your website ADA Compliant to facilitate the accessibility transformation of your esteemed business.
If you are looking to Covert Your Business Website into ADA Compliance or Looking for a New ADA Compliant Website, Let's Get Connect and Explore.