How adopting a Mobile First Web Design Approach will help your Business to boom in 2020?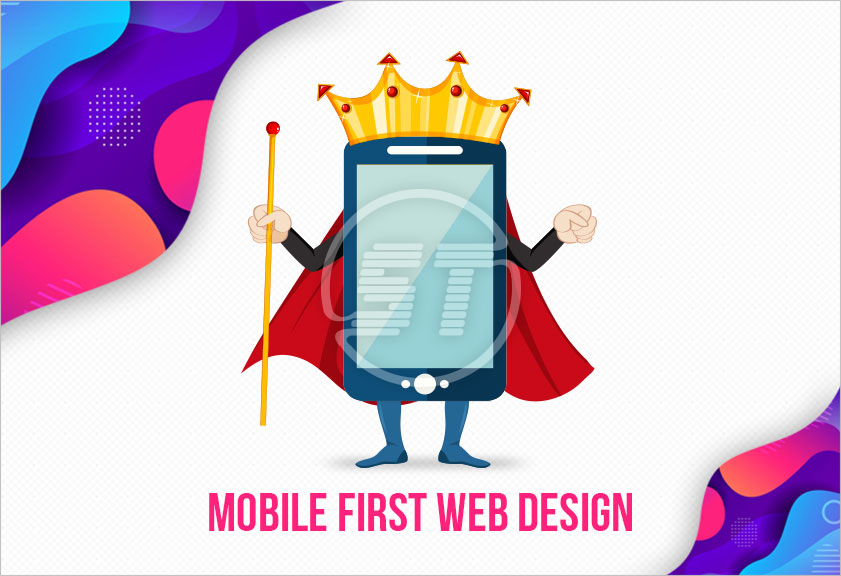 Presently according to a survey, it has been proved that many users' especially young people and housewives are browsing the internet from their phone and not from the desktop. Almost 53% of web traffic comes from mobile browsing world-wide. The Mobile-First Design is designed in such a way that it can fit in any kind of screen of any device automatically. Depending upon the users' device the web design and the development should respond. The mobile-first design provides a strong base for the UX design. It is designed in such a way to improve its usefulness in all kinds of devices. With time, people has changed their habits and current scenario, desktop browsing has decreased and mobile browsing has increased. Mobile-First Web Design has gained huge popularity with time and it is quite trendy too.
Benefits of Mobile First Web Design:
1) Google Rankings
Google has introduced the Mobile-first Web indexing. They are using this in their all web pages worldwide. Mobile-first Web indexing means Google looks after the mobile version of the website over the desktop. The mobile-first design is a strategy where web designers increase the chance of website ranking on Google and other search engines as well.
2) Mobile Conversions
When it comes to average conversion between desktop and mobile phones, the desktop always ranks higher. But eventually, it has been seen that the gap is decreasing with time. Mobile users are increasing day by day. Along with the mobile-first design in any business, the rate of conversion greatly increases. Along with time many users nowadays use the internet on their mobile phones and therefore we can see a lot of people trusting the mobile website. This would be the leading way to a great number of conversions that are also increasing.
3) Navigation is Easy
The mobile-first design presents in the mobile helps all mobile developers to add different items on the menu. The users get the chance to navigate so that they can reach their destination. The developers have removed the drop-down option and that created quite problematic in the desktop version. On the mobile version, this is also not present due to rollover.
All About Mobile-First Design:
Have you Ever Thought About What a Mobile-First Design is?
Responsive mobile-first design is a design where the website automatically adjusts itself to the screen size on any kind of device. It's a unique feature of the web page and a result of the detailed of Web development techniques. It changes the CSS style and then changes the required layout.
In the past, all the Web designers used to structure the Web Design keeping the desktop in mind. The adaptive web design should never be confused as it only adapts a website and to a certain specification on any screen.
Why is it important to Consider Mobile-First Website Design?
All supporters have provided many positive reasons for Mobile-First Website Design. Some of them are:
If you're more concerned regarding Google Rankings, then Mobile First Web Design can be your best option.
The Mobile-First Website page enhances all kinds of smartphones and boosts the conversions and then it creates leads.
The main important reason to adopt the Mobile-First Web Design is it's about simplicity and minimalism.
It is quite easy to carry over from easy function and outline to a more complex Mobile-First Website.
Some Essential Tips for mobile-first Design:
Right tools:
Choosing the right tool is the foremost step towards selecting a perfect Mobile Web Service. Web designers must consider the important solution package like the Bootstrap, Foundation, and Skeleton while choosing the right framework or the builder. The Bootstrap rules the market when it comes to the development of mobile front-end.
You will find the default grid system, typography, and JavaScript plugins under the Bootstrap's hood.
Web Designers refer to Skeleton if customer has a small scale budget. It is quite easy to start and comes in many features on the Mobile-First Website Design.
The Foundation requires no extra attention; it can suit any kind of project and responsive to any website, email and mobile application. The team is in full fledge to advance the framework. They are adding all-new resources and code to the Mobile-First Website Design.
Add Elements:
Web Designers have skill to adopt the main design element to the Mobile-First Website Design and then slowly adjust them to the desktop.
If you wish you can hide the Navbar under the burger button and if in any case, you wish to experiment with it more than you can try something more different.
You can also put the call to action as the core in terms of navigation. Yes, that can be interesting and one can find is easy.
All the available links and buttons present in the Mobile-First Website Design are to attract the users.
Spotlight for the users:
On every page of your Mobile-First Web should be useful. It should help the user to resolve the task or other kinds of problems.
Apart from that, you must know the proper count of the users and their journey in an around your website. Every Website Design Company creates a diagram showing the different situations of the users and their behavior on each page. These Website Design Companies help to grow your business and provide you a huge profit.
You need to have a proper idea regarding a person's interaction with the Mobile-First Web. This would make the Mobile-First Web user-friendly.
Bottom Line
Mobile-First Web Design is designed in such a way that it is quite challenging and a lot of headaches while using. But it has promised to have unbelievable benefits provided to the users who wish to use it eventually. There have been multiple pieces of advice as to how one can design mind-blowing Mobile-First Web Design. You cannot follow the trend of creativity in this case until your users are quite comfortable as they are your main target. The Mobile-First Web Design is ruling the market for its successful design method done by the web designers. With time, the Website Design Company have gained huge popularity.
Skynet Technologies USA LLC is a full-service provider of ADA Compliant Website Design, Accessibility Web Development, ADA Compliance Audit, ADA Compliance Mobile App and other ADA Compliance Services. We can make you Drupal, WordPress, Magento Website or Mobile app an ADA Compliant.