Elevate Your User Experience with Amazing Omnichannel Design!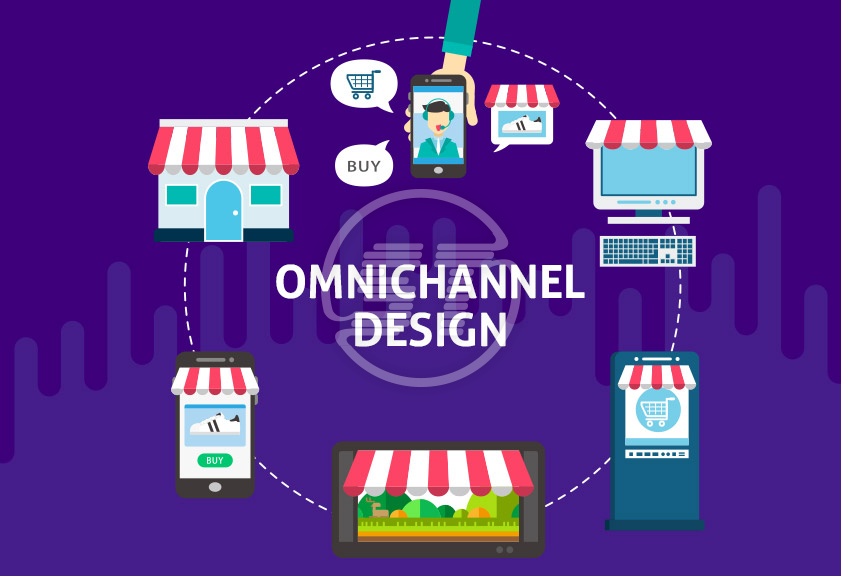 Omnichannel design is the need of the hour! It's no mystery that these days, customers have been on various channels of engagement with your product or service. For instance, if a customer wants to buy a mobile phone, he/she first researches online and then visits the nearby store to look at the models. While checking it in the physical store, they check the competitors' pricing on their mobile phones. They may come back and buy it from their desktop. Post-purchase, they visit the web, social media forums, and even contact the dealer for any updates or glitches. They thus interact with your brand in unpredictable and unprecedented ways often moving between channels throughout the purchase process.
If this is the case, it isn't enough just to provide omnichannel design, customers should be at the center of this omnichannel ecosystem. You need to change your strategy from providing channel-centric experiences to channel-agnostic experiences. You need to understand how they act on their triggers when they see your product or service on various channels. You can then develop an understanding of how to achieve a brilliant user experience.
Do I really need to provide an Omnichannel experience?
Of course, in fact, your customers expect it. The lines between online and offline are blurred for them. They do not draw any lines between your channels. For them, everything is your brand and they expect exceptional user experience everywhere they engage with your product. So, having a unified impression is a must and they do feel that brands need to provide a consistent feel across all the touchpoints.
The necessity of omnichannel design is proven and even reflected in the ROI. As per a survey, nearly 50% of the in-store sales are actually driven by digital touchpoints. Businesses offering omnichannel experiences have actually seen greater revenue lift than the others.
How to go around with Omnichannel designs for elevated User Experience?
Seamlessness
Companies must focus on how the user interactions happen on various channels, and also concentrate on the unique touchpoints that are interconnected across these channels. You might have also observed that users these days do not complete the task in one channel. For example, if they have made up their mind to buy a pair of shoes, they might have first seen a brand on social media, then browse the product on their phone, check them out at a local store, and later buy through its website.
There could be more than one reason for this - either there were interruptions, or the task was suited better on another channel or in some cases, it requires a transition to a different channel. Whatever could be the reason, it is vital for you to understand when and why the users are navigating across the channels for completion of the task. So, focus on designing a seamless experience around these customer movements.
To offer a seamless user experience, make sure you focus on the following aspects.
1. Customers should find it easy to pick up from where they left off. The same basket data, customer account information, purchase history, promotions, inventory should be constant across all channels. They should be able
2. Include detours so that if customers face a roadblock, they should be able to complete it through a different channel. For instance, if a particular product is out of stock on the web, but is available at a nearby store, then send out a notification or a pop up informing them about the product availability.
3. Identify when the customers need to navigate to another channel for the completion of the specific task and design the experience around it.
Unified Experience
You don't need any other web design. Your users expect a cutting-edge user experience when they interact with your brand. When we talk about unified experience, you need to understand that users behave differently on different channels. So, focus on providing channel-adapted experience and deliver a unified message. The screen layout should be familiar to make an immediate impact based on their previous engagement with your company. The tonality and functionality should be uniform, and any inconsistency may mar your credibility as a brand icon.
Maintaining a consistent brand experience will help you gain the user's trust. Consistent brand voice, user workflow, interaction patterns go a long way in building brand loyalty. For instance, if your mobile app differs in any feature from that of your web app, then the conflict may impact the user impression resulting in a poor user experience. You are losing out on a potential sale which leads to a loss in your profits.
Availability
Consumers should have the privilege of choice. They should be able to choose when, where, and how they want to interact with your brand based on their own motivations and personal preferences. So, UI/UX web design professional service should focus on creating responsive and consistent designs across a myriad of both offline and online channels across multiple devices.
For instance, Amazon lets users purchase Kindle tablets and buy books on them. It also allows users to buy eBooks on Amazon's website and you can access them on Kindle. This is a brilliant demonstration of how the customers engage and build interactions with your brand.
Wrap-up
Omnichannel experience may seem overwhelming with the unprecedented rise of customer touchpoints. However, a truly unified experience designed around them, will go a long way in user satisfaction and build brand loyalty. With the above checklist, and picking up the right tools, you can build a truly rewarding omnichannel experience and turn your one-time visitors into vocal brand ambassadors. Also explore Magento Omnichannel design solution for your ecommerce store. If you want to learn more about a consistent and seamless user experience, you can talk to us today!
Skynet Technologies Building thriving ecommerce stores for our clients is our strongest forte. Our ecommerce UI/UX design services include custom, responsive, SEO services for diverse platforms. We have a team of UI/UX designers who can help you with custom ecommerce web designs that fit your brand.