How is Flutter Mobile App Development Reshaping the Future of Cross-Platform Apps?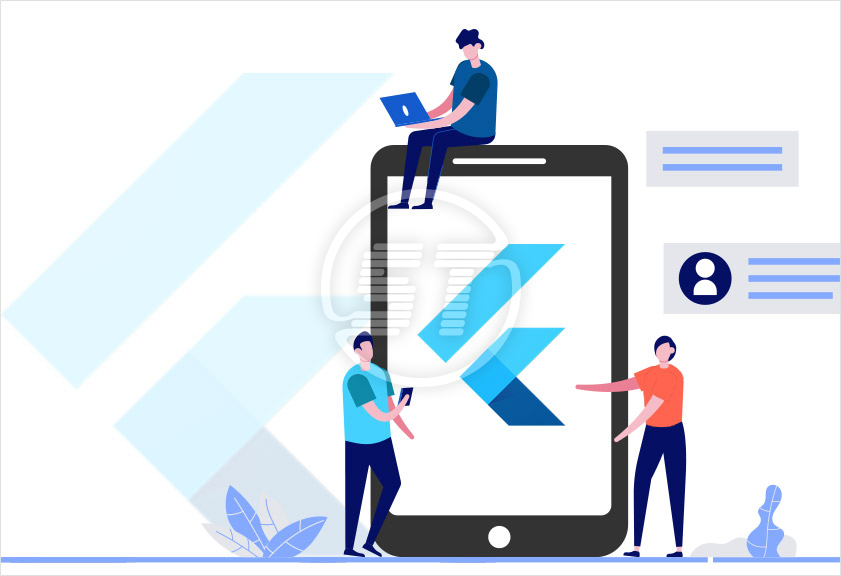 Cross-platform apps are taking over the industry much more rapidly than you think. The trend gained an impetus since the arrival of Flutter. Yes, it's the giant that's stampeding the entire app development domain. Believe it or not, the gossip has Flutter mobile app development reshaping the future of the cross-platform application. So, here we are justifying the prediction right below. Follow along if you wish to dig deeper into the truth!
Flutter - What is It?
Hang on! It's the right time to introduce you to the game-changer in the mobile app development landscape, Flutter.
So, what on earth is Flutter mobile app development? Well, it's a brainchild of Google and came up to conquer the app development industry. Essentially, Flutter is a comprehensive UI suite that lets you build flawless apps for several platforms using a single Dart codebase. So, you can build contemporary cross-platform apps and enjoy Google's support when using Flutter mobile app development for your purpose.
Moving forward, here are some of the remarkable Flutter Mobile App Development features that you shouldn't miss.
Hot Reload - The Hottest Cake

Have you heard developers grieving around previewing their latest changes when building an app? Flutter has got them covered! The Hot Reload feature in Flutter lets the developers render the amendments and visualize them into their applications within seconds.

No-Fuss with Single Codebase

Flutter takes cross-platform capabilities to all-new heights. You can leverage the toolkit to create mesmerizing apps for iOS, Android, and whatnot? And that too, using a single codebase!

Massive Widget Library

Who doesn't wish to access a massive library comprising numerous widgets! Flutter brings a developer's dream to reality, however. It entails several extensions and animations to create more happening cross-platform applications than ever before.
Besides the above, more Flutter mobile app development features make the open-source framework a must-have in every developer's toolkit. In a short span, Flutter grew tremendously and developed benchmark applications like the following.
What Benefits Does Flutter Mobile App Development Have in Store for You?
No one could turn away their heads from the Google-supported Flutter. So, several applications have Flutter at the core, some of which are well-renowned even. Are you wondering why Flutter is so popular? The answer lies in Flutter benefits, simple! Take a look at the advantages that Flutter associates with below.
Native Performance has No Competition!

One of the best advantages that Flutter offers is its native app-like performance. The Flutter mobile apps have a massive fan base, and everyone runs after the framework to access cutting-edge native-like applications in the blink of an eye.

Dart is a Cakewalk

Dart is an efficient programming language, building the backbone of Flutter. It is very similar to Java, and developers having exposure to primitive languages can grasp Dart. Isn't that a quick-learn and fast deployment affair?

Minimal Testing

Like other applications, you do not require investing in rigorous testing for Flutter products. As multiple versions of a Flutter app have a single codebase, you can overcome consecutive testing and save your precious time.
Also, Flutter is the backbone of several other applications and making groundbreaking transformations in the cross-platform app industry. Don't believe us? Stay tuned and verify the facts yourself!
Flutter Mobile App Development - Reshaping the Future of Cross-Platform App
Everyone is going crazy behind Flutter Mobile App Development. You'll be surprised to know that around 500,000 developers leverage Flutter in their projects. So, are we moving into a cross-platform future dominated by Flutter? Honestly, it's a yes!
The world is likely to witness Flutter mobile app development taking over most, if not all, apps available in the market. Sounds unbelievable, right? Here are some of the reasons supporting the fact that Flutter mobile app development is reshaping the cross-platform industry.
Swift Cross-Platform App Development Abilities

The quicker, the better. We all know the pressure a developer feels to pace with the project deadlines. Luckily, Flutter appears as a savior by offering a fast development process and previewing features. Undoubtedly, you can meet the timelines and take on more projects in a given time using Flutter mobile app development for cross-platform app. Check out the ultimate guide on Flutter 1.12 Mobile App Development.

Nothing Better than Numerous Open-Source Packages

Do you wish to include a rare functionality into your Flutter mobile app development? Head over to open-source packages to develop the desired product with ease. Flutter boasts massive suites that let you create functional applications without compromising on development speed.

Customizable Widgets at Your Doorstep

Flutter mobile app development brings customizable widgets to the table. What does that mean? It implies that you do not require investing hours in tweaking the widget codes and get your desired functionality. The highly personalized widgets mold according to your requirements and enrich your apps with the functionalities you need.

Simplicity to Woo Your Mind

Flutter encompasses several benefits and mind-boggling features. Does that mean Flutter is a complicated framework? Hell no! It's the quickest platform to build jaw-dropping applications from scratch. Also, you are well-familiar with the Hot Reload feature in Flutter. It assists the Flutter app developers to make changes to an app and view them at work instantly, without waiting for hours. So, developers are in love with the convenience that Flutters associates.

Perfect Match for Minimum Viable Product

As MVP app development is in-trend, Flutter aids developers to build such products effortlessly. Thanks to the platform's ease, flexibility, simplicity, and cross-platform attribute, MVP development has become a piece of cake. So, Flutter has penetrated the MVP industry along with the cross-platform one.

One-Time Coding Saves Your Time

You can never have enough of the single-codebase feature of Flutter. Flutter lets you build one app that remains compatible with all platforms simultaneously. That's the cross-platform functionality! Such an attribute will save your efforts and time in the long haul.
The above features will push Flutter mobile app development's boundaries to infinity. These features are unique and designed to simplify a developer's job. Essentially, Flutter is here to rule the world! So, do you wish to harness the power of Flutter mobile app development? Skynet Technologies gets you covered if it's a yes! Get in touch with our team to develop apps that you wouldn't have imagined!
Skynet Technologies is a leading Flutter Mobile App Development Company, provides complete Flutter development services including cross-platform app development, custom UI/UX development, Flutter widget development, enterprise mobile solution, Flutter app testing, monitoring and much more for any size of business. Whether you are looking to hire Flutter App developers on an hourly, monthly, or fixed rate basis, we provide professionals and experts that meet your specific business requirements.