Top Reasons Why You Need to Hire Flutter App Developers!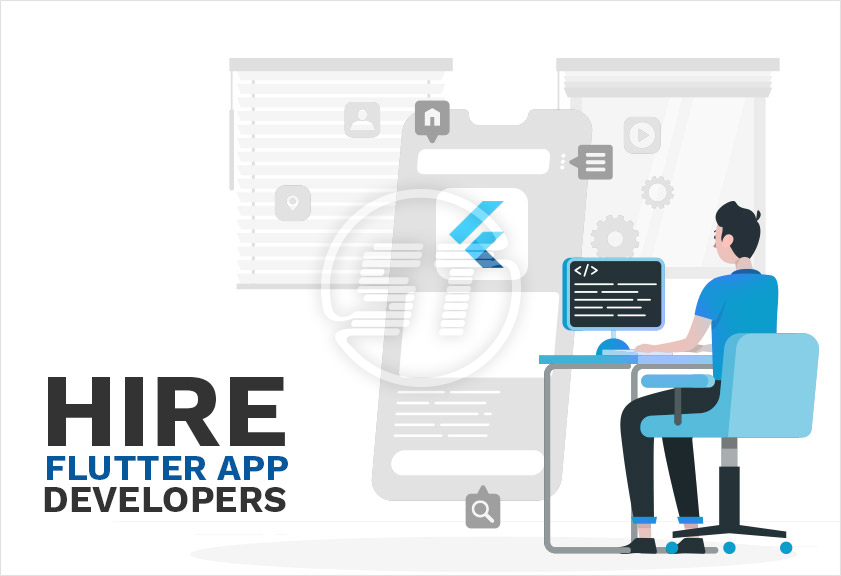 Who knew Flutter could get mainstream! A few years back, developing separate apps for Android and iOS was a headache. Luckily, Flutter surfaced to transform the concern into a cakewalk. Backed by Google, Flutter assists in developing two different apps, one for Android and another for iOS, using a single codebase. That's it! No one could overlook Flutter's advantages and began utilizing the framework heavily.
But is Flutter as easy as it sounds? Unfortunately, nope! It requires extensive experience and pro-expertise to cater to enterprise demands with Flutter. To develop a faultless Flutter experience, you must debug any issues or bugs that arise. Sounds daunting, right? However, you have a perfect way out! Hiring Flutter app developers and handing over your project to them can make things easier for you.
Are you wondering why you need to Hire Flutter App Developers? We've got your back if that's the case! Let's learn the top reasons why hiring Flutter app developers change the game.
Irresistible Reasons to Hire Flutter App Developers
Did you hear everyone recommending Flutter app developers? Well, the trend didn't spare the Flutter app development industry. Businesses of all dimensions recruit Flutter app developers to complete a project at their convenience. Besides, what other benefits do you get by hiring Flutter developers? Let's explore them quickly.
Hire Flutter App Developers, Stick to Your Budget!

Are you tired of exceeding your budget every time developing a Flutter app? Say no to additional costs by hiring professional Flutter developers! The dedicated Flutter app developers release their charges and a lump-sum budget beforehand. They stick to the pre-decided budget strictly from development to deployment. Consequently, you get to access cost-effective Flutter apps, having no hidden and excess rates. Can you ignore such a mind-boggling Flutter app developer hiring benefit?

Bid Goodbye to Security Concerns!

Security concerns are a thing when developing Flutter apps. Let's admit that a significant portion of the application development lifecycle is devoted to improving the product's security. Even after so much attention, missing out on one or more safety configurations is common. How to fix that? Well, you can hire Flutter app developers to attend to your security issues.

Highly experienced Flutter app developers know the nitty-gritty of security parameters. Leveraging years of experience, they can improve your application security and dodge cyberattacks completely.

Latest Resources at Your Doorstep!

Are you thinking of developing a Flutter app but refraining from investing in the latest resources? A perfect solution awaits if it's a yes! You can hire Flutter app developers to eradicate your concern. Most Flutter app development companies have access to up-to-date software, tools, and licenses. So, you do not have to pay for anything extra when working with a Flutter development team. Yet another fascinating advantage of recruiting Flutter app developer!

Efficient Bug Spotting and Troubleshooting

Regardless of how new or veteran a business is, spotting and troubleshooting bugs in an app can be cumbersome. Thanks to proficient Flutter app development teams having enough experience in dealing with several bugs in mobile apps. Moreover, the dedicated developers follow an agile approach mostly. So, they will attend to the errors in your app at every iteration, resulting in bug-free and flawless applications in the end.

Convenient Engagement Models

At Skynet Technologies, you can hire Flutter app developers with flexible engagement models as per your need. according to your needs. So, if you cannot go for long-term commitments? Go with an hourly engagement model in that case. Similarly, you can choose a monthly model if your project is lengthy or has multiple apps combined. Do whatever you feel like with no strings attached! That's a splendid advantage of hiring Flutter app developers for your purpose.

Fetch High-Quality Deliverables

No matter how experienced you are, fetching fine-tuned deliverables is like nailing jelly to a tree. Several bugs, insufficient features, and misalignment with objectives and compliance are inevitable when developing Flutter apps by yourself. Does that mean achieving high-quality deliverables is a myth? Hell no!

You can hire Flutter app developers to build premium apps. These professionals have demonstrated experience in combating complex errors, aligning with customer objectives, and providing them with classy Flutter applications in the end.

More Transparency, Higher Assurance

Hiring Flutter app developers brings more transparency to your project. Regardless of guidelines and protocols, some deviations might occur. However, Flutter app developers associate high transparency. They offer you a complete see-through into the project development process from development to delivery.

Mitigating Legal Disputes

Legal compliance can be a game-changer in your Flutter app development campaign. A single miss and your company will land in adverse scenarios. Things might get more complicated when you are starting afresh in the industry. Don't worry anymore! You can take care of all legal issues and mitigate disputes by hiring Flutter app developers. They have a deep understanding of legal violations and align your apps with regulatory compliance to prevent you from immense troubles.
Where to Find Flutter App Developers?
Are you convinced of hiring Flutter app developers? Cheers to new beginnings if it's a yes! Now, where to go next? Well, you can approach top-notch companies like Skynet Technologies to access high-end Flutter developers.
Our impressive engagement models walk hand-in-hand with your requirements, and the charges fit right in your wallets. Besides, we have highly skilled and certified developers in-house and continuously upskill them to serve you with the latest products. We are your go-to destination to hire proficient Flutter app developers at your convenience and investment.
Flutter app development is buzzing these days. So, you are most likely to register more app-building requirements in the future. How to handle such a massive workload efficiently? You can do so by hiring Flutter app developers according to your requirement. So, why are you waiting? Get in touch with a professional company and recruit Flutter app developers now!
Being a top Flutter App development company in the USA, we offer cutting-edge Flutter app development services such as cross platform app development, custom UI/UX development, Flutter widget development, enterprise mobile solution, custom app development, Flutter app testing and monitoring and much more for any size of business. For your cross-platform app development projects, our dedicated Flutter app developer can sketch the custom and quick solutions.