How To Increase Your Business Revenue with Multi-Channel Ecommerce Marketing?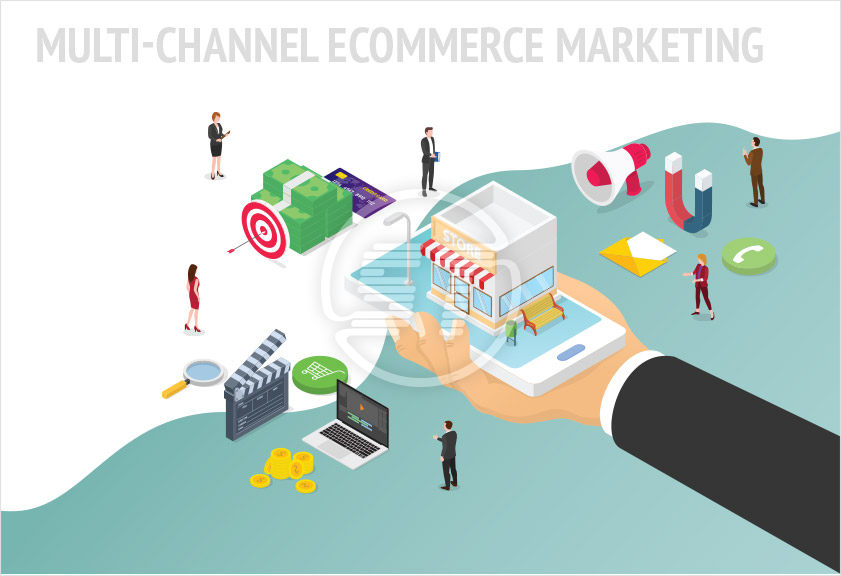 You are giving your best to increase your sales and revenue online but still burning through pockets. Have you ever wondered the reasons behind less sales and revenue?
Online business is a challenging and tricky job. You need cutting-edge strategies to compete with your rivals. Your products or services should be visible to the shoppers at the right time and in the right place.
Multi-channel marketing helps you in handling the trade and building your business success. It is a pivotal way to optimize sales and increase revenue. Let's see how?
Multi-channel Ecommerce Marketing
Multi-channel marketing is a strategy in which an organization or brand uses different online and offline channels to spread words about the products.
The reason for using many channels is to reach a larger segment and get hold of a more sizable number of existing and forthcoming users.
Multi-channel marketing makes it easier to achieve higher permeability and allows your products to reach every user in your targeted segment using their favorite perusing channels.
Reasons to Select Multi-channel Ecommerce Marketing
'Does multi-channel marketing work?' 'Yes, it does.'
Most shoppers visit the online ecommerce sites they trust, for example, Amazon, eBay, Walmart, etc.
Multi-channel marketing acquaints you with users and their favorite channels where they spend time. Contacting them as they peruse social media is an effective method to know about their interests. You can invite them to your website from there to know more deeply about your products and brand. More user access means more sales opportunities and as a brand, it is the beginning of your relationship with your users.
So, select multi-channel marketing to reach out to a wider and relevant segment of shoppers, which ultimately escalate your sales.
Increase Revenue by Prioritizing Channels
The initial step to effectively use multi-channel marketing is comprehending which marketplaces are ideal for your business. The favorable conditions on marketplaces can produce sales; however, not all will similarly work for your ecommerce business.
You can list on an assortment of channels to see which produces the most deals, or you can invest your time into which channel is the best fit at every turn. Strategically, adding one marketplace at a time is the way to go invest more for your business.
You will find the advantages and disadvantages of all the marketplaces like Google Shopping Feeds, Amazon, eBay, Walmart and more based on your targeted products. Also, you can track on which channel your target customer is more likely to approach for your product category.
Other Marketplaces
Many other mobile and social media marketplaces are becoming increasingly more famous, which helps you acquire a piece of the pie. A big part of the present shopping is done on mobile phones. Moreover, a significant number of people use mobile phones rather than computers. These online business patterns are not prone to change any time soon.
Social media marketing plays a vital role in your business. There are 4.55 billion active users on social media across the globe. You can acquire their attention and catch deals through Pinterest, Facebook, Twitter, or Instagram. Set your focus on social media shopping marketplaces since users on these platforms are more open to exploring and following any business.
Streamlined Process with Multi-Channel Marketing Ecommerce Platforms
Using multi-channel ecommerce marketing platforms like Magento, Aimeos, Bagisto, Shopify or BigCommerce can smooth out your multi-selling process. Posting on multi-channel marketing platform interfaces your online shop to various third-party sites like eBay and Amazon. Likewise, multi-channel marketing platform permits you to monitor your business, orders, and stock in one incorporated area.
It makes your multi-channel marketing process streamlined and easy. To take your business on another level, the selection of ecommerce platform plays a great role. Explore our ecommerce development services with a strong proven track record in providing custom ecommerce solutions to our esteemed clients for streamlining their business regards to any of the channels.
Increase the Conversion of Customers
A customer buying your product on Amazon or Walmart is only the first baby step to expanding your site income through multi-channel marketing. The next objective is to retain users, build your brand loyalty and encourage them to checkout from your marketplace or website instead of ordering through any other. If they start adoring your brand, their chances to order from your site will increase.
You can accomplish this goal by offering them a few alluring rewards, gifts, discount coupons on their next purchase. Newsletters can also bring their notice to your brand and offers. Likewise, you can incorporate your social media account and invite them directly to retain customers.
When a customer becomes a direct-purchase user, your revenue will increase, and you get customer retention as a bonus.
Important Takeaways
While a multi-channel marketing approach gives the best open doors to your business, it likewise accompanies a few difficulties. But adequately planned strategies and significant contemplations can increase your chances of leading a successful business.
Try to comprehend your users
Before executing any multi-channel marketing methodology, you should know your target segment. Find how customers might come to your products from various sources, including organic search, third-party marketplaces, social media posts, blogs, paid ads, email marketing, or any other source. Start focusing on keeping your customers or individuals to your brand through different platforms.
Make product catalog according to the specific channel
Your product catalog is profoundly essential. A user should have the option to look for the product they are searching for - either using a conventional search engine or on any marketplace - and land on the ideal thing in a few clicks.
Try to get the reviews which products are selling on marketplaces. Eliminating clutter improves the speed and probability that a customer tracks down the ideal thing without filtering through the product they care very little about. Focus on the hunt terms that carry shoppers to your most elevated performing product postings.
Provide a reliable shopping experience
Getting your ecommerce lists fully operational is a significant advance, yet it is just the start. You should be sure that your business offers predictable satisfaction, unwavering quality, and execution across each of the channels you sell. You should have a user-friendly website because drawing users to your site won't mean a lot if they can't observe what they need once they arrive. An attractive and practical user interface (UX) is crucial. Visual allure, responsive design, speed, and effortlessness will ensure users capitalize on their shopping experience and are bound to return to shop repeatedly. Users need to connect your brand with a positive, bother-free shopping experience.
Put efforts into customer relationship management
The worth of both agreement and showing appreciation for your users is something that can never be downplayed. Developing positive, responsive customer associations is critical in growing a multi-channel ecommerce brand. High fulfillment marks lead to more positive feedback and reinforce the possibilities of repeat buys.
Wrap-up
Multi-channel ecommerce marketing allows you to project a wide area and pull in more noteworthy perceivability and ecommerce sales. If you wish to increase your revenue multiple times, multi-channel marketing is the need of the hour for your business! Don't run behind your competitors while you can also be ahead of the digital marketing game and take the advantage of the multi-channel ecommerce marketing.
Do you require any help with multi-channel ecommerce marketplace? We are a full-service digital marketing agency that specializes in helping our clients to develop their ecommerce marketplaces and rank ahead in the different marketplaces through SEO and digital marketing strategies. Get in touch with us at hello@skynettechnologies.com to know more about how we can help your ecommerce business to employ multi-channel marketing or submit the following request form with your requirements.