How to make a PDF ADA compliant? – A complete guide!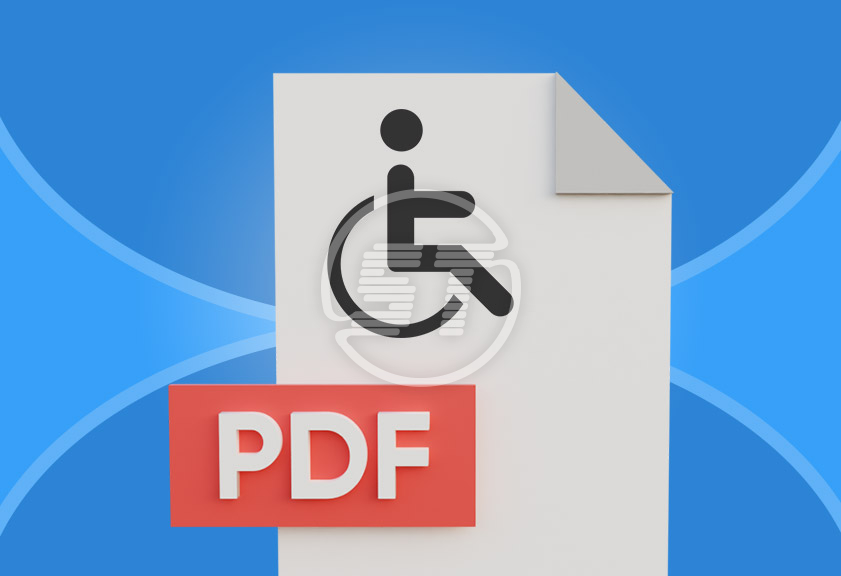 As we know, ADA is a law that focuses on the equal digital opportunity for everyone irrespective of their physical state. These days, when we are fully dependent on the digital world for every work, its complete ADA accessibility remediation is essential. Thus, while creating an ADA-compliant website, you need to pay attention to even downloadable (i.e., PDF, PPT, and other documents). In this article, we explain everything about ADA compliant PDFs from its definition to factors that should be avoided during the process of accessible documents, and the entire process of creating and testing accessible PDFs.
What is an ADA compliant PDF?
An accessible PDF is a document that allows people with visual impairment to go over an understand the content easily and quickly.
PDFs are the key document format, which is shared by users mostly. Even websites have umpteen documents in PDF format. If your website is compliant with ADA guidelines, implies every single element ought to be compliant. Some of the characteristics of accessible PDF include searchable text, labelled form fields, alternative text for non-text elements, proper color combinations, fonts to allow characters to be extracted to text, and so on.
What if a PDF document on a website is not compliant? A user with some sort of disability will not be able to access it and he/ she will remain deprived of the PDF content. For example, there can be a business's legal document attached as PDF; if it is accessible then users will know the terms and conditions before they make a purchase.
Other than that, you cannot claim your website as a compliant, if the enclosed PDFs are not adhering to ADA guidelines. So, let's learn how to make every PDF document conformable with ADA rules and ensure the website's complete accessibility.
To provide an absolute smooth user experience to every user, you must create compliant PDFs. Likewise, you carefully compose your web page with ADA guidelines, you must be vigilant about PDF compliance from the beginning of document creation.
Which factors can cause the inaccessibility of a PDF document?
Wrong use of color

If you are using some content in your document that has color reference as a means for understanding, it ultimately makes your document inaccessible for screen readers. Because these devices cannot recognize colors. Moreover, color contrast between text and background in PDF can also be a barrier for the inaccessible document.

Searchable text

PDFs created by scanning are nothing but images, hence they don't respond to searchable texts. Users who search for some specific text, will not be able to perform search action. So, this is one of the significant impediments to achieving accessible PDF.

Use of tables

Tables are great elements in content to compare or differentiate between two or more things. They also give a more systematic look to your content. But it can be a reason for your inaccessible PDF. Screen readers may face trouble while accessing the information from the table. Moreover, if the table or chart is split between two pages, it can be troublesome for many users to decipher the content.

Background images or watermarks

Watermarks and background images can cause trouble for many readers who cannot concentrate on text or cannot peruse it due to cognitive issues. The new accessibility guidelines have strictly asked not to use these elements in your content. Here is our guide to check in detail for digital content accessibility.
How to make PDFs ADA compliant in your web content?
Once you've figured out all the points that are the culprits behind the inaccessibility of your PDF document, don't repeat the mistakes. Before converting your word document to PDF, check all the potential ADA issues and resolve them.
Word has functions to remove the background watermarks, thus, it will solve the background images or watermarks problem. Also, you can prevent the table from splitting between two pages using the Table tool function.
As we discussed in inaccessibility barriers, the use of color is critical in PDFs. You may have learned the color guidelines while creating the web page. Similarly, you must use the guidelines while creating a PDF. Use proper color contrast between text and background. And if using color to indicate some essential information, add associated text with color to make it clear for screen readers.
PDFs are supposed to be tagged for logical reading (for example, correct reading order, the meaning of images, videos, etc.). In PDF, tags are generated automatically but if required, you can tag the untagged elements from the Accessibility menu. The title, sub-titles, headings, paragraphs, bullet points, and lists everything must be tagged. It helps screen readers and other compliance tools to understand the content.
Make sure that the whole content in the document is under the Tags tree to mitigate the searchable text issue. Furthermore, we know images with alt text are accessible. So, if you have any image in the PDF, ensure it has alt text for screen readers' access.
If the PDF has many pages, then a bookmark makes your PDF document more accessible. For a user who wants some specific information, a bookmark assists them in swiftly navigating and finding the desired page within the PDF.
Tools for PDF accessibility testing
The PDF you wish to include on your web page must be ADA compliant to ensure the complete accessibility of your website. There are free and paid tools available to check the accessibility of PDFs. You can use these tools easily and make sure your PDF complies with all the ADA guidelines.
Adobe Acrobat Accessibility Checker

This is a paid tool. Adobe Acrobat Pro has capabilities to assist you to create a completely accessible ADA-compliant PDF. You can use this effective tool to check the compliance of your PDF after completing it or take this tool's help to outline and create the PDF from the very beginning. It is made for providing you with the required guidelines to design a compliant PDF.

PAC 3

Try this free accessibility testing software and get the compliance reports of your PDFs. This tool scans the elements in your PDF like syntax, fonts, structure elements, embedded files, etc.

Screen Reader Tool

You can run your PDF through a screen reader to know if it will work for users exactly the way you want or not. A few universally used and quality accessibility readers are Apple Voiceover (included with Mac, iPhone, and iPad), NVDA, and JAWS. Apple Voiceover is specifically for Apple devices, whereas NVDA is a convenient and free option for computers. JAWS is not free, but you will get more reliable results.
ADA and WCAG testing improve the overall user experience of your document by providing straightforward navigation, simple appearance, text clarity, etc.
Wrapping it up
ADA compliance guidelines are evolving to ensure absolute accessibility. Evolving guidelines demand more effort from the design and development end. It can be challenging and overwhelming sometimes, but eventually, it benefits websites and businesses with increased traffic.
If you have a PDF downloadable file on your web page, make sure to comply it with ADA guidelines. So that users who rely on assistive technologies, can access all the PDFs.
We provide complete ADA website accessibility services which include accessible metadata, semantic structuring, tables, generating mathML, accessible PDFs, documents, PPT, ePUB, audio descriptions, video captions, and more. With a team of experts, we provide complete ADA web accessibility services including audit, strategy, design, and development services that comply with accessibility regulations such as ADA, WCAG 2.0, 2.1, 2.2 and Section 508 to maximize user engagement quickly and cost-effectively. Get in touch with us at [email protected] or submit the following request free quote form.