What is the Importance of ADA and WCAG Testing? What are the ways to perform it?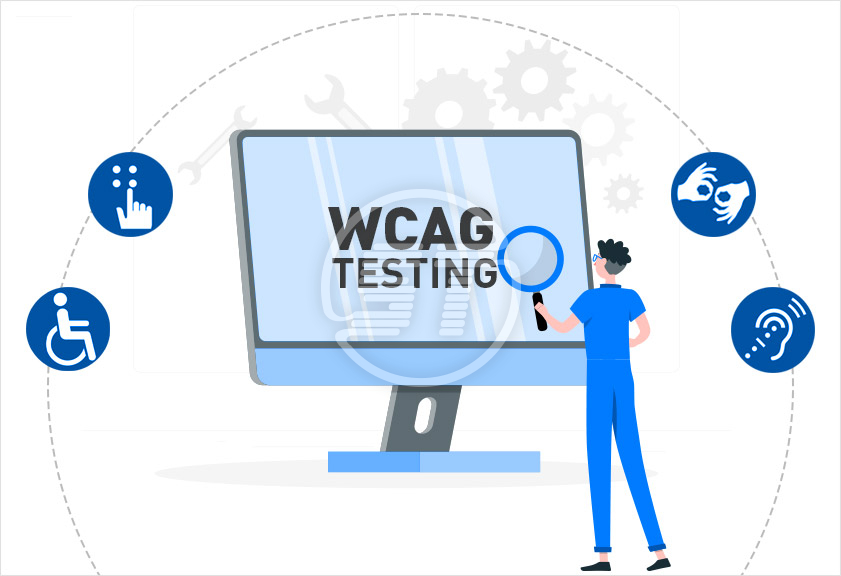 In spite of the fact that even if you are surrounded by a considerable number of technologies, they are of no use if anyone cannot access them.
Similarly, your website or application is just completed with fulfillment of mobile indexing and responsiveness, but if it's not accessible by people with disabilities, it's not complete.
Lately, The United States government mandates the ADA and WCAG compliance with different levels of standards. With the help of these laws, now websites, applications and any other digital assets have become accessible to people with disabilities.
After making your digital asset ADA compliance, the testing is necessary to ensure that your site is accessible to everyone.
YOU MAY ALSO LIKE: Accessibility Testing Tools
ADA WCAG Accessibility Testing
WCAG testing is a process to make sure that your web or mobile applications or any digital assets are accessible to those with some sort of physical disability such as visual impairments, hearing problems, cognitive issues, etc. Accessibility testing ensures that the digital experience for everyone will be the same regardless of their problems.
There are some criteria for web accessibility testing. You ought to perform the testing as per the suggested guidelines.
When the world web consortium (W3C) created the accessibility guidelines, they considered below main factors to test the web or mobile application.
Perceivable – Your digital content must be perceivable for everyone. For example, adding alt text is compulsory to make all the images clear.

Operable – The navigation should be straightforward and readily operable. For example, every component on the page must be accessible using the keyboard.

Comprehensible – The content on your web page or mobile application must be easily understandable to everyone. For example, to show a message instead of highlighting with color, a clear text message should appear.

Robust – The content should be robust and accessible via any assistive technology. It should get interpreted easily.
To test the digital asset, you should take reference from the three distinct levels of conformance depending on the complexity of the web page, popularly known as WCAG compliance level A, AA and AAA. While designing the digital content and testing it, leveraging these levels is necessary.
For example, keyboard navigation, alt text for non-text content, video captions, etc., as per minimal compliance level A.
Color contrast (4.5:1), consistent navigation elements, labels for form fields, properly arranged headings, etc., as per conformance level AA.
Sign language interpretation for audio/video content, context-sensitive help, etc., as per higher conformance level AAA.
These are a few examples of these facets you must test. Download WCAG 2.0 and 2.1 checklist now to understand its difference in detail & make your digital assets into compliance with the latest WCAG standards.
How to do WCAG accessibility testing?
Your digital asset should meet all the WCAG standard guidelines apart from SEO standards and basic needs. To make your web page fully accessible, these are the key dimensions to look over. Furthermore, accessibility testing can be done via two modes – manual and automated.
Manual testing is necessary as tools have their own imitations. You can test your digital asset pretending yourself as a user and ascertaining the accessibility issues.
To perform automated testing; there are tools available. For example – automated accessibility testing tool (AATT), web accessibility checker, Apple's accessibility API, Google's accessibility test framework for android (GATF), Google Lighthouse, Color contrast analyzer, etc. These tools assist to discover the issues, generate reports, and help to fix the problems.
WCAG testing: As mentioned above, WCAG has four significant factors to check the accessibility, they are – perceivable, operable, comprehensible, and robust. Let's see how to test these four factors on your website or mobile application.

To check perceivability, scan the following points
- All the non-text media content must have an alternative text. It is necessary for the people who use assistive technologies to understand such content.
- Time-based media should have a pause/stop option.
- Content must be flexible for each layout without losing its quality.
- Distinguishable content is necessary for users to see and hear it.

To test the content operation, check -
- Keyboard accessibility.
- Sufficient time to read and use content.
- Content should be designed keeping in mind seizures' effect on users.
- A help for users to find and navigate the relevant content.

Test comprehensibility of content by checking below points,
- Content must be readable.
- It should be predictable.
- An input assistance is required to help users correct their mistakes

Also, content must have a robust design. Hence users can interpret it using different assistive technologies.

Testing in Mobile Environment: It is crucial to test the ADA compliance website in a mobile environment. Because it is possible that a perfectly accessible website on a laptop can become riddled with barriers when it is viewed on a mobile device. For example, the most common problem is; if an image is shrinking to a tiny size on a smartphone screen; it is impossible to access it by someone with a disability.

Software Testing: Digital assets must get accessed by different screen readers and other assistive devices. For example, WAVE, NVDA screen reader, JAWS screen reader, a screen reader for Chrome, Chrome Accessibility Audit, iPhone VoiceOver, Android Talkback, etc.
Why is ADA WCAG testing important?
WCAG testing is critical because if you will not perform testing, how can you be sure about the website or mobile application accessibility? You create a digital platform according to WCAG standards, but there are chances of missing some vital parts, or some factors might not work properly. You ensure that your design is entirely accessible to everyone by executing testing.
The digital world is now an inevitable part of us. Education, healthcare, entertainment, news, banking, and whatnot; all the areas have transformed from offline to online mode. Thus, accessibility is critical for every website and mobile application.
Also, you are abiding by the law to furnish and maintain an accessible digital product. The US and many other countries have made accessibility a primary concern for every website, mobile applications and other digital assets.
By providing an utterly accessible digital experience, you help many people with some physical disability to access your services without any issue. Therefore, WCAG testing is vital for your digital asset.
Benefits of ADA WCAG accessibility testing
When you make an accessible digital asset by testing it as per WCAG standards, you not only provide aid to people with special needs but also benefit yourself. Let's discover how?
You evade legal issues by performing accessibility testing to meet all the compliance.
Your accessible digital products reach everyone in the digital world. Hence you add more revenue to your business. Inaccessible websites and mobile applications lose significant traffic of people who cannot access the website due to some issue.
It improves your rankings in search engines; as mentioned above, adhering to WCAG rules ultimately helps you meet SEO guidelines.
ADA WCAG testing and accessibility best practices improve the overall user experience of your web page by providing straightforward navigation, a user-friendly interface, simple appearance, text clarity, etc.
Apparently, accessibility testing accords many benefits to your digital assets.
Wrapping-up
WCAG testing for websites/mobile applications makes your digital asset accessible to not only people with special needs, but also helps children, old-age people, left-handed users, and many others.
The WCAG references are readily available to help you make your website/mobile application accessible. Incorporate accessibility testing in your traditional design and development process to spruce up your digital asset and evade lawsuits.
Is your website, web application, documents, mobile application accessible for people with disabilities? With a team of experts, we provide complete ADA accessibility services including audit, strategy, design, development, and testing services that comply with accessibility regulations such as ADA, WCAG 2.0, 2.1, 2.2 and Section 508 within your budget. Get in touch with us at [email protected] or submit the following request free quote form.