How does Aimeos bring an AI revolution in your ecommerce store with ChatGPT?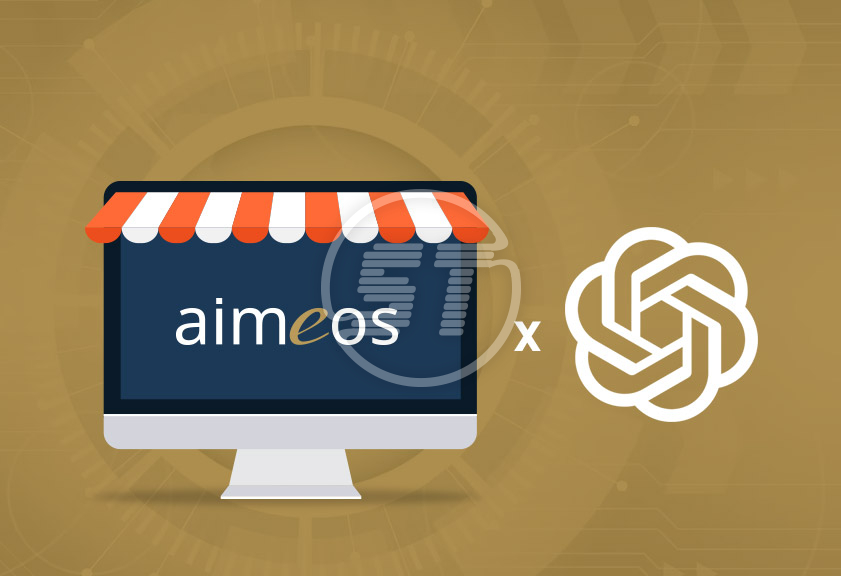 The current digital era has made our lives easy but dependent on mobiles, internet, and online shopping!
Online shopping is the quickest way to shop for a required product or service from our comfort zone. But customers expect a lot from ecommerce stores and to fulfil their expectations, every ecommerce store is preferring to provide personalized services to customers and use artificial intelligence (AI) to enhance overall user experience.
ChatGPT is one such AI-based chatbot, which offers absolutely personalized solutions to every customer using NLP (natural language processing). It is a remarkable innovation in the digital world, which will bring next-level revolution in ecommerce for sure.
On the other hand, we have an open-source framework called Aimeos with exceptional features to create modern ecommerce stores. This PHP framework has given astonishing results in a very less time.
Can you imagine, how brilliant it will be to integrate ChatGPT with Aimeos?
No doubt, their integration will produce the most incredible ecommerce experiences for modern customers.
Let's know about ChatGPT and how its integration with Aimeos will elevate the user experience of ecommerce stores.
What is ChatGPT and how it is assumed as a revolutionary element for ecommerce stores?
ChatGPT is an AI-based chatbot, which is a type of language model using machine learning to create human-like text. GPT stands for Generative Pre-trained Transformer, an NLP bot developed by OpenAI.
GPT can generate text which seems logical and written by a human because it is created with a colossal dataset of human-generated text. A user can give a prompt or input to GPT, and it will generate asked results. Moreover, it can be customised for some specific tasks as well.
GPT can be used for text generation, language translation, chatbots and virtual assistance, text classification, and summarization of long documents/articles into shorter ones.
Use of ChatGPT in ecommerce
Ecommerce can use GPT for multiple usages; a few of them are:
1. Product Description
It can help businesses to write precise product descriptions for their ecommerce stores, which will save their time and human effort.
2. Customer service
To reduce the workload of customer service teams and enhance the efficiency of customer support operations, GPT can be used as chatbots or virtual assistants to respond to customers' inquiries.
3. Email marketing
Language models can help in personalized email marketing campaigns, targeting a specific segment of customers via personalized content, and generating highly impactful email subject lines.
YOU MAY ALSO LIKE: Ecommerce email marketing tips
4. Social media
Similarly, it can help in creating engaging content for social media and giving responses to customers' queries.
5. Product recommendations
GPT can recommend products to customers based on their previous purchases or browsing history.
6. Content marketing
In the case of content marketing, language models can write persuasive copies on any given topic, but verification is a must to differentiate between facts and myths.
Other than these applications, ChatGPT can be used to write complex formulas and functions to complete and achieve specific business goals. Language models can help ecommerce businesses to automate their operations and improve the efficiency of the overall business.
How do Aimeos contribute to ecommerce?
Aimeos has myriad features that are boon for ecommerce stores.
It is blazing fast and scalable up to 1,000,000,000+ products.
It is highly flexible, which is a basic requirement for ecommerce.
Aimeos is made Cloud-native and is API-first ecommerce framework, written in PHP 7.
Every installation comes with an unlimited number of shops.
The platform is highly secured. Excellent code quality with proper review and it supports Content Security Policy against cross-site scripting attacks.
Free and open source.
Optimized for all smartphones and tablets.
Data is distributable over ample and distinct databases. It supports MySQL, PostgreSQL, Oracle, MS SQL Server, and DB2.
Aimeos is proven to manage 10,000 plus orders per day.
Easy to install and can be installed on any web hosting platform.
Low resource usage, which is approx. 3 to 6 MB/request.
Most importantly, Aimeos helps you to create SEO-optimized solutions.
Multi-language and multi-currency capabilities and offers translations into 30 languages.
It gelled perfectly with your existing ecosystem. Any CRM, ERP, or DMS can be easily integrated with the ability to embed external data sources directly into your website or ecommerce store.
Benefits of integrating ChatGPT into Aimeos
Until now, we've seen Aimeos and ChatGPT features and functionalities for ecommerce and clearly, they are boon for ecommerce businesses. And thus, their integration will surely be beneficial for every ecommerce store. Let's see the main advantages of their integration.
1. Pocket-friendly
As written above, chatbots can manage multiple customers simultaneously and solve their queries, which reduces human efforts. Aimeos adds more advantages without making holes in your pocket since it is an open-source framework.
2. Personalized customer service
Aimeos with ChatGPT provides more personalized customer service. Ecommerce stores can use customer data to offer more relevant solutions to each query, which ultimately increases customer satisfaction.
YOU MAY ALSO LIKE: Customer Experience VS User Experience
3. Enhanced sales
Personalized and faster customer service leads to more conversions and sales. Hence the integration of Aimeos and ChatGPT is recommended to grow online business and revenue.
4. Diurnal availability
Aimeos helps chatbots to understand customers' time zone and languages to help them accordingly. This makes your ecommerce store available 24/7 for your customers.
How to integrate ChatGPT with your Aimeos ecommerce store?
Now let's see how to integrate ChatGPT with Aimeos ecommerce store to create an exceptionally well solution. It is a simple process of a few steps -
Make your ChatGPT account and get API keys.
Then install the Aimeos extension for ChatGPT integration.
Start with configuring the chatbot's settings.
Finally, test the bot to review its operation and if it is working correctly, you are all set to begin with real users.
Grab the gen-next technologies to lead the market!
ChatGPT integration into Aimeos is an idea to help customers with more quick, reliable, personalized, and secure ecommerce experiences. If your business goal is to capture the market and lead your industry with amazing sales numbers, then this integration is highly recommended for you.
"At least 40% of all businesses will die in the next 10 years if they don't figure out how to change their entire company to accommodate new technologies." - John Chambers, Cisco
Therefore, don't wait for any crisis, match the modern ecommerce pace with new technologies. If these all things seem confusing to you, then contact Skynet Technologies which is an international Aimeos ecommerce solution partner and has experience in developing customize Aimeos ecommerce web application. We provide Aimeos ecommerce development include Laravel Aimeos multi-vendor multi-channel marketplace, multi-tenant ecommerce SaaS solution, design, integration, migration & more under one roof. Fill out form below to request a free quote or send mail at hello@skynettechnologies.com.