What are the advantages of Magento Omnichannel which makes it the best option?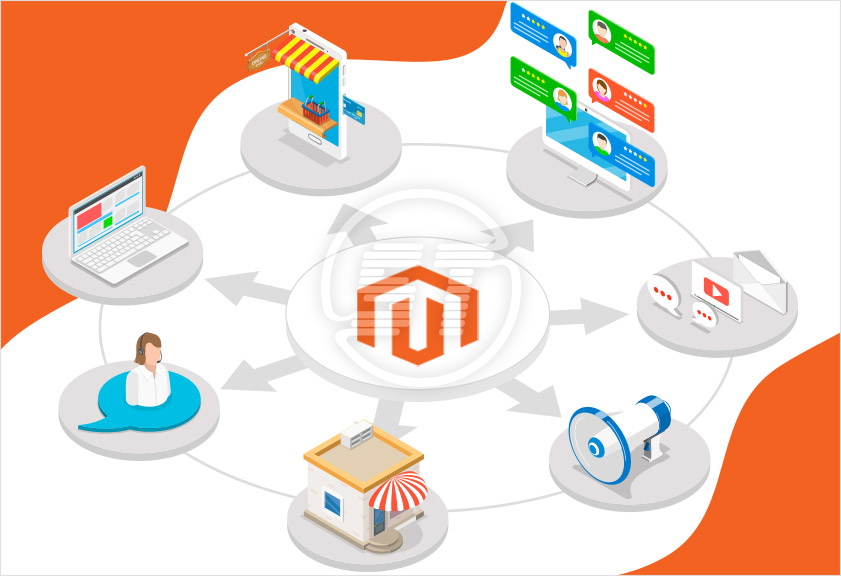 Customers today are tech-savvy and they demand a seamless connected shopping experience across various channels and devices. Any interruption to their shopping experience isn't warranted and hence the brands have been leaving no stone unturned to nourish the customers at every touchpoint of the buyers' journey. That's why delivering a seamless omnichannel experience has become the key factor to increase sales.
What is Omnichannel Retailing?
Omnichannel is a strategy of using multiple marketing channels integrated to provide a seamless buying experience. Customers interact with the brands through a wide array of marketing and sales channels like apps, websites, mobile phones, social media, physical store, email, and more. Customers now flow from one channel to the other and expect an uninterrupted experience without any hiccups.
Omnichannel retail unifies multiple channels through which the customer knows about the product, buys it, and gets it in his hand. For instance, imagine a customer places an order through an ecommerce website and later checks the status of the order on her mobile app. If she, by any chance, is dissatisfied with the purchase, then she may decide to go to a physical store to return it. Post-return, she gets a confirmation email about it. The brand may then try to reengage with the customer on her social media accounts through remarketing. All through, the customers expect a smooth ecommerce experience which can be provided by Omnichannel Retailing.
What makes the best Omnichannel ecommerce Platform?
There are a number of ecommerce platforms that let retailers provide an omnichannel experience as per the customers' convenience. You may as well, try some omnichannel marketing strategies to improve your sales on your omnichannel eCommerce Store. Magento is one such great option for omnichannel retailing for creating a unified shopping experience for online buyers. With over 30% of the market share, Magento has been at the forefront of unifying multiple channels and offering omnichannel services.
What makes Magento the best option for an Omnichannel Experience?
Wide Range of Customization Options - Magento comes with a wide array of customizable options and extensions to offer a perfect omnichannel experience. Magento makes it easy to build an online store that meets all your preferences precisely. You can have your perfect ecommerce website with a variety of options and incredible cart customizations. Magento also consistently makes your ecommerce websites robust and feature-rich with every new version.
Mobile Extensions - Magento lets you stay connected across multiple devices including mobile phones. There is no other platform that is closer to Magento when it comes to mobile devices. Magento has various extensions to offer a smart mobile experience. It helps your customers to have an intuitive shopping experience with easy payment options, smooth navigation, etc.
Responsive Designs - If you truly intend to provide a great omnichannel service to your shoppers, choose responsiveness. Responsive designs are vital for helping the customer to have an amazing shopping experience on mobile devices. Magento is one of the best platforms for having responsive designs that enable a consistent interaction with your brand across all devices.
Smooth Integrations - Magento is one of the best platforms for having smooth integrations with third-party modules to help you with the upgrades consistently and embrace innovation. It offers a cluster of upgrades that enhance the website functionality of your current store. It offers several third-party extensions and integrations like PayPal, Google Analytics, Mailchimp, etc. that let the retailers sell the products without any hassles.
Flawless Touchpoint Integrations - As discussed earlier, today's tech-savvy customers have more than one digital touchpoint and only those brands who provide better interactions at all their touchpoints wins the race. A smart omnichannel platform like Magento integrates every customer touchpoint to provide a smooth and uninterrupted experience. By beautifully integrating all the customer touchpoints, you can have a holistic understanding of the customer journey to know them better.
Social Media Extensions - Your customers today are everywhere, more particularly, on social media platforms where you can find a strong and loyal customer base. Magento is a perfect platform for crafting a social media strategy for your brand. You can install and configure social media extensions easily with Magento through which your brand can dig deep into the customer preferences and serve them better.
A Plentitude of Sales Options - Magento offers a wide array of marketing and sales options that helps digital merchants manage multiple touchpoints seamlessly. Magento comes with SEO tools to boost organic traffic to your website and improve your rankings on the search engine results pages (SERPs). Magento also offers a smart organization of products, categories, coupons, etc., which helps in promoting products through sales.
Streamlined In-store Experience - Magento streamlines your offline and online store experience in a single and unified way. Online shoppers can easily browse through the products and choose from different delivery options that also include brick-and-mortar stores through the click & collect strategy. Magento enables smart inventory that provides better insights into your inventory across all the channels. You can boost your conversions across all the touchpoints and improve your business revenue.
Magento brings all the stakeholders together and helps them stay on top of the latest trends in the ecommerce space. You can provide flexible shopping options for the customers to provide a secure and seamless shopping experience. If you are convinced that Magento makes the best Omnichannel ecommerce platform, you can start it from the scratch, or migrate to Magento if you have an eCommerce store already. You can choose a Magento development company that helps you get the Omnichannel service and achieve your business goals efficiently.
Conclusion
Magento, with its out-of-the-box features, is undoubtedly one of the most fulfilling Omnichannel options you have with you to have an edge in the competition. If you are looking for ways to implement and provide a great omnichannel experience, you can rely on Skynet Technologies. Our team helps you bridge the gaps among different channels of interaction and helps your business reach new heights. No matter what size your business is, we help you get the maximum value out of Magento's omnichannel experience.
Skynet Technologies build optimized Magento storefronts and deliver the world class omnichannel experiences. We empower the retailers to effectively manage complex orders and fulfil them across multiple channels- warehouses, stores, drop shippers, or even third-party logistics industries. We provide a unified experience across multiple customer touchpoints and channels like social media applications, mobile browsing, online browsing to fully realize the potential of each touchpoint.