How to modernize your ecommerce store with Magento Pimcore integration?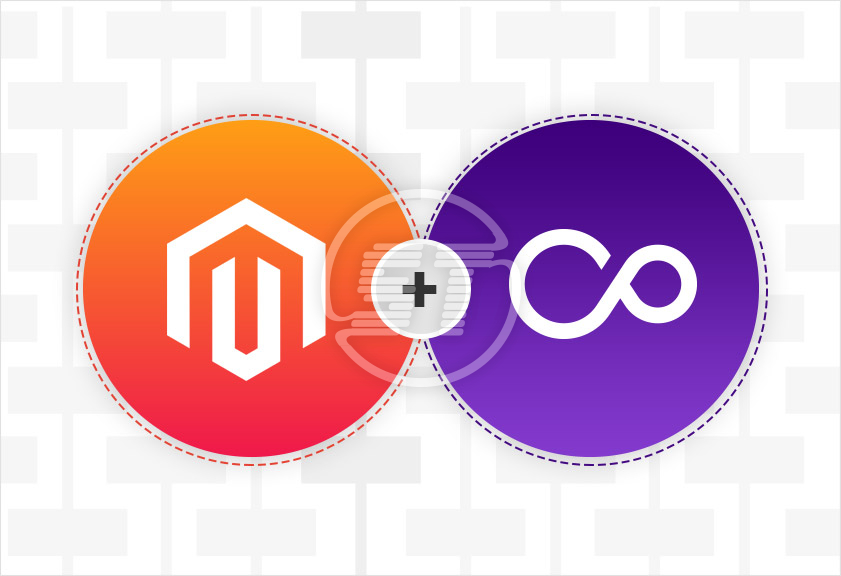 Magento is a popular platform with exceptional capabilities to run your ecommerce business. It is users' favorite because of its technological innovation lately. With continuous evolution, Magento has many pioneering facets such as GraphQL and Progressive Web Apps.
Along with all the modern technical additions, one more integration works like cherry on the cake for Magento store and that is PIM integration. Though Magento handles the product data effectively, modernizing the Magento store PIM integration is essential. Magento's product information management (PIM) functionality needs external extension to provide you with a robust solution while you expand your ecommerce business.
Big businesses have massively large data of many names, attributes, characteristics, etc. and to update the data manually is not possible. PIM comes into the picture to solve this very issue.
PIM (Product Information Management)
Product information management (PIM) is a process that allows you to manage the product information adequately and helps you to distribute the information evenly to all the relevant channels. When you have a wide range of products with their information, how will you handle this big chunk of data manually? PIM certainly aids you to streamline the data, however, it should be a source of real information about all the products you have. Because PIM provides product information to different channels like online stores (Amazon, eBay, etc.), social shopping, etc. assuming that the information is valid.
PIM automates data integration among ERPs, CRMs, and all the other systems that hold information about your products. The shared data gets integrated into all the platforms as the product information and saves time by integrating and updating the data manually on a regular basis.
Once you install and configure the PIM to your Magento store, it organizes the data into catalogs. The catalogs can connect to the desired platforms later as per your requirements. There is a PIM administrator who can manage the data on different channels. So, you know what data is processed to which channel, thus you vanish the chances of un-sorted data.
Best PIM for Magento store
There are myriad options of PIM available for the Magento ecommerce development, out of which Pimcore is the best one. Pimcore is PIM software for every business with many in-built tools to manage the web content, create new content and publish the data.
Pimcore is an open-source digital platform that helps you take any type of product management and content management challenge efficiently. It is multi-domain and multi-vendor compatible and can integrate, consolidate, and manage every amount of data. Pimcore is suitable for enterprise level businesses because it can organize the massively huge data of products and SKUs in no time. Many brands trust Pimcore to tackle the full potential of their product data.
How does Pimcore modernize the Magento store?
Pimcore and Magento have similar technology stacks. Both work on the LAMP stack (Linux, Apache, MySQL, and PHP). Thus, integrating Pimcore with Magento is easy. Pimcore has comprehensive and stable APIs that help Magento store provide freedom to innovate as per the store's needs.
For Magento users, there is Pimcore Magento Connector, which helps in integrating all the Magento products, categories, and assets to Pimcore.
Pimcore has 6 digital features, and they are – Product information management, master data management, digital asset management, commerce framework, an experience platform, and a customer data platform.
Pimcore comes with integrated PIM, DAM, and CMS modules to provide a more engaging product experience to every customer. Moreover, Pimcore is open-source for community edition, and for enterprises, it has a subscription-based plan. It is the best tool for managing complex product information and it has crucial features such as data modeling, data management, and workflow management.
Consolidate and govern data: Pimcore helps in centralizing, harmonizing, and governing every type of data including marketing, technical, and sales product data with custom product hierarchies, flexible data modeling, versioning, enriching, and multichannel ready publishing capabilities.

Improve omnichannel experience: The proficient CMS of Pimcore ensures content authoring, management, API-led data delivery, etc. independent of the channel to provide an outstanding digital experience.

Automate manual process: Pimcore eliminates manual work, provides flawless syndication, and improves the product experience.

Syndicate product data: Pimcore aids in attracting your customers by automated syndication of all the sales channels and marketing platforms.

Easy traceability: You get an integrated dashboard for product analytics and event-triggered scheduled notifications for each product of your Magento store. It allows you to trace the invalid product easily.

Integrate with distinct marketplaces: Register your digital presence by integrating with marketplaces across the world and managing the orders on a centralized dashboard.

Consistent: Pimcore has in-built digital asset management (DAM) functionality to manage all the digital media assets. It centralizes all your digital assets such as logos, images, brochures, video, etc., which ought to be available day and night globally. It integrates media asset data with product data for consistent brand management. Pimcore DAM also improves operational efficiency with AI-powered image search and automated image generation in the required formats. It can manage any type and amount of digital assets.

Add products quickly: It has amazing personalization and localization features that permit you to create product content according to geography, using date formats, currencies, and privacy requirements.

Product experience portal: You can create a central marketing content hub with customizable portals to search and share product information.
Magento Pimcore Integration
You can connect the Magento store with Pimcore PIM using an external connector (Pimcore Magento Connector). This connector has an integrated mapper that assists in using every information on Magento without any modification. After integration, when each new product or category gets created in Pimcore, the connector starts communication with the Magento platform and indicates synchronization.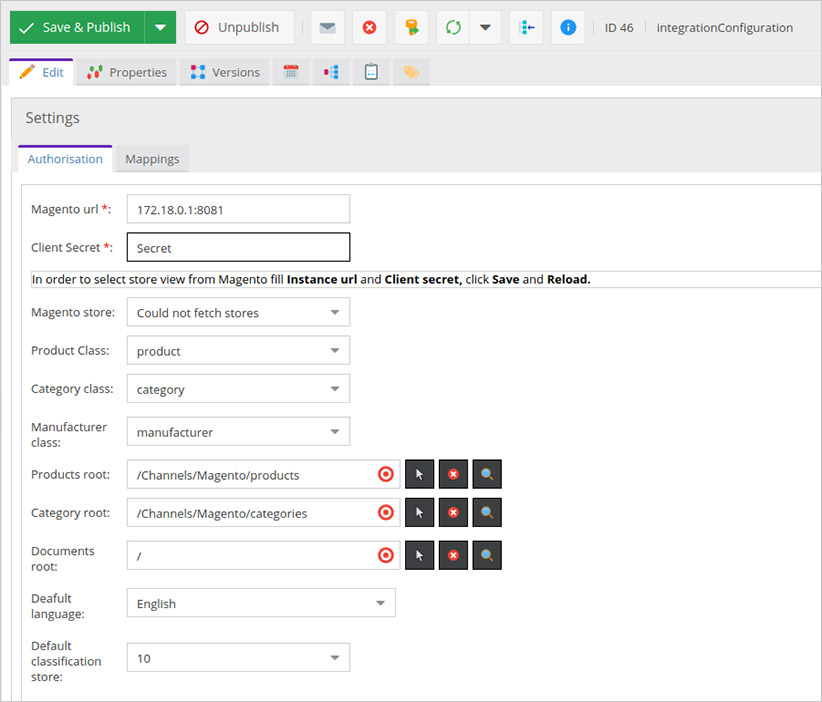 Go to Settings > Authorization in your Pimcore panel.
Fill in Magento URL and Client Secret with the authorization data from your Magento2.
Save class and reload it.
If credentials are correct, select 'Magento store'. In the other case a 'Could not fetch stores' value will be displayed and the authorization data should be checked.
Select classes that are used as a product and category classes.
Select products and categories synchronization root. When an object of one of the selected classes is published in the given root directory, it will be sent to Magento.
Select the default language used in synchronization. If a product has localized fields, only one version of this field will be sent.
Select the default classification store used in communication. This classification store will be used as an attribute set in Magento.
Go to Settings > Mappings in your Pimcore panel.
Fill in the left column with names of your fields in your classes. These attribute names will be mapped to the correct names used in communication with Magento.
Save and publish the Integration Configuration object.
After integration Pimcore starts managing the Magento store's product data.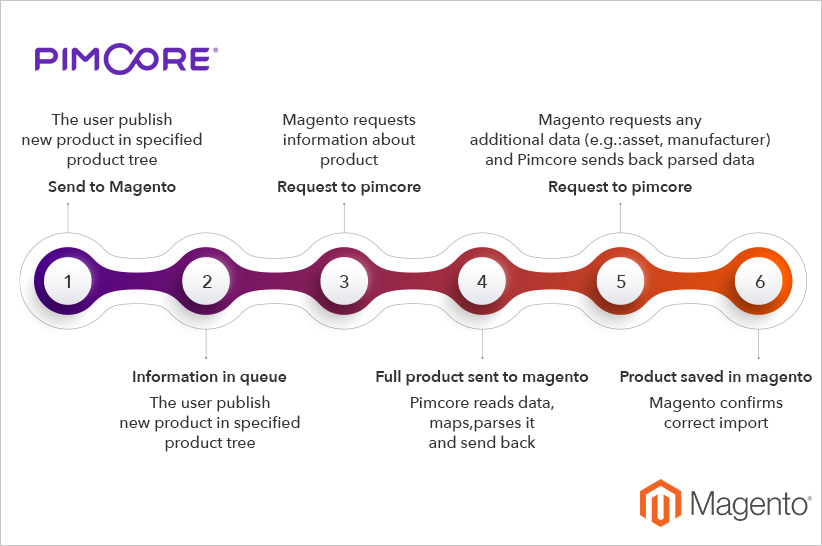 Benefits of using Pimcore PIM
With Pimcore you have global storage of your product information across the channels.
Real-time collaboration among customers, suppliers and employees.
Pimcore manages the huge data of the Magento ecommerce store efficiently and eliminates the chances of unwanted and un-sorted dataThus, it saves space from the duplicated and messy data for your Magento store.
The product data entry is given only once in Pimcore. Enter or update the information in the source data, and it gets reflected everywhere. For example, an online store that sells technical products can manage instruction manuals in different languages and versions in Pimcore and then display them in Magento stores. Without Pimcore, the instruction manual must be added in every language to all the Magento stores separately.
The structured and uniform information eliminates the chaos of product information on the different channels.
You can share reliable data with different partners to promote your products.
The automation of aggregating the critical data of the Magento store improves the productivity of the sales team.
Wrapping-up
Content and product data are the essential elements of the ecommerce industry. If your product data is scattered, it can create a hindrance to operational excellence. Without PIM, streamlining product information and merchandising in a digital ecosystem is difficult.
For efficient product information management in Magento store, Pimcore is a smart choice. You can handle and manage the cumbersome data systematically with Pimcore and provide amazing digital experience to your customers.
As mentioned above, Pimcore fully supports Magento and helps remove glitches in data quality, operational accessibility, omnichannel product management, and performance optimization for Magento store. Integrate your Magento store with Pimcore and modernize it to handle product management efficiently.
If you want to fully leverage the Magento commerce store's robust performance and other multi-functional benefits, you should opt for periodic optimization and regular maintenance operations to mask any outages.
We are proud to be known as a Pimcore Silver Partner. We deliver full-service Pimcore development including PIM, DAM, CMS, design, multi-channel e-commerce, integration, maintenance, and support to SMEs, large businesses, international organizations and web development agencies.
Our team of certified Pimcore developers enable personalized brand experiences, real-time customer engagement, omnichannel enablement, and more to your Pimcore website or application. Get in touch with us at [email protected] or submit the following request free quote form.