Master Data Management (MDM) Implementation – Styles, Benefits & Challenges!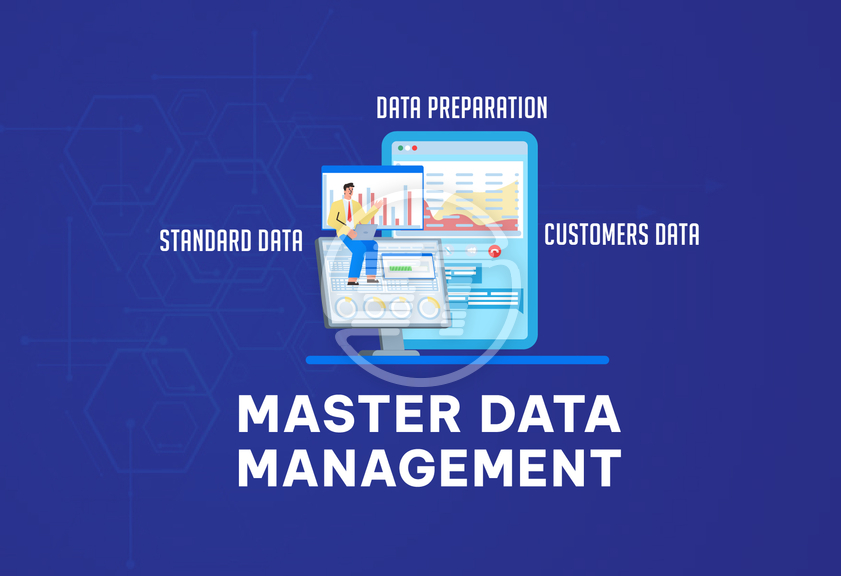 Do you collect data daily from various digital platforms? Have you ever found that colossal data management became a problem for you?
Well, well, it is not only you, in this digital era, every organization going through difficulties in handling and organizing data in order to achieve digital innovation. Bygones are the days when organizations were not aware of data management. Now, outdated, incomplete, and inaccessible data is of no use.
Several businesses face poor data quality and mismanagement of data, which become the main barrier to overall business growth.
To solve this problem, MDM (master data management) comes in picture!
If you really wish to stay competitive, fixing data problems is important. MDM helps you to process data in real-time and automate its redundancy. It provides accurate, complete, reliable, and insightful data, and improves business intelligence.
If the data you are using is organized, connected, and in real-time, then your business will get a competitive advantage. MDM will transform your digital experience completely and help your business soar higher.
Read the article to know more about MDM implementation and its styles.
YOU MAY ALSO LIKE: Digital Asset Mangement vs Marketing Asset Mangement
Why is MDM important for organization?
Master data is basically a record of your customers, partners, all other stakeholders, and product data. In other words, it is the soul of your business.
Once the whole data gets transformed and managed in one place from different resources, you will get answers of so many questions. For example – how many customers are repeated, who belongs to a specific group, which all email addresses belong to duplicate customers, if the customer's demographic details are relevant or not, what type of campaigns will be useful for the specific customer, etc. These are some crucial questions, and they need to be sorted for consistent business experience. If you have quality data managed in one place, then not only you can answer these questions, but you will be having a clarity on all prospective campaigns. In a nutshell, MDM helps you with a sorted set of data that you and your teams can use for decision-making in real time.
YOU MAY ALSO LIKE: Pimcore MDM
Master Data Management use cases
Do you know, low operational efficiency, higher IT cost, and unsatisfactory customer experience can be the consequences of poorly managed and governed data?
MDM enriches business processes for uninterrupted operations and better outcomes. For agility, growth, and transformation in your system, you need to integrate MDM. Though data modelling is done as per organizational perspective. However, data reusing and sharing in an organized manner can accelerate your business strategies.
The two common use cases of MDM are operational MDM and analytical MDM.
1. Operational MDM
It is a process of establishing MDM at its source, which means master data is managed at a place that is handy and known for the organization. Throughout the process, data consistency remains the same.
Operational MDM has two areas that focus on specific data domains; one is product data information management (PIM) and another one is customer data management. These two are crucial for organizations. Operational MDM focuses on re-arranging non-yielding applications and processes.
2. Analytical MDM
This master data management is all about establishing MDM tools, skills, and technologies such as data cleaning and quality. Analytical MDM mainly refers to data accessibility which is used by organizations to fine-tune their analytics, reporting, and business intelligence.
It is distinct from operational MDM and does not force data to remain at its source. However, data stays in one place collectively and is used to measure business results. It focuses on all downstream business intelligence requirements and is a part of BI implementations.
Mater Data Management styles
A successful MDM solution deployment needs the right MDM implementation styles. Basically, styles are essential for MDM system architecture. If you are implementing the correct MDM style in your system, you will automatically witness the improved quality of master data and its enhanced consistency. Even a complex and tangled environment can be organized with the right MDM style.
Service-oriented architecture (SOA) development, demographic distribution, or all other peculiar master data management requirements can be supported by MDM styles. For different business needs, there are distinct implementation styles; out of them, the four most common styles are Consolidation Style, Registry Style, Coexistence Style, and Centralized Style.
Consolidation Style – In this style, MDM gets applied in the downstream of operational system and master data is being originally created there. It supports business intelligence.
Registry Style – This is used as an index to master data, which remains fragmented across distributed systems since it is authored in a distributed way.
Coexistence Style – This style is used for the places where master data authoring is distributed but maintained at a central hub.
Centralized Style – When master data is authored, stored, and accessed from more than one MDM hub, Centralized Style is being used there.
At times, it may become difficult for an organization to decide which MDM style to choose for its business. There are chances that you need MDM for product information management to handle colossal product data from various locations and platforms or maybe to manage supply chain management. Whereas some other organizations' requirement is to handle customer data.
So, it is all about unique business requirements, for example: eliminating data silos among databases, linking and centralizing customer information, improvements in data quality for operational and analytical usage, improvement in master data effectiveness, data governance, engaging customer experience, more upsell opportunities, reduction in operational cost.
Whatever your business requirement is, choose and use the MDM style accordingly.
Always remember that MDM can be fruitful for your organization only if it has been carried out properly to make a disciplined project management strategy. Or you will end up with several other problems if it is not implemented properly within a defined framework.
Benefits of MDM
From insights to analytics and efficiency to revenue generation, MDM has a vast set of benefits. Some of them are: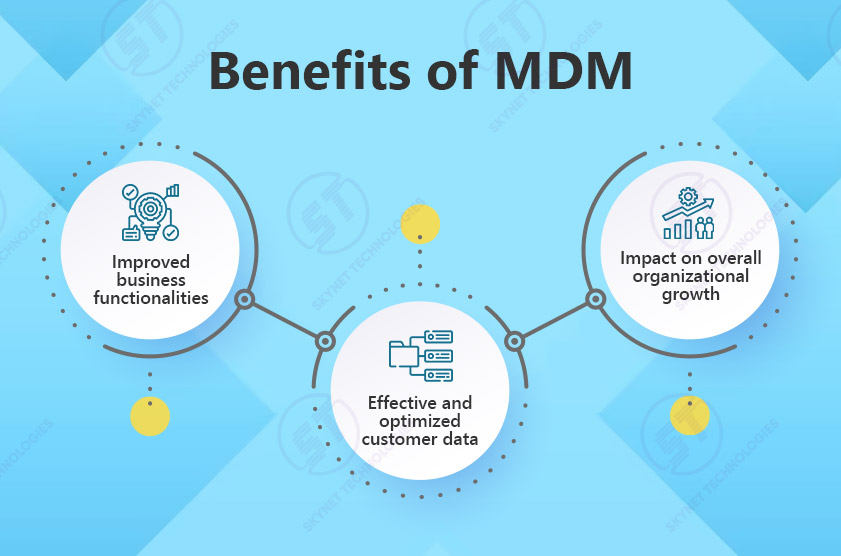 Improved business functionalities

MDM affects every facet of business and improves all key business operations. It sanctions screening compliance to prevent mishandling of data and saves the organization from penalties.

Better data insights and accuracy of data assist in increased revenue and profitability like never before.

MDM gives you complete product and customer insights and lets you know all the market trends. Based on that you can apply predictive analysis and avoid business risks.

With the help of useful data, you can make more informed and effective strategic decisions.

When you have accurate data reports, you can avoid many sales, marketing, and financial disastrous decisions.

MDM also helps you optimize supply chain management by giving you accurate information on inventory, out-of-stock items, and product returns.

It improves customer satisfaction by assisting you to provide personalized services, and you can also boost the product development lifecycle.

Effective and optimized customer data

As we are discussing, MDM organizes, manages, and makes your data infrastructure more efficient and effective. Data collection from all the platforms becomes simpler and gets optimized for further processes.

It updates existing customer data by making changes to the same data without creating a new record, which eliminates duplication of data.

Through collected customer data, your teams can support each customer to resolve their problems faster.

Data storage is useful if it is stored to fit a purpose and proper MDM implementation facilitates better data storage.

Moreover, MDM offers a single master record per customer; thus, disposing of old and irrelevant records is easy.

Data integration is MDM's most noticeable strength. Customer data can flow smoothly among the cloud, on-site, and different database systems.

Good MDM serves data governance to protect customer data. You can easily set permission across the organization to make customer data protected.

Impact on overall organizational growth

The efficient data structure of MDM contributes to the organization's success by improving each operation and function of the system. Reducing data redundancy and unnecessary workload on different teams ultimately elevates productivity. It creates a single source of truth for all team members. Every team member can access high-quality data for different functions. And MDM imparts agility in the entire system with reliable data.
So, these are the benefits of master data management. But do you know, sometimes, a few bottlenecks of businesses can fail MDM's implementation, or its implementation can be challenging due to certain issues? Let's check out those challenges.
MDM implementation challenges
Matching data from different resources and their integration

Setting a standard to collect data from various platforms and department and keeping it in one place can be problematic. And that is the most complex part of MDM implementation. You must set standards in a way that all the data available across resources can be organized without much disturbance. So, plan standardization in advance before implementing MDM.

Moreover, the collected data needs to be integrated together which can be a little tedious. However, the right approaches reduce the complexity.

Data governance

Every facet of MDM implementation is difficult. Even if you set data standards and choose the right data model to manage data, governance policies for data security are equally important. For robust data operation, you need to focus on data governance strictly.

Tools selection

MDM has many myriad tools and options to fulfil different requirements of implementation. Therefore, make an educated move to select the correct tools that fit your business needs. Also, keep future scope in mind while choosing MDM tools so that you won't need to switch to new tools every now and then.

Data stewardship

Maintaining data quality and collecting useful data is crucial in MDM. If you gather unnecessary data, it will hamper the overall quality of consolidated data. Thus, for successful MDM implementation, don't ignore data stewardship.
To eliminate these challenges, focus on real problems of business, define business requirements and build MDM cases, set a budget for MDM, align MDM implementation architecture with data infrastructure strategy, and create a long-term MDM map.
Wrapping up
MDM increases the efficiency of data and makes it useful for every process involved in business growth. However, its implementation is a little confusing that can be resolved by using the right tools and taking the help of trained professionals.
Even though there are many MDM platforms available out there; Pimcore's MDM is the best. It has the potential to harness each component of your system and give robust management to your organizational data.
If you are planning to use Pimcore MDM, then hiring an expert who has knowledge about areas is the best option. Connect with Skynet Technologies – Pimcore silver partner who provides complete Pimcore development services which includes Pimcore implementation, PIM, DAM, and Pimcore consulting. To contact Skynet Technologies, you can fill out the form below or send mail at hello@skynettechnologies.com.