nopCommerce SEO – A Simple Guide to Boost Sales Online!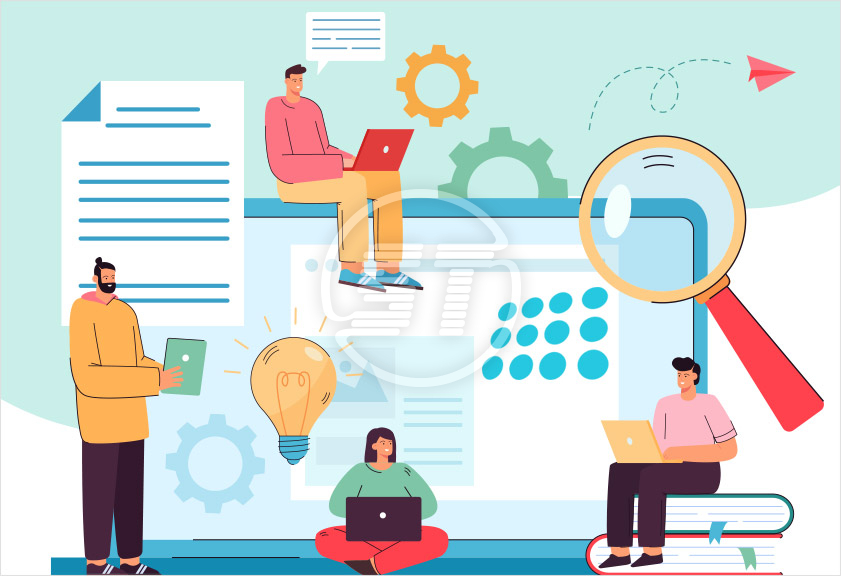 If you have an ecommerce website, what would be your key aim? Driving more organic traffic and increasing conversions, right? You need to optimize your website for not just search engines but for users as well as search engines are making the user experience a more prominent ranking factor. Especially for an ecommerce website, there are a set of different considerations. If you are willing to move up the search rankings, we have everything you need for kickstarting your nopCommerce SEO success journey.
Optimizing your ecommerce website puts your website in front of your prospective customers based on their search intent. If you get your ecommerce SEO right, people who are looking to buy your product will find their way to your store. Unlike earlier, when the primary focus was mainly on keywords, the shift has moved to provide a great user experience. For achieving this, you need to understand the customer intent and optimize your website layout and on-page content.
If you own a nopCommerce website, here are the simple tactics for skyrocketing your sales.
1. Optimize your meta tags
Meta tags - meta title and meta description are vital aspects of on-page SEO.
Meta title tags help both the customers and search engines with the information about your nopCommerce store and the web pages. Search engines take these meta title tags as titles of the listings on the SERPs, and these are what people see and click through.
Keep it descriptive. Describe what the page is all about. For instance, if you are on a product page, you can include product details in the titles of the product pages.
Include relevant keywords but do not overstuff them. Also, avoid any spammy keywords otherwise you may get penalized.
Keep it short and simple! A clear and concise title below 60 characters is the optimal way to go about it.
Meta Description tags are the small HTML snippets of code that contain information about your website. Meta description tag doesn't provide the same information as that of the title tag, but it provides additional value. A compelling and well-written meta description can improve your click-through rate.
It is nothing about a short description or summary of your page. It could be about your products, features, etc. Provide what information the customers would be interested to know about before they make a purchasing decision.
The optimal size is 160 characters of meta descriptions. So keep it to the point and informative.
Include target keywords and do not go overboard by cramming unnecessary keywords.
Include CTAs and give your customers the reason to click through.
2. Enable SSL certificate
Search engines prefer websites that are secure and having an SSL certificate improves your security and will have a positive impact on your rankings. Having an SSL certificate ensures the utmost safety for your customers' transactions. Today, not having an SSL certificate undermines your credibility which if there, improves your sales.
For enabling an SSL certificate on your nopCommerce store, you need to install and configure an SSL certificate for your domain. Once you have it enabled, all the login and admin pages will be directed to the secure HTTPS URL. Make sure your SSL configuration is correct so that it doesn't become inaccessible to the users.
3. Optimize your images
Image optimization includes a gamut of things like
SEO-friendly image file names
Choosing the right image type
Optimizing the size for improving page speeds
Adding alt tags to understand the images better
Image optimization may seem to be trivial but for an ecommerce website where the customers rely only on the images and media files, they are very important in deciding your conversion rates. Image optimization also improves page load speeds and reduces the churn rate by improving your shopping experience. It can become a real deal-breaker for your customers and can have a significant impact on your search rankings.
Consider the following elements for image optimization are -
Alt tags
Image file names
Image size
Image type
Alt tags - provide a text alternative for the images. This is also one of the accessibility aspects as visually challenged people who rely on screen readers find this alt tag useful making the website more accessible. This improves the SEO as well. It also provides a better shopping experience as even if a page doesn't load, the users can read the alt text and understand.
Image file names and types are other elements wherein the names should convey the intent of the name. Search engines should be able to understand the images and index them. The quality of the image also depends on the image type(jpg, png, gif). The quality of the PNGs apparently is better than the quality of JPEGs and GIFs. PNGs are usually the best but make sure they aren't so heavy that they slow down your nopCommerce website.
5. Proper heading hierarchy
Headings from h1 to h6 usually define the page's hierarchy and importance for sectioning off your nopCommerce web pages. They break up the entire page and help you to categorize your content. They improve the usability of your nopCommerce website and help both the search engines and users understand your page content better.
The heading tag should follow the proper hierarchical order. For instance, h2 tags should be properly nested in h1 tags; h3 tags should be nested in h2; h4 should be nested in h3; and so on.
H1 tag should define the topic of the page and ensure that you have only one h1 tag per page.
H2 and h3 tags are used for breaking up the page and categorizing the content of the page
H4 to h6 tags although used for the same purpose should be used only if they are necessary.
The simpler the structure, the better it is for understanding
All the heading tags should be relevant, logical, and clear.
Include proper keywords without overstuffing which makes the search engines trust and doesn't look spammy
6. Additional SEO Tips
Do keyword research
Maintain proper architecture
SEO-friendly URLs
Proper internal linking
Wind up
We hope this simple guide gives you a clear idea of how to make your search engines fall in love with your nopCommerce store.
Remember, SEO is a continuous process, not a one-time campaign. So, if you take care of your SEO fundamentals early on, most of your legwork down the road will be reduced. You can maintain consistent rankings on the search page results. Make the best use of nopCommerce Development features along with some basic SEO tips for ranking higher in the Search Engine Page Results (SERPs).
Skynet technologies always strive to remain updated to the latest SEO and digital marketing updates to keep the website or store on Google, Bing, Yahoo and another search engine approved. We have a bunch of creative and qualified internet marketing professionals having years of expertise and capability in developing the right strategy for SEO, SMO, Social Media Marketing, SEM, PPC, Affiliate Marketing, Email Marketing, Content Marketing, Google Shopping and more to hit the millions of minds!
If you need any kind of help with improving your SEO score for your nopCommerce store, click here to contact us.