PIM Syndication – Create an engaging product experience for your Pimcore website!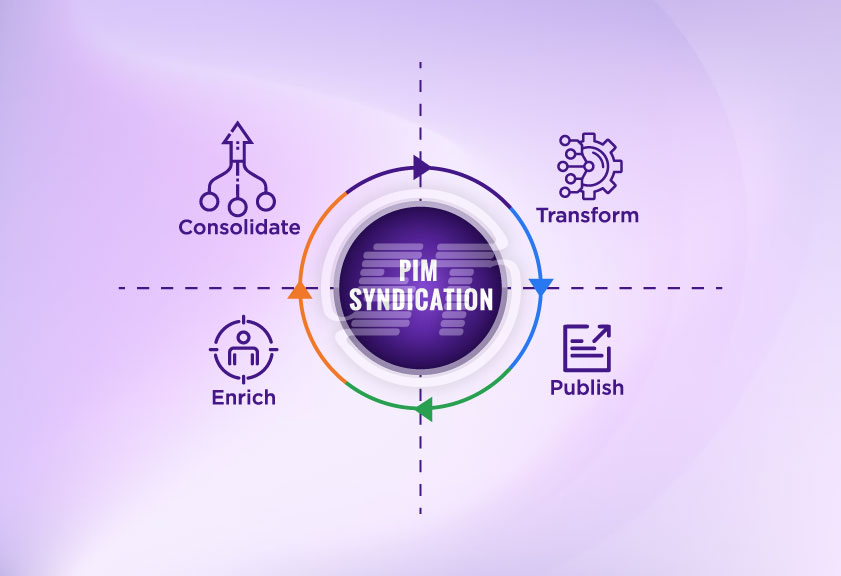 Ecommerce and product data management go hand in hand. The more channels an ecommerce will be using, the more complex data management will be. With the overwhelming demands of modern customers and the growing market of omnichannel experience, it has become difficult to manage colossal data. If an ecommerce store will not match the pace of current dynamic market, then it will become harder for them to survive the competition.
However, it puts huge pressure on organizations to make appropriate product data management strategies. For omnichannel experience, organizations need to distribute product data efficiently to all the channels, and that too with complete accuracy. But the problem here is to maintain the consistency and quality of data.
Fortunately, technology has a solution to this problem. Product data Syndication or PIM Syndication offers a sustainable solution for ecommerce data management. Now the question arises, when PIM itself can manage product data management, what is the need for Syndication?
Read along to know this and some other important information on PIM Syndication.
YOU MAY ALSO LIKE: PIM vs MDM
Product Data Syndication and PIM – Two peas in a pod!
Product Data Syndication is sharing and publishing product data across different marketing and sales channels. It helps with a coherent and uniform process to gather data, standardize it, and publish based on the organization's requirements. Now, when businesses are facing a huge explosion in product data, Syndication offers sturdy capabilities for mitigating manual and inefficient processes used in marketing strategies.
Syndicating product data ensures that the information added at all these points of contact is specific and reflects the brand. Product data syndication compliments PIM very well and assists in optimizing and distributing data efficiently to apply the product information management strategy correctly.
Importance of PIM Syndication – Much-needed for ecommerce!
Business data management cannot be the same for each marketing and sales channel; it varies according to the requirements of that particular channel. Moreover, there are certain guidelines of that channel as well, which a business is supposed to adhere to. Managing product data across all channels with maintaining the quality of data is difficult and performing this task manually can lead to blunders. Thus, to avoid inefficiencies in product data management, businesses use syndication platforms.
Product data syndication helps in data cleansing and centralizing with proper optimization of data and the whole process. Once data optimization is done, then its transformation happens as per channel and business requirements. Thereby the information published on each channel is being standardized before they get distributed. PIM with Syndication delivers absolutely correct and precise information at the right place and on apt time.
Hence product syndication is important for ecommerce to distribute correct data on each channel and list products online accordingly. Also, it saves time and reduces human errors.
Benefits of PIM Syndication
Behind every innovation, there is a concrete reason. Likewise, if businesses are using PIM Syndication, they must be reaping benefits from it. Let's find out about some of them.
1. Elevated customer experiences
Product information surely impacts a customer's decision of purchasing a product. The more concrete and specific information helps them to make up their mind to buy a product. If a business will provide them with correct and detailed information with optimized images at each point of contact, it will definitely improve their conversion.
PIM syndication offers augmented reality features to boost customer experience. Thus, spread quality information using modern features of PIM syndication to improve customer experience.
YOU MAY ALSO LIKE: Digital Asset Management VS Marketing Asset Management
2. Maintained compliances
We've discussed in the above section that product data syndication optimizes data as per a specific channel to offer a seamless compliant multichannel experience. Since it is a defined automated process, all compliances as per the channel followed by it without any error.
Moreover, syndication has tools that regularly generate readiness reports of product data for distribution on a particular channel. It leaves less room for errors including data silos and duplication while maintaining compliances.
3. Less inefficiency
Since product data management helps businesses with an automated process of optimizing product data, it is much-needed assistance in reducing errors. Multichannel data management is itself a difficult task and frequent errors not only reduce the UX but also decrease the efficiency of the entire process.
Product data syndication has features like export scheduling that maintains entire control over data distribution, bulk editing helps in changing or updating prices or any specification in product data easily. There are myriad such features that ultimately improve work efficiency.
4. Swift time to market
In the absence of an automated data management process, often, product data distribution gets delayed. PIM syndication makes it quicker and more accurate. Thus, products can be launched or expanded at a faster pace.
5. Increased revenue
When a business has a properly defined product data management process with zero to negligible errors, an increase in profit numbers is inevitable. PIM syndication offers several opportunities to enrich and publish product data and increase business. For instance, providing a seamless experience to customers is a profound reason behind elevated order value per customer.
These are a few noticeable benefits of PIM syndication. Now you may think of selecting any suitable syndication software. But the question is, which one to choose?
Well, out of many options available, Pimcore is one of the reliable software to automate product data management flawlessly.
YOU MAY ALSO LIKE: Pimcore Enterprise Edition
Pimcore product data syndication
Pimcore has already made data management easy, and its product data syndication assists in enhancing the overall brand experience. It offers in-built channel-specific functionalities and integrated APIs that help in preparing and syndicating top-notch quality product data. Pimcore has a 'connect anything' architecture, which enables businesses to connect data with channels using an API-driven approach.
Native PHP API and full-featured REST Webservices API are two options that can be used for two-way data interaction in real time. Pimcore syndicates data in four steps.
1. Consolidate
Select bulk data of any size (including files, apps, and databases) and centralize it.
2. Transform
Work on errors and vanish them, prepare data of high quality in the required format, and make it channel ready.
3. Enrich
Add attributes and labels to enrich data.
4. Publish
Connect data with relevant channel-specific attributes in order to distribute data across all channels.
Wrapping up
Syndication software/platforms provide sturdy tools to distribute product data in such a way that generates compelling product and brand experience. However, the syndication platform needs an exceptional PIM solution to anchor the data management process strongly. Then only a business will be able to create a top-notch omnichannel experience for its targeted audiences.
Here we've shown Pimcore as one of the trusted and efficient PIM syndication platforms, which have tools and capabilities to handle huge data set and syndicate it with channels seamlessly.
Select wisely and manage data effectively!
We take great pride in our recognition as a Pimcore Silver Partner. Our comprehensive range of services encompasses Pimcore development, PIM, DAM, CMS, design, multi-channel e-commerce, integration, maintenance, and support. Whether you are a SME, a large corporation, an international organization, or a web development agency, we cater to your needs.
Our team of certified Pimcore developers are specialized in delivering personalized brand experiences, real-time customer engagement, omnichannel enablement, and much more for your Pimcore website or application. To get started, reach out to us at hello@skynettechnologies.com or simply fill out following form.