Structured Data for SEO – Everything you need to Know!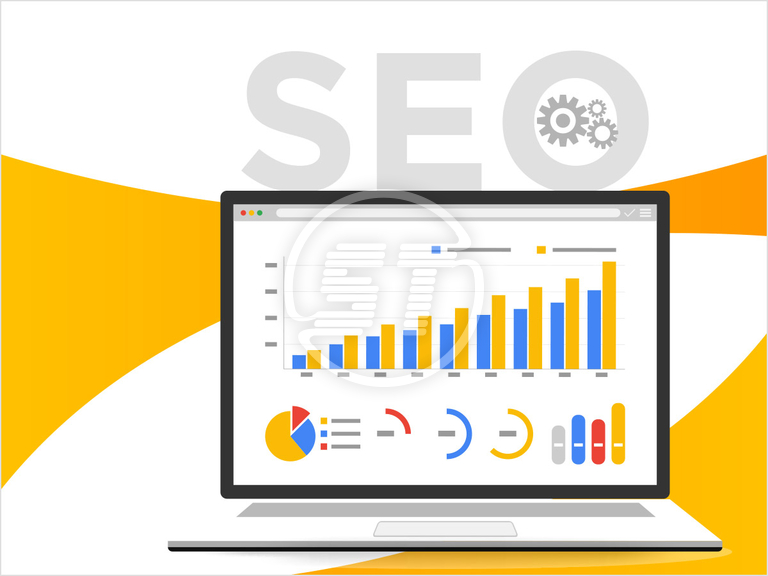 Structured data allows search engines and other algorithms for understanding your web pages and their information better. When you use this structured data on your content or website pages, you would see a great improvement in your search engine results. It also makes search and extracting data easier which is a big boost to business' marketing efforts.
What is Structured Data?
Structured data is a data format that helps search engines to understand the content of your website easily and in an organized manner. It allows the website owners to let the search engines easily understand the content type, extract the information, and serve better to the users in a way that enhances the user experience.
For instance, by tagging the different content on your page, you can let the search engines understand whether your pages have pricing, phone numbers, products, ratings, or any other information. This makes it easier for the search engines to deliver accurate search results to the users thereby, improving the search engine rankings and also click-through rates.
To make things clear, structured data is similar to meta description in HTML. This is also a form of metadata that is not directly seen by the site visitors. It is seen only by search engines for understanding what images and content are about. For instance, structured data could be product name, review, ratings, images, and content. Search engines don't have to rely on any algorithms to know something about the products. Structured data lets the search engines know that it is a product image.
YOU MAY ALSO LIKE: What Are SEO Citations
How is Structured Data important for SEO?
Structured data may not be listed as one of the prominent Search engine optimization tips but it let the search engines understand what your website content is all about. It helps in deciding when and where your website should rank in the search results. Based on the type of Structured data included information about your website will be displayed on the search engine results. It gives a confirmation to the search engines whether your website has the requisite information.
SEO Structured Data Benefits
Improve your search rankings - When your website lands up in the search engine results, the chances of users clicking on the link and visiting your website would be enhanced. If it has relevant and accurate information then the user stays for a long time. The longer the user spends on your website, the better your search rankings will breaking be in the long run.
Get listed in rich snippets - When a user enters a query, search engines like Google usually provides answers through rich snippets. This would be usually above the search engine results. In case, Google pulls information from your website for this featured snippet, then you are increasing the chances of your click-through rate. Google trusted your website as it felt your website has the relevant and useful content that the user is searching for. This also impacts the user behaviour as they tend to click on this featured snippet instead of the search results.
Better User experience - The aforementioned featured snippet helps better the user experience by providing the end-users with some valuable and insightful information about your website. Google uses this Structured data and fetches the most relevant and value-added content pages to the users which makes their experience a better one. Users' decision-making also improves when they have a great user experience. With our UI/UX web design service, we extensively analyse both the users' behaviour and the core features of the system to allow the accurate rendering of all the visual and functional aspects.
Get into Google's Knowledge graph - We all know about Google's knowledge graph where you, your products, and your brand become entities based on your structured data. The direct implication of finding a place in the knowledge graph is garnering brand visibility and authority. This builds trust in the users and they understand your sense of authority and expertise your brand has.
Types of Structured Data for SEO
Structured Data includes different types of markups and by adding these markups, you are letting the search engines understand the objectives of your website.
Articles
Events
Videos
People
Products
Organizations
Local Businesses
Job Postings
FAQs
Reviews
Recipes
Medical Conditions
Breadcrumb
Sitelinks search box
Corporate contact
Article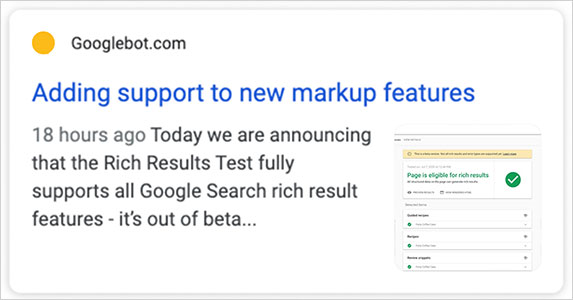 This can be a news article or an investigative report or a magazine report. By using different properties of the article, you can provide a textual summary providing a brief explanation of how and why the article was created. It can include information like the reporting process, interviews, methods, data sources, etc.
Event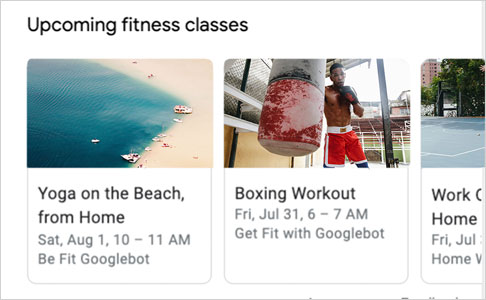 An event is something that is happening at a certain location and time like a festival, concert, or lecture i.e., any upcoming event. Ticketing information, rating, intended audience, duration time, language, location, are some of the things that can be displayed using the event properties.
Video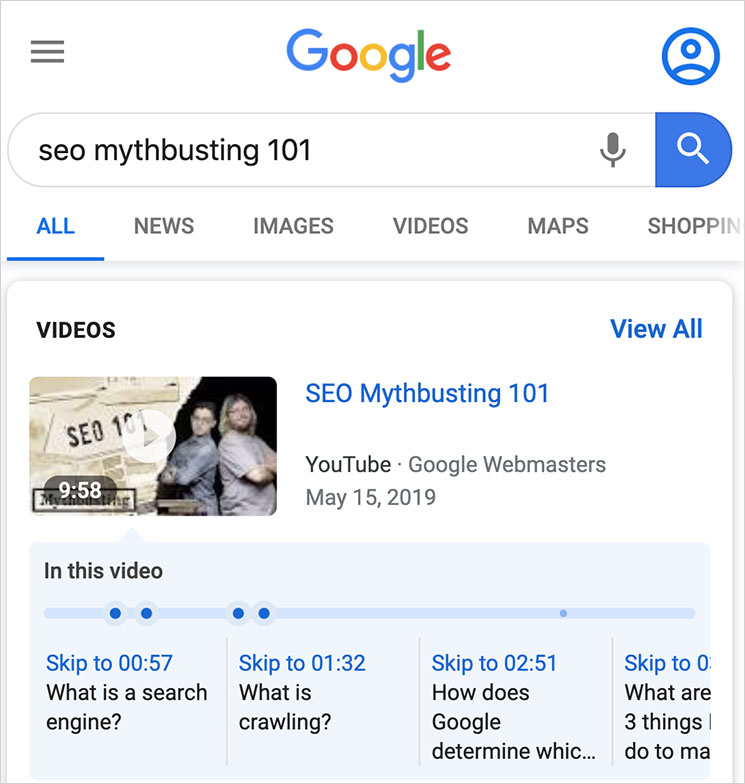 The video structured data shows valuable information in search results that help drive traffic away from your competitors. This schema makeup gives quick answers even to complex questions like how to clean the gutter or how to update the settings.
Product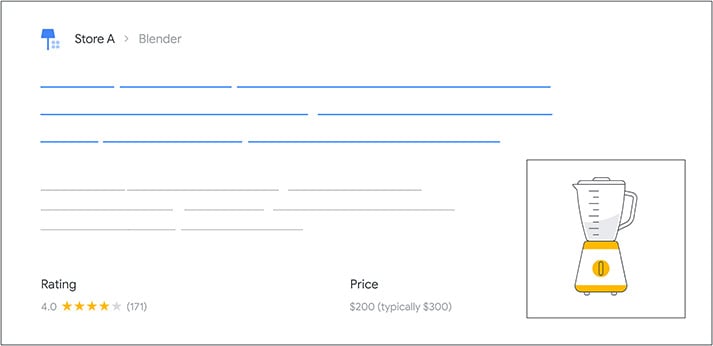 The product data snippet helps your business share any vital information with your customers or buyers. When a user searches for your products, through product structured data, you can display product details like categories, pricing, reviews, ratings, availability, and more.
Sitelinks search box
With this schema markup, your business can make it easier for the users in finding what they need on your website. By providing valuable keyword data, you can add more value to your SEO strategy.
Corporate Contact
When a user searches for your contact information, this particular markup data displays some contact information like logo, social media links, contact details, etc. signalling that yours is an official and well-established company.
People
People schema markup shows a person (alive, dead, fictional). This can include person name, place of birth, organization, brand associated, contact point, awards won, family name, etc.
Organization

People look up information about any of any organization over the web. The properties include founder name, the associated logo, email address, overall ratings, alumni of the organization, geographic area, awards, brands associated, etc.
Local Business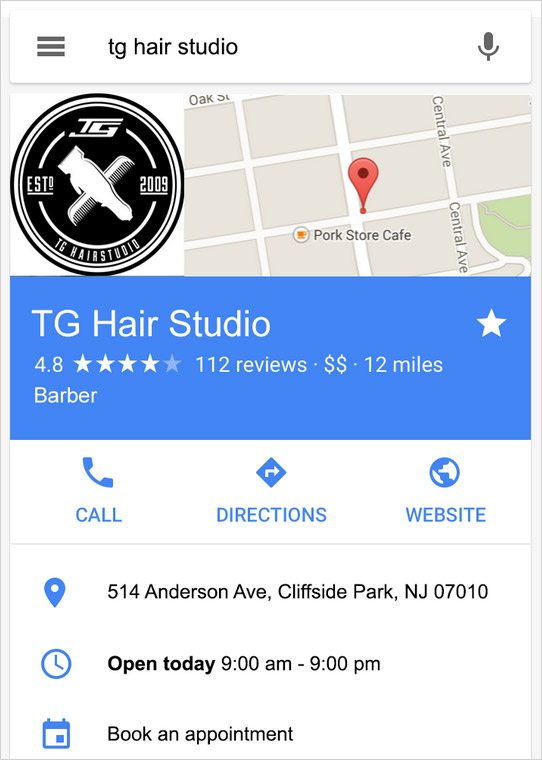 The local business structured data will be about a physical business or a brand of an organization. The local businesses include restaurants, branch of a restaurant chain, branch of a bank, a club, a medical practice, a bowling alley, etc. The properties include currency accepted like cash, credit, local exchange trading system, cryptocurrency, etc.
Job Postings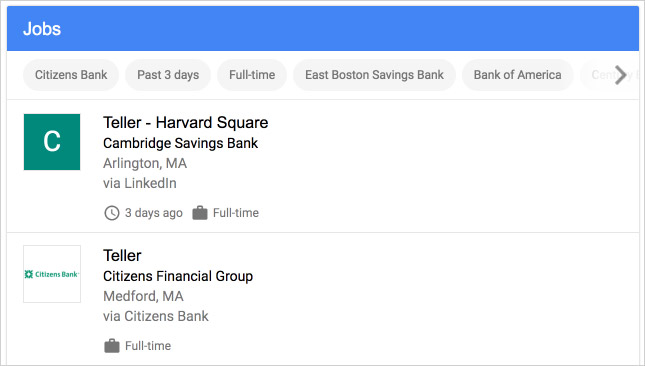 FAQs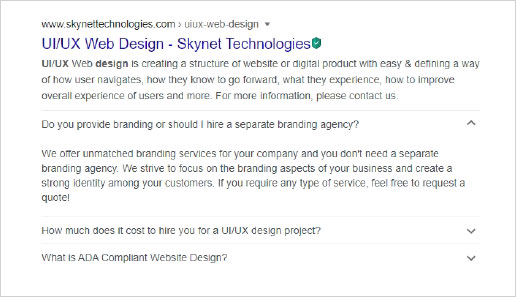 Review

The review structured item means the reviews of any item that the user searches on the search engines like Google. It could be a movie, store, or a restaurant.
For instance, if you search for the best places to have Thai food. You may get a list of restaurants with images, addresses, reviews, ratings, website names, costs, and all the information that would be communicated with Google through structured data. Of course, there is no guarantee that structured data helps you to achieve a prominent position on the SERPs. It only makes your web pages eligible for a better result.
Recipe

The recipe schema markup includes dietary restrictions covered by the recipe, total cooking time, method of cooking, nutritional value, the cuisine of the recipe, ingredients, quantity, method of cooking, category of the recipe, etc.
If you are looking for a walnut cake recipe, and you don't click on the first link that appears on the search results. You may be looking for something that takes less than an hour. In the Structured data, you can provide you information like recipe's user rating, cooking time, calorie count, etc. which helps the search engines adapt to the search results accordingly.
Medical Condition
This can be on any condition of the human body that affects the regular functioning of a person whether it is physically or mentally. It includes injuries, diseases, disabilities, syndromes, disorders, anatomy, specific drug, preventive therapy, possible treatment, possible evolutions of medical conditions, etc.
Breadcrumb

How to use Structured data?
You can use structured data on your company's website by implementing the following steps -
Choose your web pages
First, decide on which web pages you should use your structured data on. For instance, you have an article on the best places to eat in the vicinity, you may have to use the appropriate schema using review markup data on that page. If you have a different page, say, for instance, a blog that explains the current news of the company, you may skip adding structured data to these pages.
You may have a number of web pages; you may have to find the appropriate pages to add your structured data.
Select your structured data
Choose the type of structured data you want to use. The list of structured data types is mentioned above. Depending on the requirement, you may have to choose the appropriate data type.
If you want to look up a quick recipe for Cheesecake, you may use recipe structured data to display the details like ratings, cooking time, ingredients list, number of calories, etc. If you want to find a good movie to catch over the weekend, you may rely on review structured data that displays ratings, total time, cast, etc.
Open Structured Data Markup Helper
Once you have narrowed down your pages and structured data, you can then use the Structured Data Markup helper tool. You can choose the preferred data type like product or event, add your page URL and click start tagging. You can also add any missing tags. You can download your structured data.
You can load structured data in any of the below formats -
JSON-LD - It is a JavaScript notation, and this code can be embedded into the HTML of your page. Search engines prefer this format as it can read the data even if it is dynamically inserted by an embedded widget or a JS code.
Microdata - This is an HTML specification, not a JavaScript notation.
RDFa – It is an HTML5 extension that supports linked data correspond to the user-visible content that you want to describe for search engines. RDFa is commonly used in both the head and body sections of the HTML page.
Google recommends using JSON-LD for structured data whenever possible.
Test the structured data
Test your structured data and ensure that there are no format issues. If there are any issues, Google will struggle to understand them, and this reduces the rankings. You can use a Structured Data Testing Tool. It will display the list of errors and warnings if detected. You can also preview your data to see how it appears in search results. If you notice any errors, you can go back to the Structured Data Markup Helper Tool for making changes and correct the markup. Repeat the testing process.
Wind up
Structured data is powerful but not everyone makes it a priority. But businesses looking to boost organic traffic, gain leads, and improve sales cannot ignore structured data. Remember, it is essential, and there is no rocket science. With structured data, you can optimize your website for both search engines and users. This improves your rankings in search results.
Take some time to figure it out, prioritize, and learn how to deploy it. You can also rely on some plugins that often take care of the markup. If you face any roadblocks or are not sure of where to start, As a leading SEO service company Skynet Technologies help to globalize your audience. You can avail of our SEO services and take full advantage of structured data. We have been a trusted choice for multiple companies who have been looking to improve their online presence and achieve business growth.