Top Advantages of OpenCart Ecommerce Solutions!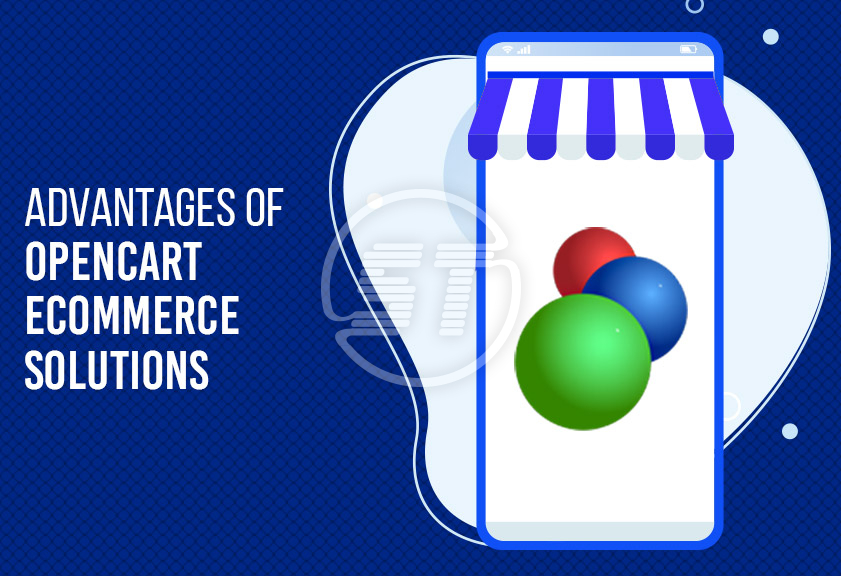 OpenCart is a popular ecommerce platform based on PHP that delivers the best shopping cart websites in no time. The most commendable feature of Opencart is that it is easily customizable and suitable for businesses of any scale. There is an immense growth potential for the online storefronts built on OpenCart and with a ton of benefits it stands out to be one of the top-end solutions for all your ecommerce needs.
Benefits of OpenCart Ecommerce Solutions
Easy Store Setup
OpenCart setup is one the easiest and you don't need to be technically proficient to complete the setup. Developers love OpenCart because it does not demand huge resources. You can download it without any expert help, install Opencart, choose the theme that best suits your business idea, add products & their descriptions, and finally configure the payment & shipment methods. Everything would be ready in minutes. Your ecommerce store power-packed with features would be up and running.
OpenCart is Free
OpenCart is a magical solution for many bootstrapping entrepreneurs as you can develop your online storefront without paying a dime. Unlike some ecommerce platforms, it doesn't charge the users any transaction fee. The only price you need to pay is for hosting. OpenCart is a go-to-solution for those who are starting up, for those without deep pockets, or if you are looking for a cost-cutting solution.
Easily Customizable
OpenCart is an open-source ecommerce platform that allows flexibility and easy customizations even with rudimentary tech skills. When compared with other platforms, OpenCart provides you the freedom to tinker around and make changes. You can make changes to the front-end, design, and even the backend to customize it as per the business needs. With some tech skills, or browsing through the web you can build your own plugins and modules to extend the store functionality with powerful features.
Responsive Designs
OpenCart supports out-of-the-box responsive functionality that is cross-browser compatible and works across multiple devices. OpenCart has got you covered on the SEO front wherein the search engines have started ranking the mobile-responsive websites higher. Nearly 30% of the US is relying on mobile commerce and hence OpenCart solutions are heading in the right direction.
Functionality Extensions
OpenCart offers thousands of free plugins and extensions that add extra layers of functionality to your ecommerce store. Social media integration, email integration is some of the tools that enhance the store functionality without any additional spending. You can also fasten the pace and accelerate your store growth by picking up some paid extensions that can power up your store and knock down your competitors.
Performance and Usability
OpenCart enhances the page load speed and performance of the store. It is lightweight and uses AJAX technology to reduce the page load speed. Even with robust functionality, if you have a poor usability factor, the customer abandonment rate would be very high. OpenCart provides a simple structure and also offers smart search options so that customers can find their desired products easily and effortlessly.
Sell Unlimited Products
OpenCart is robust and flexible when it comes to product catalog management. OpenCart platform lets you choose unlimited products to include in your store. You can list endless products spanning across several categories. You can also include the user-generated data like customer reviews, ratings, comments, or testimonials along with the product details.
Multi-store and Multilingual Platform
OpenCart supports multiple online stores from a single admin panel installation and database that broadens the audience base. This feature takes your store to new shores making your business a global one. OpenCart also supports multiple languages and currencies to cater to global customers. Customers from different countries can change the language to their preferred language and do their shopping.
SEO-friendly
It is an SEO-friendly platform and amplifies your store presence in the market and builds a loyal customer base for your digital store. The products and category details created on your ecommerce website are optimized - their titles, meta description, images, keywords, and more. You can even optimize the SEO URLs and the XML sitemaps that boost up your search engine rankings.
Secure Payments and Safe Shipping
For any ecommerce store, the most critical part is to secure the payment process. With the OpenCart platform, the end-of-the-funnel experience for the customers is optimized and works flawlessly and it also supports diverse payment & shipping methods. OpenCart default installation supports most of the popular payment options and shipping methods. You can even leverage certain extensions to add more options.
Customer Loyalty Programs
OpenCart has a versatile discounting system to create incentives for your customers and gain more orders. Coupons, gift vouchers, reward points, special discounts, are some ways to entice your customers and prompt them to make a transaction. After you set up your store, you can notice your customer behavior and use the discounting system to boost your conversion rate.
Easy Troubleshooting
You can leverage the 24*7 online support portal for easy troubleshooting and reducing the turnaround time of the issues at hand. You can also lean on the documentation, video tutorial, help docs for easy understanding of the platform.
Analytics and Tracking
OpenCart comes with tracking of your customers' behavior accurately and also offers analytical tools that let you gather the customer data and make a well-informed decision. It also has sales analytics that throw some insights into customer preferences and the latest shopping trends. OpenCart also lets you create affiliate marketing campaigns with tracking codes to track the details and measure the success of the campaign. Integrate your OpenCart store with Google Analytics and you would have a powerful analytics combination.
Wide User base and large Community
OpenCart has more than 3,00,000 ecommerce websites running and holds more than 1,10,000 members in its forums making it one of the strongest communities in the ecommerce segment. The community is thriving on various forums and platforms like Quora, Google+, Reddit where the members share their knowledge with the fellow members and support each other.
Wind-up
From the above points, it is clearly evident that OpenCart is an astounding platform with exceptional flexibility, phenomenal extensions, and modules that help you build a full-fledged ecommerce platform. It is ideal for not just new businesses but all for advanced businesses that want to accelerate their growth. Skynet technologies have a well-rounded team that can help you build your OpenCart online store.
We provide OpenCart Development Services to fuel your business with enterprise level capabilities and keep your customer coming back! Whether you want to migrate to OpenCart Ecommerce, integrate any application, redesign your online store, require new features development, or real-time support and maintenance for your store, you are at the right place! We're happy to help you out.