Top 9 UX Design Accessibility Best Practices to Achieve Successful WCAG and ADA Compliance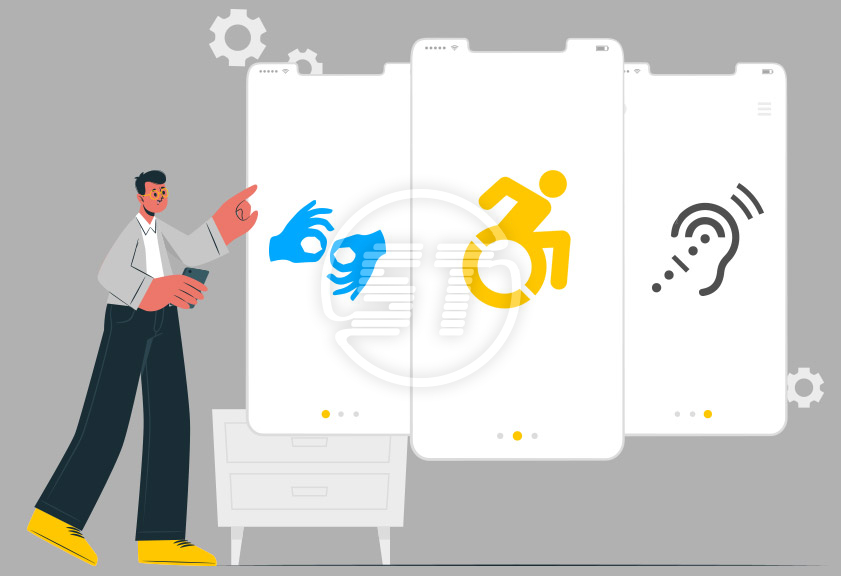 User experience (UX) is an important aspect to decide the success or failure of any product or service. If you provide valuable products or services to your users, they will certainly be coming back to your store rather than exploring your competition.
Organizations focus on accessible and high impacting UX design for every potential user. If your users can use your website, application or store and do not confront any difficulty, you have succeeded in achieving the UX. To ensure smooth user experience on web, WCAG and ADA have given a defined set of guidelines to create websites.
This article focuses essentially on the guidelines to follow in order to achieve ADA and WCAG compliance for your website, application, and e-commerce store.
Accessibility and UX
Accessibility is an estimation of a user's capacity to utilize products/services, the degree to ease with which they can meet their objectives. Planning in view of accessibility empowers individuals with abilities and inabilities to see, comprehend, explore, communicate with, and add to the web.
A typical myth is that accessibility requires an emphasis on users that have an inability of some sort or another - however that isn't true. Accessibility configuration is comprehensive for everybody. Augmenting usability to arrive at all capacity levels prompts products that anybody can use and appreciate, whatever the situation. Accessible designs just augment the user pool and help all users. The act of planning to expand the user pool is known as Universal Design.
Users can have permanent, temporary, or situational issues. They range from individuals who are totally visually impaired, partially blind to people who have low vision. Obviously, it doesn't just include visual states, yet additionally, individuals who have problems of hearing, individuals with portability weaknesses, or mental debilitations. Accessible good designs work for everyone and provide good user experience.
UX Design Accessibility Best Practices
There are a few sets of rules or guidelines for various aspects of UI/UX web design. These suggestions are based on the WCAG 2.1 standard guidelines.
Let's explore now how these accessibility aspects affect user experience.
1. Content and Structure related UX
Always add meaningful links to your content. Irrelevant links or links without meaningful content can be disorienting for users with different issues.
Only color content will be problematic for some users. Use text, color, and graphics all for effective content.
Navigation should be proper and consistent on each page of a site.
Keep the same UI components and labels consistent to provide an amazing design experience for all your users.
Make headings and titles clearer and easier to understand. Heading helps users to find out about the content inside.
Above guidelines help designers to enhance UX and increase accessibility of content for users. There are users with visual disabilities, low vision, intellectual disabilities, cognitive limitations, and reading issues, they all get benefitted, if you have designed your page as per above guidelines.
2. Mobile/Device friendly designs
Make content and design with keeping in mind mobile or other device users also. If necessary, then make required changes in the design for the users who are using mobile or some other device to peruse your site. For example, if the design on hover is important, then add the element in design to increase the user experience of your webpage.
Only sensory information can be problematic for some users. Like, information in the form of shape, size, or location. Use a combination of label, color, and location to identify the content correctly.
There should be an alternative to device motion feature. Provide an option to disable the motion without disturbing UX.
Complex pointers need simpler solutions too. For example, zoom in and zoom out from fingertips can get keyboard + and – buttons support for easier solution.
Try not to fix your design in only landscape or portrait orientation. It should get adjusted as per the user's device.
These guidelines make your content easily accessible to all the devices and every user. People with dexterity impairments, learning disabilities, low vision or blindness can also access your content if you have followed these rules to create your page.
3. Keyboard only user experience
Your design should include a clear focus state to help people read easily.
Define use of keyboard shortcuts for proper operations. Make it same as browser or screen reader shortcuts.
Try to provide logical keyboard navigation order. Tab key should navigate rightly in a predictable order.
Guidelines for keyboard users can enhance accessibility for the users who have mobility impairments, dexterity issues, concentration problems. You can also add 'Skip Content' link for screen readers to skip the irrelevant content.
4. Links opening in new window without prior notification
If your links are opening in new windows without any notification, then it ruins screen readers' experience. If it is important for your design, then give caution to the client before they click on the link that it'll open in another window. You can use text like 'opens in another window' or a visual symbol. If you decide to use a symbol, ensure it is accessible to screen reader users.
It helps screen readers and other cognitive disabilities users to explore your content in a predictable manner.
5. Animation
No content on page should flash for more than 3 times per second except if that glimmering content is adequately little, and the blazes are of low difference and don't contain a lot of red.
People who have seizures or photosensitive disorders can enjoy your page if your animations are safe for them.
6. Layout
Content layout should be consistent in every possible way. It should be simple and clear.
Content should be responsive for mobile and all the devices.
Responsive and consistent content increases accessibility of your content on various devices. Also, screen readers, users with low vision and autistic people can experience the web clearly.
7. Media
Add alternative text for the images that don't have any content or information to make sure people can understand the image purpose.
If your content moves or blinks, then there should be a pause or stop option to give enough time to your users to read the content.
Ensure audio or video elements are accessible for every user.
These guidelines also help many users with or without any issue and enhance the overall user experience of your page.
8. Visual design
Typography and color contrast have a defined measurement to help people with low vision and dyslexia.
Proper space between words, lines and paragraphs and right color contrast assists them in reading well.
9. Design for forms
Use labels for essential information fields.
Add proper information or help text about each field.
Error messages should be clear. Use text and color both to notify error.
Avoid giving captcha and if necessary to give then use text alternative.
Accessibility Testing for the Best User Experience!
Do manual testing on your designs using assistive technology like - screen readers. Figure out how to explore a site page using only a keyboard. Try to notice individuals who are using assistive technology (AT) on your pages and others. Take on comprehensive user testing. If possible, take user input about your site. There are several ways to do an ADA accessibility audit that can help you find how accessible your design is. Google's Lighthouse tool gives an outline of accessibility issues.
Testing will give you an actual picture of your site's accessibility and UX, and if there are issues, you can fix them to make your site accessible to everyone on web.
Wrap-up
Websites and apps give admittance to individuals to get data and information from everywhere in the world and introduce them to the organizations and products that upgrade their lives. All individuals deserve access to information, services, and products in equivalent ways, which is the reason designing accessible sites is so significant.
By following the WCAG guidelines, and with the help of technology and design systems, designers can be certain that basic and important rules to make a site are met and further develop UX for all.
Is your website, web application, documents, mobile application accessible for people with disabilities? With a team of experts, we provide audit, strategy, design, and development services that comply with accessibility regulations such as ADA, WCAG 2.0, 2.1, 2.2 and Section 508 within your budget. Get in touch with us at hello@skynettechnologies.com or submit the following request free quote form to know more about our ADA web accessibility services.