Video Accessibility – The ultimate guide and best practices to achieve ADA compliance for video!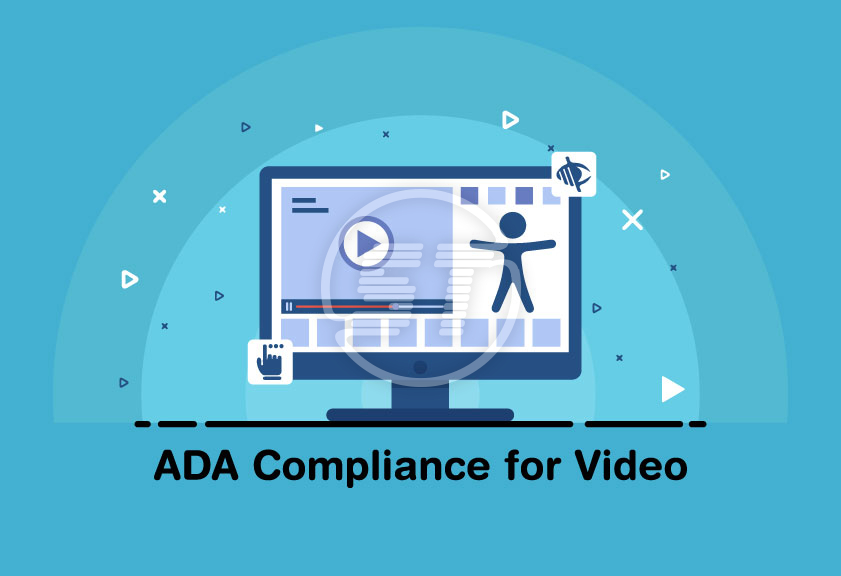 Video content has become an inseparable part of websites and applications. It is useful in education, entertainment, business marketing activities, etc. to reach, engage, and interact with target audiences. However, often websites/applications/portals have inaccessible videos that are of no use to many individuals because they cannot peruse that content.
It is essential to focus on video accessibility equally, likewise the other web content. Content creators, business owners, and government agencies, all ought to prioritize video accessibility while they create such visual content. CVAA, WCAG 2.0, and 2.1 standards have some specific success criteria for video accessibility.
The intent of this article is to help you with those insights so that you can fix video accessibility issues. Read along!
Points to remember to create accessible websites!
Video accessibility simply means videos that are accessible to everyone including those with disabilities. Here is a checklist to ensure that videos are working fine for everyone, which includes,
Captions

Captions are essential elements for video content. According to WCAG 2.1 standards, captions with pre-recorded videos make them accessible for users who cannot hear the sound.

Videos with appropriate multilingual captions assist you in increasing the viewer base. It opens chances to access the video for viewers who don't know the language in which the video was originally created, which ultimately enhances its reach.

Captions also help users to watch videos in noisy environments, and uplift user experience.

You must know that captions are of two types - closed and open. Open captions are always visible on the screen whereas closed captions can be turned on or off as per the need. It is advised to include closed captions with videos so that users can use them at their convenience.

Guidelines to remember,

Make sure the caption text is minimal yet clear to read.
Avoid giving bigger paragraphs to read caption because it becomes problematic for users to read such text while watching the videos.
If multiple speakers are active in any video, captions should clearly show who is speaking.
If there are scenes where only music is being played, mentioning that music is crucial to make users understand what is going on.
YOU MAY ALSO LIKE: Web Accessibility Examples
Transcripts

Video accessibility requires transcripts as well. Individuals who cannot access the video directly may read the transcripts to understand the content.

Please note here that transcripts and captions are different from each other. Transcripts are not coordinated with video content, whereas captions are entirely matched with the video. Moreover, transcripts are only a written record that opens in the side panel of the video. So, viewers need to change their focus to read the text along with watching the video.

W3C has given comprehensive guidance on creating accessible videos, which emphasize on the importance of correct transcripts. Let's see how these standards help content creators to include transcripts in their video content.

Include each small detail of the video. For example, if speaker is saying something and making any noise in between the dialogues, include that noise in text.
Non-speech sounds also required to write in transcripts anywhere before and after the main text in parentheses. For instance, (mobile fell on the ground accidentally and broken into pieces).
To denote music or a song, add musical sign in the beginning and end of each caption.
If not needed, do not provide captions in all capital letters.

Audio Description

This is an aid for users who have a vision disability. Audio descriptions help them to understand the content by telling them each action, gesture, and other elements that appear in the video. According to WCAG standards, pre-recorded videos ought to have synchronized audio descriptions to ensure their accessibility.

The descriptions must be precise and narrated with apt tone and pace. So that it matches the intent of the video.
If users can enable or disable given audio descriptions, it will increase video accessibility. Since some of the users might not need descriptions on the screen.

Video Quality

Video accessibility also depends on the quality of the video. High-quality video with perfect resolution is critical for accessible videos so that people with low vision or all other users don't find it difficult to perceive the crucial visual details. Video quality includes clear and understandable audio, readable text for captions and transcripts, accessibility via media players, easy-to-view color contrast, etc.

Videos must provide similar content and experience in both landscape and portrait orientation.
Colors should not be the only medium to convey information.
4.5:1 is the standard color contrast ratio to ensure accessibility of each screen.

Sign language

Plan video content in such way that sign language can be used correctly with the content. Avoid including important information in the fashion if it cannot be presented via sign language overlay. The intent of WCAG success criterion on sign language is to provide accessibility to the users who are hard to hear or cannot hear.

Make sure the sign language interpretation is accurate and synchronized with original video content.

Flashing content

Many users encounter trouble while watching videos if flashing content appears for no reason. Such content can be harmful for users with seizures, migraines, or any other neurological conditions.

Thus, a content that flashes more than three times in one second is not allowed to add in your video.

Media player compliance

People use peripherals such as mouse or keyboard to navigate through the video. However, some media players don't allow users to navigate the video properly. Therefore, check the accessibility features of a video/media player to support captions, descriptions, or keyboard navigation.

Speech recognition should be supported by media players so that individuals can use voice assistance to give commands.
Keyboard focus indicator must be visible.
Screen readers and braille devices must get connected to media players.
(Additional tips to remember: Apart from all these points, user testing of all videos is required before publishing them. Real users with disabilities will be able to provide exact feedback and help you find out some potential issues that you might have missed.
Testing with screen readers for audio descriptions, captions, and transcripts' synchronization is crucial. Moreover, usage of compliance checking tools can help identifying potential issues and areas of improvement.
Always remember to document whatever accessibility measurement you've taken to ensure video accessibility to display them in your accessibility statement.)
Future of video accessibility
With increasing hybrid and remote working culture, corporate settings require to have accessible videos for presentations and conveying other information so that no one on board misses anything important.
Additionally, in augmented reality and metaverse, the videos are required to be accessible to avoid technical glitches. The videos with captions and assistive technology compatibility can be easily used for AR and other latest technologies. To improve live video broadcasting, AI-powered Automatic Speech Recognition (ASR) technology can be used to include precise real-time captioning. It is helpful to uplift overall accessibility of several live-streaming platforms.
Accessible videos can be managed with voice recognition as well. Individuals with mobility issues can use this feature to control navigation of the video via voice commands.
Future of video accessibility lies in its capacity to personalize content and language translation to cater to global audiences.
YOU MAY ALSO LIKE: How to avoid an ADA lawsuit?
Key Takeaways
Video accessibility is important for better user experience, wider content reach, and improved engagement. Every individual must be able to access the video content regardless of their physical abilities.
These integrations in videos make them inclusive by reducing accessibility gaps. Americans with Disability Act (ADA) requires every video content (across the US) to conform with specified guidelines. Failing to achieve the goal of accessibility might be a profound reason behind legal consequences including hefty penalties and lawsuits.
As a prominent ADA website accessibility service provider, Skynet Technologies will guide you and help you to make your business web content, documents, and video accessible to everyone. Get in touch with us at [email protected] or submit the request free quote form to know more.