Weebly to WordPress – A Comprehensive Migration Guide!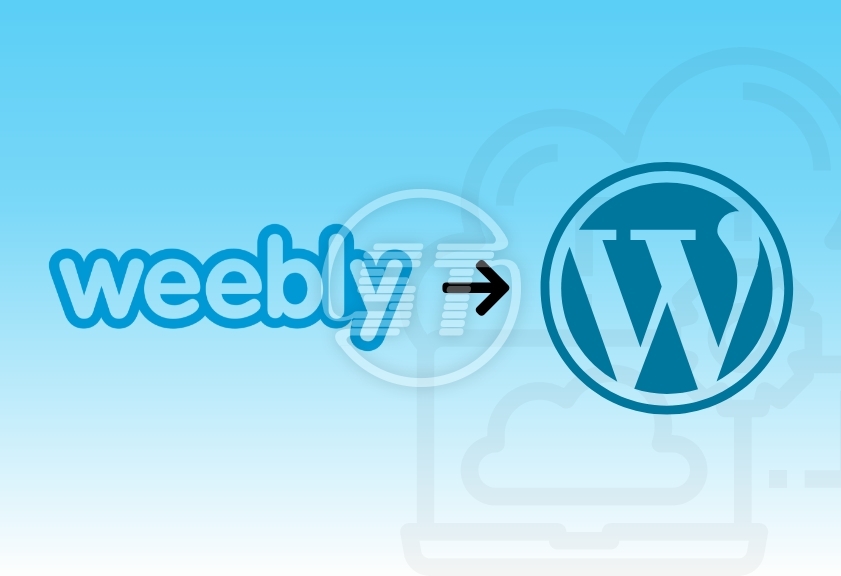 Weebly is one of the most inexpensive website builders and is also the fastest way to create user-friendly websites. It is one of the simplest platforms facilitating the Do-It-Yourself solution with its drag-and-drop feature for building a handful of pages and posts. Hence, most of the start-ups rely on Weebly as it is simple and demands fewer technical skills. But as they scale, they might want to go for a powerful and flexible platform as Weebly has certain shortcomings. If you want to gain more control over your website, Weebly CMS development has comparatively limited customization options.
When you compare Weebly with platforms like WordPress which is far superior in almost every regard. Whether you need a simple blog or build an ecommerce website, using a self-hosted WordPress version is the best choice. WordPress offers thousands of plugins and themes to choose from that are suitable and specific to your website. So, many enterprises after a certain period tend to go move to WordPress CMS Development.
Migration of a site from one CMS to another is not just about moving over the content. You need to remember that you are building a brand-new website from the ground, and you need to handle it with utmost care and precision.
Let's see what goes into the Weebly to WordPress migration.
WordPress Pre-migration Process
Before you take the plunge of migrating from Weebly to WordPress, you need to prep a few things.
Purchase Hosting

Weebly comes with a hosting service where all the websites are on its platform. So, when you decide to migrate Weebly to WordPress which is self-hosted, you need to purchase it. You have a wide range of options from shared hosting which is inexpensive to specialized & managed hosting. Go for quality hosting without looking for the cheapest option available as good quality hosts provide a better performance, security, WordPress updates, and auto-backup options. They are a bit pricey but totally worth it as your website security is at stake.

Set up a temporary domain

You may have to go for a temporary domain for your WordPress website till you complete your site migration. Several hosting providers do let you find a temporary domain and once you complete the migration process, you can switch to the new site. Change all the post and page URLs accordingly. You can trash the temporary domain.

Install WordPress

Once you set up a temporary domain, you need to install WordPress. If you go for a managed host, the hosting provider will get the WordPress installed on your domain by default. Even otherwise, you can install WordPress manually. You can set a default theme for the sake of migration. You can change the theme post-migration once all the content and media items are moved.
WordPress Migration Process
Manual Migration

This is the simplest way to migrate Weebly to WordPress from your current website. Under manual migration, you copy the content from Weebly and paste it to the WordPress editor.

Steps

Create all the pages and posts you want to migrate to WordPress. Then go to the WordPress admin dashboard and create posts and pages manually under the 'Add new' menu. Since this is a time-intensive task, you can also go for bulk page creation using plugins like Bulk Page Creator.
After creating pages and posts, you need to copy the page content from Weebly and paste it on the pages of WordPress.
If you have media files, even they must be moved manually. Save the media files from Weebly and then upload them on the corresponding pages manually. Fix any internal links of the images to make sure they are pointed to the right pages within your WordPress site.

Pros and cons

This way you can make sure that you haven't missed any piece of content and can also review your content throughout the migration process. However, if you have a complex or a large website, this seems to be tedious and time-consuming. So, we recommend going for manual migration if you have a small website.

Automated Migration

When you have a large website, you can go for an automated process which saves a great deal of time.

Steps

You can use an RSS feed to import the posts. Weebly offers an RSS feed that helps automate the migration process of your blog posts. When you click on the RSS feed button on your Weebly website, you can see an XML file that needs to be saved in your local system. You can use tools like ImportWP to import the Weebly feed from the XML feed files into your WordPress site.
One shortcoming with Weebly is that it doesn't offer feed for the pages and hence you may have to export your entire site. We recommend taking a backup before you perform this step. You get the HTML for all the pages on your website, and these have to be saved on your system. You can then import the data using the HTML Import plugin.
HTML Import plugin imports the media files as well. Verify if all the media files are there and correctly linked. If there are any discrepancies, you can also fix them manually.

Pros and Cons

The automated Migration process is the best option if you have a large amount of content and is even faster than manual migration. However, we need to check if everything is migrated as per the requirement.

3. Paid Migration

There are many readily available migrations services from one CMS to another. Skynet Technologies provides hassle Weebly to WordPress migration at competitive costs. You can request a free quote by providing your details by filling out this form. Depending on the complexity of your website, the time and cost vary. Our WordPress Migration Services include migrating media items, redirecting URLs, optimizing the URLs for SEO purposes, go for design options, and delete any target data that is already on your WordPress website. We do offer post-migration support and maintenance to see if everything is working as per the plan. Our services also include migrating media.
Once you have made your choice of migration, then it may take some time for the migration process to be completed.
WordPress Post-migration Process
Once the migration process is completed, you need to follow a few steps to get your WordPress site ready to go.
Choose a theme for your WordPress website. You can also go for customization as per your website needs.
Set up the features for the functionality required. You can also add widgets to your website and customize the site as per your needs.
Test the entire website to see if the functionality is not disrupted and all the pages and posts are migrated correctly. Fix if you find any broken links or incorrect links.
Transfer your current domain from Weebly and set it to the new WordPress website.
Wind-up
By following the above migration process, you can move from Weebly to WordPress with fewer hassles.
Skynet Technologies has been offering a wide range of CMS Development services including WordPress and Weebly. If you don't want to migrate but want to start building your website all over again using Weebly, you can check out our end-to-end Weebly solutions. If you wish to migrate to WordPress, we are good either way. We offer a whole range of WordPress services including migration from any CMS like Weebly to WordPress with negligible downtime and safeguarding your data. You can request a free quote for any CMS services.