What's coming in the major release of WordPress 6.3? Prepare your site for the upgrade!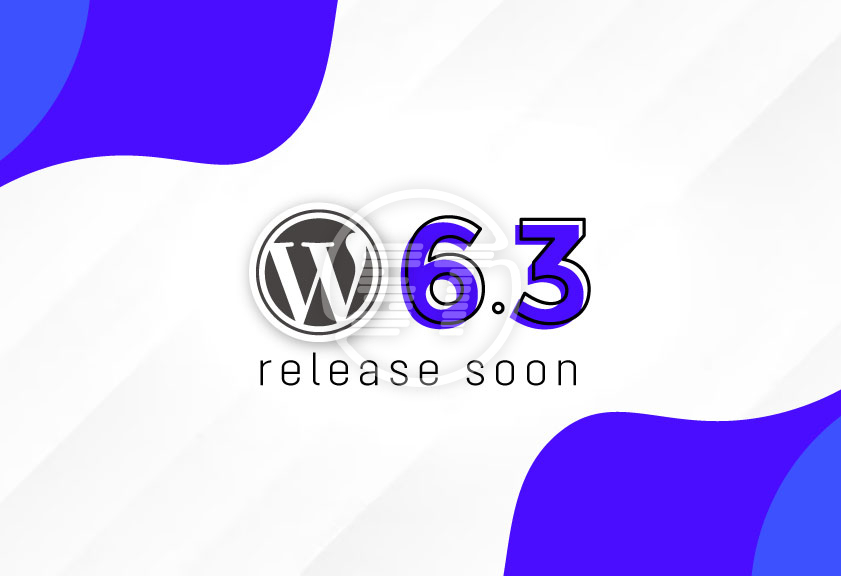 WordPress 6.3 is expected to be released mostly on August 8th, 2023. Its beta version is in under testing phase to ensure seamless performance of the upcoming version. The new version is the second major release of WordPress for this year. WordPress 6.2 was released in March 2023. The main reason behind two major releases in a single year is Gutenberg project approaching its end of phase.
Likewise, the post editor continued evolving after WordPress 5.0. So, WordPress 6.3 will be the culmination of phase 2 Gutenberg improvements. With a cohesive site experience, expanded functionality, and richer interface, WordPress 6.3 will usher in a more dynamic CMS experience.
The new release will make page editing easier for users with myriad new features. Let's know how this major release will transform this platform experience.
YOU MAY ALSO LIKE: Custom WordPress Development Service
New enhancements of WordPress 6.3!
1. Renovated Site Editor
With every new version, Site Editor has improved significantly. It had limited templates and editing options with a few sets of blocks in WordPress 5.9 and now you will experience a full suite of template choices, absolute robust and innovative tools, and a plethora of designing blocks.
Along with a more user-friendly experience, the new Site Editor will bring an updated navigation sidebar to streamline navigation between editorial components. It has got a completely new design for menus.
Now it is easy to rearrange or remove menu items using navigation blocks.
Navigate through the style book and the global styles panel to choose different style variations for the theme.
Create a new template as per your need or select anyone from available templates and edit without any hassle.
There are new synced and un-synced patterns as well that replace the previous Template Parts menu.
Other than all these enhancements, find a new Command Palette providing a swift way to navigate among templates, open specific panels, or create new posts.
WordPress 6.3 ships with a handy style revision panel, which will allow to revert global style changes. It has a list of all available revisions, time stamps, and users who made previous changes. Style revision can be accessed via ellipsis on the global styles panel.
Moreover, there is a feature to switch between page editing and template editing. This will only require going to the Settings panel and finding the Edit template option there at the bottom of the Page tab. Thus, while editing a page in the site editor, adjust the template layout as well.
To reduce distractions in Site Editor, WordPress 6.3 has a few improvements such as distraction-free mode, which hides all side, top panels, and disables block toolbar so that you can focus on content editing.
So, it is evident that WordPress 6.3 includes intuitive ways to create and edit templates and content without leaving Site Editor.
YOU MAY ALSO LIKE: WordPress headless CMS
2. Patterns
WordPress 6.3 has introduced synced and un-synced patterns of blocks and renamed reusable blocks. Basically, it merges reusable blocks and patterns to improve customization and ease of use.
Till WordPress 6.2, custom pattern creation was limited the use of a WordPress pattern directory, pattern management plugin, and adding pattern PHP files in the installation folder. However, now none of these methods are allowed to create patterns using Site Editor.
Experience the streamlined pattern creation in WordPress 6.3. It only needs to customize a block or groups of blocks and select Create Pattern from the block toolbar menu. If a pattern creation pop-up appears on your screen, it will get another toggle option to keep all pattern instances in sync. It helps you decide if the pattern will stay in sync or not.
All synced patterns are like reusable blocks that apply site-wide changes and stay under the Synced Patterns tab in the block inserter panel. Whereas un-synced patterns can be inserted and edited on any post or page without influencing the same patterns if used elsewhere. You will find them under the My Patterns category in the block inserter panel.
3. Block Improvement
WordPress 6.3 will provide three new blocks-
A. Details
This new block has a collapsible nested block section with a title at the top. It can be used to present content like code snippets, product specifications, and spoilers.
B. Footnotes
These blocks can be used to add citations. Access the footnotes block by selecting a text that you must use for citation. The blocks will be automatically added at the end of your content.
C. Image block
The new customization options with WordPress 6.3 and one of them is caption styling using image block. It can be accessed via the styles panel and will help to tailor the font, size, and appearance of the caption text.
Some more changes:
Improved padding and margin control.
Link control enhancements.
Improved emoji loader to decrease time spent on loading the emoji script.
Fetch priority support is included for images.
Skipped lazy loading for images outside the classic themes' loop.
Async support is added to the WP Scripts API.
Rollback for failed plugin and theme updates.
Merge get_posts() and get_pages().
YOU MAY ALSO LIKE: WordPress Multisite Development
WordPress 6.3 is no longer supporting PHP 5!
PHP is one of the profound parts of WordPress and till 2019 it has supported PHP 5.6.20. However, Currently the PHP 8.2 is running with all advanced features and functionalities. Thus, the WordPress team has dropped support for PHP 5. Now minimum supported version of PHP is V 7.0.0 or greater.
Technical requirements for WordPress 6.3!
WordPress recommends following updates to run an efficient ecosystem,
PHP 7.0 or greater version
MySQL 5.7 or greater
MariaDB version 10.4 or greater
Moreover, WordPress suggests using Apache or Nginx servers to use its latest versions for robust and feature rich use.
So, are you all set to begin with WordPress 6.3?
The testing phase is in its final stage and if nothing goes wrong then WordPress 6.3 will be releasing on August 8th, 2023.
Until now WordPress has set a benchmark and the upcoming version will carry on that legacy of exceptional and reliable performance. For optimal results and to prevent errors, it's wise to upgrade your WP site. Hire our 5+ years of experienced WordPress developers to save time, costs, and maximize the WordPress site performance with WordPress 6.3. We offer comprehensive WordPress development services . Reach out via the form below for a free quote and detailed information or send us mail at hello@skynettechnologies.com.