ADA compliance requirements for enhancing digital accessibility in Washington State!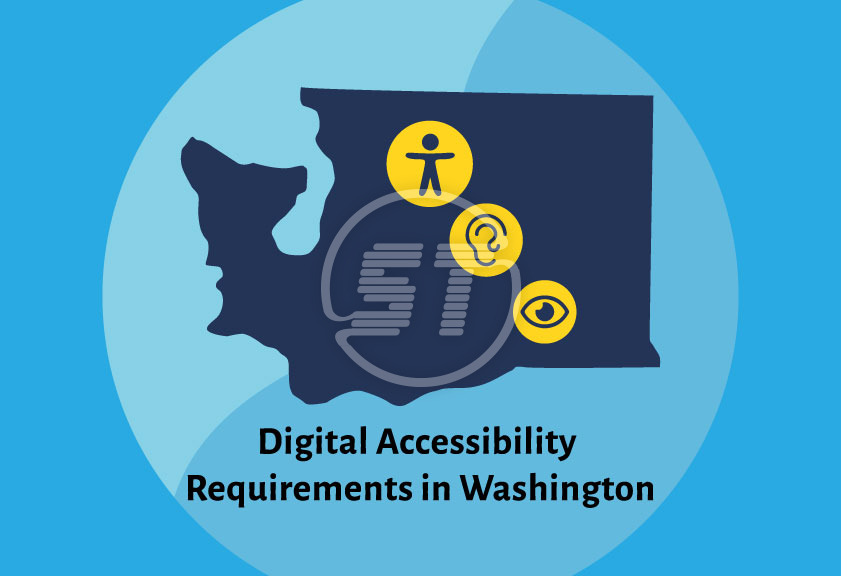 Information technology is everywhere around, and it should be accessible for all of us to achieve our day-to-day activities. To improve the accessibility level of the state's digital properties and make people's lives more convenient, Washington State has enforced digital accessibility standards on all organizations operating in the State. It is a much-needed step towards inclusive Washington.
Each information technology that is developed, maintained, procured, and used in the state must comply with digital accessibility standards unless they cause an undue burden on the organization. The minimum accessibility level of compliance for websites is WCAG 2.1 level AA.
YOU MIGHT ALSO LIKE: How to avoid ADA lawsuit?
Policy 188 – A defined law for digital accessibility in Washington
Washington State has Policy 188 to streamline the accessibility implementation process across the state. The intention behind this policy is to achieve accessibility obligations to provide reasonable accommodations to everyone so that they can enjoy government-run programs and other services online without facing any problem.
Key points of the policy are:
Each covered technology (public-facing content such as websites, applications, social media content, documents, media, etc.) is required to be usable for every individual directly or via assistive technology. Standard 188.10 says that every covered technology must be developed, acquired, or modified under federal laws.

If a covered technology is impossible to modify as per compliance requirements, the website/content owner is supposed to provide an alternative option to access the content.

Each organization/agency should have an accessibility coordinator who will be the key contact person regarding any information technology-related issues.

Agencies can develop supporting policies and procedures to support Policy 188. Moreover, they must develop an accessibility plan to ensure new and existing covered technologies' accessibility.
Policy 188 was adopted on May 11, 2017, the first revision happened on August 31, 2019, and the policy was latest revised on August 31, 2021.
YOU MIGHT ALSO LIKE: Web accessibility statistics
What are the common accessibility issues found in the maximum websites?
Most websites have some common problems that are the reasons why websites cannot be accessed completely.
Inappropriate color contrast

Individuals suffering from color blindness or limited vision cannot read properly if the web page doesn't have sufficient contrast between text and background. And it is one of the profound mistakes that several websites contain.

Missing alt text

Images, charts, or any other graphical illustration is required to have supported alt text thereby people who use assistive technology can understand the purpose of the image.

Videos without captions

Many users suffer from hearing issues, and they cannot consume video content if it doesn't have appropriate captions.

Using only colors to convey crucial information

There are certain fields or calls to action where some information needs to be given for every failed or successful attempt. But if only colors are used to convey such messages, then individuals with colour-blindness problems cannot read those messages. And the screen readers do not tell the color name to the users. Thus, using only color creates problems for many.

Mistakes in online forms

If online forms do not have labels that are understandable to screen readers, clear instructions to fill the form, and proper error indicators, such forms cannot be accessed by people with disabilities.

Problem with keyboard navigation

Users who have motor disabilities are unable to navigate through the website pages if all links cannot be accessed via keyboard because they face problems while using a mouse.
What penalty does an organization have to bear for non-compliance?
If any person with disabilities encounters discrimination based on their physical abilities, they can take civil action and ask for the recovery of actual damages. It can be in the form of a fine, lawsuit, or both including attorneys' fees.
Read more about fines and lawsuits.
How a web accessibility remediation agency can help?
Applying accessibility standards is not enough. It is a long process of implementing WCAG standards appropriately and then maintaining them regularly by updating content and other stuff in a loop. A web development partner has an experienced team that performs these tasks perfectly.
WCAG keeps updating its standards with time to match modern technology needs. Learning those standards periodically can be overwhelming, however, the trained web development team knows the standards thoroughly.
Above mentioned and several other accessibility issues can be remediated according to WCAG 2.1 level AA standards if you have a seasoned web development partner on board.
YOU MIGHT ALSO LIKE: Cost to make website ADA compliant
As a proud IAAP (International Association of Accessibility Professionals) and W3C member, we are dedicated to contribute in enhancing global accessibility. The businesses, large enterprises, federal and state governments, educational institutions and universities who are considering remediating websites with full ADA WCAG 2.1/2.2 compliance; we provide full website accessibility remediation solution including audit, consulting, remediation, regular maintenance, monitoring, training, and support.
Request a free ADA website accessibility remediation quote or email us at [email protected].