ADA Website Compliance Requirements in Mexico!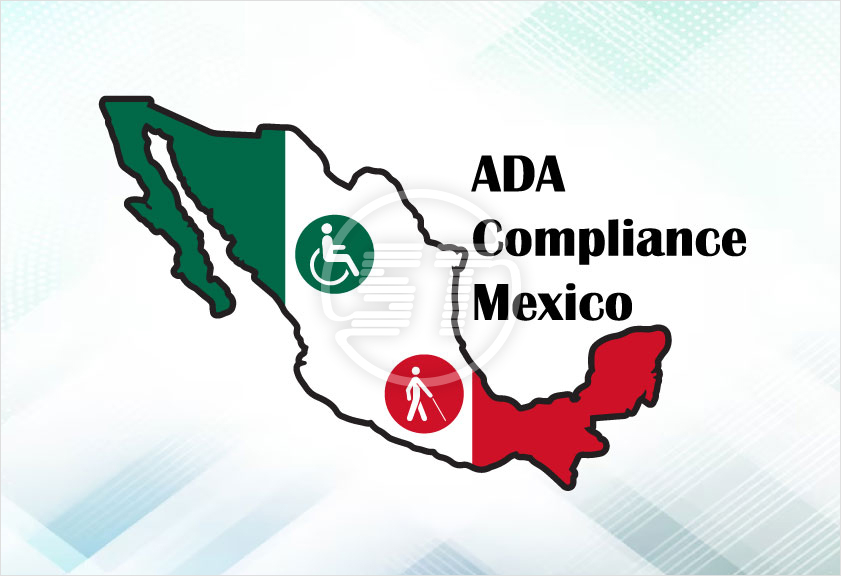 Information and communication technology has become inevitable for people. In this digital era, websites and applications are the key mediums to access information, services, and opportunities. Without complete digital access, businesses can't innovate, reach, and grow. It is also crucial for countries' economic growth.
Thus, Mexico is developing its web accessibility standards to ensure maximum accessibility for its citizens and economic growth. Small and medium businesses can benefit from more user engagement by including accessibility into their systems.
Mexico has begun taking important measures to improve and maintain its digital presence by acknowledging the significance of equal digital access to everyone. If you are operating a website/application in Mexico, it is not only your moral duty but legal obligation to own an accessible website.
YOU MAY ALSO LIKE: Common Website ADA Compliance Mistakes
Accessibility laws and regulations in Mexico and the requirements for digital products!
The General Law for the Inclusion of People with Disabilities (LGIPD) is the main law to refer to in Mexico when it comes to accessibility regulations. The law was published on May 30th, 2011, and last revised on December 12th, 2015. The LGIPD was based on the Political Constitution of the United Mexican States Article 1, which focuses on prioritizing the human rights of all Mexicans. The law was made in the observation of the National Council of Human Rights.
Article 2 of section I of LGIPD sheds light on the relevant measures to ensure complete digital accessibility for people with disabilities on an equal basis of physical abilities.
Chapter 10, Article 32, Section I of the accessibility law of Mexico requires that authorities shall focus on some accessibility measures, such as:
Provide digital information to everyone in accessible formats timely and at no additional cost.
Promote Mexican Sign Language usage including the Braille System.
Institutions that are directly connected to social services and programs, must provide information and required advice to support users with disabilities for their development and social integration.
The private sector organizations and media houses that serve the public to provide information and other services should ensure that they have accessible and easy-to-understand formats of content.
The Mexican Government Agency (Federal Telecommunication Institute - IFT) regulates the Telecommunication services has published the new General Guidelines for Accessibility to Telecommunication Services for disabled users in November 2016. The guidelines have a series of actions that service providers and companies ought to follow to provide equal access to information and services.
Article 24 says that Concessionaries and authorized telecommunication services should promote the access and use of telecommunication services to everyone including users with disabilities. They must comply with WCAG's latest standards' conformance level AA, which implies all documents, videos, guides, and/or tutorials must be accessible as per suggested guidelines.
In July 2014, the IFT made it compulsory in Article 161 of the Federal Communication and Broadcasting Law (LFTR) for TV channels to include subtitles with videos to improve their accessibility for users with hearing issues.
YOU MAY ALSO LIKE: How to make PDFs ADA compliant?
The Reason behind the profound level of inaccessibility in the state!
The Web accessibility guidelines are still underdeveloped in Mexico, but the broader legal framework prioritizes digital inclusivity. As mentioned above, telecommunication and ICT services must be accessible to everyone; however, the law doesn't contain whole information about website guidelines, it prioritizes the significance of ensuring accessible digital content.
Legal consequences for non-compliance
Despite Mexico being way behind the other states in digital legislation that focuses on web accessibility, it's all organizations ought to comply with recommended laws and guidelines to achieve inclusivity. If an organization is found guilty of non-compliance or intentional discrimination against users with disabilities in the digital sphere, it might end up facing lawsuits or penalties.
Moreover, increasing dependency on digital products has made it mandatory for organizations to adhere to accessibility laws to maintain their brand reputation. Inaccessibility may lead to lesser user engagement and eventually decline in conversions. Thus, achieving accessibility is anyways in favor of organizations.
Path to achieving web accessibility in Mexico!
To ensure website accessibility,
Inclusive web design is mandatory.

Incorporating accessibility standards from the beginning of website development makes it easier to achieve accessibility goals.

Accessibility maintenance is required.

To maintain web accessibility, regular website audit, testing, and remediation are expected to be done. Automated tools and manual checks can be done to perform audit and testing.

Common mistakes need extra vigilance.

Most websites contain errors like missing alt text and/or closed captioning, or improper keyboard navigation. These are the common but significant problems behind website inaccessibility.

More awareness is needed.

Train and educate more workforce about accessibility and its importance. It will help improve the situation.
YOU MIGHT ALSO LIKE: How much does it cost to make website ADA complaint?
Wrapping up
Mexico is committed to including web accessibility to create an inclusive digital society. The underdevelopment regulations will have complete clarity sooner. By that time, organizations are required to apply the latest version of WCAG level AA to their core. Once the organizations embrace accessibility guidelines and maintain their websites, then web accessibility will not be only a legal obligation, it will be a stride toward digital inclusion.
Skynet Technologies, a proud associate member of the International Association of Accessibility Professionals (IAAP) and a recognized participant in W3C takes immense pride in its valuable contributions to the global accessibility community.
Whether you require quick accessibility improvements or a complete overhaul of your website accessibility, you can count on us to meet your requirements. The range of services we provide covers every aspect of ADA website accessibility services , including design, audit, consulting, remediation, support, and ongoing maintenance.
Reach out at [email protected] or request an ADA website accessibility quote . Our mission revolves around aiding you in enhancing the accessibility of your digital presence and improving inclusivity for all.