Top customer engagement strategies to boost your ecommerce store sales!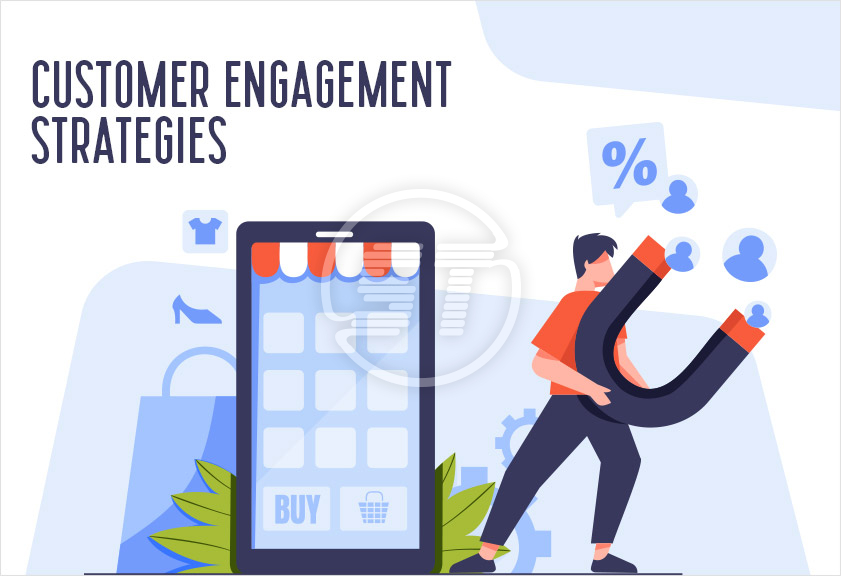 Many people start their ecommerce stores, but only a few can thrive. Why? Do you know the reason?
It can be the experiences that businesses create, the level of interactions with their customers, or maybe it is about unfulfilled customer expectations. What do you think?
Well, whatever it can be, but eventually it is about customers!!
The customer sees your store differently than the way you see it. So, you need to create it the way customers expect. If you fail to live up to their expectations, you should not expect their engagement either. They say, "You cannot buy customer engagement, you need to build it."
And how will you build it?
Boosting customer engagement is necessary to grow your business. Peruse this article and find the right way to build customer engagement in ecommerce.
Tips for better customer engagement for ecommerce store
Uplift customer engagement with push web notification

Customers can browse your store through any device. It can be a desktop, laptop, mobile phone, etc. Most purchases happen from mobile phones. No matter which device a customer is using for browsing and shopping, push notification works well. It has the power to engage customers even if they are not on the website.

People are most likely to act when they receive a notification from their favourite brand. And no one can avoid it, the notification gets read instantly. Communication channels work as magic and they are the reason behind beneficial deals, only if the strategies are used correctly.

Many brands have improved their engagement and sales using web push notifications. Some of the campaigns for push notification are-

Cart recovery: When a customer adds products to a cart, conversion chances increase, but drop-offs are a severe disappointment for all ecommerce players. Web push notification helps to recover lost sales because of shopping cart abandonment. Discounts and offers, stock clearance sales, out-of-stock messages, special price alerts for a specific time, etc. are some of the techniques which uplift click-throughs on push notifications and re-engage customers with the cart.

Cross-sell: To increase average order value cross-selling is a helpful campaign. For instance, if a user has bought a cricket bat, you can push him a little by sending him a cross-selling notification. In which, you can give some discount or any offer to buy some more cricket accessories.

Fresh stock updates: There can be a few customers who might have not purchased anything from you in a while because of similar stuff. You can re-engage those customers by informing them about new stock. Send a personalized message to them based on their behavioural data.

Uprise customer engagement with on-site messaging

Likewise, push notifications, on-site messages are a reliable source of engaging customers. But the difference between these two is, that on-site messages appear only when the customer is browsing the website. You can send them these personalized messages while they are browsing, and the browsing will be more likely to convert into buying.

You might have encountered such messages when shopping online and these messages have surely caught your attention. Because the on-site messages are being created by gauging customer behaviour and they get triggered by some specific customer actions.

Here are two use cases for on-site notifications.

Display most viewed products: Got a customer viewing some cosmetic brand? Show them the most viewed products of the same brand. The URL-based campaign will work for this targeting and set it for all visitors who visit the same URL.

Social proofing: We know that individuals follow the masses. So, by showing satisfied customers' actions and ecommerce user experiences, you can persuade other customers to take a specific action. By social proofing on-site notifications, you can create a sense of confidence in your products and nudge customers to buy them.

Enhance customer engagement with exit intent

Many organizations have increased customer engagement more than ever using exit intent. But make a note, that it must be compelling enough to force your customers to get engaged with.

The message must be solid, relevant, and eye-catching. You can use phrases like "Don't leave without checking this out" or "Just before you leave" and include some discounts as well to attract potential customers.

One of the best tactics is segmentation. Precise segmentation can surely help you fine-tune your exit intent messages according to the groups you've made. Create campaigns based on different segments and offer unique experiences to each valued customer. One criterion to create a segment can be customers that have added more or less similar products to their carts.

Exit intent can be made more robust by using URL targeting. It is a narrowed and much-refined way to run an exit-intent campaign instead of creating and running campaigns for the entire website. Unearth the critical pages where traffic is more than other pages and the exit intent campaign for those pages. It will help you double the customer engagement for sure.

Boost customer engagement by using social media correctly

Do you know how many people are using social media marketing currently? Any guesses?

The numbers are gigantic. Therefore, marketers are paying special attention to social media these days. Because it is evident that is the place where your target audience is hanging out. Then what can be a more powerful tool than social media to influence and engage your customers? If used rightly, you can witness an incredible engagement rise.

Try these simple yet effective ways for using social media correctly.

Try optimizing your posts for social media. It will boost your reach to the right segment. Look for the hashtags and keywords that are not just popular but relevant to your business and incorporate them into your content.

Don't directly pitch your sales, provide helpful content to the audience, and persuade them to engage with your brand.

You can also use your happy customer's reviews to leverage the most out of their opinions. It is one of the best tactics to build a good brand image among your potential customers.

Add social sharing buttons. The customers who like your posts or brand will share them with their friends and family and help you outreach more people. The more people will engage with your post, the more profits you'll reap.

Make it a habit to connect and interact with your followers on daily basis. Interactions are good for customer engagement. Be consistent about your posts to boost the traffic.

Magnify customer engagement with the ultra-personalized approach

Personalization is the key to engaging customers. Don't you think so?

It is one technique that makes customers feel valued. They feel connected, which surely enhances their interest in your messages and sales pitch.

The idea is to make the segments based on past interactions and then target the segments. This is a proven strategy that beef-up customer engagement like anything. Advance personalization tools and techniques help you to cover every facet of the customer journey and offer personalization based on that.
Is all hands-on deck to increase customer engagement?
Besides, you focus on these strategies to enhance customer engagement, your brand/ products must have that uniqueness and quality that can hold customers.
You must treat your customers as a guest at your party with special treatment it's your party. You ought to offer them not simply better but the best experiences.
It is the experience that matters and keeps the customers engaged. Work on it and conquer their hearts!
With a technically skilled team of ecommerce experts and the right technology stack, we offer advanced ecommerce development services for creating high-functioning digital storefronts. Whether you require custom ecommerce development, ecommerce design, ADA compliant ecommerce design, ecommerce migration, application integration, ecommerce upgrades, redesigning of ecommerce store, ecommerce maintenance, support, ecommerce SEO, or ecommerce digital marketing, you are at the right place. Hire our developers to get scalable, secure, feature-packed, and user-friendly ecommerce development services.