Which is the best option for your ecommerce store – on-page or off page SEO?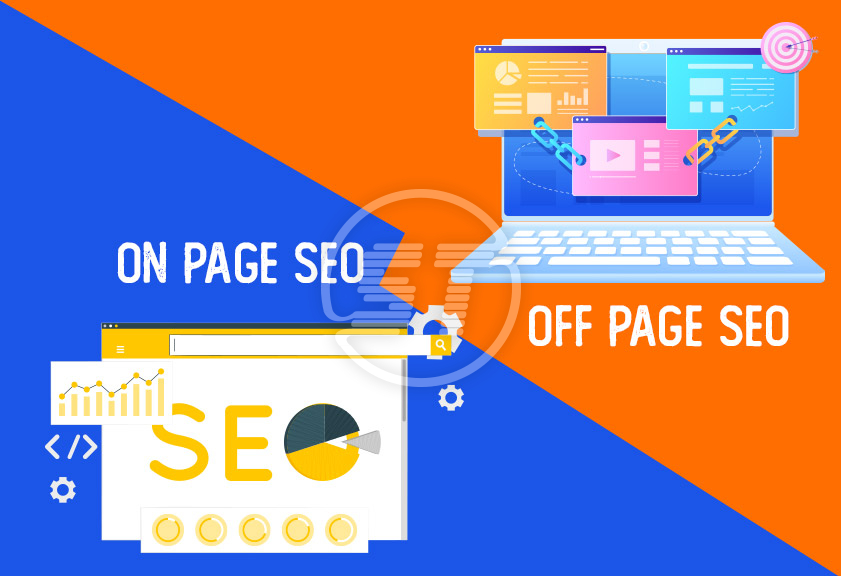 More often than not, organizations find themselves in a state of dilemma when it comes to choosing the right SEO tactics for their ecommerce store. They find it hard to pick whether on-page SEO or link building (off-page SEO) is good for their store. It is a bit tricky because no one can help you with the correct answer. For many organizations, on-page SEO is doing very well, whereas a few feel that link building or off-page SEO is enough.
So, basically, it is completely up to your business niche and industry. There is no set formula because one size cannot fit all.
Do you know, what is a healthy ecommerce website SEO?
It is nothing but search engine optimization tricks that keep changing with time when the ranking algorithms change. It requires to must act as per the situation's demand. Obviously, you wish to increase traffic on your ecommerce site, but the traffic should be targeted and relevant. Then only your ecommerce store will have an increased conversion rate.
What do you think, how will you be able to attract targeted and relevant traffic?
Read this article till the end to get the answer to this important question.
Let's find a better option!
Have you ever wondered, why on-page SEO is important for an ecommerce store?
Well, Google algorithms are immensely complex and so is the ecommerce UX. And these two factors are the reason you must give due respect to on-page SEO. Actually, UX will improve if an ecommerce store is well optimized and user-friendly. Consequently, increased UX help to get higher positions on Google and other search engines.
Additionally, a well-optimized page is comprehensive for search engines and the most important signal is, if your site appears in search results, it implies that your site is having quality content with the relevant keywords in line with search queries. So, to acquire an acceptable position in search engines, on-page SEO is essential to pay attention to. In short, on-page SEO is a process of optimizing your ecommerce store on different facets to improve its ranking and UX.
Likewise, link building is critical for a successful ecommerce, and it is also a convoluted process. When some other website links back to your ecommerce website is known as link building. Let's have a look at these two types of SEO.
Factors that influence ecommerce on-page SEO
Search intent

Search intent is the reason behind every search. When the need for search occurs then people start looking for the content/ products. Therefore, it is one of the strongest factors that affect on-page SEO. Utilize this factor in your favor by discovering what your customers are searching for your products.

Search engines provide relevant and useful information every second and organization generate that information based on these search intents keeping in mind what type of content or product is required and who will be the target audience.

Content quality

The ecommerce store's main purpose is to sell products and to do this critical task, the store needs to have quality content to promote and sell the products. When you create content based on search intent, content quality is pivotal. Google says the quality of content will influence your store more than any of the factors.

If the content is correct and relevant, users are more likely to buy the products. More sales imply more clicks, which means more traffic to your store. However, your content and products must be better than your competitors.

URLs

URL optimization ought to be done for users because they see the URL in the address bar and SERPs. And from there only they decide to click on the link. Therefore, URLs must be user-friendly and keyword-rich to grab users' attention on it.

Example of an unfriendly URL –

http://example.com/folder1/dir1/dir2/dir42244768/11209034.html

And a user-friendly URL looks like this –

https://example.com/seo/ranking-factor.html

Using categories and sub-categories in your URL makes it more comprehensive.

Keywords and themes

Keywords and themes must be relevant to your products and categories. Identify the targeted keywords and assign them to relevant pages, which is known as keyword mapping. The right keyword mapping help in reducing keyword cannibalization. Focus on keywords density as well; do not use more than 2-3 primary keywords per page.

Similarly, use the ones that suit your product niche. Once you are done with the keyword and theme, start optimizing the pages.

Optimize product and category pages

Optimizing the product and category pages for ecommerce is a tough task. These pages are the ones where users will find products and make a purchase decision. So, focus on these pages' optimization.

Write 1000+ words description, so that Google can understand more about your content. If it is not possible to write a long description on each page, it is advisable to write an in-depth product description of the most important 40-50 products.

Place keywords properly and in exact volume (neither overstuffed nor lacking in important keywords).

LSI (Latent Semantic Indexing) keywords are a good option for improved on-page SEO. These are the phrases and words that represent your main keyword. For example, if you are optimizing an ecommerce category page for the keyword 'wall clock,' the LSI will be – Timer, Metal, Decor, Accessories, Programmable, etc. Google keyword planner can help you to find keywords.

Meta description

The meta description can impact the CTR in a way because the description appears in SERPs. Therefore, it must be correct and compelling enough to attract users. If users will find the meta description useful and relevant, then only they will click on the ecommerce link.

Schema markup to get rich snippets display

Rich snippets help get among top positions in Google. For an ecommerce store, it is advisable to have the most eye-catching snippet as product reviews. To get these snippets, you need to add schema markup on your ecommerce product pages. It is the code that helps search engines to understand your content and improve the search results visibility for your ecommerce store. Google search console will help you to check if the schema is implemented correctly or not.

Internal links

An internal link is a link to another page of the same site. Google uses internal linking as one of the ranking factors. The internal links provide a crawl path to discover new pages of your ecommerce site and it also boosts the new pages' traffic. Strategic internal linking is one of the on-page SEO best practices. You can link some authoritative pages to a few high-priority product and category pages.

For example, if any one of your product blogs is doing well on search engines, then you can link that blog to some of your product pages by adding relevant anchor text to the blog.

Page UX

The page UX for SEO is simply the store's usability. How well your users can use your ecommerce store, decides the UX of your page. A clutter-free, distraction-free, and easy-to-use store definitely offers pleasing UX, and it directly impacts the on-page SEO. A clear, optimized, consistent, and usable ecommerce store with a responsive theme is all you need to have for a good UX.
Factors that impact link building
When other sites start linking to your products or ecommerce store, Google comes to know that your store has quality and relevant products. It judges your page by the quality and quantity of other pages that are linking your ecommerce store, which impacts the search engine ranking of your store. Link building is also known as off-page SEO, and it is more complex and time-consuming than tweaking your website for SEO.
What makes a good link?
There are a few crucial factors, together they make a good link, and they are
Authority: If a page of your store is linked by many pages/ sites, then your ecommerce store creates a strong web of links, which ultimately increases its authority.

Relevance: If some prominent sites with the same products as yours are linking your site, it gives your ecommerce site a boost because search engines assume your products as high-quality stuff with relevant keywords.

Anchor text: The anchor text of any backlink you earn is basically the keyword you are targeting.

Placement: Links inside the content of an ecommerce store or links placed at natural focal points on the site are more likely to get clicked and get more authority.
Moreover, there are unlinked mentions. Let's say someone has mentioned your ecommerce store on their social media or business account but is not linked to your store. You can utilize such mentions and convert them into link building.
Also, if an eminent blogger can praise your products or put your site's link in his/ her blogs, that also can influence the traffic to your store.
Broken links also work well for link building. You can find websites of your niche with broken links using broken link checker tools and use those links for your benefit.
This is how ecommerce on-page SEO and link building (Off-page SEO) work for an ecommerce store and influence the rankings.
One size does not fit all!
For the long term, your on-page SEO must be bang-on because that makes your ecommerce store completely usable and accessible. Moreover, quality, and optimized content, proper keyword usage, anchor texts, and all other on-page factors make your website ready for link building.
Use both ways (ecommerce on-page SEO and link building) in an appropriate way for building a successful ecommerce store. On-page SEO and link building, these two critical facets of SEO are equally important for ecommerce stores. Good on-page SEO with dense and relevant link building gives incredible results.
Being diverse and future-ready is always helpful. It's good if you are investing in both methods, just ensure to invest wisely and timely!
"It's much easier to double your business by doubling your conversion rate, instead of doubling the traffic!"
Very aptly said. Try to increase conversion by effectively using both SEO tactics rather than entangling between the two.
If you are also in the same dilemma, then Skynet Technologies can help to give you the solution. Build, market and optimize a no-hassle ecommerce store that meets your needs. We offer a full suite of ecommerce development services that can deliver incredible business outcomes and take your business to new heights. Get in touch with us at hello@skynettechnologies.com or submit the following request free quote form to know more.