Ecommerce vs Social Commerce – The top difference between two alternatives!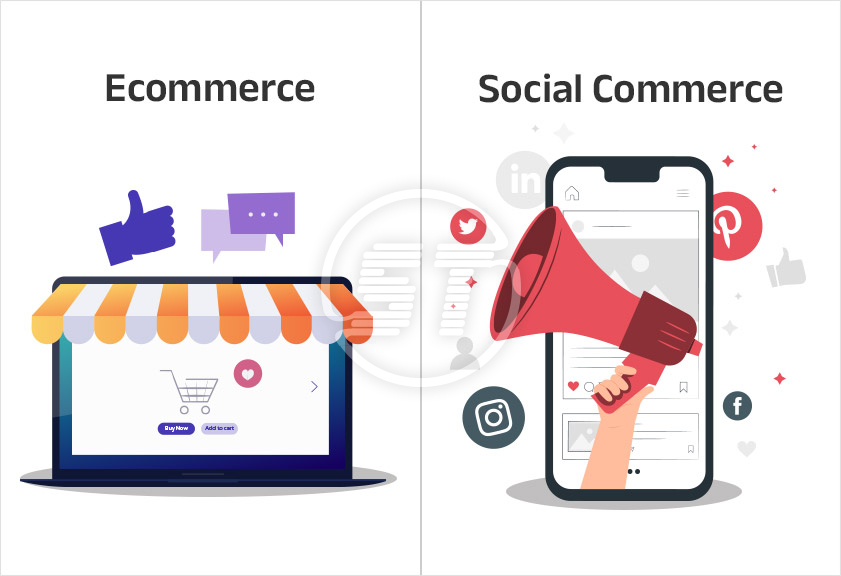 With the boom in online arena, you must have come across two prominent facets of online business and that is – ecommerce and social commerce. Have you?
More often than not, you hear about ecommerce, but do you know about social commerce? Have you ever gotten confused between these two? Or do you know what they mean for online business?
Ecommerce businesses and B2B ecommerce development has shown remarkable growth in the last few years, and it will grow at a faster pace in the coming years as well. Different studies and data say it all. And how about social commerce? As mobile users have increased, social commerce is also witnessing growth.
Nowadays, each social platform tries to maintain a special place for shopping and wishes to become a prominent purchase funnel of goods. They say, "The potential for social commerce today is infinite. Every ecommerce site will have to adapt it".
Do you feel the same?
Let's discuss ecommerce and social commerce in detail and know how they are, and they can impact online business.
Ecommerce and Social commerce – At a glance
We know very well that Ecommerce is nothing but buying and selling each and every type of product and service using the internet. Ecommerce has distinct models for business, and they are - business to consumer (B2C), business to business (B2B), consumer to consumer (C2C), etc.
And social commerce is selling or buying products or services via social media platforms. This is quite a trend now and in no time this trend has picked up the pace and you will find almost every brand on social platforms as well.
Social Commerce Vs Ecommerce – Detail Comparison
1. Ease of Use
This is evident that starting and running an ecommerce store is easier than putting effort into a brick-and-mortar store. (Please don't assume that ecommerce is a simple task. It's just that you have a less complicated process as compared to a physical store.)
The market is flooded with myriad ecommerce platforms. A merchant can choose anyone among them and create an online store to sell their products. Obviously, they need to hire professional agencies or developers to create the stores for them, but the ease of use is there.
With social commerce, you can start selling the products faster, as it only needs to create an account and in no time, you're good to go. Even without initial investment, you get a platform to reach out to your audience and begin the sales process.
If choosing ecommerce, then select the correct platform that is suitable for your business needs.
2. Cost
With so many platforms in the market, ecommerce has become less expensive now. But social commerce is nearly free and good for people who are starting a small-scale business. Though you need different marketing tools to promote your business, which are paid.
3. Market Potential
Whether ecommerce or social commerce, both have remarkable market potential. Social media has taken a high jump with almost half of the population across the world using these social platforms. And with social media, social commerce is soaring higher as well.
Covid-19 pandemic has doubled the pace of social commerce with more people using these platforms on daily basis. Even big industry players have started using social commerce to outreach their audience.
Similarly, ecommerce has also evolved like anything, and numbers are saying it all.
4. Customer Experience
Social commerce definitely offers the desired experience to users because people can shop while they use their social accounts. With the crunch of time, if you can multitask in such a way that shopping and social surfing happen together, what else do you wish for?
With social commerce, the entire customer journey happens in a few steps with fewer interruptions. Wherein ecommerce buying lifecycle entails many steps and you cannot connect with your friends and chat with them while shopping.
Customer support is available for both ecommerce and social commerce to maintain the customer experience.
5. Marketing
Posting products on social media has become easier with myriad marketing tools available. Digital marketing ad campaigns help you to grow customer engagement and increase sales. You can try Paid ads or correct CTAs that appear every now and then on user's screens while they scroll down on their account to increase customer engagement.
Ecommerce needs different strategies for engaging customers such as email marketing, SEO, and many other multi-channel ecommerce marketing tactics. All you need to do is, look for the right tools and strategies and apply them on your ecommerce platform.
6. Security
With social commerce, the security of data can be a concern for merchants because protecting users' data on social media is not possible, as of now. But this is not the case with ecommerce. The ecommerce platforms have robust security measures to protect your customer's information and store critical data. You can also apply some security standards like PCI DSS, GDPR, etc. to your store for an absolute robust security system.
Similarities between ecommerce and social commerce
Both are the modern way to meet and interact with your customers. You can engage them online and sell your products.
Ecommerce and social commerce both are pocket friendly. Unlike physical stores, you can start an online store with lesser investments.
Customers get 24*7 availability of your store and products. Be it ecommerce or social commerce, your customers can shop from you any time of the day.
Both are scalable to the next level because you can reach the maximum audience without limiting yourself to certain boundaries. You can sell the products internationally as well.
With the help of AI and ML, both help you to track and analyse users' data and improvise the business process accordingly.
So, have you made up your mind about either Ecommerce or Social Commerce?
Ecommerce and Social Commerce, they both have a lot of positives and a few negatives. You must choose anyone keeping your product and audience niche in mind. Both works well for businesses if utilized properly.
The two critical facets of online business, ecommerce, and social commerce are eventually about commerce. Thus, think of commerce and apply the right tactics to any one of them to soar higher. Both modern ways are fruitful for every business irrespective of your industry type.
Want to grow your ecommerce website and looking for an ecommerce web developer who can help you to grow your revenue? Skynet Technologies provide full-service ecommerce development for any kind of ecommerce platforms including Drupal Commerce, Adobe Commerce, WooCommerce, Bagisto, Aimeos, osCommerce, BigCommerce, Shopify, and more. Get in touch with us at hello@skynettechnologies.com to know more.