Stages of Ecommerce Customer Journey – Understand It to Improve Sales!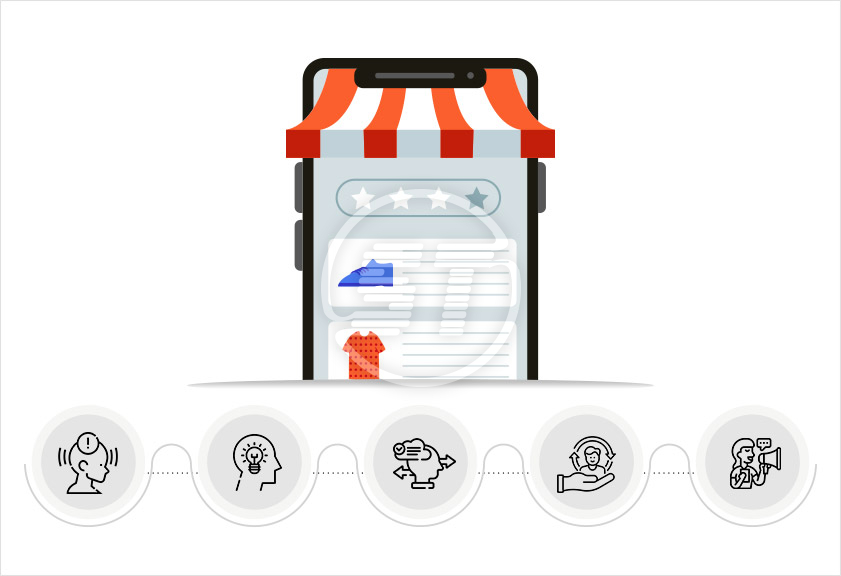 Do you know how your customers move ahead through your ecommerce store? Have you ever tried understanding their shopping journey to improve processes and boost business sales?
If not, then now start paying attention to the customer journey and get desired results. Understanding the ecommerce customer journey is the key to establishing the right strategies and enhancing conversions. If you track every step of your customers, collect feedback, and use the information to cultivate a relationship with them by leveraging modern technologies, conversions and revenue growth will be evident.
However, understanding the customer journey is not easy. You need proper toolkits and crucial skills to get insights. When you have the awareness of customer needs, you can provide them with precisely what they are looking for and benefit your ecommerce business.
Let's see, what are the stages of ecommerce customer journey and how can you improve them to boost conversions.
YOU MAY ALSO LIKE: Ecommerce Sales Funnel
The Stages of the Customer Journey
What is the customer journey, in the first place? It is nothing but a customer's path to making a purchase and beyond. To purchase a product, they go through a long process, which is known as their ecommerce journey.
The five main stages of the customer journey are:
1. Awareness
It is the stage when a person encounters your brand and becomes a potential customer.
2. Consideration
When this potential customer starts looking for your products seriously and scans the features to know if they are apt for them or not.
3. Decision
At this stage, customers make up their minds about some products and are very close to converting. However, they still can leave your store. Thus, your payment and checkout process must be simplest to hold them at this stage.
4. Retention
The customer journey doesn't end at the first purchase. You have to retain every customer to create a loyal customer base. Such loyal customers are real treasures of any business. They not only give you repeat sales but also help you increase customers.
5. Advocacy
This is the stage where all your happy customers turn into brand advocates. They promote your brand and tell other people to buy your products or services.
Strategies to Improve the Customer Journey
1. Begin to Collect Data
Ecommerce is all about data and insights. Without data, you will be unable to get an edge over your competitors. Every stage of the customer journey has valuable insight and the analytics of each stage let you know the behaviour specification of customers.
The platform you are using to run your ecommerce store might be having plugins to collect analytics or you can take the help of Google Analytics. There are ample free and paid tools available; take advantage of all the available tools and gather crucial data.
There are some important metrics you must pay attention to. They are
Net Promoter Score (NPS)
Customer Satisfaction Score (CSAT)
Customer Churn Rate
Average Resolution Time
Along with analytics, there are other sources that help you know precisely about these metrics. Email surveys, social media polls, text messages, etc. provide you with information about your customers at different stages of their shopping journey. Put all the information together and apply it to your comprehensive data management system to generate the required insights.
NPS is about how overall you are going well; churn and resolution let you know where you can make improvements. The customer satisfaction score is also a metric that helps you understand what touchpoints are valuable and which are of no use.
2. Use the Data Properly for Better Results
The more data you will have, the more you get conversions. Gather data and use the insights in a loop for continuous improvement. Once you build a network of data insights, expand your analytics system. Data mining for business analytics is a process of finding patterns and actionable knowledge from the information you've generated. Therefore, you can make every type of strategy to acquire new clients, increase customer engagement, and ultimately boost conversion.
It is all dependent on how well you collect and interpret data. You can use some fruitful data mining techniques to understand your ecommerce customer journey.
You can classify data based on similarities, customer demographics, and shopping behaviours.
Link variables to understand patterns of the ecommerce customer journey.
Decide through regression techniques to plan project price points, demand, and competitors' information.
Identify new audiences and opportunities to either acquire new customers or retain older ones.
When you build a mining and analytics system for your ecommerce business, you start understanding customer journeys aptly. All it takes is awareness and action, and you are all set to enjoy the success.
3. Focus On the Consideration stage
When you look into data, you will realize what customers are expecting from your ecommerce. Mined insights will help you in forming customer profiles, which will be a boon for marketing. Based on the customer profile, you can offer a personalized window to customers, and it will start creating an impact on the consideration stage.
Providing personalized content shows that you value each customer, and they are not just numbers. This approach of assembling data to fulfil customers' needs gives them confidence that you are the right choice for them over your competitors.
The consideration stage is the correct place to impress a potential customer. With customer profiles, you will know where a customer might run into problems with your ecommerce experience. Accordingly, you can improve your marketing strategies and influence sale. Artificial intelligence analytics and automated product recommendations and offers help you achieving more conversions.
4. The Customer's Decision-making Process Must be Comprehensive to You
To complete a customer's profile, you need to know their decision-making process as well. Mostly, customers go through a similar process, especially when it is about larger purchases or subscription services. So, by taking into account the range of customer journeys' steps, you can craft better marketing strategies.
Find out:
Why customers came to your store? What problem brought them to your products or services?
How have they found you?
What are all you are offering to the customers that your competitors are not providing?
What efforts are required to streamline your sales process?
Are your products or services good enough to impress customers?
Keep asking these questions to yourself to support customers' decision-making in your favour.
5. Be Available for Customers throughout Their Journey and Even After That
From the initial awareness to final sale and beyond that, you must be available easily to all your customers. Your ecommerce SEO must be in-line so that customers can find you. Link-building, pay-per-click ads, or affiliate marketing can be a help in reaching the correct segment.
As mentioned above, offer personalized content to customers via their preferred channels. And make your checkout process as simple as you can. Additionally, customer support plays a vital role in customer retention. Make sure you have an open and helpful platform to answer queries, resolve issues, or promote future purchases. Moreover, try to have absolutely transparent policies.
These are a few strategies that boost your conversion and improve business sales to the next level.
Understand, Improve, and Grow!
The above strategies help improve sales and conversion, for sure. However, you need to put continuous efforts into assessing the data and applying the right strategies as and when required. Customers' behaviours are not constant and so is the market; both keep on changing. Therefore, you must have the capabilities to change your processes as per demand, which will decide your sales.
Understand the ecommerce customer journey and develop strategies best suitable for customers and your business. Skynet Technologies can help you to create an amazing customer journey with its digital marketing and web development tactics. We are SEMrush agency partners who offer a smooth and personalized experience to your customers so your business can soar higher!