Ecommerce Sales Funnel: Its stages and other crucial things to know!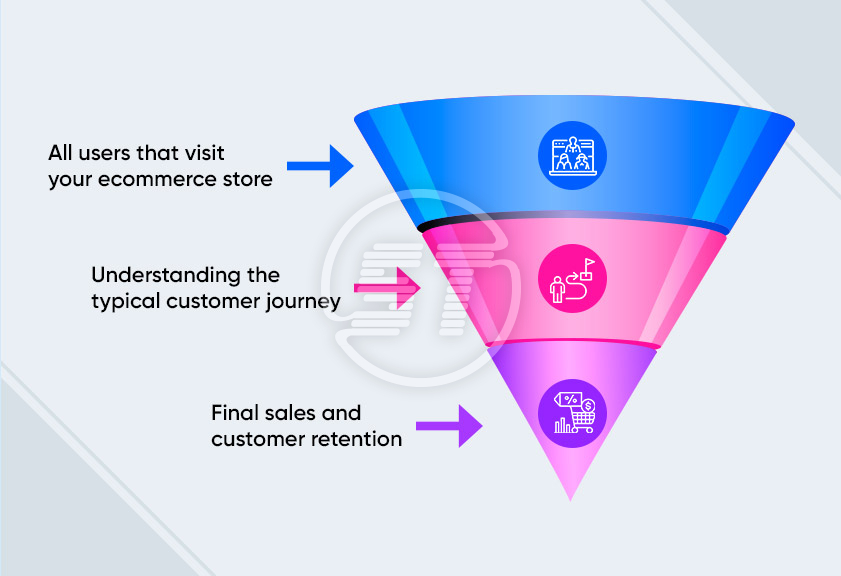 You are operating a business; it means you are already aware of the concept of the sales funnel. It is the same for retail and ecommerce businesses however ecommerce has a unique way of optimization of sales funnel.
Having ecommerce is not enough. You must know how to optimize the ecommerce website and its sales funnel to ecommerce sales funnel to achieve more conversion. Otherwise, you would be only complaining, and your competitors will take advantage of it.
The ecommerce sales funnel requires SEO strategies and digital marketing tools to drive more conversions. There are myriad ecommerce owners who do not know much about the sales funnel and its optimization. If you are one of such owners and looking for some help, we are there to assist you. Let's discuss ecommerce sales funnel and its optimization in detail.
Ecommerce Sales Funnel
The ecommerce sales funnel is also known as ecommerce conversion funnel. The 'funnel' word is a metaphor in ecommerce to visualize and understand a customer's journey from initial awareness to final sales and customer retention. The ecommerce owners must note that every visitor cannot be your customer. Hence, the funnel image is used.
The topmost layer of the sales funnel is wide, which refers to all the users that visit your ecommerce store. This funnel gets narrow as you move downwards while understanding the typical customer journey. The bottom represents the final sales and customer retention.
One more important thing to know is the amount of time a user to go through your sales or conversion funnel varies. A user might land on your website, like a product, and immediately buy it. On the other hand, a user might scan the products and take some time to buy one.
Understanding the sales funnel makes your project management stronger and helps you improve the UX design of your ecommerce store.
Reason for using the ecommerce sales funnel
The ecommerce sales funnel is just a visual concept, yet it is especially important for an ecommerce business. It helps you to understand the customer journey and assist you to visualize their path through the sales funnel. By understanding the funnel, you can improve the marketing and sales activities at various stages of the funnel to increase conversion.
You can also take the help of this information to further develop or modernize your ecommerce website or app. For instance, if you analyse that most of the customers you lose are in the middle of the funnel, implies the UI or UX needs to get modified on priority. Funnel comprehension helps you to determine which features are helping users to move further and which are the culprit behind losing a customer.
The data you get from the ecommerce sales funnel assists you to optimize the overall buying experience of users by making the website or app simple, easier, and useful.
Improvising the ecommerce sales funnel
You cannot control all the users; however, you can apply a few techniques to strengthen each stage of the funnel. The three stages of the ecommerce sales funnel are top, middle, and bottom. Let us see how you can improve their experiences to retain customers.
Top of the ecommerce sales funnel
The sales funnel's top must be attracting enough to appeal more customers to land on your page. Brand awareness should be there, which will make users visit your website. There are so many ways you can improve the top of the funnel, a few significant ways are online advertising, search engine optimization, social engagement, and creating content.
If your ecommerce is properly optimized, people will find it easily with Google search. To attract more organic users to your website, you must focus on the ecommerce on-page SEO and off page SEO both.
Interact with your target users on social media platforms on which they spend most of their time. Facebook ads are another innovative idea to create your brand image. You can join some renowned online forums to make people aware of your ecommerce brand. These are some simple yet effective tips to improve the performance of your ecommerce sales funnel.
Middle of the ecommerce sales funnel
Once the users have come to your website or app, it is your responsibility to encourage them to stay, browse, and buy your products. The middle stage of the ecommerce sales funnel is about educating people about the benefits of your products and displaying more relevant products to them. You can try some tips to make this middle stage robust and appealing and they are UX optimization, sharing customer reviews, creating content about your products to educate users, and offering live chat options.
Customer experience is the main impediment that forces users to leave the website. So, focus on improving the user experience of the website and offer users a delightful and satisfying experience. The shopping experience must be seamless and hassle-free, thereby users can navigate around your products and eventually buy them easily.
If UX has been improved, add customer reviews, and useful content to educate customers about the value and benefits of products. Reviews are important because they help generate trust in your brand and users buy the products without any doubt.
Bottom of the ecommerce sales funnel
This part is all about closing the sales and retaining customers. If you lose a customer at this stage, likely it would have a conversion. And if this is the stage where you are losing customers, you need to find out if your checkout process has issues.
Check if adding products to the cart and then the payment process is easy or if getting any trouble. Some websites have problematic checkout processes, and they lose their potential customers because of this problem.
You can re-attract such users who left the website at this stage and mean while eliminate the issues. To re-attract, you can try a few tips like, offering discounts, cross-sell related products, remarketing ads, and reward programs.
This last and final stage is the most important stage for the entire sales funnel. You must ensure that the user will not leave the website at this part. The offers and discounts are a wonderful way to entice and encourage them to make the final purchase. In addition, related products increase your cart value.
Remarketing ads and reward programs can attract those users who have left at this stage. And once you succeeded in bringing customers back to your ecommerce, they are most likely to make a purchase. After their first purchase, you ought to apply the correct techniques to retain these valuable customers.
Wrapping Up
The ecommerce sales funnel is an important facet of your ecommerce business, which you cannot overlook. Understanding this funnel and improving the business process enhances conversion and profits to the next level.
We offer a full suite of ecommerce development services that can deliver incredible business outcomes and take your business to new heights. We employ rigorous SEO checklists and audits for our ecommerce websites. We help ecommerce businesses to set up and track their performance in the ecommerce sales funnel at Google Analytics. Our experienced team can help you to develop and optimize ecommerce websites as per your requirement.
If you are facing any problem with ecommerce sales funnel comprehension and website optimization, reach out us at hello@skynettechnologies.com or fill out the given form below.
Related blogs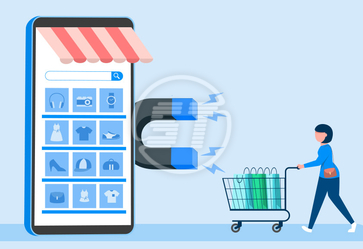 How to retain customers in ecommerce to improve conversion rate?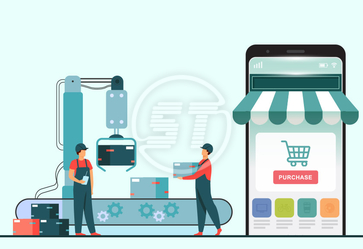 Ecommerce for manufacturers: Strategies to boost business growth!