Global Accessibility Awareness Day: How to support it?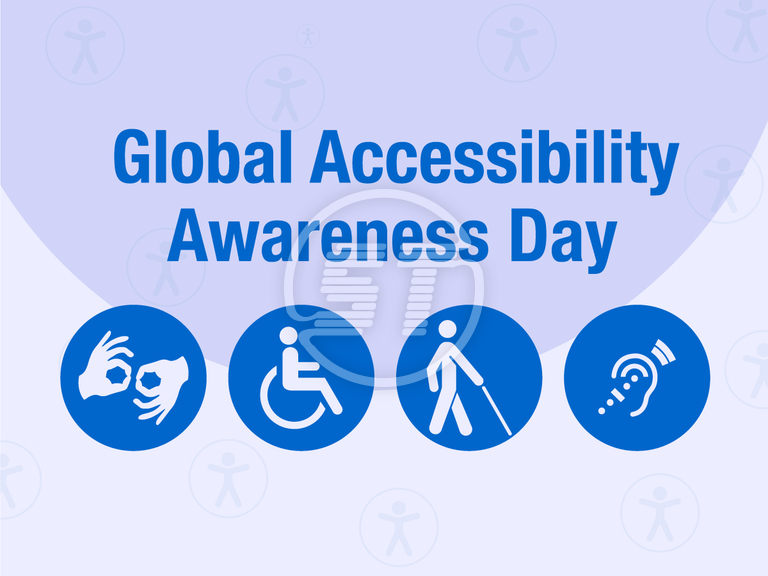 Global Accessibility Awareness Day is a day to remind everyone that accessibility is a basic requirement digitally. Since post-pandemic, usage of the web and mobile applications is increased to the next level. It is necessary to have more accessible digital products so that everybody can access and explore the web.
Thus, to encourage people to educate themselves about web accessibility and discuss more about it, Global Accessibility Awareness Day (GAAD) came into existence. It is celebrated every year on the third Thursday of May. So, this year it will take place on May 18, 2023. The idea behind celebrating this day is to give the spotlight to digital accessibility and inclusion to raise awareness about the issues faced by people with disabilities.
Population affected by inaccessibility
From a business perspective and civil rights, people with disabilities are underprivileged by today's digital products.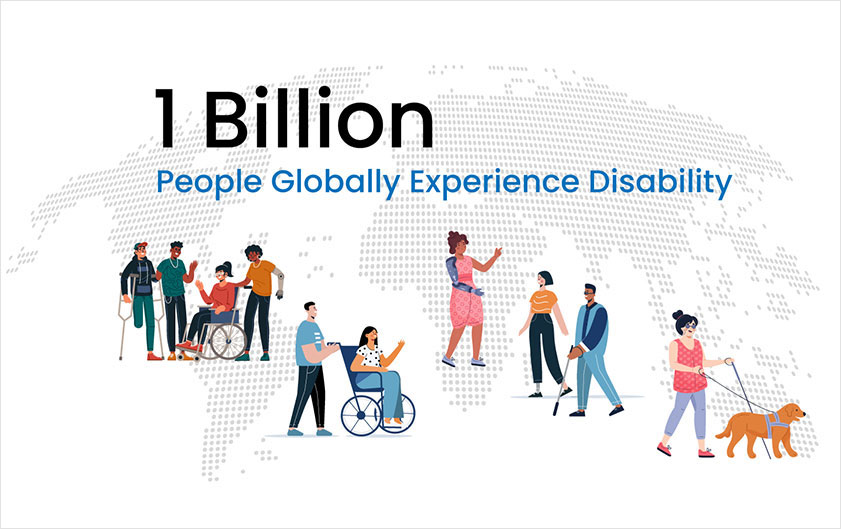 The most common types of disabilities
Visual

People with Visual disabilities from mild or moderate vision loss to substantial or complete vision loss; including color blindness, low vision, and complete blindness need alternative text, screen reader, and keyboard access.

Hearing

People who are deaf, hard of hearing, or hearing loss need subtitles or captions for video presentations and visual indicators in place of audio cues, multiple contact options like email, skype, live web chat, or online forms.

Motor

People who have motor impairments require alternative keywords, eye control or some other adaptive hardware to navigate on their devices.

Cognitive

People with different cognitive impairments need an uncluttered screen, consistent navigation, use of plain language, using bookmarks, and more.
By spreading the word, usability of digital products (websites, mobile applications, etc.) can be increased and then more people will be able to use them. Let's know more about GAAD; keep reading!
YOU MAY ALSO LIKE: Web Accessibility Statistics
History of Global Accessibility Awareness Day
Global Accessibility Awareness Day is started in 2012 with the idea of more talk on this very crucial need for the digital world. When now in 2023, accessibility needs to be addressed more, then can you imagine what might be the situation in 2012?
A web developer from Los Angeles, Joe Devon felt the need for accessibility awareness, and he posted a blog on accessibility challenges. And it all started from there. They began celebrating and discussing accessibility on the third Thursday of May every year starting from 2012.
As mentioned above, the goal behind celebrating this day as one occasion was for more people to talk about digital accessibility or inclusion and know the requirements of persons with disabilities. It is a simple way to encourage everyone to aware about web accessibility and help users with disabilities, and they keep facing some or other problems while accessing digital products. Also, it is every organizations' responsibility to provide everyone with accessible products.
On this day, people/organizations even organize different events to demonstrate how to use various assistive technologies or how people with disabilities can use technologies and access information, etc.
According to WebAIM 2023 accessibility report; On average 96.3% of home pages had detected WCAG 2 failures. It improved slightly from 96.8% in 2022.
Overall, it saw small decrease in the number of detected web accessibility errors and WCAG conformance failures. Across the one million home pages, an average of 50.0 errors per page were detected. The number of detected errors were decreased slightly (1.6%) since the 2022 analysis which found 50.8 errors per page. "Errors" are WAVE-detected accessibility barriers with notable end user impact, and of WCAG 2 Level A/AA conformance failures.
| WCAG Failure Type | % Of Home pages in 2023 |
| --- | --- |
| Low contrast text | 83.6% |
| Missing alternative text for images | 58.2% |
| Empty links | 50.1% |
| Missing form input labels | 45.9% |
| Empty buttons | 27.5% |
| Missing document language | 18.6% |
Addressing just these few types of errors would remarkably enhance accessibility across the web.
Now let's understand how each organization in the digital world can contribute to accessibility.
Important things that can support the concept of Global Accessibility Awareness Day
Every digital product can adhere to basic accessibility guidelines to provide a usable, inclusive web world to everyone. We've curated a few essential and simple tips to support the idea behind Global Accessibility Awareness Day and that is 'Accessibility'.
1. Create content keeping visual and hearing impairments in mind!
Whatever content you create, follow accessibility guidelines to ensure the content is accessible. If there are videos, add closed captions and audio descriptions with them. Adding transcripts with such dynamic content is also a good idea to make it accessible to everyone. If there are images with text content, then don't forget to add alt text with them.
2. Assistive technology tools help incorporating accessibility into your digital products!
Users with disabilities rely on assistive technologies to access different digital products. These tools are basically software or devices that assist people with disabilities to peruse your content. If your website or application is compatible with assistive technologies, then well enough, or else take help from any third-party accessibility consultant who has ample experience in accessibility and its tools. They can help you with incorporating assistive technologies with your digital products and save you from lawsuits.
YOU MAY ALSO LIKE: How to avoid ADA lawsuit?
3. Educate about accessibility, issues, and remediation standards!
As an ADA web accessibility service provider, a development agency must understand needs, and challenges of people with disabilities. In addition, it requires a specific set of assistive tech tools, and a better understanding of each condition will help to determine ADA accessible website development strategy.
4. The website documents must be accessible!
The documents included into the web pages, often get ignored and eventually, they become one of the profound reasons for web inaccessibility. Apart from adhering with accessibility guidelines (such as text size, color, content relevancy, etc.) while creating these documents, ensure that they will appear identical on all channels and digital tools.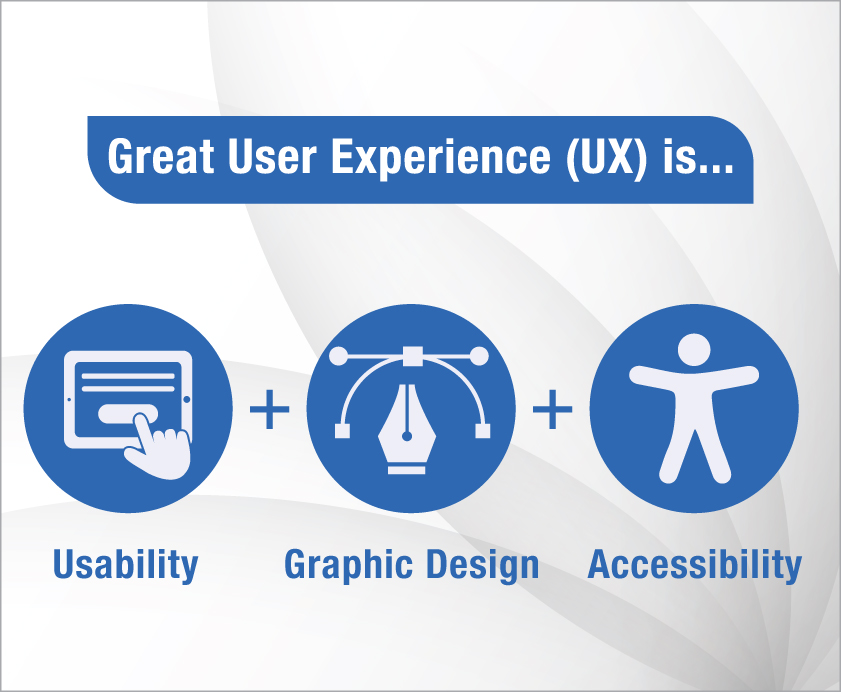 YOU MAY ALSO LIKE: How to make PDF ADA compliant?
5. Testing is a must!
Designers and developers must act proactively and even if there is no issue, they must run web testing in a loop to avoid any potential accessibility problem. Keep executing manual and automated testing every now and then to check all web pages are performing the way they ought to, or if any changes are required.
6. Use social media to spread the word!
Social media can act as a powerful weapon. Harness its power and try to educate more and more people about accessibility. It implies, you don't need to train them on accessibility standards, it's just that you make them aware of what is accessibility and what all problems become hindrances for many users. The more people will read, the more they will feel the need for accessibility.
Wrapping up
One important thing we should always remember is that the internet and every digital product are for everyone, especially when education, banking, shopping, and many other crucial life facets have gone online post-pandemic. Organizations must work harder to remove the barriers that stop disabled users to access their digital products.
Accessibility will be a win-win deal for everyone. Users will be able to peruse the content they wish to, and organizations will accomplish their goal to outreach more audience and bigger market.
As an associate member of International Association of Accessibility Professionals (IAAP), Skynet Technologies is a part of Global accessibility community. We are also an official member of W3C.
Do you want to ensure that your business website and other digital assets meet ADA compliance requirements, or are you seeking advice on ADA web accessibility standards? Our team of experts can offer a comprehensive range of ADA compliant website accessibility services , including ADA audit, strategy, design, development, remediation, and support to ensure your website complies with accessibility regulations such as ADA, WCAG 2.0, 2.1, and Section 508, all within your budget. To request a free quote, please contact us at [email protected] or complete the form below.