Google Core Web Vitals will become the Ranking Factor from May 2021! – Find out How to be better prepare for it?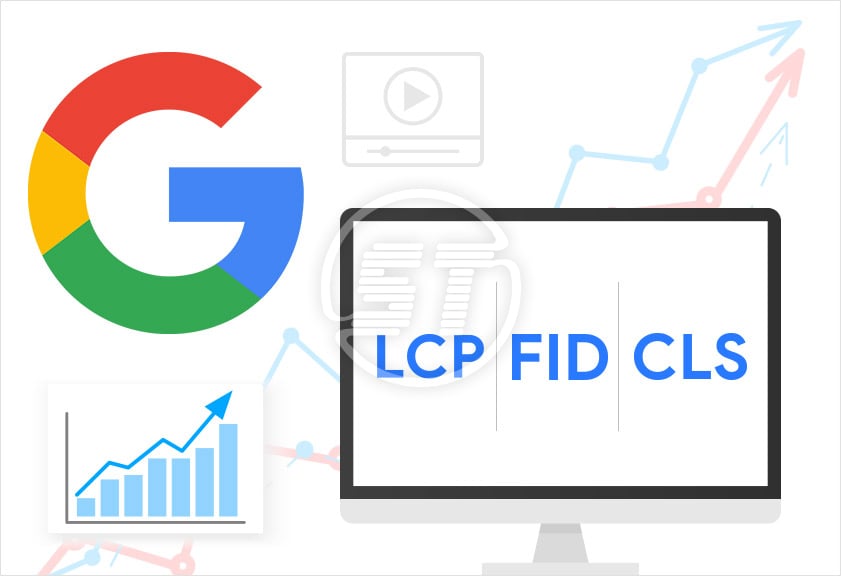 A new ranking factor is in town! Yes! Google core web vitals is soon going to become the ranking factor in May 2021. But how is this the news when Google rolls out hundreds of changes a year? You are right about it. Google introduces new changes to their algorithms quite often but it's only occasionally they announce the ranking factor changes and now is one such moment wherein Google has announced some algorithm changes to make the user experience the foremost priority.
Let me demystify what this new ranking factor means, how to gain a head start around it, and be all geared up when things roll out.
What are Google Core Web Vitals?
As a user what are the things that impact your engagement with a particular brand? You would be concerned about how quickly your web pages load? The interactive elements probably and then how consistent & stable the application is? These are the real-world experience metrics that impact and influence your user experience. And Google is exactly trying to focus on these metrics now wherein visitors when they are on your web application or a mobile app, how are their experiences in terms of speed, interaction, etc. Google calls these Page Experience metrics.
If you are wondering about the status of the older metrics like mobile responsiveness, HTTPS, etc. remember when Google Core Web Vitals hit the market, this is not standalone. These are grouped with the older or traditional metrics which we are all aware of. But the primary focus of core web vitals is not about the page content but more about the kind of user experience. This is vital since there is a surge of many competitor applications and also due to the rise in the number of mobile users, user experience is going to make that difference and edges out your competitors.
What is the impact of Core Web Vital's on the Google rankings?
With hundreds of ranking signals, it can be puzzling the impact of the new ranking factor, right? You may want to know what shift this is going to make in Google SERPs as you are walking a tight competitive rope. If you want to remain consistently good in SERPs, you cannot dare ignore these ranking factors. At the outset, things like page speed may seem petty but this is impacting your user experience by a great deal! It can make or break their engagement with your brand.
Core Web Vitals is going to affect all the search results on mobile and desktop but more particularly it becomes a key criterion if you want to appear in the top search results. Earlier AMP was the main impact element to get to the top of the Google results. But now this is going to replace AMP as the primary criteria. You must strive to meet the minimum threshold of Google Core Web Vitals to rank better.
It was found that this ranking factor has an outsized impact. As per the preliminary Google reports, it was found that web pages that meet core web vital thresholds have recorded a nearly 25% less abandonment rate! No company can afford to lose a huge chunk of its traffic due to usability issues. Reap the best ecommerce website SEO practices to always maintain your website's position!
What are the three ranking factors for Google core web vitals?
Let's talk about the specifics of Core Web Vitals. Mind you, these are a bit technical but it is important to understand what you need to measure. Let us understand in layman's terms what exactly needs to be measured.
Largest contentful Paint (LCP) - In layman's terms, it's all about how fast your page is loading. You need to look at the render time, image loads, text in the viewport, and more to understand your page speed. Several factors like your server time, CSS, JavaScript, and client-side rendering influence your page load speeds.

Good - Less than 2.5 seconds
Needs Improvement - between 2.5 seconds and 4 seconds.
Poor - longer than 4 seconds

Cumulative layout Shift (CLS) - It's about page stability. Suppose you are on a web page and you click on a button and it takes you somewhere else other than the one it is intended to. This unexpected layout shift mars the user experience.

Good - Less than 100 milliseconds
Needs Improvement - between 100 milliseconds and 250 milliseconds.
Poor - longer than 250 milliseconds

First Input Delay (FID) - How interactive your page is? Let's say your user clicks on something, maybe a button, how fast your browser produces the desired result? It's a poor experience when you click on something and you see nothing. So, one needs to dig into the JS or any third-party code to fix it.

Good - Less than 100 milliseconds
Needs Improvement - between 100 milliseconds and 300 milliseconds.
Poor - longer than 300 milliseconds
How do you analyze and fix?
If your current website is having issues with garnering better rankings, you need to fix them. You can go to Google Search Console and look into the report called Core Web Vitals. There you can find all the URLs listed with indexes about their current status - good, poor, or Needs Improvement. You can pick up the latter two and investigate what went wrong and what improvements could be made.
All reports in Search Console also link to a report in Page Speed Insights that helps you to diagnose your problems with Core Web Vitals. You can find out the performance metric tools suite. If you find these ways too technical, you can always hire a developer who is an expert in these tech issues. Even if you don't have access to Google Search Console, you can find these reports on various tools across the web.
How to handle the Google Core Web Vitals Update?
Once you see the status of Core Web Vitals in the Search Console, you might now have the list of what needs to be improved. But you should understand how to improve them. An experienced agency like Skynet Technologies comes up with a workaround for these issue improvements. We do the root cause analysis by usually conducting specific page speed audits to dig into the exact root causes and how to find the remedy for these issues.
Here's how we are geared up to handle the new update:
1. Improving LCP
Enhancing LCP load time is crucial especially if you are running an ecommerce store. When a user visits your store to find the desired products, it usually takes less than 5 seconds for him to leave your website if it doesn't load. The worst spin-off is they may even go to your competitors. So, you need to have the ability to load quickly for converting your users into your customers. And who knows this better than Skynet Technologies which has over 2 decades of experience and has been providing comprehensive ecommerce development services on multiple platforms.
We work on optimizing various page elements to improve the page load speed. The challenging part here is this is likely to change as you move between devices and from user to user. So, we first take necessary measures to optimize the LCP scores is to figure out what viewport size the seller's audience is using. This can be found out from Google Analytics and by navigating to Audience > Mobile > Overview. As a seller, you want to include a secondary dimension of the browser size. The same thing can be replicated for the desktop browser sizes as well.
The next step would be to focus on optimizing the site speed for particular device dimensions by assigning the largest element within the viewport sizes. The issue for slow loading LCP is usually in the product pages if you are running an ecommerce website. If you are dealing with static pages, then the problem would be about the logo or images. Optimizing the images will have a massive impact on taking down the load speed.
Other things you can do to fix the issues reported in Search Console are -
Minify CSS
Set up lazy loading
Upgrade web hosting providers
Eliminate any unnecessary third-party scripts
Remove the massive page elements if possible
2. Improving CLS
Suppose to improve the load speed, you go for lazy loading, it may have its impact on the CLS. Layout shifts usually occur when the images do not have any associated height or width. To enhance your CLS and mitigate this issue, you can use placeholders for shifting these elements. For example, suppose a seller has a slow-loading ad on their page from a third party, this slow-loading ad tends to shift the things down the page when it loads fully. So, this pushes the other elements down the page resulting in a "poor" or "needs improvement". Removing the ad results in loss of revenue right, so instead, you can opt for implementing placeholders that allow space for the element. So, when the ad loads, the elements instead of shifting down, will occupy the empty space provided by the placeholder.
Alternate methods to minimize CLS are
Include Interface elements beneath the fold.
Use set size attributes for all media implementations.
Ensure that ad elements have a reserved space on your page.
3. Improving FID
When a user visits your website, it has to respond quickly and when he attempts to interact with any specific elements on your ecommerce site, it has to respond with an affirmation. For instance, if your user clicks on a button, the action that needs to be taken should be within 100 milliseconds. When your website is poorly optimized, your main task becomes backlogged and hence it doesn't respond to the user interactions immediately. The main thread would be preoccupied with many other tasks and doesn't focus on the current interaction. So, there would be a lot of idle time. You can reduce this by breaking your tasks into smaller ones and optimize the JS files, CSS files, and defer non-critical CSS to lessen the burden of the main thread which thereby lets the site respond to user interactions quickly.
Other potential solutions are
Clear browser cache
Eliminate non-essential third-party scripts.
Go for server-side rendering instead of client-side rendering.
Defer Unused JS that is not critical to page performance.
Summary
In a nutshell, as the Google Core Web Vitals becomes the newest ranking factor, dive in to see how your site is performing and meets these criteria. You can contact an experienced developer who has adequate experience in working on these page experience elements. You need to get your domain health assessed and lay a solid foundation to get ranked consistently good.
If you haven't thought about Core Web Vitals till now, it's not all doom and gloom! You can still put effort to optimize the performance of your site. It's better late than never! You can choose an experienced web design or web development agency that quickly takes this opportunity and helps you to make in-roads on the competitive webspace and reach the top of the Google search results.
Skynet Technologies is a good place to start with. Unlike many, we do not make the user experience an afterthought. We have a cross-functional team of developers, designers, and marketers who all work in a collaborative atmosphere with an end goal of providing the best user experience for our clients. We have been offering various SEO services that improve your SERPs and are quick to adopt any new changes in Google search algorithms. We could foster new perspectives about optimizing your website and act as a catalyst in helping you achieve your business goals.