The importance of mobile SEO, statistics, and best practices to optimize it!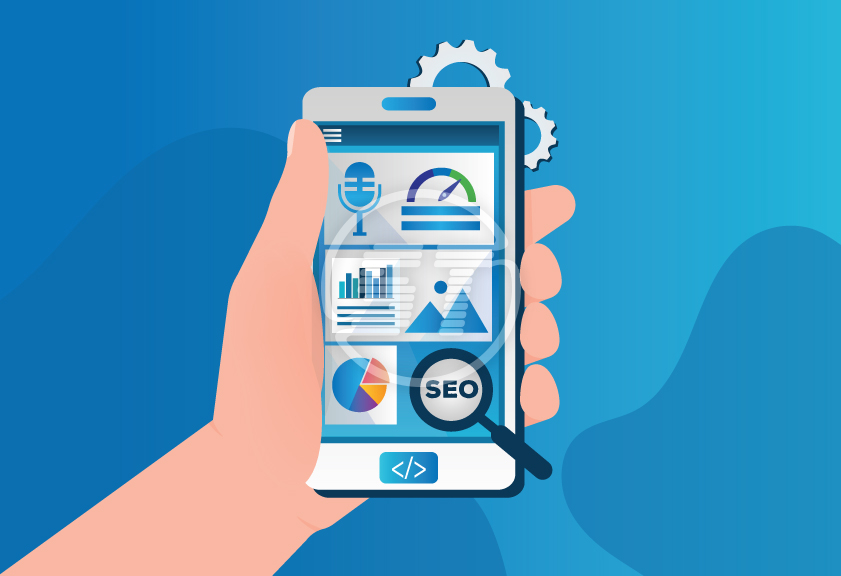 No business can afford to miss mobile optimization for their website since statistics say there is a significant difference in number of desktop visits and mobile searches. According to Statcounter, worldwide desktop users are approx. 40.73% of total population however, mobile users are 57.24% and 2.03% are tablets users. The difference is evident and so is the impact on businesses.
Mobile friendliness is necessary characteristic that every website or application is expected to have as major traffic comes from mobile. If your website or application is mobile-friendly, it is an added advantage in search engines.
Do you know what is mobile friendliness of a website?
Well, for each mobile or smartphone search, your web pages should not only appear, but they must deliver the content experience just the way they deliver on desktops. The quality of content, navigation, and every component must be at par for mobile versions of websites as well.
However, even today, when each business gets its major chunk of traffic from mobiles, there are many websites that are not mobile-friendly, and they lose a noticeable number of users on daily basis.
Let's dig into more about mobile SEO and what can be done to uplift this crucial factor.
Mobile SEO and its importance – A crucial facet of successful business!
When you optimize your website for mobiles, the idea behind is to focus on its user experience to grab your target audience. Websites that are mobile-friendly, offer desired content experience irrespective of the screen size of the device.
Have you ever sneak-peeked into statistics to know what percentage of your target audience uses devices other than desktops to explore your website?
Well, the numbers are huge. According to Statista, numbers of mobile users was 7.26 billion approx. in 2022, which is expected to rise to 7.33 billion approx. in 2023 across the world and it will keep rising in coming years as well.
That's why mobile optimization of the website is playing a crucial role in businesses' conversions and profits. Let's have a look in detail.
Nowadays, your target audience spends maximum time using mobiles. They look for quick solutions (a piece of information or a product/service) and search via most handy device they have, which is a mobile phone or a tablet. This is one most important reason you should focus on mobile SEO.
If the first impression of your website is not positive, users will not come back. It increases bounce rates as well. Thus, the UX of the website should be smooth and user-friendly to engage them for a longer span.
Mobile-friendly websites help you to earn more loyal customers who become assets for your business. They are the people who not only keep shopping from you but also influence others to explore your website.
Other than all of that, Google has prioritized mobile-friendly websites for their crawling and indexing process. It simply implies that Google bots will read your website's mobile version first and if it is not optimized then forget about website ranking.
YOU MAY ALSO LIKE: Importance of Competitor SEO Analysis
Check the mobile friendliness of a website!
Use Google's mobile page testing tool to test the website's mobile friendliness.
Once you test all the pages and get a clear picture of the website's mobile friendliness, you can create the most appropriate strategies to improve mobile SEO.
Top tips to effectively improve mobile optimization of your website
So, if you have insights that say your website needs mobile optimization, what will you do?
To maintain your website and make it mobile-friendly, here is a list of some of the best practices that will help fine-tuning website's mobile SEO.
1. Focus on content presentation
When placing content, keep in mind that content that look shorter on desktop will appear longer on mobile due to screen size differences. Thus, design your content in a way that each has clear, concise, and one idea only.
One thing that can make your content look attractive is white space. White space or blank space increases content comprehension and it becomes easier to skim.
Plan intrusive pop-ups properly because Google may penalize you for many such pop-ups that become hindrances for users because they cover the screens while users explore your websites.
YOU MAY ALSO LIKE: Customer Experience VS User Experience
2. Mobile SEO also needs structured data
Likewise, Structured data or schema markups organize and represent content in a way that Google and other search engines can understand your content more easily. This makes rich snippets and helps your website to gain good positions in SERPs.
However, please remember that due to the smaller screen size structured data might lose its insight if not appear in the right way. Thus, add the right contrast and space for structured data to make it comprehensive.
3. Optimize the website for voice search as well
Many users prefer voice searches on their phones. Thereby you must optimize your website for conversational or semantic searches. Use long-tail keywords; or question-based long-tail keywords because users ask such questions with voice assistants to get their desired information.
4. The loading speed of the website's mobile version
Check all the core web vitals and fix all the issues. Also, remove unused JavaScript, which slows down the page loading speed. Once you are done with optimization, re-run the website audit to check the website loading speed.
Take help from PageSpeed Insights to know the issues on page loading on mobile devices and optimize the site accordingly.
5. Measure desktop and mobile site performance
Google Analytics will help you to know how your web pages are performing on desktop and mobile. It gives a track of mobile traffic and desktop traffic separately for each page and provides you with information on high and low-performing pages.
Normally, mobile traffic is more than desktop traffic. But if you are finding an influx in desktop traffic, mobile optimization of the website needs improvements.
YOU MAY ALSO LIKE: Technical SEO for Ecommerce
Statistics that might impact mobile SEO
Lately, voice search via Google Home or Amazon Alexa, etc. have increased. Instead of typing, people speak their queries to voice assistance. According to some statistics, approx. half of the US population uses voice search features to find their desired information. (UpCity, 2022)
Approx. seven out of ten users prefer voice searches over typing. (PricewaterhouseCoopers, 2018)
In 2022, more than one-third of US users had smart speakers. (Statista, 2022) And more than half of these smart speakers are being used on daily basis. (NRP, 2018)
In the US, 33.2 million people have used smart speakers for shopping in 2022. (eMarketer, 2020)
More than one-third of online users say voice ads are more engaging than ads on TV, print, or social media. (Adobe, 2019)
More than one-quarter population across the globe uses the voice search feature on their mobile devices. (MicroSoft, 2019)
Remember that users do not perform voice searches like they type to search for a request. Thus, natural language should be used in the website's voice search SEO.
The above-mentioned data clearly indicates that voice search is a crucial factor, and you cannot overlook it. Thus, create content and strategies keeping voice searches in mind and the voice assistants must follow conversational context. It is necessary for mobile SEO.
Other than voice searches, visual searches also entice and attract users and force them to make a purchase. Statistics say that visual searches have improved lately, and the trends show that they will continue to surge in near future as well.
More than 36% of users in the US say that they use visual search for online shopping and more than half of them claim visual information is more engaging than text, according to Invespcro.
Pinterest reported over 600 million monthly visual searches in 2018, which is a considerable number. When in 2018 it was 600 million, then you can imagine what number it will be now in 2023.
The Google image search result box is now showing up for maximum queries.
According to a survey by Gartner, organizations that have adopted visual search and implemented it in their designs, saw an upsurge in their revenue by 30% in 2021.
It also claims that 62% of millennials prefer visual search tools instead of any other search method.
In short, likewise voice search, visual search should be also a part of mobile SEO. If an organization is not paying attention to visual search, its website's UX and conversion rate are most likely to be stagnant or decreasing.
For visual search, metadata and schema markup are important since they help search engines to crawl your pages.
Wrapping up
Now you know why mobile SEO is important. So, begin improving the mobile friendliness of your website and help your business skyrocket by achieving amazing sales numbers. If you have any confusion in applying mobile SEO best practices, hire professionals who can help you with the correct strategies.
"Today it's not about getting the traffic, it's about getting the targeted and relevant traffic." - Adam Audette
Opting to hire an SEO expert can prove to be a wise move in bolstering your revenue through search engine optimization. Skynet Technologies, an SEMrush agency partner, offers UI/UX web design and white hat SEO services, encompassing both Local and international SEO that enhances your brand's presence on search engines.