Kansas State ADA Digital Accessibility Requirements – A handy guide to ensure your website accessibility!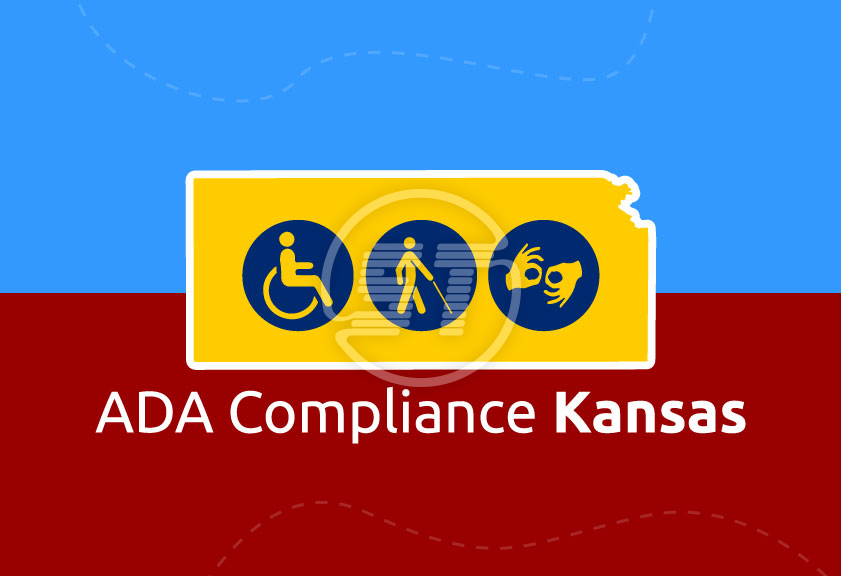 When the entire world is endeavoring to achieve maximum accessibility for their digital products and services, Kansas is also taking it seriously. Keeping its citizens with disabilities in mind, Kansas has developed its information and communication technology accessibility standards which is called ITEC (Information Technology Executive Council) 1210. This standard ensures the accessibility and usability of all websites and applications across the state and the standards based on Section 508 of the Rehabilitation Act of 1973 and WCAG (Web Content Accessibility Guidelines) 2.0 conformance level A and AA.
Kansas State has made it essential for each ICT product and service that is procured, developed, maintained, and/or used by state entities - including those which are built internally or developed on contractual terms (provided by third-party vendors to state entities) - to conform with revised 508 standards.
Kansas ICET Policy 1210 history
The Information and Communication Technology Policy came into effect on October 26, 2000, in Kansas state. The main aim of adopting the policy was to remove accessibility barriers from all state websites and applications thereby people with disabilities can access online information without anybody's assistance.
Policy 1210 was revised several times after its adoption:
Version 1.1.1 – revised on October 26, 2006.
Version 1.1.2 – revised on April 23, 2009.
Version 2.0 – The final revision (current version) was revised on October 23, 2010, which had an 18-month rollout period. Thus, it came into effect on May 23, 2012.
The latest revised version of the policy contains all technical requirements for ICT products and services to ensure their accessibility for individuals with disabilities.
Requirements of Information and Communication Technology Policy
The State of Kansas ICT accessibility standards are majorly based on the revised guidelines of Section 508 of the Rehabilitation Act of 1973 and WCAG 2.0 (as written above). Some portions of the text of this policy have been extracted in whole or in part from the Section 508 standards 36 C.F.R. Part of 1194.
Section 508 standards are not completely adopted into Kansas ICT policy. Some modifications have been made to adapt the standards as per Kansas resources and needs. All state entities are expected to conform with those modified standards to be compliant in Kansas state.
According to section 7.1 of the ICT policy, all state entities must comply with the set requirements within 18 months of the publication date of the policy (which was May 23, 2012).
Moreover, any component or a part of existing ICT that conforms to Information and Communication Technology Policy 1201 Revision 2 is not required to be modified for conforming Section 508 or other standards specified in Section 7.2.
Public safety systems are exempted from these standards. If ICT parts or components are used for maintenance or monitoring purposes only by authoritative personnel, such parts shall not be required to conform to defined standards.
If conformance to requirements would impose an undue burden on entities or would result in a fundamental alteration in the nature of the ICT, entities may request an exception. The State Coordinator and the Director of IT Accessibility review the requests and grant an exception if the requests are genuine.
Also, if some of the parts do not conform to the requirements of ICT policy, or they come under undue burden, then the entity must provide alternative options to individuals with disabilities to access and use that part.
It is state entities' responsibility to ensure that each functionality of their website/application is usable to all users including those with disabilities either directly or by using assistive technology.
When state entities develop, maintain, use, or procure an ICT, it is imperative that they consider the needs of users with disabilities to understand how those users will perform the functions.
Every electronic content, even if it is not public facing, shall comply with the accessibility requirements. If such content is used for business purposes and is communicated for emergency notification, an internal or external program announcement, a notice on some crucial information, a survey questionnaire, forms, study materials, etc., then the content is required to be accessible.
Please note here that records that are maintained by the State Record Board are not required to conform with the ICT policy of Kansas State.
YOU MAY ALSO LIKE: Importance of accessibility compliance
How to ensure accessibility to all ICT products and services?
The first step is to assess the compliance of the website/application and find out the scope of required remediation. Make an inventory list of all content and understand what types of content you have so that you know what is there to be addressed. Once you determine the nature and extent of your web content, start diagnosing the accessibility issues that are hampering your web pages' usability. Accordingly, decide what remediation is required.
After the assessment of content and prioritizing the remediation process for compliance with ITC policy 1210, start curating information to develop a proper remediation plan. The plan must consider your assessment of content and remediation requirements. Also, consider the available resources to take concrete steps and achieve accessibility in a specified timeline. Consider undue burden while remediating the web pages.
YOU MAY ALSO LIKE: How to avoid ADA lawsuit?
Maintain accessibility of digital assets and assist people with disabilities to utilize your website/application!
Once your website or application meets the accessibility requirements of ITC policy 1210 of Kansas state, maintaining it is crucial. Your web development partners can help you to remediate the website and then maintain its accessibility with the recommended accessibility standards.
Your accessible website will help many users to access online information at their ease and it will be an aid for your brand reputation as well!
Skynet Technologies is proud W3C (World Wide Web Consortium) and IAAP (International Association of Accessibility Professionals) member and a part of the global accessibility community to stay up to date with compliance guidelines.
Whether you require quick enhancements or a comprehensive overhaul of your website accessibility, rest assured that we can meet your needs. We offer full-service website accessibility remediation solutions, including design, audit, consulting, remediation, maintenance, support, and ongoing monitoring. We aim to make your digital presence accessible to all, ensuring inclusivity. Email at [email protected] or request an ADA website accessibility remediation quote .