Set up Laravel Bagisto Marketplace to expand your ecommerce business!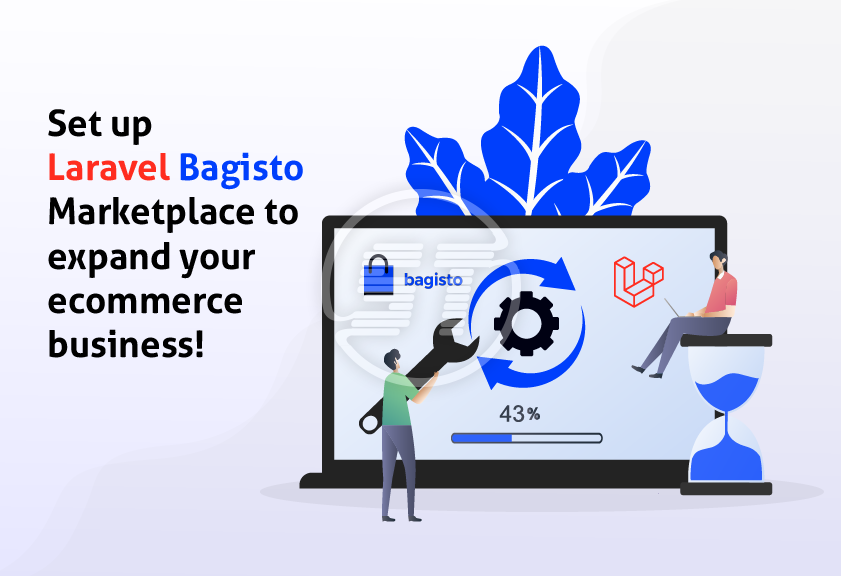 The Ecommerce industry is one of the booming industries even amidst the economic gloom during the pandemic. It accounted for nearly 17% of the global retail sales in the year 2020. Such fast-paced growth has evoked many to start an online marketplace of their own. Trust me, there's no better time than now to start your own marketplace. We have fewer barriers today with the emergence of numerous multi-vendor ecommerce marketplaces like Bagisto, Magento, etc. which have made building a marketplace much easier and simpler than ever before.
Imagine if you can easily convert your ecommerce store into the Laravel B2B marketplaces like Amazon, eBay, Walmart, etc. where multiple buyers and suppliers come together and do their business transactions. But how is that possible? Is it easier to do that setup? Well, if you choose platforms like Bagisto, you can convert your ecommerce web store into a B2B marketplace effortlessly. You don't even need to burn your pocket as there is no need for enormous monetary investments.
Laravel Bagisto development is a great solution for those who are wanting to build an ecommerce marketplace and scale their business.
With Bagisto, you can have the following features that let you build a flawless marketplace for your ecommerce store.
Supplier Microsite - B2B suppliers and vendors can easily display information about your product and company on their microsite. The shipping policy and refund policy will be displayed on the site. This improves the SEO as well.
Buying Leads - Suppliers can even check the raised quotes under buying leads. The suppliers can send the quote directly to the customers. They can also mention quote quantity, quote price per quantity, and notes for the customers.
RFQ System - This allows the customers to directly contact the store owner or supplier for a negotiable price if they are going for bulk product quantities. They can also ask for a product quote even if it is not listed on the B2B store.
Easy to Assembly Order - Buyers can easily assemble orders based on the products' name instead of navigating to the page for faster checkout that lets you reduce the number of clicks and also time.
Supplier verification - The seller's email address and verified badge on the front end increases the buyer's confidence while they think of purchasing a product. The supplier verification details let the buyer think that they are buying their products from authentic and trusted suppliers.
Supplier Review - The customers can even submit their review for a specific supplier. The admin can approve or disapprove the review. More positive reviews attract more customers.
Choosing Bagisto lets you make use of multiple Laravel extensions for building a Marketplace that can enhance your ecommerce business. One of the many extensions we have is Laravel multi-vendor marketplace extension.
Laravel Multi-vendor Marketplace
Extensions like Laravel Multi-vendor Marketplace also transform your current Bagisto store into a fully functioning marketplace with lucrative features. You can build a full-fledged digital marketplace wherein sellers or merchants can manage their sales through a common interface without any hassles.
Some of the features of Laravel multi-vendor marketplace
Admin Privileges
Hassle-free Inventory Management - Admin can configure inventory settings in the marketplace. They upload the products manually or the vendors can upload on their own so that the products can be well-stocked.
Set a Global Commission - Set a global commission for the sellers plus set separate commissions for individual sellers. This attracts sellers to choose your store and start selling on it.
Easy Product Assignment - All the popular products of the marketplace can be easily assigned to the vendors from the admin panel. Vendors need not worry about the product creation and can utilize this time to focus on other business aspects like marketing.
Auto-approval of Products - Certain vendors can have their products auto-approved to get their products listed on the marketplace. Admin has the option of reviewing the products and can either allow manual or auto-approvals.
Total Control - Admin has full control over the sellers, their orders, products, commissions, shipments, and more. They can earn a commission on every order even with zero investment in inventory.
Beautiful landing pages - Admin can create appealing landing pages wherein the admin can easily add and list their content about their offerings and features. Sellers find the store attractive to register on your website.
Review Management - The customers look for feedback before they make any purchasing decisions. The marketplace provides review management to the admin who can manage all vendors' reviews in an organized manner.
More Buyers' options - Ultimate advantage is that the customers get to see the peripheral comparison of the same products sold by multiple sellers. They will have an enhanced choice and hence can make better product judgments.
Seller Privileges
A dedicated dashboard - With Bagisto, a seller can have an intuitive dashboard with the payout, order details, comments, reviews, etc. These would be presented in a beautiful way in a graphical format for easy understanding.
Manage their Profile - Sellers can easily manage their profiles wherein the customers can get to know about your social media engagement, shipping policy, return policy, etc. This ensures transparency and helps you to build trust.
Order Management - From the dashboard, sellers manage their orders by checking into the fuller details of the orders, status, and any functions related to the orders made from a single page.
Manage reviews - Customers will be provided to post their reviews and ratings which will be displayed. Sellers can also manage them based on positive reviews.
Brand Building - Sellers on the multivendor marketplace will have an edge to attract customers better. Through transparent policies, one can gain trust which builds a brand image for your products. Also, through social links, you can easily get connected to your customers.
Product Shipment - Customers can have a good shipping experience with on-time delivery at reasonable shipping charges. Vendors manage their product shipments, invoices, in the most efficient way to build customer satisfaction.
Summary
When you first start out building a marketplace, the first dilemma you face is choosing the right platform. Bagisto ecommerce makes it easy for you with multiple options to build a perfect marketplace easily and quickly. It helps you to gear up for the challenges to succeed in the largest & competitive marketplaces. It also helps you gain visibility with its product SEO options.
Skynet Technologies is now recognized as an official Bagisto solution partner. We have been one of the few who have been offering quality end-to-end Bagisto development services to our clients. We have built an envious engagement with our clients to help them build a robust Bagisto multivendor marketplace with lucrative features that enhance the flexibility and scalability of your ecommerce store.