Migrate from OpenCart to Magento – A Complete Solution!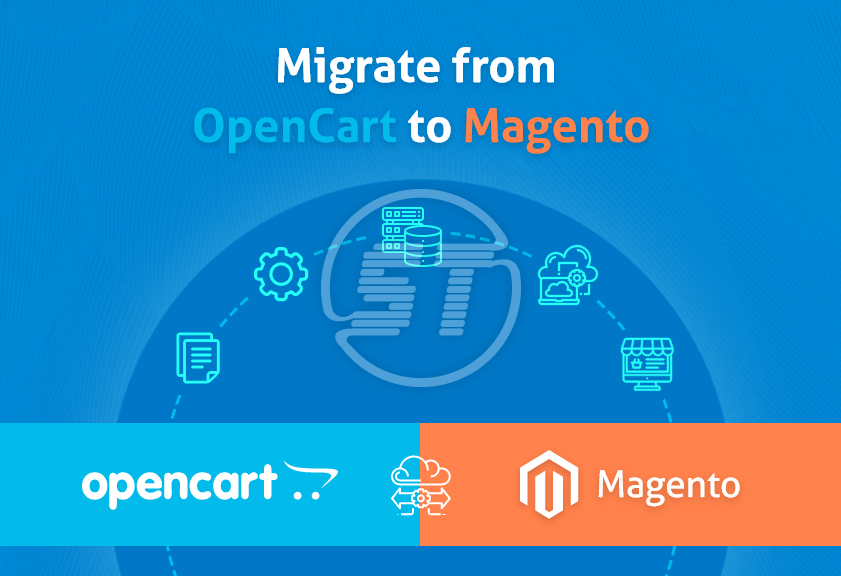 OpenCart and Magento 2 are two of the most stable and powerful ecommerce carts in the market. Both are open-source, built on PHP, multilingual, can handle a huge user base, and many custom-made extensions. People who are just starting up seem to incline towards choosing OpenCart over Magento 2 as it has a user-friendly interface and doesn't even demand technical knowledge. It also provides an excellent order inventory management system and also numerous secure payment gateways and shipping that truly benefits the newbie ecommerce retailers.
With time, as their ecommerce business scales and they witnessed an upward trend in their traffic, sales, and more, they showed interest to move to more powerful platforms like Magento.
Why Magento crosses their mind?
Magento needs no introduction and ever since it was rolled out, it emerged to be a one-stop solution for many who are looking for building their ecommerce stores. It transforms the businesses with its exceptional capabilities. It helps in building a unique, high potential, and engaging shopping experience for the customers. Magento Enterprise Edition has been recognized as the best solution as it offers outstanding customization options. It has extremely scalable options with an extensive library of extensions, plugins, and integrations for retailers of all sizes.
Magento eclipses OpenCart in a few aspects like features, scalability options, SEO, security, and performance.
Premigration Process
Backup Your Data

Before you go for a platform switch, you can take a backup of your data that is on the current OpenCart store. None can guarantee that the migration process can happen smoothly. Anything can go wrong during the migration even if you have hired experts on it. So, it is better to back up everything. You should maintain a strong vigilance while updating OpenCart's database to your local system.

Choose a hosting service

Select a hosting service and make sure that these server requirements are provided and installed. Some of the prerequisites for Magento 2 stores are

OS - Linux distributors such as Ubuntu, CentOS, RedHat Enterprise Linux that are easy to install Magento 2
Memory - Up to 2GB RAM for updating Magento. Anything less could lead to failure in the update process
Composer - Need a stable version of the composer for Magento 2 extensions.
Web service - Apache 2.2 or 2.4, Nginx 1.8

Install Magento Store

Download Magento packages
Upload them to your server
Setup FTP
Transfer Magento archive to your hosted system
Run the Magento setup wizard
Finish the installation process
Migration Process from OpenCart to Magento
Migrating process including moving critical data like products, customers, orders, and more. You should also focus on transferring customer passwords, SEO URLs, and so on.
Manual Process
You can export data from OpenCart and import it to Magento. As simple as it may sound, it is a time-consuming thing and risky without technical skills. It involves manually dealing with the DB and even the smallest of the errors can have serious repercussions. You may also face certain data compatibility errors wherein data like product SKUs, orders, etc. are not imported in Magento 2.
Steps
Install a third-party solution on your OpenCart website and export your data entities like products, customers, orders, catalog in CSV or XML formats.
You can import this file into Magento 2 store by creating a new import job on Magento 2 store.
Configure the general settings, import setting, import source, and import behaviour as per your business needs and requirements
Automated Shopping Cart Migration Tools
We have automated shopping cart migration tools like LitExtension which is used for transferring products, orders, customers, and other data automatically. This can be done without any loss of information and accurately.
Data That can be migrated with LitExtension
Product Data like names, prices, description, weights, variants, and SKUs
Customer Data like names, email, addresses, etc
Product Categories
Order Information like date, status, quantities, discounts, shipping, etc
Coupon codes and discounts
Tax classes, names, and rates
Additional Options
Clear target store data before migration
Preserve order ids
Create 301 redirects
SEO URLs migration
Strip HTML tags
Migrate customer passwords
Migrate additional images
Extensions and Custom code Migration
Extensions on your old OpenCart store cannot be migrated easily. You need to rely on LitExtension personnel for reviewing your extensions. You now need to find the new Magento extensions which have similar functionality as the ones on your OpenCart website.
LitExtension also takes care of the custom code to migrate data from OpenCart extensions to new ones in Magento. You may want to transfer the custom code to your Magento website and LitExtension takes care of it.
Steps
Download the connector and enter your source store and target store details. The connector is meant to provide a bridge between both your stores' database and the tool.
Choose the data entities and additional options you need for migrating as per your expectations.
Once everything is ready to go, you can perform OpenCart to Magento 2 migration. Let it run seamlessly and after a while, the process would be completed.
The migrated data entities are protected by HTTPS secure protocol and also are SSL encrypted. Your data is not stored on any servers and it will go directly to the target source and hence offered the highest security levels. None except the authorized engineers can access the source code and handle any custom migration requests.
Hire a professional Web Agency
You can always seek experts or professional help for the migration from OpenCart to Magento 2 as they can make it quicker with zero errors. Depending on the complexity of your current website, they may provide you the quote and time frame within which everything can be done.
Post-Migration Process
Create New Theme

Since themes and templates are non-transferable, you either go for Magento templates or create custom CSS files for styling your Magento store. You can follow the below steps for creating a new Magento 2 theme

Create a theme directory
Create theme declaration files
Apply the new theme
Make this theme a composer package
Deploy the new theme

In CSS files, you can provide layout, color, background, font weight.

Setup Payment Gateways and Shipping Methods

Payment gateways in both the stores are different and hence you need to choose the right one that provides a great checkout experience for your customers, reduces cart abandonment, and boosts your sales. Next, you need to set up the shipping methods from the configuration dashboard. Magento 2 also offers free shipping promotion that has the potential to raise your revenue.

Change DNS and Domain

You might be on a temporary domain during the migration process. Now is the time to finally change the domain name service and go for a reliable DNS.
Wind-up
It's no easy ride and migrating your ecommerce website from OpenCart to Magento may seem daunting and even exhausting. But with the process mentioned in this article, you can streamline the entire process so that you can finish it in the easiest and flawless manner. So, if you are just testing the waters of ecommerce, you can go for OpenCart Development. But unlike it, Magento Ecommerce Development is suitable for all retailers whether you are a startup or a multi-national retailer. We provide OpenCart to Magento migration services without any data loss and no business disruption.
Choosing the right ecommerce platform for your website or store is pivotal for a business's success. We offer Multiple open-source eCommerce platforms that help you to assist you in building and running your eCommerce store conveniently. We are also proficient in migrating from the previous OpenCart versions to the latest and stable OpenCart version. With a right transition plan and skilled developers, we facilitate a seamless migration from any platform to the latest and secured version of Magento 2.x.