New Features in Bagisto V1.3.0 that makes it the best ecommerce platform!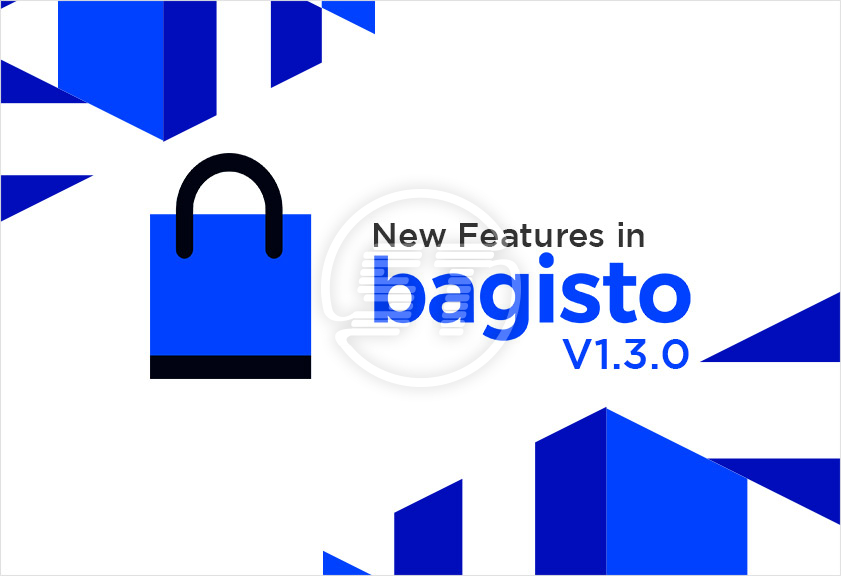 Businesses have discovered ecommerce to be their cash cow that does everything exceptionally well right from discovering new customers, creating opportunities to venture into new lands not limited by geographical boundaries, and phenomenal sales numbers without getting one's hands dirty! Ever since that 'aha-moment', the quest has begun to find the best and perfect ecommerce platform.
Many were delighted when Laravel ecommerce rolled out the Bagisto platform for building ecommerce websites of all sizes and offered seamless scalability! Bagisto, the Laravel ecommerce platform which provides many out-of-box features like multivendor marketplaces, multistore inventory, AI-based product search, has been enriching the customer experience to become a one-stop solution for both customers and merchants.
However, no matter how good a platform is, there's always room for improvement! New updates will be released with new features to upgrade the ecommerce site functionality and build strong doors of security. Bagisto is very fortunate in one aspect that it has been supported tremendously well by the entire Laravel community members. Now, efforts have been made to provide continuous improvements to remove any inefficiencies in the earlier versions and make a place for better results.
So, what's new in Bagisto v1.3.0? If you are as curious as me, just hop on! Let's explore this together.
Bagisto 1.5.0 has been released. Check our full article to know about its new features and enhancement.
1. PayPal Smart Button
Customers are in for making a quick purchase and leave the website to carry on with their daily chores. They might have already spent enough time finding the products they love and now all they need is the simplest payment process!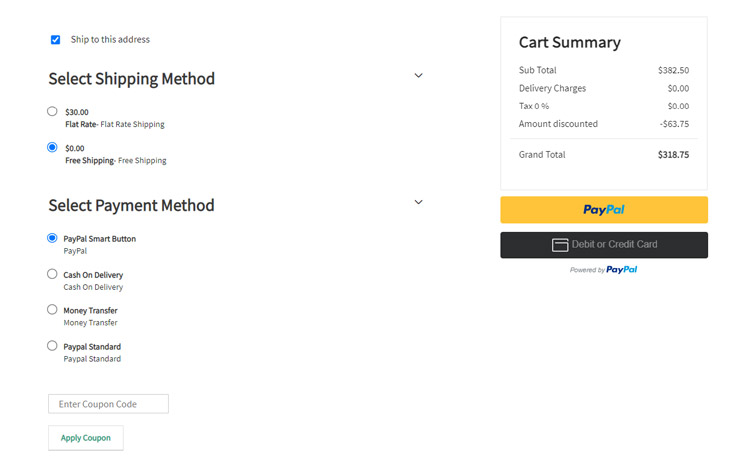 Through the introduction of the PayPal Smart Button in the Bagisto ecommerce platform, you are right on your way to make the customers experience a straightforward and rapid payment process. Customers find this payment method extremely effortless.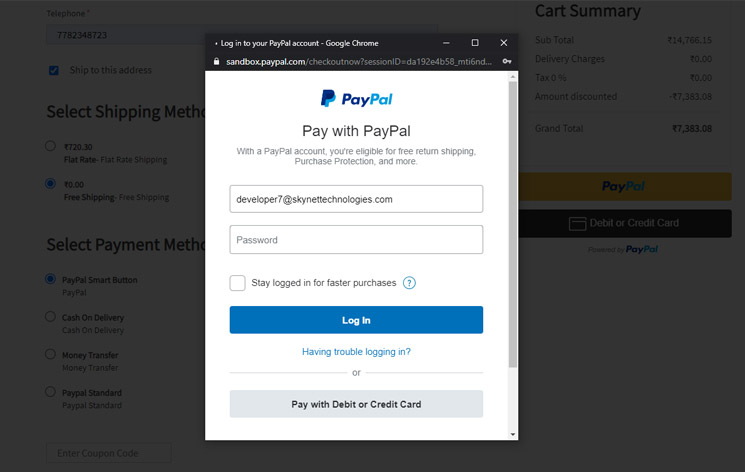 This one of the high-potential tactics to reduce the cart abandonment rates and optimize your conversion rates.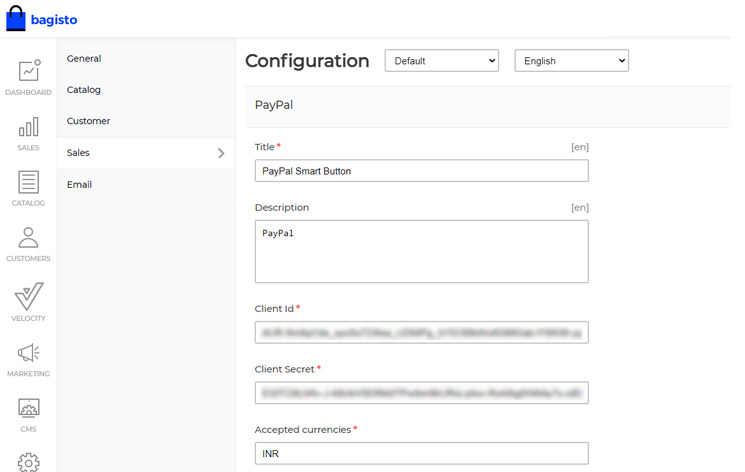 Another benefit of this option is that customers who use PayPal for their payments can leverage all the associated benefits that come with this payment service. Customers will get a PayPal pop-up to do a quick login to make the payment. Of course, to make avail of this option, you need to get client Id and secret Id from the PayPal account.
2. Email Marketing Newsletter
Email Marketing Newsletter is considered to be the most inexpensive marketing strategy that has high potential to engage with the customers and create an impact. This is because they have signed up for it and chances are they might still read it! Your high-quality content can reach quality leads with just one-click.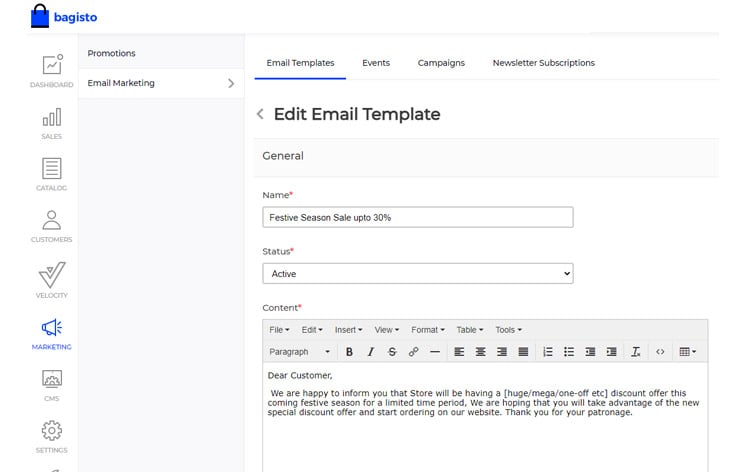 Bagisto has now come up with an Email Marketing Newsletter feature that allows you to send the newsletter to your qualified and valuable customers. They can be informed about the latest product updates, promotional offers, product comparisons, and the limits are endless. You can also send personalized newsletters on their birthdays or anniversaries to your esteemed customers to acknowledge their trust in you and your products & services.
Setting up and sending an email newsletter on Bagisto is going to be a simple process. The admin should be able to set up a cron calendar and this could be set to a future date as well so that you can prepare a newsletter and schedule it in advance to send it right on time.
Do you know what's the catch here? Customers can register later but can subscribe to the newsletter and can also unsubscribe with a single click.
3. Enhancement in Customer Group Pricing/ Discounted Price on Product Page
Group Pricing has proven to be one of the most effective strategies in enhancing ecommerce pricing strategies. The admin can curate customer requirements and expectations and accordingly set specific pricing for certain customer groups. This makes your products more appealing to the customers as you are meeting their anticipations.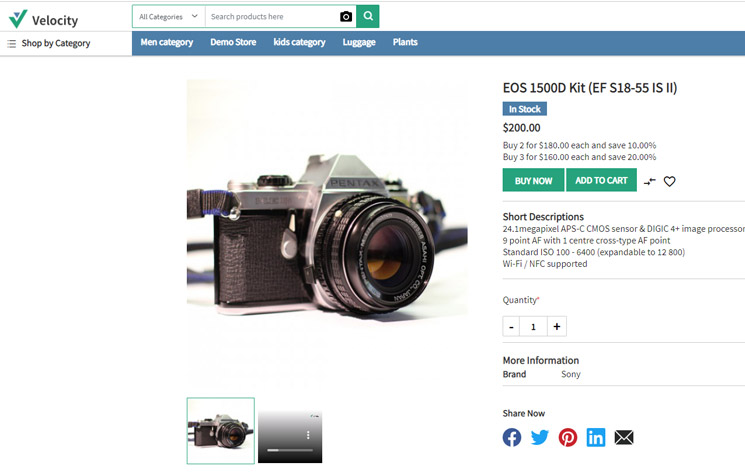 You can also attract your customers in a better way by showing different pricing for your products to your store group. You can do this by showing your customers a more discounted price for different product quantities.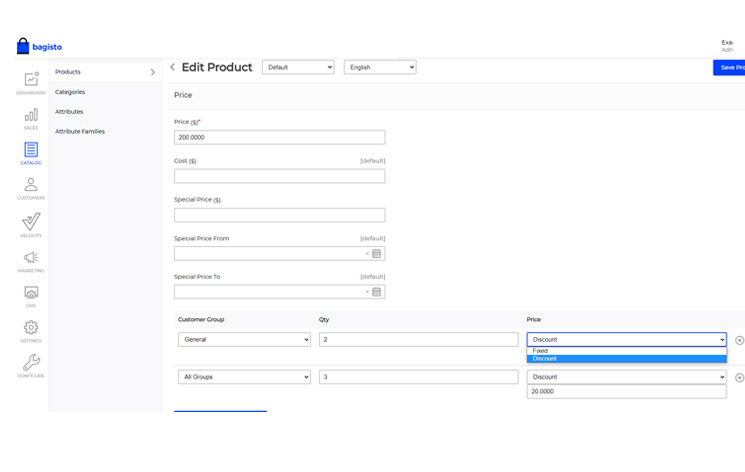 4. More control on Out-of-stock Product Display
If your customers decide on making a purchase but only realize that the product is out-of-stock, it gets frustrating and even results in drop-out as they lose interest in exploring other products. If this happens more than once or frequently with the same customer, the chances of finding another store are very high. You are not just losing out on a sale but also a potential loyal customer.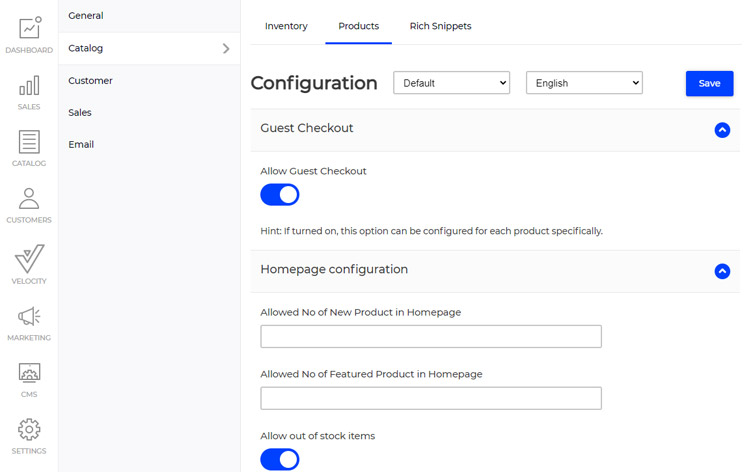 Bagisto has now let the user take over the control of displaying the out-of-stock products on your ecommerce storefront. The user can manage this from the configure section where they can control the settings and ask for with show or hide the out-of-stock products over your website. They can simply go with the option of showing only the available products.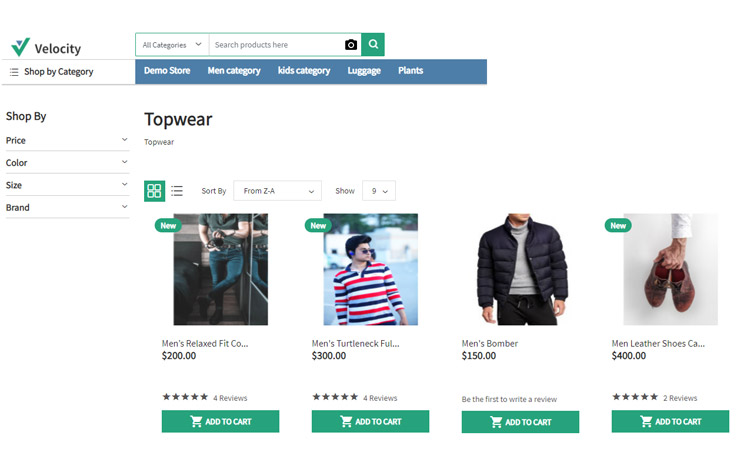 Additional Features of Bagisto V1.3.0
1. Minimum Order Amount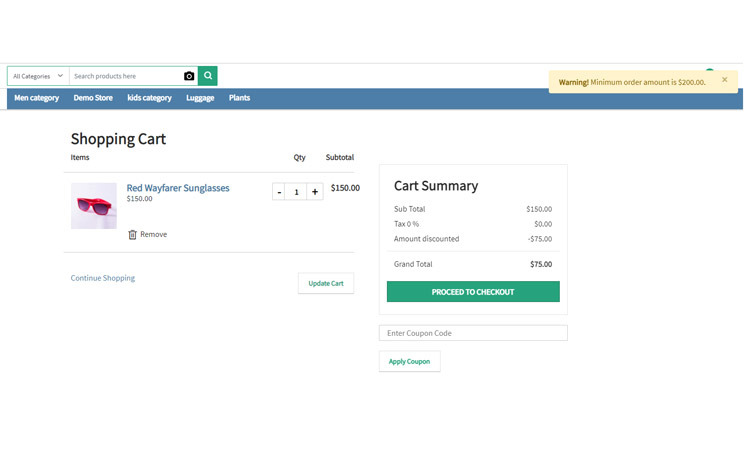 The merchants can easily manage the settings under the configure section to specify the minimum order amount to their store. And it will be mandatory for the customers to meet this number to make a successful purchase.
2. Add Product Videos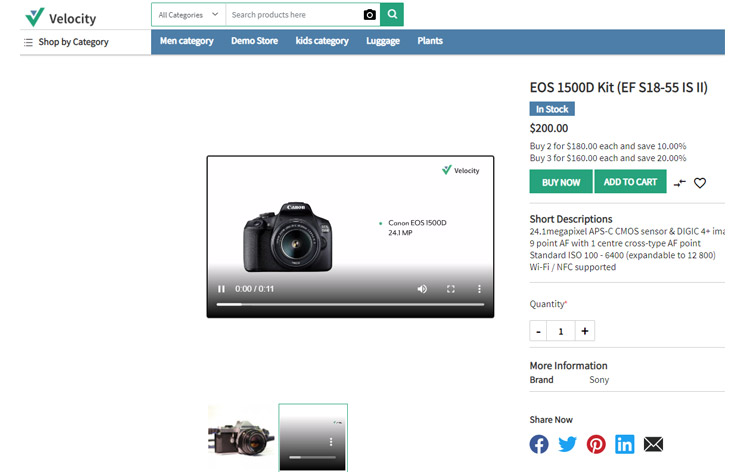 Product videos play a vital role in attracting customers to your online store. Product videos entail highlights of the product features and even show them in action for a better customer understanding.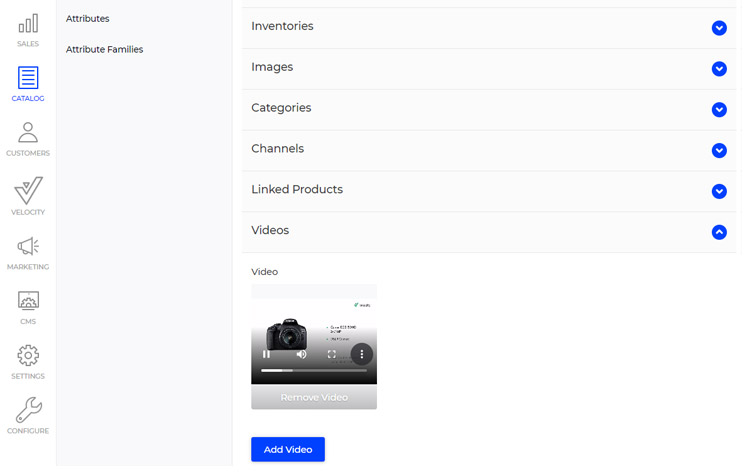 3. Maintenance Mode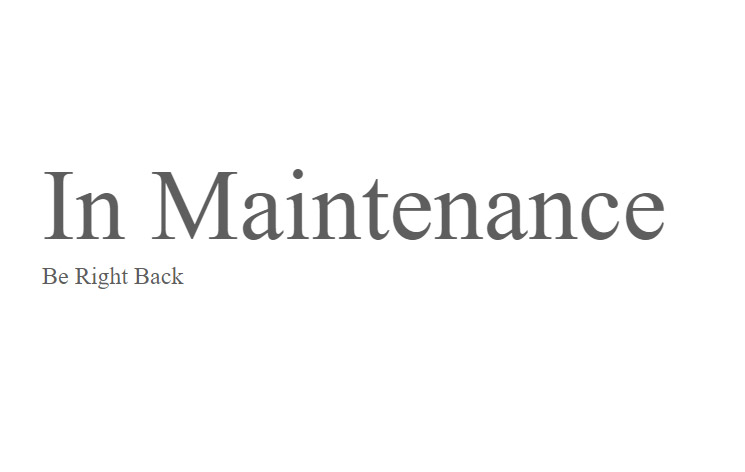 The user can easily take the website offline to make any updates or modifications. This mode also lets the search engines know about the downtime of your site through header code 503. This, thereby, won't affect your site's SEO.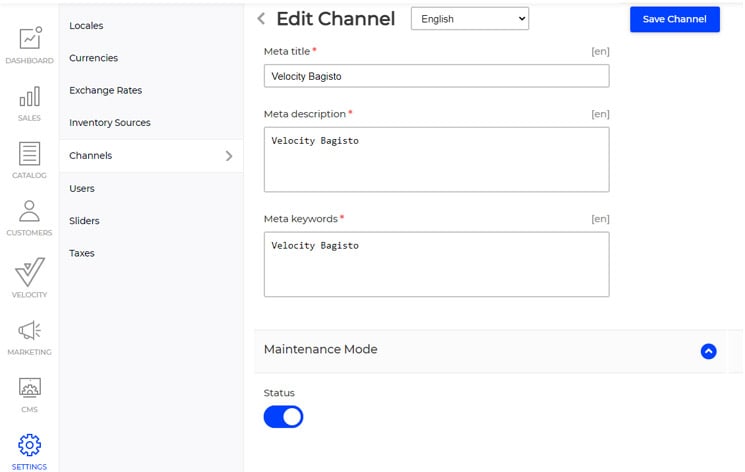 4. Useful Settings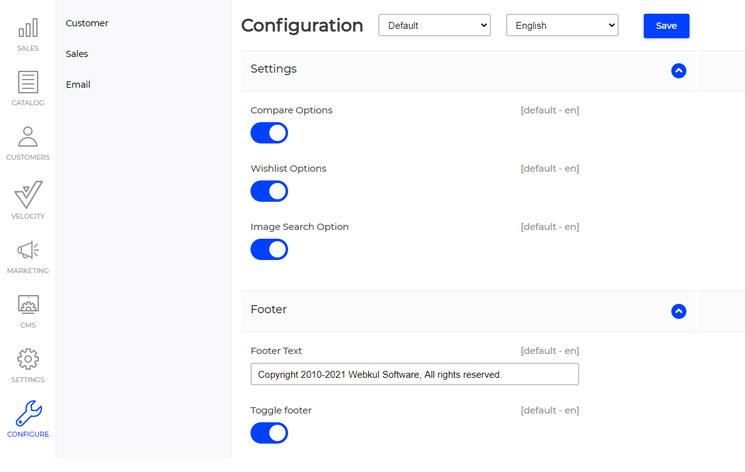 Gain more control over your store through the admin panel with portions like compare option, Wishlist options, Image search, etc. Based on your business needs or preferences, you can either enable or disable the above options.
5. Buy Now at Product Page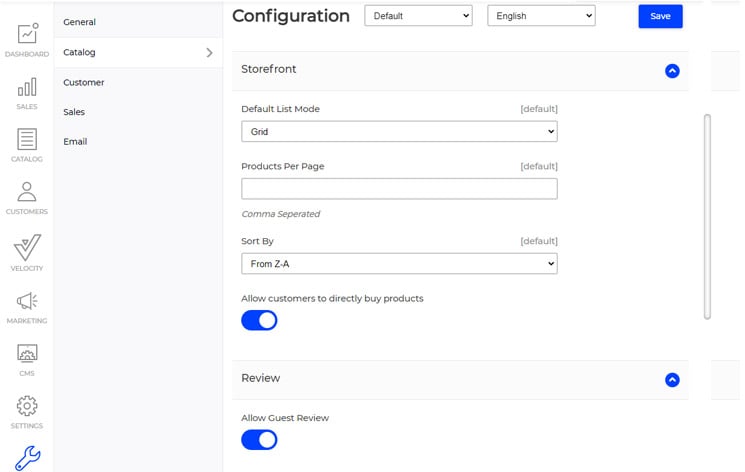 Customer can easily make the checkout without adding to the cart always. The user can enable (or disable) the 'Buy Now' button so that customers can make an easy checkout from the product page itself.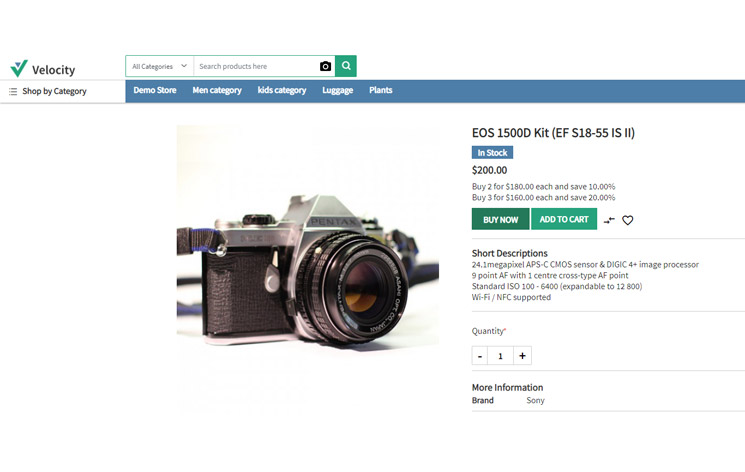 6. Optimization
There are a bunch of things that are going to change to build optimized ecommerce websites.
Removal of duplicated queries
Removal of unused Google fonts
Rearranged scripts in the footer
Addition of swaps to fonts
Addition of core config exception property - For ignoring those keys that don't want to load in a static array
Adding Static loaded config array to the main entry point of core config method for reducing the duplicated core config values.
7. Laravel Debugger Mode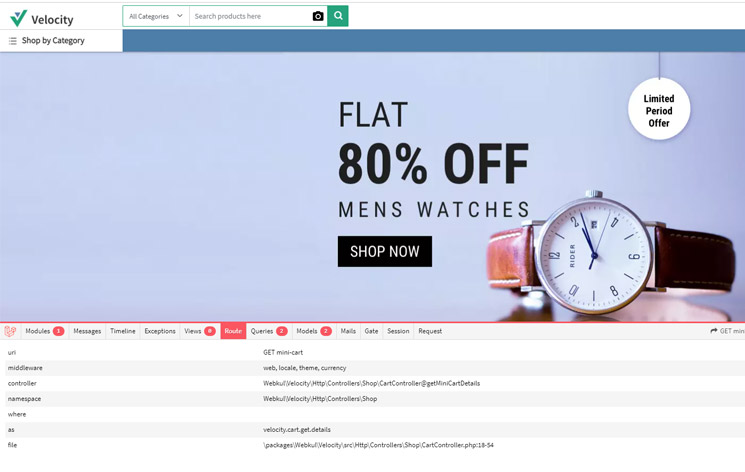 With this, you will be able to find the module section under the web debug toolbar. The developers/users would be able to see all the packages they are using in the Webkul folder.
8. Locale-Based Default Channel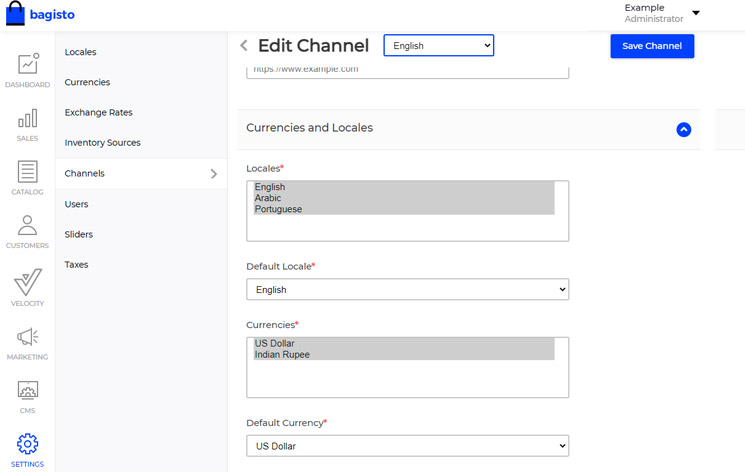 You can now easily manage your channel settings based on your locale choice.
9. Google Core Web Vital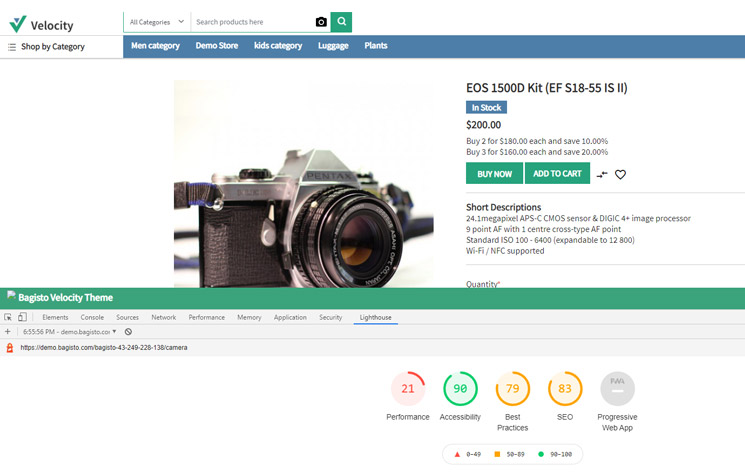 Text compressions and cache policy are added and duplicate variables from SCSS are removed and also arranged in proper order.
Enhancements
There are a bunch of things that are going to change to build optimized ecommerce websites and removed some bugs to make a better shopping experience.
Removal of duplicated queries
Removal of unused Google fonts
Rearranged scripts in the footer
Addition of swaps to fonts
Addition of core config exception property - For ignoring those keys that don't want to load in a static array
Adding Static loaded config array to the main entry point of core config method for reducing the duplicated core config values.
Enable or disable the image search feature
Multiproduct Images must be changed on mouse hover
Added Product number and options to enable/disable wishlist
Addition of a confirm box while moving a product from cart to wishlist
Auto-generation of coupons options
Addition of bulk category delete option
Schedule a cron job for processing newsletter campaign emails
Localization of default store content
Bug Fixes
When a new version is rolled out, along with feature enhancements, bugs that were existing in the older versions would be corrected and any new bugs would be kept to a minimal level. Just like that, in the latest Bagisto 1.3.0, many bugs were correct and we have a comprehensive list with us, presenting a few out of them.
The cart item was not bound to the user account when there was a social login
Product Filter was also not working as per the channel filter
When a high size image was uploaded in the Invoice slip design logo, an exception was being generated
Validation was missing when addresses were created without proper format parameters
Customer group price discount isn't applied when product price and discount are the same
Search icon in themes like velocity isn't clickable
Unable to fetch invoice by API
No proper working of the filter if the product name has any special character
Accepting certain negative values in the ticket price
Client-side validation issues in adding special price for booking, not disabling backdate, issues with cash on delivery, error in booking product, subtotal not updated when removing the products, etc.
Default issues in system configuration not working
Unable to locate migration paths in Bagisto
Admin shouldn't have the option of creating multiple carts using the same coupon code
Image search disable feature not working
Sorting by the newest/oldest in the category
Unable to save address on the one-page checkout
Over to You!
Isn't it amazing how Bagisto is making all the ways up to keep up with the latest trends and customers' expectations? Bagisto 1.3.0 is a refreshing change that could create some waves in the community by bringing the results one has always dreamed of. Although there is always a room for new enhancements, features and implementations. Bagisto will release the next up to date version Bagisto V1.3.2 soon with wonderful features!
Build and scale your ecommerce business with Bagisto which gives you the complete flexibility and scalability! As Solution Partner of Bagisto; We strive to help you deliver the best digital experiences to your customers and take your business to the next level. Whether you want Bagisto development, Laravel Bagisto Migration, integrate any application, redesign your Bagisto store, require new features development, or real-time support and maintenance for your store, you are at the right place! We're happy to help you out.