What's New in Bagisto V1.3.2 Release? – Here are the Wonderful Features and Enhancements!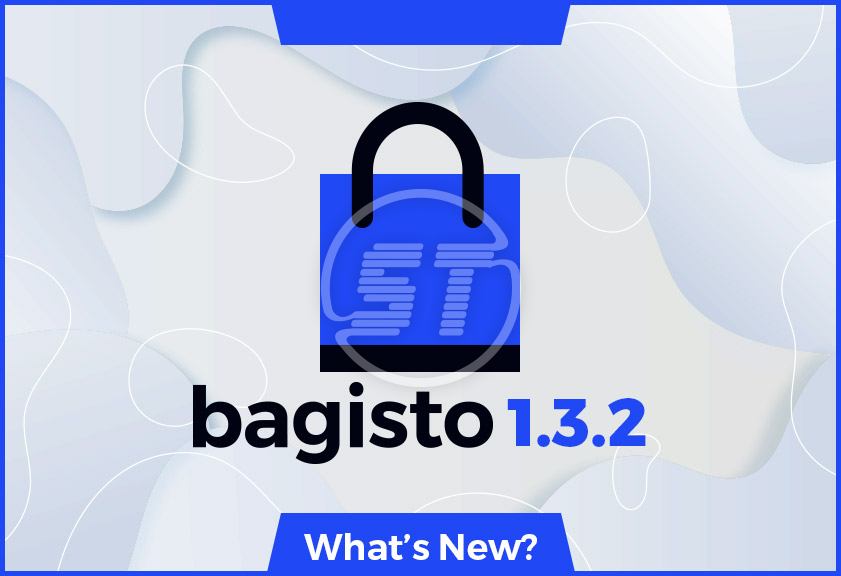 Building and running an ecommerce store isn't easy; but fortunately, there are plenty of ecommerce platforms available now to make a way for you. Bagisto is one of them. Bagisto is available with many out-of-box functionalities such as multi-currency, localization, multi-vendor, multi-channel, multiple payment method integration, multi-tenant SaaS (Software as a Service), AI (Artificial Intelligence) based product search option, access control level and much more.
The previous version of Bagisto v1.3.0 was released in the March, 2021. However, there are always a space for the improvements; Bagisto has rolled out the new features and fascinating enhancements in the fresh and latest version of Bagisto v1.3.2.
Do you know the most important update for the Bagisto v1.3.2? Bagisto Open Source 1.3.2 introduces the support for PHP 8 and Laravel 8.
Regardless of whether you are a Bagisto developer or a merchant of Bagisto store; diving into what's new in Bagisto v1.3.2 is necessary to stay up to date.
Google reCAPTCHA Integration
Google reCAPTCHA uses an advanced risk analysis engine and adaptive CAPTCHAs to keep automated software from engaging in abusive activities on your website or online store. Protect your Bagisto store from spam and password decryption by asking your customers to complete a simple test.
Whether it is customer login page, Customer sign up page, forgot password page or an order completion page of your Bagisto ecommerce store; You can integrate the Google reCAPTCHA.
Customer Login Page: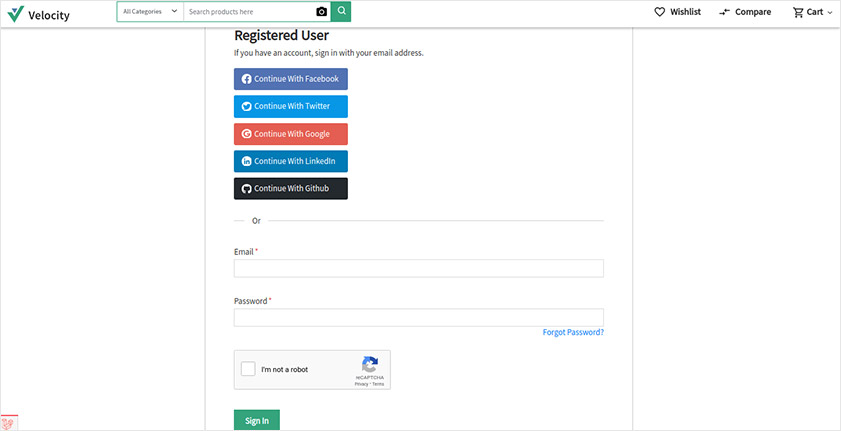 User Registration Page: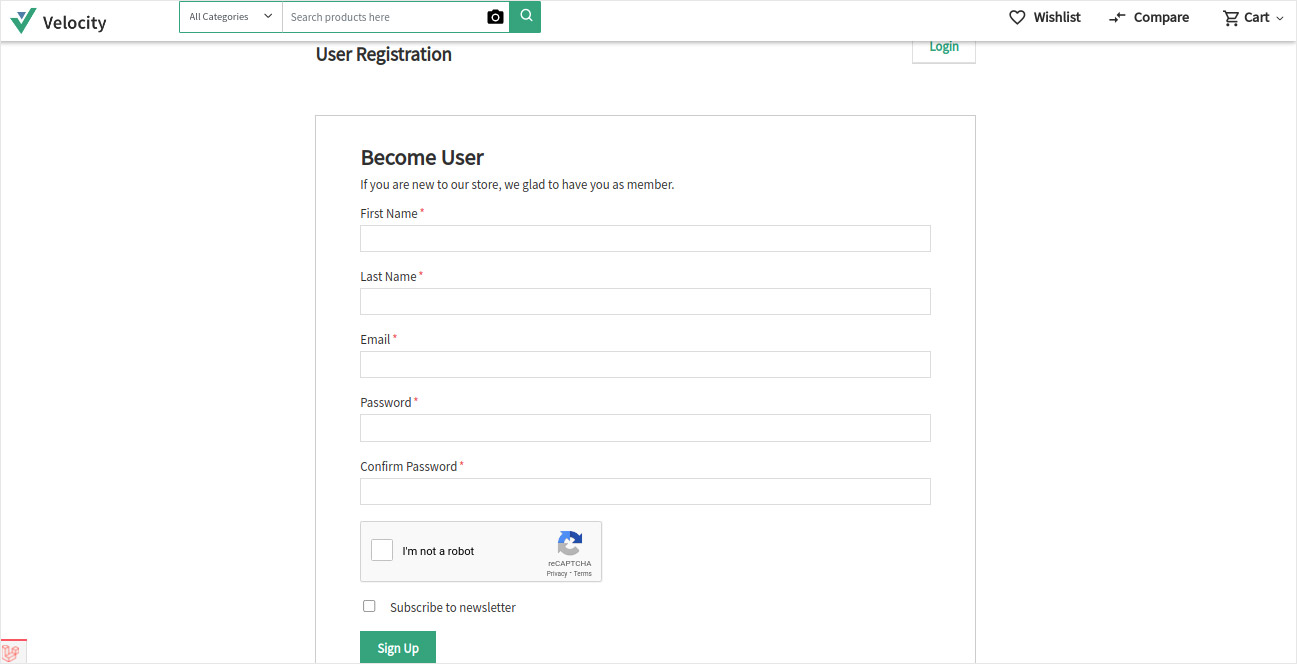 Forget Password Page: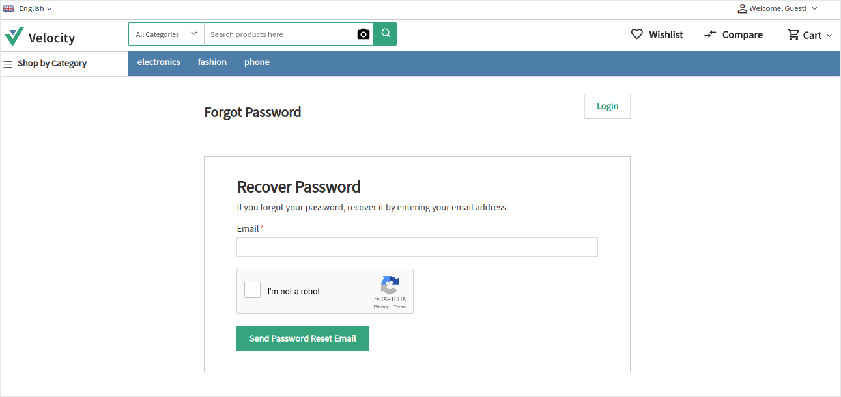 Steps to Integrate Google reCAPTCHA in your Bagisto store:
Register your website with Google reCAPTCHA.
Go to the v3 Admin Console to move further.

Enter the site Label and select the reCAPTCHA type as shown in below image.

Then Accept the reCAPTCHA terms of service & select the send alerts to owner.

Finally, you got both Site Key and Secret Key for your registered website.

Then, from the Merchant Login, Go to the Configure >> Customer >> Captcha.

Enter the Site Key and Secret Key to successfully integrate the Google reCAPTCHA.
Laravel 8 Support
The latest version of Bagisto 1.3.2 supports Laravel 8. Laravel version 8 requires PHP version 7.3+ or above.
PHP 8 Support
Bagisto v1.3.2 supports PHP 7.3 to PHP 8 version.
Admin Multi-locale Panel
The new admin multi-locale feature is added in the Bagisto v1.3.2. Add multiple locales for the dedicated admin panel based on your preferences.
Steps to Set Multi-locale in Bagisto:
Go to Settings >> Locales >> Add Locale

Enter the details of Locale Code, Name, Direction and Locale; then click on "Save Locale".

Now, set your locales in particular channel. Click on Setting >> Channels >> Locales (Select the multi-select option) >> Save Channel
Added Configurable Product Default Variant Option

Yes, you have heard it right; Now; You can configure and set the default product variant as a merchant. After that, your customers can directly add the default product or the variant to the cart.

Configurable Multi-Image Option Added in Parent Product
Now, as a merchant you can now add the multiple images in configurable parent products to provide your customers an enhanced idea about the products.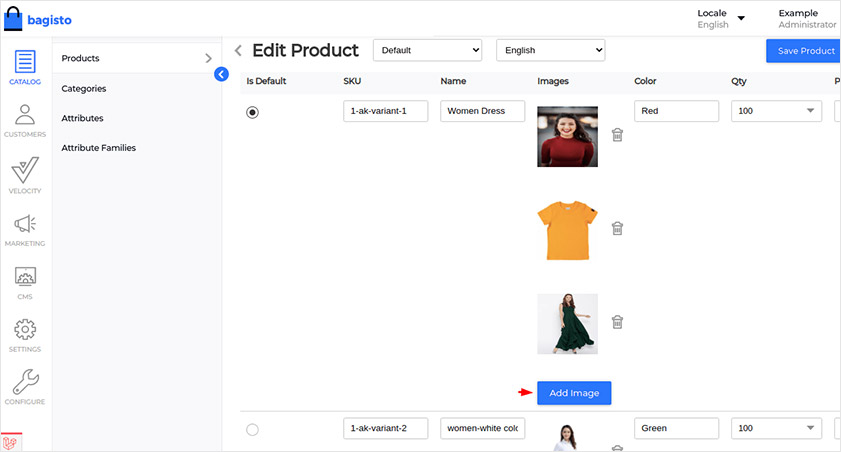 Automatically Invoice Creation while Generating Order (For COD & Money Transfer)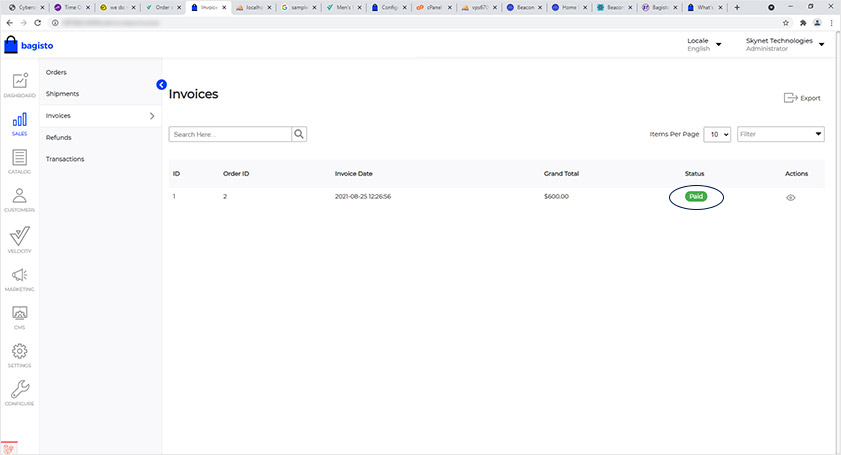 In the latest release of Bagisto v1.3.2; As a merchant; now you can easily manage the invoice and generate it automatically for both COD and Money Transfer Payment Methods based on your business requirements. All you need to do is; Just to enable the toggle button to automatically generate an invoice after place the order. Merchant can also set the invoice status if it is paid or pending. Similarly, the order status can also be set after creating the invoice whether it is pending, processing or completed.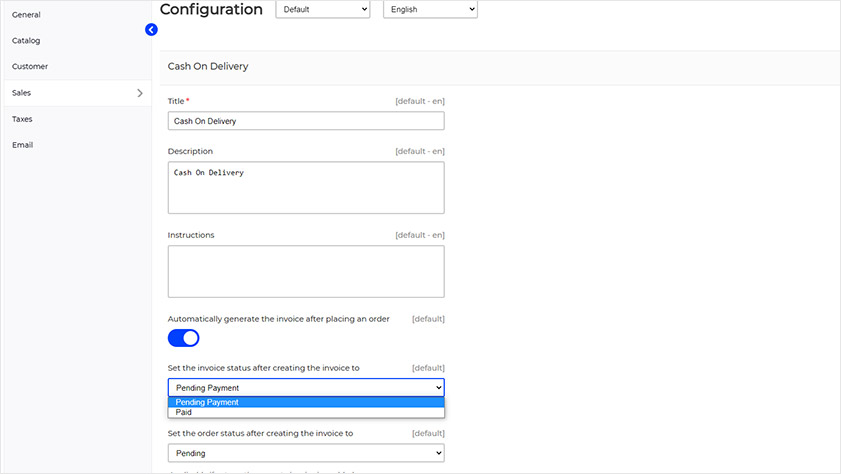 Merchant can add and manage the transaction for the Cash On delivery and Money transfer payment method once the payment is done.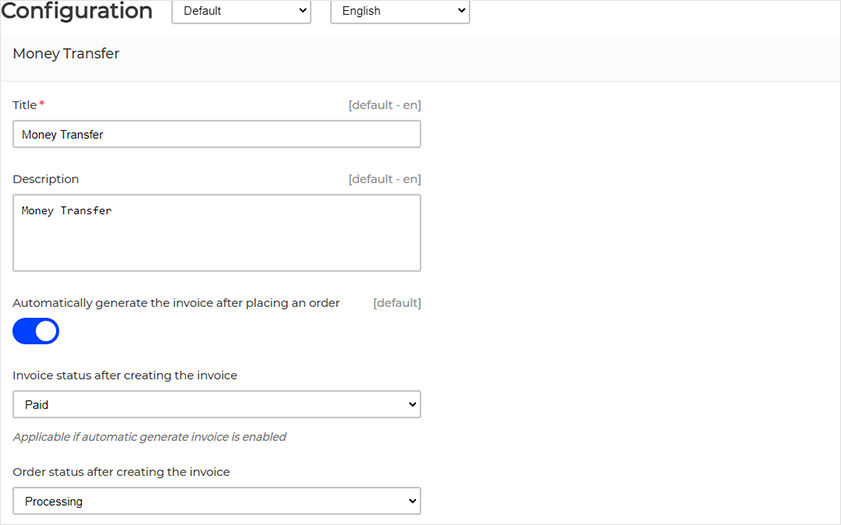 Most Importantly, the good news is now merchant can see both invoice and the orders separately into the admin panel.

Google Core Web Vital
As per the latest ranking factors, Google is prioritizing the Page experience through Google Core Web Vitals. In the Bagisto v1.3.2; Bagisto has added the Text Compressions, Cache Policy and Removed duplicated variables from SCSS and arranged them in proper ordering.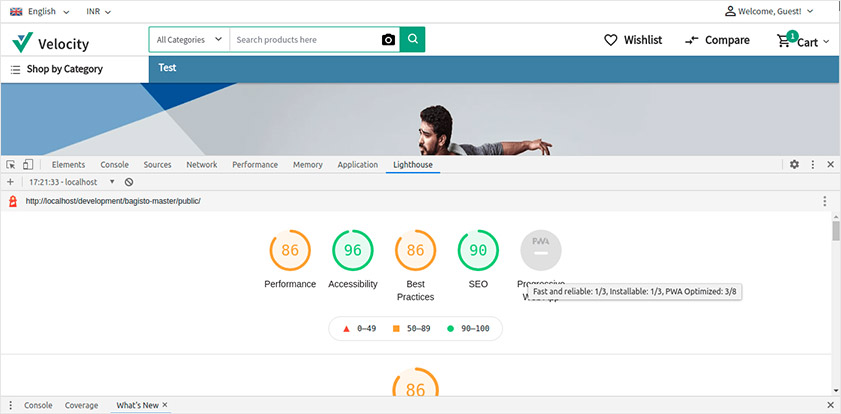 Changes from the web vital
For the velocity theme, the velocity.js file is divided into two files i.e. velocity-core.js and the velocity.js file. In velocity-core.js, all core dependencies like jQuery, bootstrap js, Vue js are added and in velocity.js all the components are present which is bootstrapped by the velocity-core.js.
Added Tax-inclusive/exclusive feature
Bagisto has come up with the most awaited feature Tax Inclusive/exclusive in its latest version. Now as a merchant you can show the price to your customers inclusive of all taxes if it is. It helps you to create and build the trust of your customers when they are coming to purchase your products.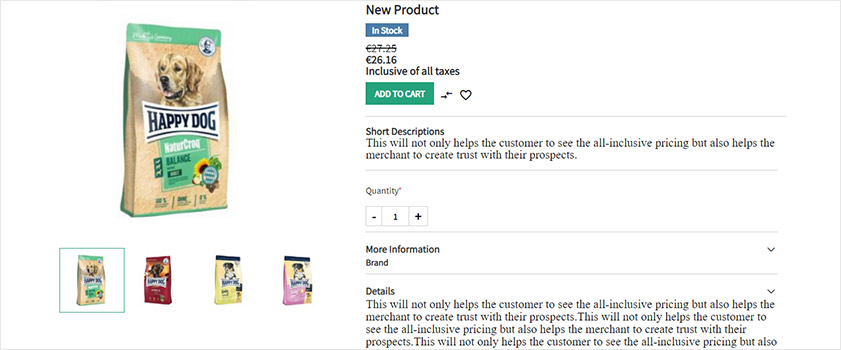 To Enable this feature;
Settings >> Taxes >> Catalog >> Enable Pricing
Added Custom invoice prefix/suffix generator/settings

As a merchant, now you can add the prefix/suffix to the invoice. To set it up;
Sales >> Configuration >> Invoice Setting >> Add the Required details under "Invoice Number Prefix" and "Invoice Number Suffix."

After that, it will be look like below:
Product Review Images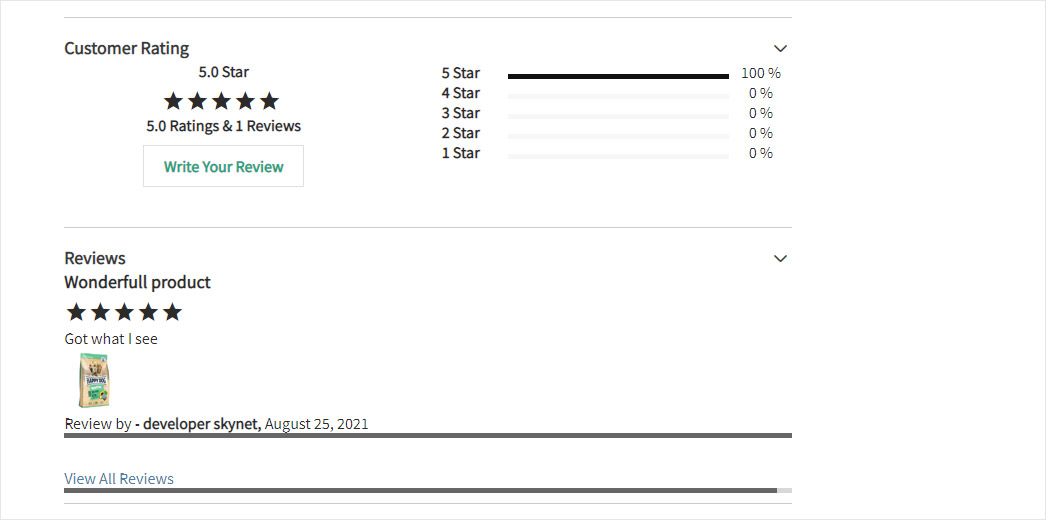 This feature will allow your customers to add new images with product reviews to show how they are using it in real life. It can mark the attention of new customers and help you to increase the sales. Your customers can easily do that from the storefront under "Write a review".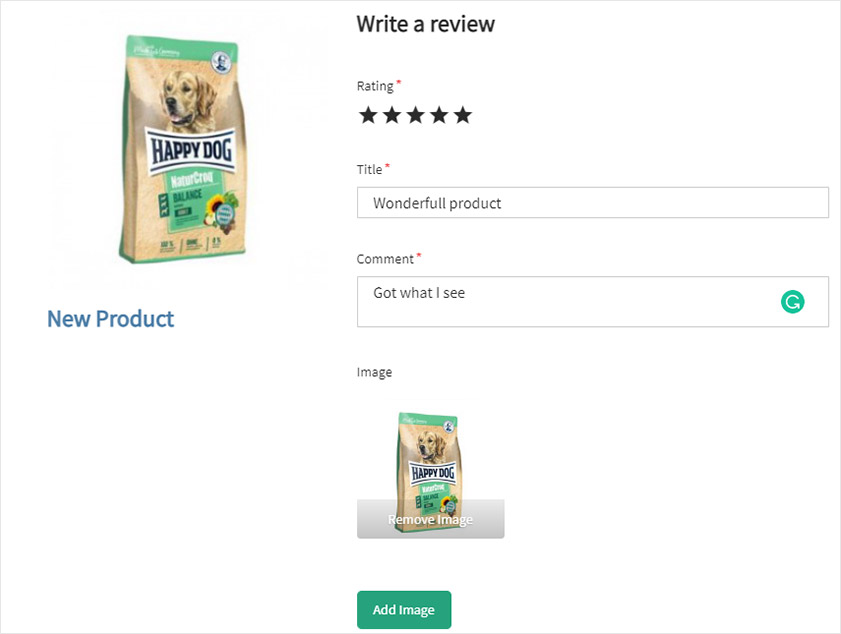 Multiple DataGrid on a Single Page
Last but not the least; Multiple DataGrid can now be implemented on a single page; with removing duplicated codes, removing the .gitkeep file as the folder is not empty and removing some commented codes. Also, Bagisto has updated the .gitignore file.
Bagisto v1.3.2 is a refreshing upgrade which can make a way to keep up with the latest trends, competition, and customer's expectations. Bagisto is the complete ecommerce solution for the merchants and the companies who are looking to scale their business.
We are proud to be a solution partner of Bagisto. We provide Bagisto shopping cart design, development, content management, multi-channel multi-vendor marketplace, multi-tenant SaaS solution, migration, regular upgrades, customization, and more to any size of business. Build and scale your ecommerce business with Bagisto development which gives you the complete flexibility and scalability!
Source: Bagisto v1.3.2 Official Release