A Comprehensive Guide for osCommerce to Shopify Migration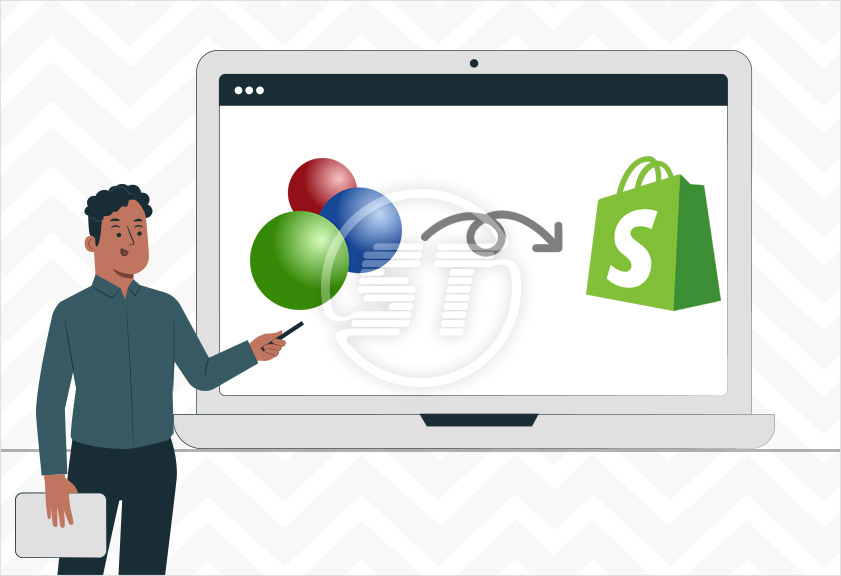 Migrating your online store data from one technology to another is a technical and intricate work. Though it is done readily yet, website owners need to pay attention to the security and backup of store data.
Are you planning to migrate your osCommerce store to Shopify?
osCommerce is an open-source ecommerce solution that is used for managing an online shop and Shopify is a subscription-based software that provides you facility to set up your online store and sell products. Although they both have many pros and cons but whenever you juxtapose two objects, one must win even if the triumph is marginal.
Shopify has numerous features that make your store performance-oriented, and these features add more functionalities to you store. So, if you are inclining towards Shopify and willing to migrate your existing store to this exceptional platform, it is a brilliant notion. This migration will be a boon to your online business.
Before you migrate, you should know everything about the migration from osCommerce to Shopify. We are here to bring those steps to light; therefore, you can perform easy ecommerce migration.
Migration from osCommerce to Shopify
Migrating your store data from osCommerce to Shopify implies you are transferring your data to set up the store on a new platform. Migration is not an interminable process; it gets ensued in a few steps. Once you are done with the migration, then setting up your store with Shopify is a cakewalk.
Your old store data remain safe in the migration process. All order ids, SEO configuration, and other pivotal information move to the new platform safely. Your store's old URLs will work as usual; just while migrating, at the second step, choose 301 redirects in additional options. When the migration process will accomplish and you will change your domain name to the old one, your old URLs will start working customary.
Usually, it does not take long to migrate the store data. In case it is taking a bit longer that is just because you are transferring too much data to Shopify and using third parties to config your products and integrate them with migration can also slow down the process.
Pre-migration steps
Before you start the migration, you ought to perform some pre-migration steps to prepare the resources for proper and organized data transfer.
Make ready to your osCommerce store

Prepare your osCommerce store data to migrate. Audit all the products, categories, SKUs, customers before you start the actual process. Decide which data is relevant and needs to get transferred and which one is outdated. Eliminate the data, which is not required.

Get your Shopify store ready

Prepare a Shopify store by signing up to Shopify and creating an account to start. With the step-by-step Shopify store pre-launch checklist; minimize the risk and help to launch an ecommerce Shopify store without a hitch.

Select a theme for your store

You should choose a theme for your store but should not customize it before migration. Because customization can affect migration so, whatever customization you covet to carry out with the theme, perform after you successfully migrate the entire data. You can spruce up the theme and store performing customization swiftly with Shopify.
OsCommerce to Shopify Migration steps
Migration needs both source store (osCommerce 1.x - 2.x) and target store's (Shopify, Shopify Plus) set up to start the migration.
Requirement to access of source store

To start the migration, it requires osCommerce shop (source store) URL with the number of products, orders, and customers. Also, it requires osCommerce database backup files, images, attachments, and downloads.

Source store review

Review the data and ensure that you are migrating relevant piece of information.

osCommerce database migration

Start migrating the database as per categories, products, and customers.

Test the Shopify store

Once the migration is done, scrutinize the entire store by testing to perceive if the Shopify store is running adequately and smoothly or have any issue. Also, check if the entire data has been moved or not.
So, this is a simple and quick 5 step process from osCommerce developers to transfer your online store from osCommerce to Shopify.
What data can be migrated from osCommerce to Shopify?
Products:
Name, SKU, Full Description, Status, Manufacturer
Price, Special Price, Stock status
Meta Title, Meta Description
Variants: (Price, Special Price, Name)
Additional Images
Quantity
Product images
Product Categories and Subcategories:
Name
Description
Status
Image
Manufacturers:
Customers:
First Name, Last Name, Email, Newsletter
Billing Address: (Company, Address 1, Address 2, Country, State, City, Zip Code, Telephone, First Name, Last Name)
Shipping Address: (Company, Address 1, Address 2, Country, State, City, Zip Code, Telephone, First Name, Last Name)
Address: (Street Address, Zip Code, City, State, Country, First Name, Last Name)
Orders:
Order Date, Order Status, Order Products: (Name, SKU, Option),
Product Price, Quantity, Discount Price, Tax Price, Total Price, Shipping Price
Customer Name, Email, Billing Address: (Company, Address 1, Address 2, Country, State, City, Zip Code, Telephone, First Name, Last Name)
Shipping Address: (Company, Address 1, Address 2, Country, State, City, Telephone, First Name, Last Name)
Coupons:
Reviews:
Created Date
Rating
Username
Comment
Blogs:
What data cannot be migrated while osCommerce to Shopify migration?
Multi Languages:
Unfortunately, you cannot migrate multi-languages to Shopify platform. In this case, you can use an app that will allow to translate the storefront into multiple languages or exploit the several stores.
Passwords
No way to migrate passwords from other platforms to Shopify since each shopping cart has its own password encryption peculiarities. Customer need to re-create a password.
Currency
Unfortunately, the migration of currencies to Shopify is not possible. All products and order totals will have prices set in the default currency established in Shopify, regardless of what currency is set in source cart. For example: if you're migrating a product that costs £100 to a Shopify store where USD is a default currency, its price after the transfer will be $100.
The above things require customization in migrated Shopify store. Our team of developers render exceptional designs and development solutions to craft custom-centric Shopify ecommerce solutions.
Additional Steps in migration
To make the migration process more interactive and smoother, you should follow a few additional steps.
Clear data on the target store before migration.
Create the 301 redirects in migration to redirect all your URLs (products and categories) to the target store.
Strip all the HTML tags from products and categories.
Post-migration steps
Post-migration steps add value to your Shopify store and enhance its functionalities.
When you test the store, look over the shopping experience, product and category mapping, product search, cart management, payment, checkout process, and every crucial component on page should work without any problem.
Shopify has an array of plugins and extensions; use them to make your store more user-friendly, quick, and impressive. You can customize the new Shopify store with additional options and advanced attributes mapping.
Reaching out to existing customers with an intuitive newsletter and inform them about your store's new functions will be a pro-active and avant-garde idea.
So, this is the complete migration and store setup process. Migration of products, old URLs, order statuses, customers, etc., every important facet of your store can be done expeditiously with Shopify.
In-short
Migrating your store from osCommerce to Shopify increases the overall performance of your store because of Shopify's wide range of features. When you decide to switch the platform, you contemplate your thoughts, do thorough research, and then move ahead. It can be a troublesome process if you do not perform the steps in a sequence.
The process seems quite easy, but it needs careful execution. For the sake of whole store data, bring off the migration keeping data safety in mind. In case of any doubt, reaching out to a professional will be an ingenious choice.
Skynet Technologies provide osCommerce to Shopify migration in an easier, smoother, and quicker way. We make a diligent effort to provide the effective use of Shopify and manage your scalability needs. With a perfect blend of Shopify expertise and experience, we render top-notch Shopify ecommerce development that reflects your brand and meet your business goals. We have a versatile in-house ecommerce development team who offers end-to-end services to help you kickstart your digital store. Contact us at hello@skynettechnologies.com or submit the following request free quote form to know more about our osCommerce to Shopify migration or new Shopify store development services.