osCommerce v4 is Released – Take a look at the feature-rich release!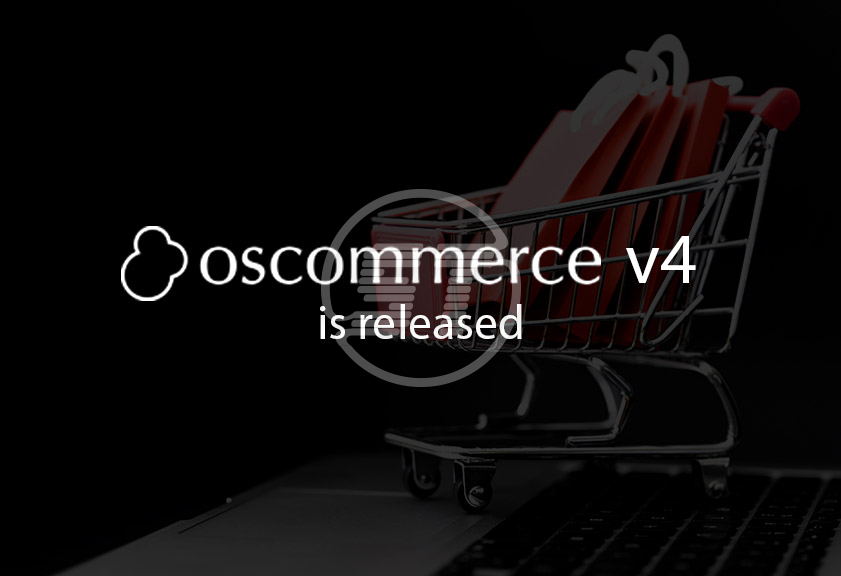 osCommerce is around since 2000 and serving the ecommerce industry with its exceptional features and qualities. As we know, it was a free shopping cart and an open-source ecommerce platform, which had support of the community of both developers and merchants. It was well developed, but somehow with time, osCommerce was left behind by its competitors Magento and Shopify.
And then all the old websites built on osCommerce needed an upgrade due to the obsolete code of this platform. Since the codebase was not getting any updates from its beginning, it was required to use all the outdated software to run the website. Do you think, it was intelligent to use such vulnerable platforms? A big no for obvious reasons.
Thus, lately in 2022, osCommerce's new management gave a makeover to this platform and changed its look and feel. The new osCommerce version 4.0 has released in July 2022. Besides many new features, osCommerce is using all the modern tools, techniques, and server software that can be installed on any modern hosting account.
It was a much-needed move for this efficient platform. Are you interested to know more about the new osCommerce v4.0? Read the article further.
osCommerce releases in a glance!
After the first release in 2000, and a long wait of 21 years, in November 2021 osCommerce v4 Beta 1 was released to a limited number of beta testers. Then in January 2022, Beta 2 for multiple Beta testers was released. osCommerce v4.0 public demo was released on June 1, 2022. And finally, on July 25, 2022, osCommerce free shopping cart and open-source ecommerce platform is released with modern, secure, modular, and feature-rich software.
"We are delighted to release osCommerce v4.0. osCommerce is a free shopping cart, and is back to being a mainstream Ecommerce platform, and be more cost-efficient than your competition. We urge existing users of old osCommerce to upgrade as soon as possible, and we always welcome the new users". - This is how Mr. Vadym Gurevych (CO-CEO osCommerce) announced the release of this latest version.
What's all new with osCommerce version 4.0?
New osCommerce is a more reliable, flexible, and upgradeable ecommerce platform, which you can integrate with any third-party software and application.
It is made keeping SEO in mind with ample other features like multiple sales channels, design themes, visual editors, CMS, product management features, open API, advanced stocks, and many more.
The new server software (PHP 7.3+ and MySQL 8.0) has been used in this version.
The use of the development framework YII2 has been sewed up.
It is an all-new mobile-friendly version.
Multiple sales channels support such as Amazon, eBay, extra sites, etc.
In-built integration with App shop.
It allows osCommerce developers to create and sell their apps easily.
Template designs get utter support.
In-built substantial CMS.
Exceptional features in advanced sales, marketing, and inventory management.
With this latest version, users get a Demo page where they can precisely experience what their ecommerce store will look like and how they will get the most out of it.
osCommerce version 4.0 is made for both small and complex ecommerce systems to streamline their processes.
Moreover, it is cost effective than its counterparts like Adobe Commerce, Shopware, etc. The idea behind this is to help businesses to save ecommerce development costs and create simple small websites and complex fully integrated ecommerce systems.
Either B2B or B2C, warehouse management is a breeze for this all-new osCommerce v4.0. The latest version is easier to upgrade and faster to bring business ideas to the market. Ecommerce developers can provide their clients with more advanced implementation faster and cost-effective.
The previous version is obviously different from this latest version, as mentioned above. The latest version has a separation of code and design, an osCommerce App Shop and Apps (free and paid), and an in-built WYSIWYG editor are also part of osCommerce v4.0 now.
Wrapping up
In ecommerce, you must have technology, tactics, and trust to run a successful business. Tactics and trust you can bring only if you have appealing and modern technology to support them.
osCommerce v4.0 is one such technology, which is armed with everything you can ask for to build an efficient ecommerce store. Since it is merely a few days older release, the makers have taken care of every smallest detail, thereby, the new osCommerce can give a tough fight to other big ecommerce players. The websites that are already on osCommerce, might need professional help to upgrade to the newer version.
We are proud to be an osCommerce official Partners
We deliver full osCommerce development services including modern design, development, osCommerce v4 upgrades, osCommerce migration, PHP patch upgrades, add-ons, API integration, maintenance, and support. Get in touch with us at [email protected] or submit the following request free quote form to know more.