What's new in WordPress 5.8? - Top Key Features to Look Out!
WordPress 5.8 is now available, released on July 20, 2021. WordPress 5.8 takes a significant step toward Full Site Editing But there's a lot more in the second WordPress release of the year than FSE (Full Site Editing). For both users and developers, there are tons of improvements such as a block editor, a new theme.json mechanism, Duotone filters, WebP image format support, additional block support, and much more in WordPress 5.8 development. So, Get ready for new features and updates of powerful site-building tools in WordPress 5.8.
NOTE: WordPress 6.1 released. Check out WordPress 6.1 Features and Functionalities.
New Features and Major Improvements of WordPress 5.8 Release
Use blocks to manage your widgets
The first feature we would like to talk about is the ability to add blocks to your website's widget areas. In WordPress 5.8, you may now add blocks to widget areas across your website and preview them live in the Customizer. Manage Widgets with Blocks extend the block editor's flexibility to your WordPress sidebar. This provides you with even more control over the content and design of your pages. You may now create layouts with columns and spaces, or modify the design by adding the background color, font, and so on.
The new widget experience using the Customizer or by browsing to the Appearance » Widget's page.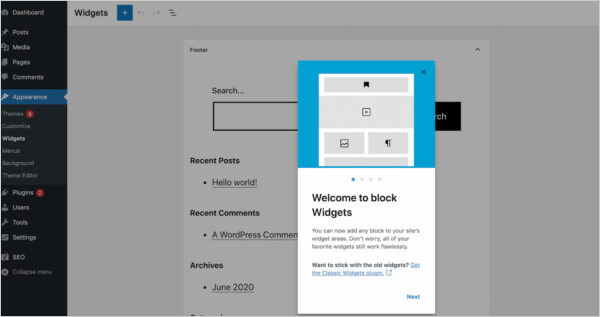 Display Posts with New Blocks and Patterns
In WordPress 5.8, the Query Loop Block allows you to display posts based on parameters you specify, much like a PHP loop but without the coding. Create a portfolio or a page full of your favourite recipes by easily displaying posts from a specified category. Consider it a more efficient and advanced version of the Recent Posts Block! Plus, pattern ideas make creating a collection of posts with the design you want easier than ever.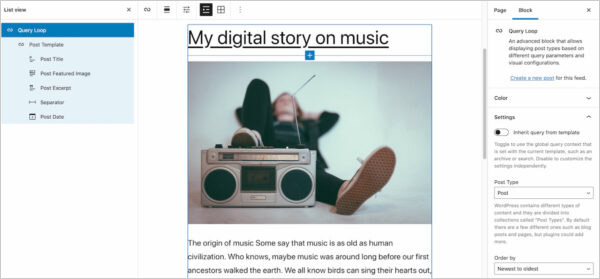 Duotone filters
The duotone filter for your images is another interesting tool that has been added to WordPress 5.8. Duotone can help you style your images (or videos in the cover block) to blend in with your overall theme. This filter allows you to pick colors for an image's shadows and highlights. You can choose from a few present duotone colors, but you can also modify them to make your own duotone filter. Also, this filter is available when you add an image or cover block to a post or page.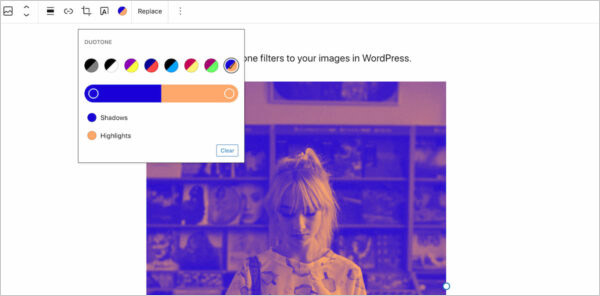 New Template Editor
The new template editor is another element included in the full site editing toolbox. You can edit templates that contain your content using the familiar block editor— Simply enable a block theme or a theme that has opted to make use of this feature. While using a familiar block editor, you can switch from editing your posts to editing your pages and back again. There are several essential blocks available while creating these templates, including:
Site Logo / Site Tagline / Site Title
Query Loop
Post Date / Post Title / Post Content / Post Featured Image / Post Categories Post Excerpt / Post Tags
Login/out
Page List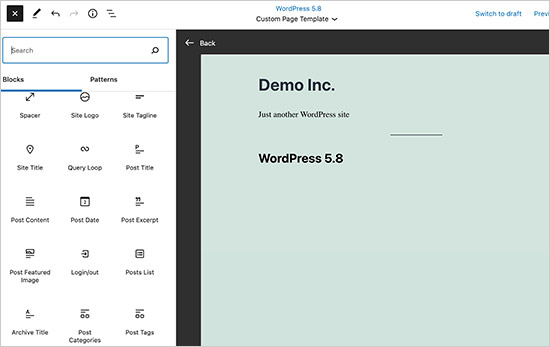 Improved List View
The list view panel in WordPress 5.8 was upgraded. It provides a list of all the blocks in your post or page. This may not be the most noticeable update, but it is simplifying the editing and selection of your blocks. However, it is using more of a popup that would disappear when you clicked anywhere else. You can select the list at the top of your post editor, a sidebar will open with all your blocks. And this sidebar will stay with you until you decide you no longer require it!
Block Patterns Suggestions
When working on your content and editing one of your blocks, you may be able to select the Patterns tab. This tab is suggesting patterns based on the block you have chosen and fitted your current content into the chosen pattern. This release includes a few new patterns, and future releases will likely include more pattern suggestions. These patterns can also be found by creating a new block, then going to the Patterns tab and picking one of the dropdown options. Button, column, gallery, headers, text, and query patterns are currently available in the block editor.
Theme.json
The Global Styles and Global Settings APIs are also introduced in this release. By creating a theme.json file, WordPress developers will be able to customize editor settings and styles. In this file, you can adjust the existing and new editor settings, as well as allows to choose how much customization clients will be allowed to do. This configuration file sets default styles and enables or disables features for both a website and blocks. Also, if you're a theme builder, you can try out an early version of a new feature that could make your life much easier.
Dropping support for Internet Explorer 11
If you use Internet Explorer, you should be aware of important information. As of right now, WordPress dropping support for Internet Explorer 11. This indicates that you may face challenges in managing your site that will not be resolved in the future. If you're still using Internet Explorer 11, it is strongly recommended to upgrade to a more modern browser.
Adding support for WebP
WebP is storming the web & WordPress has jumped on board as well. By using the WebP image format, your images will be 30% smaller in file size compared to PNG and JPEG without losing quality. As a result, sites load faster and consume less bandwidth. You can upload WebP images to your WordPress website without needing any plugins with WordPress 5.8.
Easily Select Parent Block in Nested Blocks
You can simply group blocks using nested blocks like columns and groups. However, selecting the parent block inside a nested block can be difficult sometimes. In WordPress 5.8, the parent block button will always be visible in the toolbar.
Adding additional block supports
Users spend most of their time creating content on the block editor page. Block support was already added in WordPress 5.6 and 5.7, and this recent release adds a few more. WordPress 5.8 introduces a few new block support flags and customization options for your registered blocks. You can learn more about it in the block supports dev note.
Changes Under the Hood
WordPress 5.8 introduces many new features for developers to explore and implement into their own themes, plugins, and projects.
Some of these under-the-hood changes are:
On multiple WordPress admin panels, context aware filters are used to block editor APIs.
WordPress recovery mode email message will now only appear when an email may be sent.
Summary
We hope this article gives you a sneak peek at the New Features and Major Improvements of the WordPress 5.8 Release! As a leading WordPress Development Company, we provide WordPress 5.8 Development Services, WordPress Migration and Upgrade services, WordPress ecommerce development, WordPress Maintenance and Support, WP Theme Customization, customized WordPress plugin development services, and much more.