WooCommerce 7.6.0 is Released – Explore the New Features and Improvements!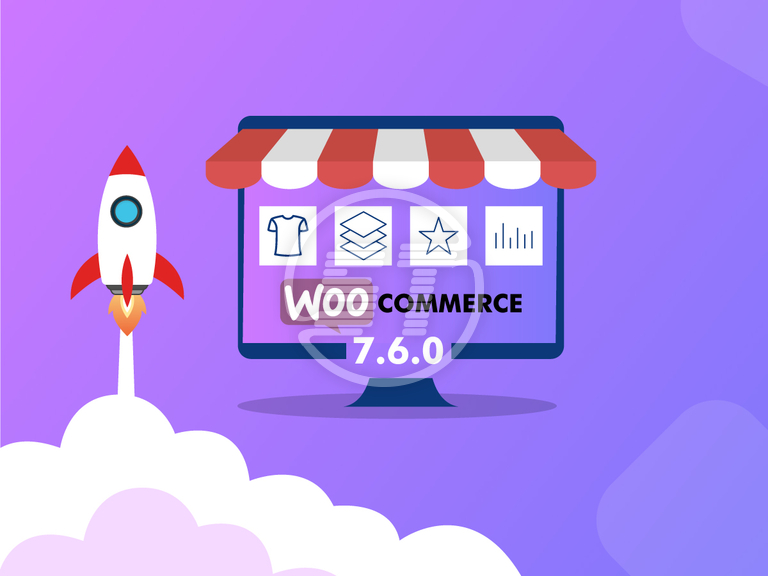 WooCommerce 7.6.0 was released on its scheduled release date - April 11, 2023. The new version has 485 improvements from various contributors in WooCommerce Core and 188 improvements in WooCommerce Blocks. This release is backward compatible with its previous version. Thus, updating with the newer version is easy.
WooCommerce itself is an exceptional platform for Ecommerce development and with time, it has evolved to another level. This new release of WooCommerce has many improvements that were needed in its previous version.
Read along and know about all new features and functionalities that have been added in WooCommerce 7.6.0.
YOU MAY ALSO LIKE: WooCommerce Web Design Tips
WooCommerce 7.6.0 - What's new?
If we come across any new version, additional features and functionalities are obvious. Similarly, organizations that are using WooCommerce are expecting many new changes with WooCommerce 7.6.0, but they might be curious to know what changes come along with this version.
A few highlights of the changes are:
Cache for orders is added, which can be used if custom order tables are enabled.
The product importer gets an encoding selector.
Now product sorting by menu_order is allowed in the products widget.
Add or remove coupons by login in to order notes.
The new version fixed incorrect usage of dispatch, useSelect, and setState call in the homescreen with settings and onboarding package to ensure compatibility with current versions of the Gutenberg plugin.
Now product importer will import all lines in a CSV file.
In WooCommerce 7.6.0, Analytics Orders and Variation Reports get attribute filtration.
On the shop page, incorrect VAT-exempt behaviour is fixed if product prices are exclusive of taxes.
Order is not a CPT anymore; therefore, it is treated as a separate resource when validating for webhook.
Truncate and dbDelta can be used over the drop table by switching wc_product_attributes_lookup table management.
WooCommerce 7.6 New Features Highlights
1. New Blocks
The new version of WooCommerce has new blocks for single product template to port over its existing functionalities to the Site Editor.
Single Product Details Block – Merchants can add product descriptions, information, and reviews to their stores using this block version in Single Product Template.
Add to Cart Form Block – This version of the block enables merchants to show a 'add to cart' button in Single Product Template. More options are displayed as well based on product type, quantity, and variations.
2. Saved payment information will not show up for disabled payment gateways!
WooCommerce 7.6.0 has improved block-based checkout, which is a thoughtful idea to prevent saved cards from displaying if added payment gateways are disabled. It implies that users can see only enabled payment options and pay via a saved card.
3. Block-based Checkout has clearer Event names
Checkout events in the block-based checkout ships along with changes to make it clear and eliminate confusion. Myriad older events are renamed as well to improve their accuracy:
onCheckoutValidationBeforeProcessing renamed to onCheckoutValidation
onCheckoutAfterProcessingWithSuccess renamed to onCheckoutSuccess
onCheckoutAfterProcessingWithError renamed to onCheckoutFail
onPaymentProcessing rename to onPaymentSetup
4. Mini Cart block gets improved performance with a finer look and feel
WooCommerce 7.6.0 comes with various improvements to the Mini Cart block. Now it is more optimized to provide better performance. Even if the browser is idle and you open the Mini Cart, the content is preloaded in the background and shows up immediately. Moreover, there is a new Empty Mini Cart button, which enforce buyers to add products to the cart, that matches your theme styles.
5. New Product blocks have improved attributes filtering
This latest version of WooCommerce has a new Product block, which allows product filtering by attributes right from the Editor interface. A User-friendly collapsible menu with attributes will uplift the overall user experience as well.
Also, filtering attributes by typing their names make this process quickest. These improvements in Product block provide a systematic experience in order to select the products of your choice to display.
Moreover, now you have a live preview option to see how the block will be displayed in the frontend while checking the attributes.
YOU MAY ALSO LIKE: WooCommerce SEO Tips
6. Enhanced margins in Product block patterns
Patterns that use Product blocks now ship along with scalable and consistent margins. A list of those patterns is –
WooCommerce 1:1 Image 4-Column Product Row
WooCommerce 3-Column Product Row
WooCommerce 4-Column Product Row
WooCommerce Large Image Product Gallery
WooCommerce Minimal 5-Column Products Row
WooCommerce Minimal Product List
WooCommerce Product Gallery
WooCommerce Product list with 1:1 Images
WooCommerce Product list with full product description
These are some of the changes that you will find in the latest WooCommerce 7.6.0. If you want to see an entire log of changes then check out its readme.txt file.
7. Multichannel Marketing
There is a new Campaigns card for Multichannel Marketing, which helps marketing channels to roll out their marketing campaigns using basic metrics on the marketing page. Creating campaigns is simpler; you only have to use the 'Create a new campaign' model and you are good to go.
8. Actions and Filters changes
WooCommerce 7.6.0 comes with two new actions and three new filters, which are:
Actions:
woocommerce_reduce_order_item_stock – If stock is reduced to a specific limit, it gets to shoot.
woocommerce_widget_layered_nav_filters_start –To start the Layered Navigation Filter Widget, this action allows third-party developers to add their own filters.
Filters:
woocommerce_product_allow_backorder_use_radio – 'Allow backorder?' option will use a radio button or select, will be controlled by this filter by third parties.
proceedToCheckoutButtonLabel and proceedToCheckoutButtonLink – Text and link on the 'Proceed to checkout' button can be altered using these two filters.
WooCommerce 7.6.0 doesn't have any template changes.
No database changes for this version.
This latest release is free from deprecations as well.
YOU MAY ALSO LIKE: WooCommerce Maintenance Tips
Wrapping up
WooCommerce 7.6.0 has come up with changes and improvements that were reported by many developers and contributors. Its community also helped in enhancing WooCommerce Core and Blocks.
At Skynet Technologies, we provide your customers with an exceptional and distinctive shopping experience through a top-notch ecommerce store with our WooCommerce development service. Our team of WooCommerce developers are highly skilled, intuitive, and have a deep understanding of the user journey, prioritizing accessibility considerations. We conduct thorough analysis of both user behavior and system functionality to ensure precise execution of all visual and functional aspects.