Top Black Friday Marketing Strategies to get the most of out the sales event!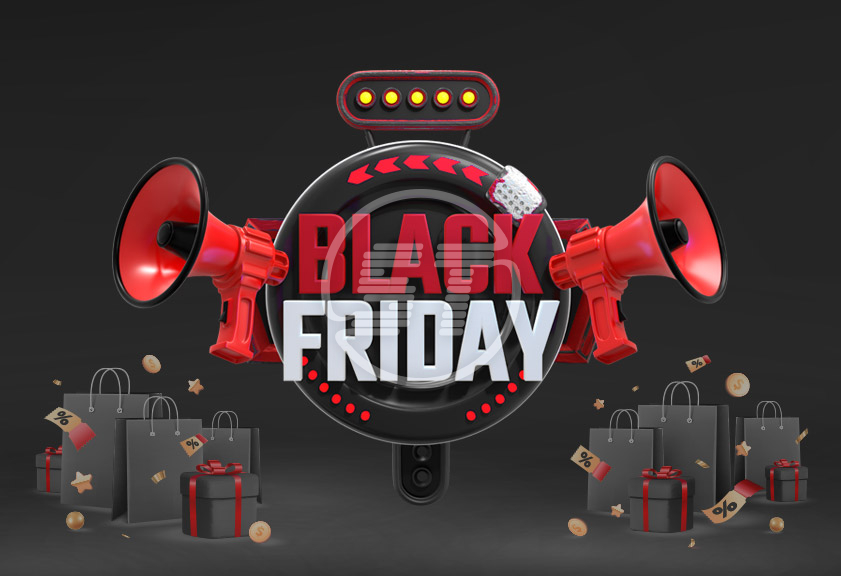 Holiday shopping creates new records every year. From Halloween to New Year, is one of the crucial spans for merchants to work harder on their online stores to offer the best experience with enticing deals to grab maximum traffic.
However, Black Friday has its different craze among people. It occurs on the fourth Friday of November, approximately a month before the Christmas. A significant number of shoppers start their Christmas shopping with Black Friday's massive discounts and offers.
Usually, online merchants offer unbelievable deals to their customers for four consecutive days, starting from Black Friday which concludes at Cyber Monday. This year's big day for online merchants is around the corner, and they are pulling up their socks to come up with the most suitable campaigns for their stores.
Is your online store ready for Black Friday? What are your marketing strategies to entice customers?
If you are still figuring out how to allure your potential customers, we have solutions for you. Read this article to know how to draft and design Black Friday marketing strategies to boost your sales.
YOU MAY ALSO LIKE: Ecommerce Holiday Marketing Tips
What is Black Friday?
Following Thanksgiving Day, the last Friday of November is called Black Friday. It started in Philadelphia, which always witnessed more than usual traffic of shopaholics after Thanksgiving. Slowly, it became a trend and was celebrated as a shopping festival by both merchants and shoppers.
The sale lasts usually for four days, and this is the most yielding time for online stores. Black Friday sees millions of buyers every year and the sales hit an astonishing figure (you can check previous years' statistics).
Thus, the significance of Black Friday and marketing strategies for this day is inevitable. If you also wish to touch some unreal numbers this year for your online store, apply proven marketing strategies.
Black Friday Marketing Strategies
1. Shoppable content is a sure shot way to boost sales
You can begin with adding Shoppable galleries also known as Shoppable content. It is a brand's social media or user-generated visual content featuring brand products that can be turned into Shoppable content by tagging products, price, details, and CTA.
You can gather different visual content, tag your products to them, and publish that content or Shoppable galleries on the website, emails, or your social media profile. It is one of the fruitful ways to boost sales through increased user engagement, brand awareness, and trust generation within the limited investment.
2. Surprising elements every hour can be a powerful weapon
Think once, how about surprising your customers with offers and deals every hour? It is a result-giving Black Friday marketing strategy that cheers your customers up and encourages them to revisit your store to avail of the offers.
Brands can also schedule their deals for every hour on social media networks using the scheduling apps such as Buffer. It works automatically, once you set it up and helps you stay organized on the chaotic and hectic Black Friday sale.
Most importantly, don't forget to create an alluring homepage banner to showcase the smashing deals and offers per hour.
3. Thoughtful social media marketing and social commerce to attract customers
Social media has the power to increase your sales by helping you to get more customers. Research says the number of millennials buying products on Black Friday is huge and they are the ones who leverage social media channels and content the most to exhibit the brand and its products.
Brands have to find out when people are most active during the entire day and schedule the post at that time using the scheduling apps. Planning Black Friday marketing campaigns earlier through social media always beneficial because you get time to efficiently generate brand awareness and boost sales.
With increasing social media usage, every social platform has included their own commerce places to sell products. If your products are available on these marketplaces, Black Friday will be more yielding for your brand. Social commerce helps you increase your ROI rapidly and the reason is only one that your target audience is available on social platforms 24*7.
Some of the tips for successful social commerce campaigns are - know your target audience, post ads carefully to entice customers, if needed take help from influencers, product information can be tweaked as per specific channel, product information must be updated and relevant, and many more.
Social media marketing and social commerce are the most powerful tools to boost your Black Friday sales.
4. Tempting benefits for customers are additional advantage
Black Friday marketing campaigns not only mean colossal discounts and offers, but also give customers much more. They get free shipping, cashbacks, easy returns, bonus points, gift cards, rewards, and whatnot. This is a great way to entice customers and gain brand outreach.
5. Hashtags to make your brand highly discoverable
Hashtags are the best way to expand your reach on social media channels. You must have noticed hashtags on social media. They help your brand to become popular and easily discoverable among your target audience during the Black Friday sale. Customers who are looking for specific deals on their desired products, reach your products if you use the right hashtags with relevant products.
6. Pre-sale brand curiosity appeals customers
A big concern for online merchants is how to stimulate and magnetize customers towards the Black Friday sale and prompt them to buy your products. If you create pre-sales brand curiosity marketing campaigns, it improves your sales during the Black Friday sale. Because the timer beside the products provokes customers to purchase their desired products and they start making their Wishlist.
7. Attract old customers with remarketing
Remarketing will help you reach your old customers. You can relaunch your potential customers by informing them about your Black Friday sale by applying retargeting. Try and retain potential ecommerce customers, don't let them go to your competitors. Set up retargeting campaigns in such a way that people who visited your website in the past but did not order, will come back and purchase from you now.
8. Converting Black Friday popups
An effective Black Friday campaign needs properly designed popups. Using these popups designs, you can promote your deals, grow your mailing list, and boost your sales. You can customize them as well as per your deals and offers for the users.
There are numerous readymade templates available to design popups and notification widgets for the upcoming Black Friday sales. You can choose templates according to your industry and target audience and create your popups.
9. Moment marketing management is a trending strategy
It is a vogue marketing strategy of leveraging trending topics among your potential audiences relating to offline and online environments and incorporating them into your brand's marketing content.
You can create social media marketing strategy on trending events and share them on different platforms to generate positive brand awareness.
10. Optimize the website for Black Friday shopping
To run a successful Black Friday sale, website optimization is a must. Create unique landing pages so that users will find your website ready for sale and festival. Website speed is another important element to pay attention on. For that, remove unnecessary content, optimize images, increase your bandwidth, etc. because Black Friday supposed to witness more than usual traffic. And if website is not optimized for speed, it may show slower performance due to heavy traffic.
And most importantly, fix checkout page issues (if there are any) and make it easy and quick for customers. The progress bar, no last-minute surprise fee, autofill option, guest checkout, pay on delivery option, etc. are some of the tips to optimize checkout page.
11. Perform a A/B testing for your marketing campaigns
Since the Black Friday sale is important for your brand and you want all your strategies to work as efficiently. Thus, you must integrate A/B testing for all your Black Friday campaigns to find out the shortcomings that you can modify and impress your audience with proper preparation and execution.
12. Follow up with customers after Black Friday
It adds more quality in your customer service when you don't forget your customers after sale. Black Friday can be overwhelming for you and it is possible that you get busy with planning for other holidays' strategies. But that should not be the case.
Plan in advance for the whole festive season and keep your strategies ready for post Black Friday follow ups. Also, even after Black Friday people shop till New Year. Therefore, your strategies for rest of the festive time should be ready in advance.
Wrapping up
Capitalize on your customers acquired during this holiday season by offering result-driven marketing strategies. The Black Friday marketing campaigns must stand out in order to achieve desired aftermaths for upcoming Black Friday sale.
Online merchants always seek higher customer engagement and improved sales figures, especially on events like Black Friday. That's why it's important to stay on top with a digital marketing agency like Skynet Technologies. As a Bronze partner of adobe solution, Skynet Technologies provide secret marketing strategies to create some out-of-the-box marketing campaigns for the Black Friday sale this year. Get in touch with us at hello@skynettechnologies.com or submit the following request free quote form.