Ohio ADA website compliance and standards to improve digital accessibility!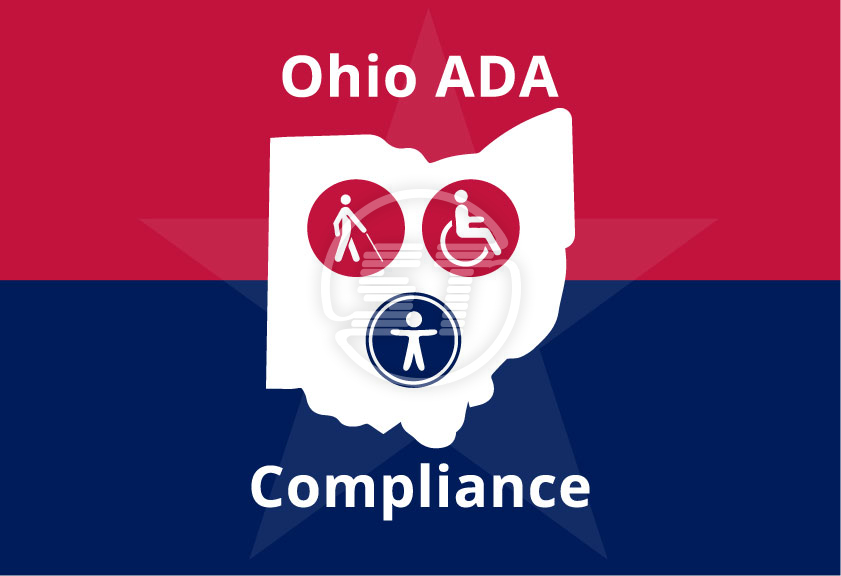 Ohio State has a goal to achieve complete web accessibility thereby their citizens can access each digital product and service whenever they want to.
It is imperative to ensure maximum digital accessibility in administrative work and academics as well. So, the major population of Ohio including students and employees of all public and private sector organizations and educational institutes can use every web product. The guidelines apply to those who design, buy, and use their digital resources in Ohio.
Initially, the policy was known as the Interim Digital Accessibility Policy, which came into effect in August 2018. Before 2018, there were Minimum Web Accessibility Standards (MDAS) adopted in 2004. After many revisions, MDAS became the Interim Digital Accessibility Policy and now it is Digital Accessibility Policy.
Minimum web accessibility standards' requirements
The Ohio State's Minimum Digital Accessibility Standards have been adopted directly from some of the W3C guidelines.
The Web Content Accessibility Guidelines (WCAG) 2.1 level AA must be followed by all organizations in Ohio.
WAI-ARIA authoring practices 1.1 to ensure web-based content meets expected behaviours for users of assistive technologies.
Amendments and Clarifications
A few clarifications and amendments are applied to some of the WCAG standards.
Success Criterion 1.2.5 audio description (pre-recorded) is not needed for MDAS. However, Success Criterion 1.2.3 is needed to apply in which a transcript for pre-recorded media is needed if an audio description track is not provided.
Success Criterion 1.4.11 non-text contrast applies to focus indicators and Success Criterion 2.4.7 helps users to rely on keyboard focus if the document overrides default browser styles.
You may also like: Website Accessibility Audit
Revision history
Here are important revision dates in MDAS.
2004 – Minimum Web Accessibility Standards created.
2013 – MWAS updated with new standards and recommendations.
May 5, 2017 – Minimum Web Accessibility Standards was renamed to Minimum Digital Accessibility Standards with updated WCAG 2.0 and WCAG2ICT standards to expand the scope of accessibility improvements.
2018 – Minimum Digital Accessibility Standards became Interim Digital Accessibility Policy.
June 22, 2020 – WAI-ARIA authoring practices 1.1 was added to the standards.
September 1, 2021 – WCAG latest version was adopted by the government to create new Digital Accessibility Policy. Also, its clarifications and amendments section were added.
You may also like: Common Website ADA Compliance Mistakes
Ohio website accessibility considerations
To meet web accessibility in Ohio, all digital information and services must be designed for functional accessibility and not only for technical accessibility. To put it simple, the web pages not only be coded correctly but they should be tested thoroughly thereby users can use them effectively to perform the given task.
Functional accessibility can be achieved by keeping your website resources straightforward, unambiguous, and easy to use. For instance, users with visual impairments use screen readers to render text and images as speech or braille output thereby they can navigate through all the web pages. Thus, you need to create such pages that have proper chunks of content with correctly mentioned links, headings, accessible form elements, clearly written alt text, etc.
Improper semantics and inappropriate textual descriptions for images and links make it difficult for screen readers to understand the content and does not help users with the right information. At times, some dynamic content and plugins can also be inaccessible via screen readers. Ohio State recommends websites testing for a variety of screen readers to avoid accessibility issues.
Some of the important requirements for web accessibility are:
Text zoom-in and zoom-out are needed for users suffering from low vision.
Foreground text and background color contrast must be proper as suggested by WCAG.
Websites should not use color as the sole means of disseminating information so that users who have issues perceiving colors do not face problems while accessing the content.
Audio/video content needs captions or an alternative to auditory cueing.
Furthermore, limited motor acuity can affect user's response time to navigate through or they might not navigate at all using a mouse or trackpad as a pointing device; thus, website speech recognition compatibility is needed.
Websites must have information representation in such a way that even users with cognitive disorders (verbal, reading, or attention issues) can read and understand the content. Clarity in presentation, logical structure, correct grammar, and spelling, etc. can make a web page comprehensive for users with cognitive issues.
PDFs and other attached documents must also be accessible.
Legacy digital products or services must offer accessible solutions if they are specifically requested by users to be made accessible under WCAG standards within a given timeline.
Archived digital information or services are not required to convert to meet accessibility standards unless they are requested by or on behalf of the eligible person.
Hire ADA coordinators to review your website and help you with required improvements.
Exceptions from accessibility adherence to WCAG 2.1 standards
If digital compliance is not possible in some cases or require huge measures to transform the inaccessible information, then organizations may request an exception for that part.
Requests for such types of exceptions can be made within the accessibility exception tracking system using the given accommodation-based exception request form.
As soon as the requests are received by ADA coordinators and if they find product information, web designs, or user feedback shows a profound difference between the original product and accessibility guidelines, they start exceptions.
You may also like: International Web Accessibility Standards
Design, review, remediate, and offer accessible solutions!
It is a straightforward process of building an accessible web world. You only need to adhere to defined laws and guidelines while designing or remediating the website or application. Read WCAG standards thoroughly or hire an experienced web development company to resolve accessibility issues of your website.
We are a proud International Association of Accessibility Professionals (IAAP) and World Wide Web Consortium (W3C) member which help us to be a part of the global accessibility community and stay up to date with compliance guidelines.
Is your website, web app, documents, or mobile app accessible to people with disabilities? If your answer is No and you are looking to convert your business website or application into ADA or looking for a new accessible website or application, our specialized and dedicated team provides complete ADA web accessibility services including audit, strategy, design, and development services that comply with accessibility regulations such as ADA, WCAG 2.0, 2.1, 2.2 and Section 508 within your budget. Reach us at [email protected] or submit the following request free quote form.