How to perform a seamless accessibility audit of your website?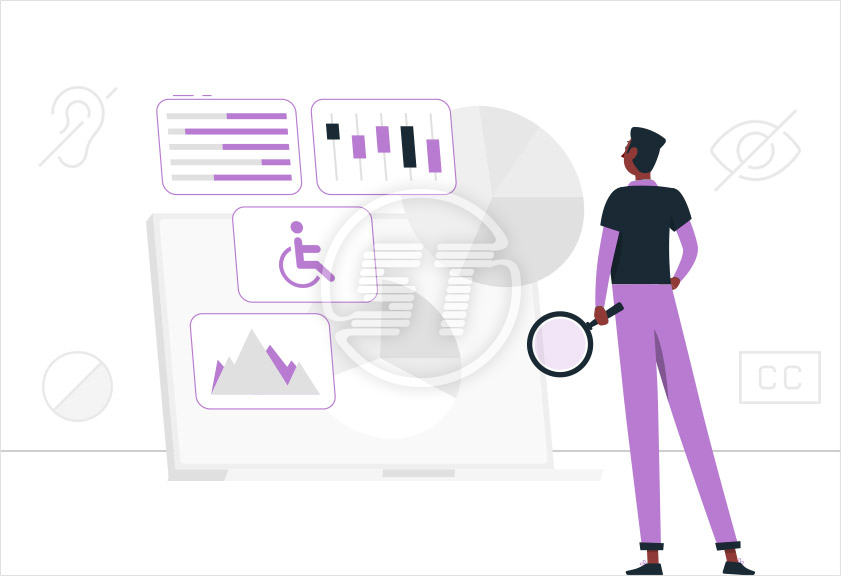 Executing an accessibility audit at regular intervals is the best way to know the exact situation of your website's performance, main issues, and areas where the website is doing well. It is a process of gauging digital property for accessibility problems to see if it is accommodating the needs of people with disabilities or not.
If the website is not conforming to accessibility and ADA standard compliant guidelines, users with disabilities will find it unusable. Disabled users rely on assistive devices to access the web. For instance, visually impaired people use screen readers and a few with motor issues use the keyboard instead of a mouse. Similarly, users who have hearing issues take the help of closed captioning to watch or understand the video or audio content.
These are a few facets that need to be accessible and in the accessibility audit you find out if all above mentioned and many more other requirements are getting fulfilled or not. We shall discuss this topic in detail to know, how anyone can perform a flawless accessibility audit of a website.
Importance of digital accessibility
Access to information via websites and applications has a colossal share of user experience in evolving digital world. And this is the reason accessibility compliance has become a priority to ensure equitable access to digital properties, resulting in easy access to information that is usable to everyone. Moreover, it is a legal requirement designed to ensure complete access to the web for all.
Digital accessibility is no more an option, it is mandatory for each website available on the world wide web.
Crucial areas of technology for digital accessibility
Digital accessibility covers each aspect of technology used by people. Each of the below-mentioned facets of technology is crucial from the users' point of view. Use of all the digital properties have increased after pandemic, due to which if they are not accessible many users will not be able to use them.
Websites
Mobile apps
Customer portals
Ecommerce sites
Enterprise software
IoT products
Kiosks
Medical devices
Right approach to perform an accessibility audit
There can be significant scenarios where your website can fail to accommodate users with some sort of disability. You have to find all those issues and fix them. Fortunately, you don't have to put in much effort if using accessibility tools. The audit tools help you to know all the accessibility issues and give suggestions to patch them.
When you run the test on web pages, you ought to see how well pages are conforming with WCAG guidelines. If there are problems, you will find them automatically in some or other way via alerts or notifications.
You have accessibility auditing tools to review the website. ARC toolkit is one of the reliable accessibility tools to rely on. Then there is the WAVE tool, which is a Chrome plugin that you can download from the Chrome web store or Firefox. Once the plugin is downloaded, you only have to do is access your website and click on the WAVE icon on each page and you will start getting feedback.
The accessibility tools can help you identify maximum accessibility issues of your website, however, issues like video captions, podcasts, and PDFs will need extra vigilance. They might appear under Alerts. Thus, ensure to add captions to your videos and offer podcasts transcriptions to make them accessible.
Furthermore, Adobe Acrobat has an accessibility checklist, for you can run before adding PDFs to your website. Tools are indeed helpful in accessibility audits, but you have to be careful while reviewing the website. In case, tools miss something, you can go for manual testing. It always works well to find website accessibility issues because real users assess the website.
YOU MAY ALSO LIKE: How to make PDF ADA compliant?
How to Execute Error-free Accessibility Audit?
Accessibility audit is a daunting task. It requires time, effort and expertise to perform this crucial task. Auditing can be done in many ways, depending on the size of your website and scope of the digital assets. It is recommended that you run a full audit in order to check complete accessibility standards, which are WCAG 2.0. level AA or AAA, and section 508.
Firstly, check all the required standards conformance that are mentioned above. A website must adhere with WCAG 2.0 or 2.1, level AA and section 508. These are bare minimum requirement for a website to be accessible.
Then you need to determine the scope of your audit. You shouldn't only focus on the HTML pages of the website, PDFs, videos, outgoing emails, mobile apps must also get checked for accessibility. You can start it with scanning the user experience for digital content and then proceed with other facets.
The platforms your users employ to access your website, are also required to get checked, including web browsers, ATs, and operating systems. Furthermore, if you are using a template on your website, you are sorted by auditing a single instance only (i.e. template) and can save your time and effort both.
WCAG standards are thorough and detailed, and they need years of experience to adhere to these practices seamlessly. If you find any trouble in understanding these standards, better to hire experts who know how to create an accessible website and test it. Selecting a right expert will also help you to take benefits of consistent and proven methodologies for manual and automated testing.
For low-hanging fruit, automated testing is highly effective because it identifies most of the digital accessibility issues at high speed and low cost. However, to run a full audit, you need expert-led manual testing for thorough scanning of your digital content.
Testing must get done in a structured way by using the suggested standards of WCAG and others as a guide. Audit must test impact of these standards on the user experience for all the users and that is why human testers use assistive technologies to audit digital content.
After testing get done, you need to do correct reporting for future references. It includes list of identified issues and the cost to fix them. An audit report is an important element of auditing because it demonstrates past and present achievement of meeting accessibility standards, which is crucial to evade accessibility lawsuits as well.
The audit report should contain detailed information of scope, methodologies, tools and processes used to execute audit with supporting documentation. It should also have explanations of how you will use these reports to improve accessibility of the website.
If you are following best practices to perform an audit, your report will incorporate high-level information for higher authorities and detailed insights of identified problems for developers and designers. These reports must tell you what impacts your failed digital assets were creating on users. Thus, you will be able to prioritise remediation actions to improve accessibility.
When technologies and accessibility standards are evolving constantly then digital accessibility auditing should also be an ongoing process. When you execute frequent auditing, you get clear picture of the areas your website that needs improvement. Thus, keep repeating auditing process in a loop.
When to perform a website accessibility audit?
So, you know website accessibility audit is compulsory and you can use tools to perform it. But do you know what is the right time to execute an accessibility audit?
If you are creating a new website or launching a new digital app, then an accessibility audit is necessary; it is obvious. This is a best practice if you embed accessibility testing into your testing process in the early stage of the development process and follow it in a loop. By including accessibility auditing early in your software development life cycle (SDLC) process, you will be able to identify any accessibility issues that may arise at any time. You may name it continuous accessibility.
Accessibility audit accords you with myriad benefits and one of them is your teams work together to achieve accessibility or compliance goals. Team alignment saves development time and extra expenses that organizations bear for exceeding deadlines. Building digital products with accessibility from the very beginning gives an edge to your products because from the beginning they will gain the advantages of being accessible.
Once the website or application development is done, the accessibility audit provides insights to developers to make changes whenever required. They make corrections in code to get an utterly compliant website or app.
If you have hired any web accessibility agency, they will check accessibility risk reviews of digital products and assess their level of compliance. Though it is not recommended because after development adding accessibility is more expensive and time-consuming than imparting accessibility from the beginning of digital projects.
Conducting an accessibility audit is not everybody's cup of tea. It requires a certain level of proficiency with the concepts and fundamentals of digital accessibility to have an error-free audit process and aftermath.
Identify issues and get started!
Error-free accessibility audit execution is possible, all you must do is adhere to best auditing practices. While you perform an audit, take screenshots or notes of all the issues you come across. There are chances that you get color contrast and page hierarchy errors on each page because pages use the same page templates or CSS files. If working on an existing website, there can be many more mistakes (creating a new one and reviewing the same is easier than fine-tuning an age-old website).
As an associate member of International Association of Accessibility Professionals, Skynet Technologies is a part of Global accessibility community. Our commitment to the IAAP ensure people to understand and implement web accessibility strategies.
Go step by step for a hassle-free audit process with Skynet Technologies and acquire an accessible website. Skynet Technologies provides ADA compliant website design services with maintenance and security monitoring. Fill out the form below to know more about our service or mail us at [email protected].