Top Reasons Why you need to Upgrade Your Magento Ecommerce Store to Magento 2.3!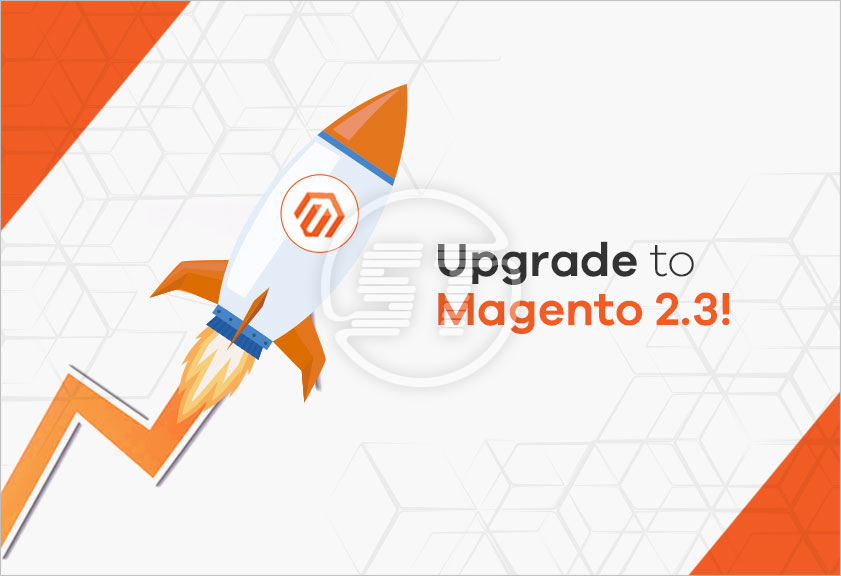 Among many eCommerce platforms, Magento is considered to be the most powerful and easy to work for developers around the world. The official Magento eCommerce site has made a press release about the discontinuation of support for Magento 2.2.X from December 31, 2019. This news might sound scary to many developers but if you have been following the company's news feed, you should know that the firm has given adequate time to merchants to migrate their website to Magento 2.3. This step was necessary as the Magento 2.3 Update offers better features for the website and powerful security against malware or other threats to store security.
While many feel this might be an unnecessary step, Magento 2.3 ecommerce store update is necessary to grow the eCommerce portals. Let's take a look at the new features the company has to offer to merchants.
Important Features of Magento 2.3 Upgrade
Progressive Web App:
Today the whole world is shifting to mobile for desktop and this change has been adapted by Magento. With the help of Magento 2.3 Upgrade, developers can easily use PWA features so users can enjoy app-like experiences on eCommerce websites. The progressive web app is a new age technology that is built on JavaScript type of frameworks like ReactJS or AngularJS. With the help of this upgrade, the developers will be able to build a stable ecommerce website that works flawlessly on any type of mobile device. Not only this, the developers will be able to hike the conversion rate with these upgrades.
Page Builder:
In previous times, developers needed to use complicated HTML and CSS code to build a simple website page. Page Builder is the latest update in Magento Commerce which automatic and simple drag-and-drop interface to create eye-catching websites. If you are a merchant with no technical background, you can manage your websites banner, images, products and promotional video with a click on the mousepad. A Page Builder is a pliable grid system that lets you customize page elements the way you want. With this, you can add different widgets, media, banners and content blocks on the website.
GraphQL:
One of the critical moves in Magento Migration is the implementation of GraphQL which eases the data recovery chance of Progressive Web App. This upgrade will aid the developers to accumulate a small amount of data and allow the requests to be sorted as per the piece of information. This function is way better than the standard SOAP/REST requests. GraphQL will assist Magento PWA to work faster even when the smartphone is connected to a slow network.
MSI Feature:
If you own an eCommerce website that wishes to have an efficient working website then the Multi-source inventory in Magento 2.3 is for you. This update gives users the freedom to manage the inventory via multiple physical locations with just one admin. This way you can easily allot the products and desired quantity to a specific distributor. The business owner can track the inventory, get data from retail shops, information from drop shippers, stores and other related parties with one click. This way you can streamline all the eCommerce operations and catalogue seamlessly.
Magento 2.3 Declarative DB Schema:
This new update is done to help the Magento upgrade and installation of software easier for the end-users. With Magento, 2.3 developers can establish the framework using the database and then convert XML schema record to SQL statements.
Elasticsearch:
One of the major upgrades in Magento Commerce is the Elasticsearch which is designed to deliver efficient search results in seconds. This update will help the eCommerce site merchants who can integrate it into their online store.
Updated Support to PHP 7.2:
The support to PHP 7.2 has been improved in the Magento Web development department. The script has stopped supporting PHP7.2 but with Magento 2.3 Upgrade, it will continue working on the Libsodium module. This is to provide advanced security to PHP based online stores.
Security Updates:
Magento has always been focused on providing the utmost security to eCommerce portals. With Magento 2.3 upgrade, it becomes easy to protect your online store from all types of malicious activity and malware. One can install Google reCAPTCHA and two-factor authentication to users to enable a powerful security system for online stores. This release is to ensure that websites don't get hacked by anti-social elements.
TinyMCE Editor Upgrade:
One of the unique features of the latest update in Magento Store is the remodelling of the TinyMCE editor. You get to access an array of widgets and media gallery plugins that enhances the online eCommerce portal process.
Conclusion:
Magento 2.3 Upgrade is done to provide better support and features to the eCommerce industry as this way the sites can be easily managed, guarded against malware, improve loading speed so one can see an actual boost on the conversion rate. If you want to take your products and services online to boost your business, then look for the best Magento web development company in your area to build your site from scratch. This way you can increase overall sales and achieve goals.
We are an official Adobe Bronze Solution Partner. Skynet Technologies is a pioneer Magento Development and Maintenance Company based in USA. Our Magento developers have worked on various Magento releases and experts in migrating Magento web applications and Ecommerce stores from the older Magento version to the latest Magento version. Any small to large scale business website or Ecommerce store need regular check-ups to enhance the technical functionality, improve user experience and prevent malware attacks. Skynet Technologies provides Magento Website and Ecommerce Store Maintenance services to keep your website up-to-date with modern web trends and technology. Our Web Development and Maintenance Services are available in the USA, Melbourne, Sydney, Brisbane and Worldwide.
Explore more details about our Magento development services from here. Get in touch with us at [email protected] or submit the following request free quote form to know more.